As an Amazon Associate I earn from qualifying purchases.


All the goodness of take out made in your own kitchen with a healthy spin. This Skinny Orange Chicken has tender bites of chicken bursting with sweet and tangy orange, ginger, and other Asian flavors and will leave you satisfied. Better than take out if you ask me!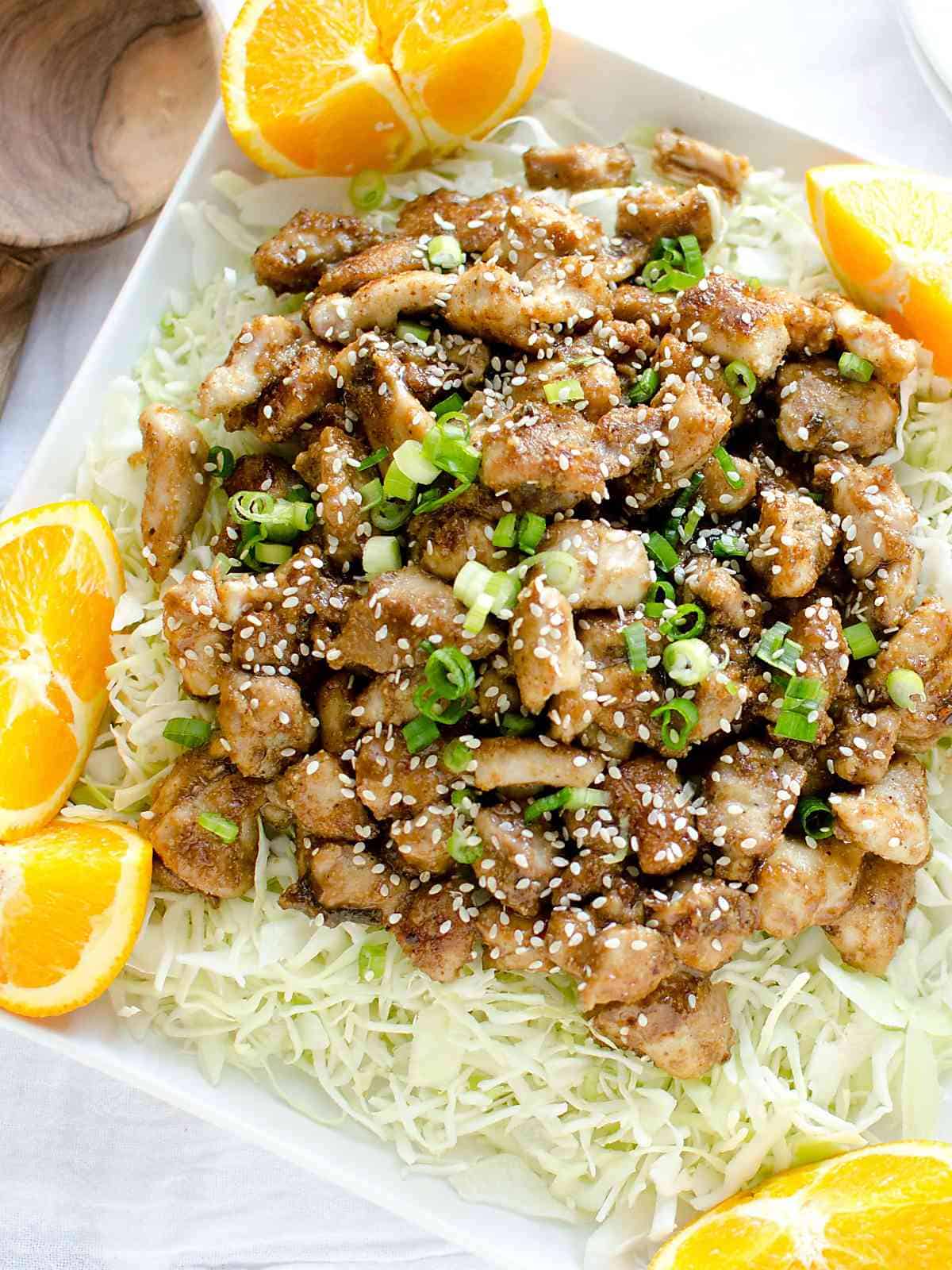 Having four kids that eat like adults (and they're not even teen agers), we don't go out to eat too often. It adds up pretty quickly. Plus, you know what really irks me? Is that I'm paying $5 for a hot dog, boxed mac and cheese, or chicken fingers!
All the kids menus are the same--even at the Mexican restaurant. Except they might throw a taco in there. Part of eating out is to enjoy different foods, so why doesn't the restaurant just offer a smaller portion of their regular menu?
The last time we went out as a family I encouraged the kids to eat off the adult menu, but to split something. It actually worked out pretty well. But let's get back to Chinese...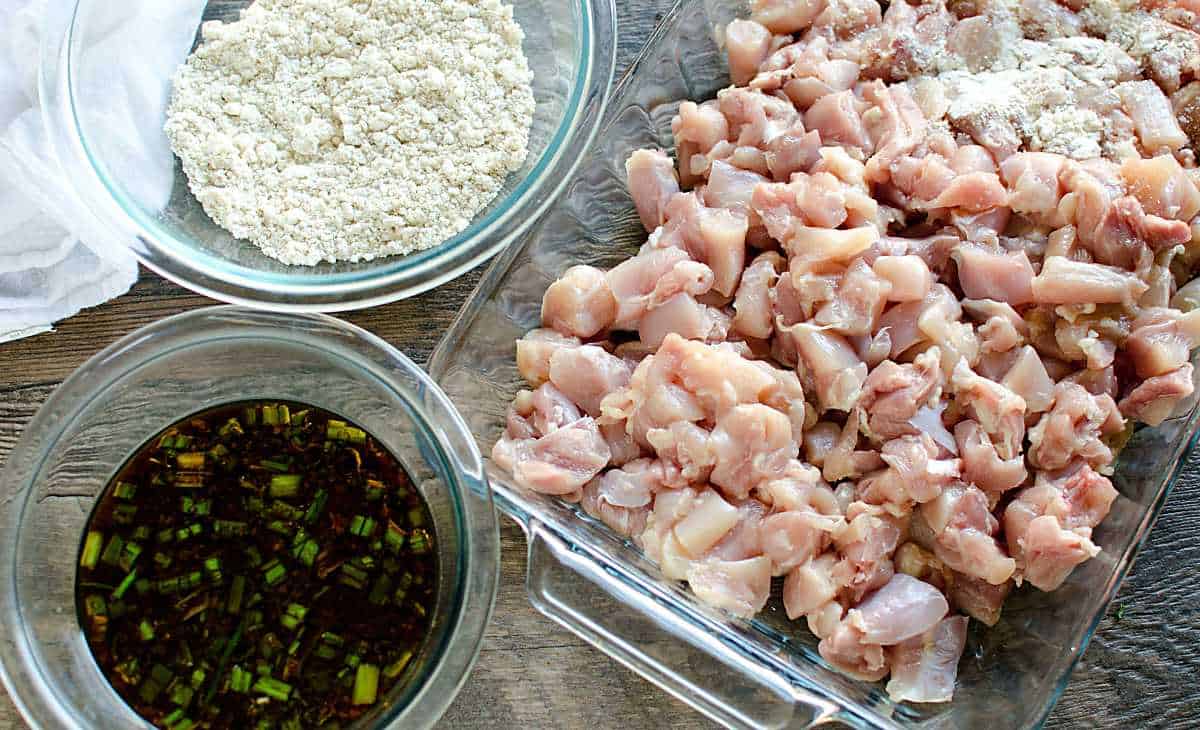 My husband and I used to get Chinese take out just for us on Sunday nights. This is our weekly "in date". All the kids are in their rooms by 7pm and we get to have a little alone time.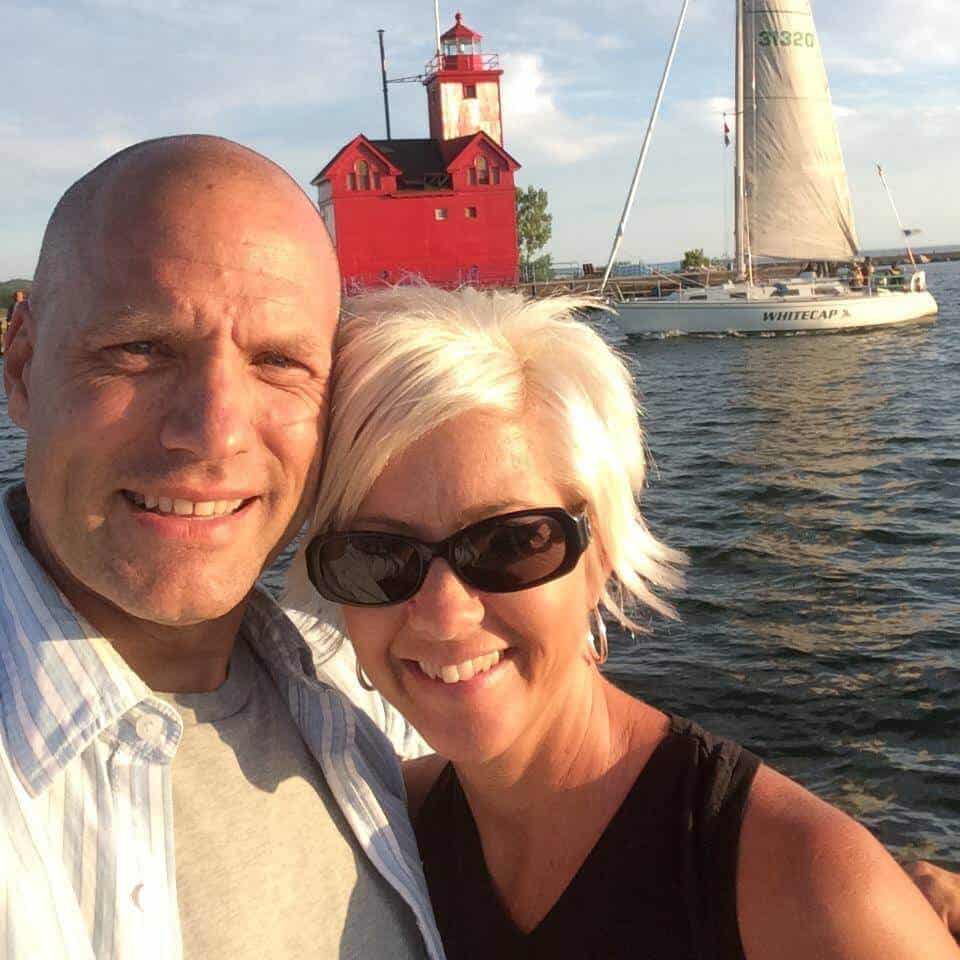 The love of my life! This is 40-somethings attempting selfies. LOL!
I always loved getting take out on this night because I just want a break from cooking. I'm kind of tapped out for the weekend, so I just want to keep things low maintenance. The kids loved it when WE got take out, because often there was just a few left overs for them to get a morsel the next day. 🙂
As of late though, in efforts to be healthier, we've actually been cooking our own food for our in-date night. And when I say "we" I mean "my husband". God bless him. He does all the cooking and cleaning up.
If we're honest, even though Sunday night date night is made up of delicious food (usually steak, sweet potatoes, veggies and salad) that I didn't have to cook, I do miss my Chinese.
Skinny Orange Chicken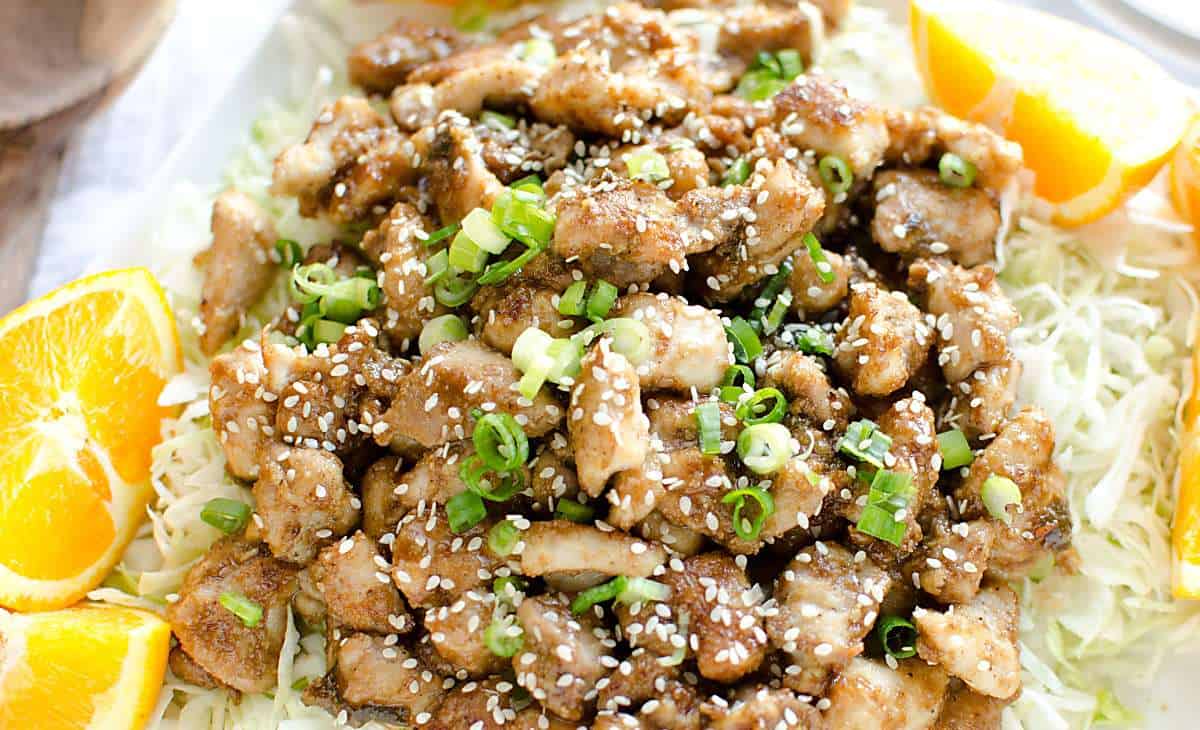 This post may contain affiliate links
So this recipe is a healthy take on the classic Orange Chicken, I like to call it Skinny Orange Chicken because I still feel good after I eat it. The recipe is adapted from my Trim Healthy Mama Cookbook. I've been on the THM plan since about last May. And what a difference it's made for me! You can read more about it in this post on metabolism boosting tea.
Let's talk about the "skinny" part.
Here's the skinny on the skinny~
I use the Trim Healthy Mama baking blend for the coating. This blend is made up of almond flour, coconut flour, oat fiber, ground flax and gluccomannan. Now don't freak out, I'm telling you what it's made of so if you are in the store looking for something comparable you know what ingredients to look for. It's gluten free, so start there.
You can also google "THM baking blend substitution" and see your options. And, if worse comes to worse, just use flour. Just know that white flour isn't 'the best' for you. But you know I'm an 80/20 girl, so just do the best you can. This isn't the only thing that makes this recipe light.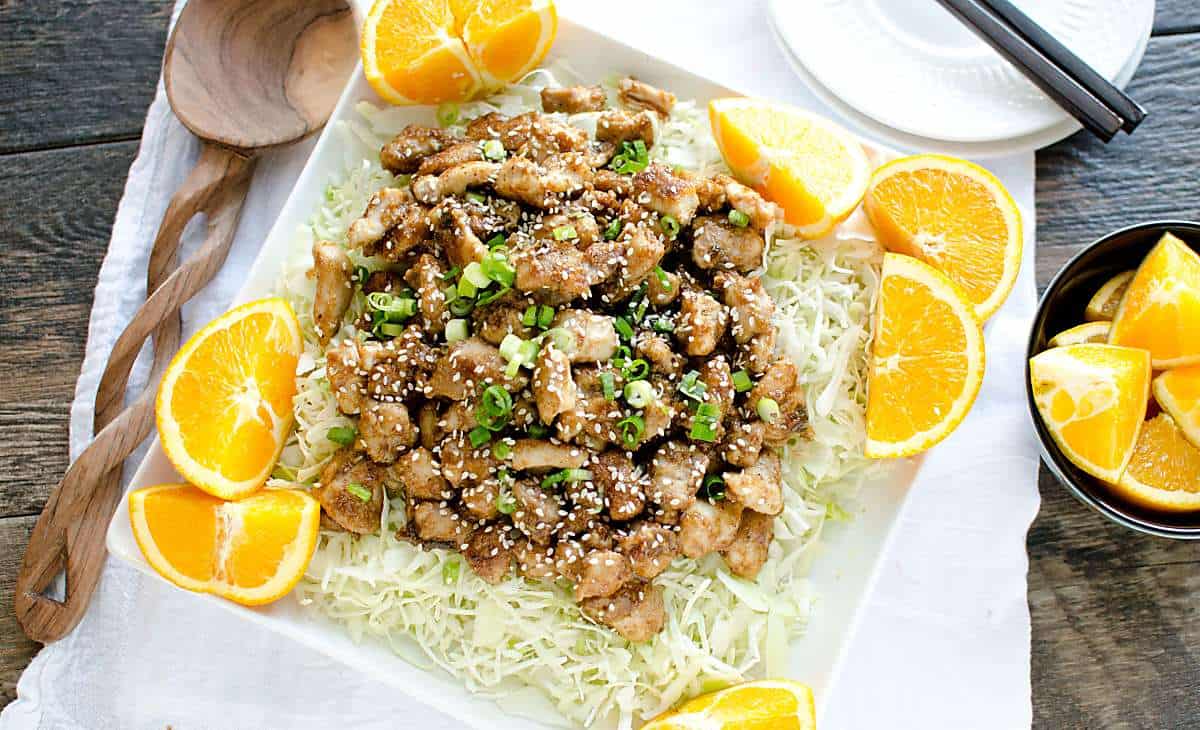 I don't want you to get all worked up about not having an ingredient. Just make it work for you.
Eat this with wild rice, or for keeping it low carb, over crispy cabbage or Spaghetti Squash. It's SO good!!
I used a natural stevia based sweetener instead of sugar. I'm very picky about my sugar alternatives so see the recipe for notes on that.
One last way to keep this in the Skinny Orange Chicken category is orange extract. Yep, instead of using orange juice we're using extract. I promise, it has all the flavor!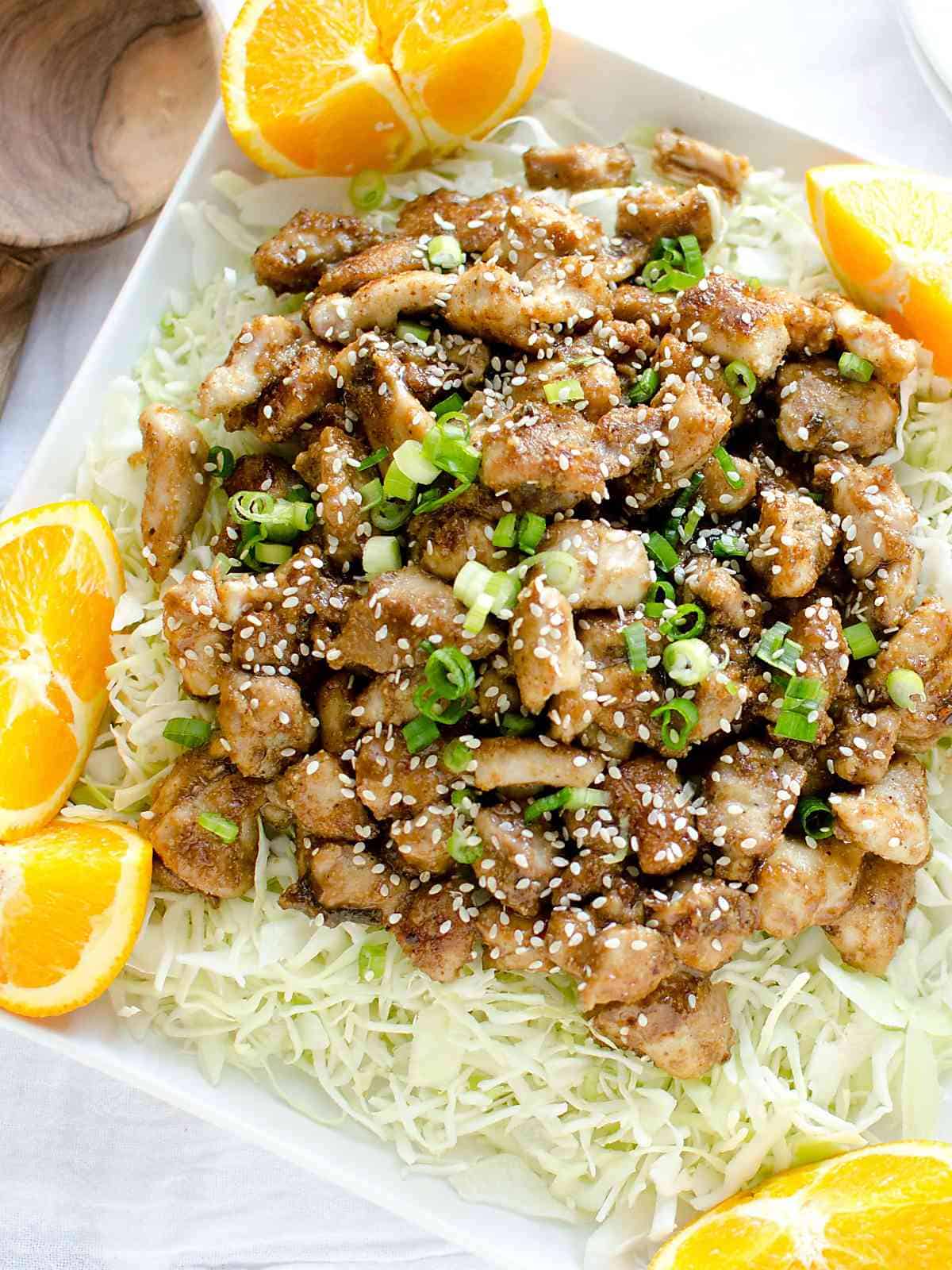 Looking for more lightened up healthy recipes?
📋 Recipe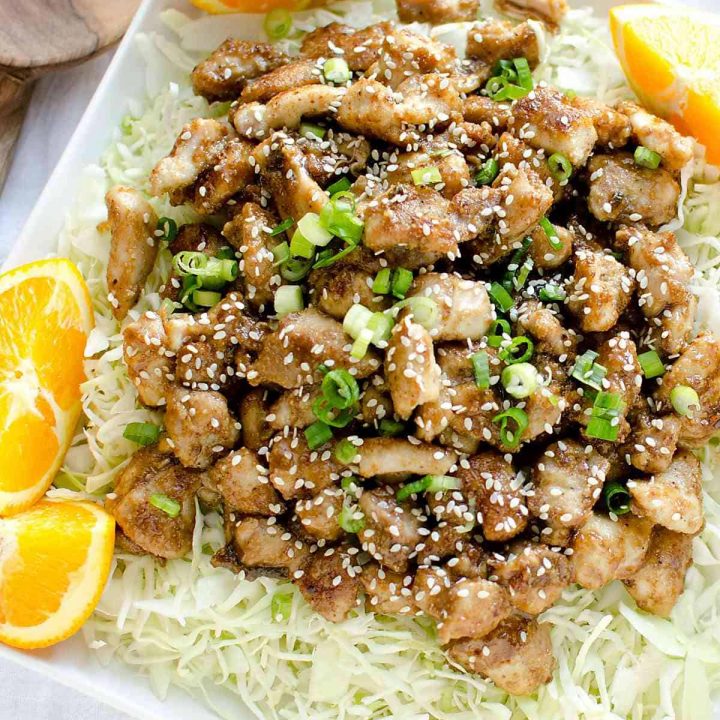 Skinny Orange Chicken
All the goodness of take out made in your own kitchen with a healthy spin. This Skinny Orange Chicken has tender bites of chicken bursting with sweet and tangy orange, ginger, and other Asian flavors and will leave you satisfied. Better than take out!
Print
Pin
Rate
Ingredients
1

head

green cabbage finely sliced or cole slaw mix
For the chicken
2 ½

pounds

boneless skinless chicken thighs, cut into bite size pieces

¾

cup

Trim Healthy Mama baking blend

for substitution see notes

1

teaspoon

salt

½

teaspoon

black pepper

2

teaspoon

Truvia (or stevia based sweetener)

5

tablespoon

coconut oil
For the sauce
½

cup

low sodium soy sauce

2

garlic cloves, minced

1

teaspoon

fresh ginger, grated

2

tbps

Truvia (or stevia based sweetener)

3

tablespoon

rice vinegar

¼

cup

water

2

tablespoon

toasted sesame oil

3

green onions, diced

2

teaspoon

orang extract

½

teaspoon

gluccomannan

see recipe notes
Instructions
Place the chicken in a 9x13 inch pan.

Mix the baking blend, salt, pepper and sweetener in a small bowl and sprinkle over the chicken. Stir to coat evenly.

Mix the suace ingredients except the gluccomannan in a medium saucepan and bring to a simmer. Sprinkle in the gluccomannan while whisking to desired thickness.

Heat oil in a large skillet over medium heat and add the chicken pieces. You may need to cook it in batches to brown evenly. Cook the chicken approximately 10 minutes, or until done.

Add the sauce to the chicken and stir to coat. Serve over sliced cabbage.
Notes
You can substitute a gluten free high fiber baking blend in place of the Trim Healthy Mama blend. See the post for more info on that.
Gluccomannan is a thickening agent that comes from the konjac root that is actually really good for you. Buy it at your health food store, or online. If you don't want to bother, cornstarch will substitute just fine, but you'll need more. If you do use cornstarch you'll need to make a slurry (mix with a little cold water) in order to thicken the sauce.
Truvia is probably my favorite natural sweetener alternative. I'm very picky and have done my research. I'll use straight stevia or Truvia or one of the Trim Healthy Mama brand sweeteners. In my opinion Truvia is the easiest to use.
Nutrition
Calories:
418
kcal
|
Carbohydrates:
11
g
|
Protein:
39
g
|
Fat:
23
g
|
Saturated Fat:
12
g
|
Cholesterol:
179
mg
|
Sodium:
1293
mg
|
Potassium:
775
mg
|
Fiber:
4
g
|
Sugar:
5
g
|
Vitamin A:
255
IU
|
Vitamin C:
56.8
mg
|
Calcium:
87
mg
|
Iron:
2.7
mg
I would love to connect with you! Leave me a comment and follow me on Facebook, Twitter, Instagram and Pinterest.