Spice up your sweet potatoes with a little southwestern flare. These stuffed sweet potatoes are loaded with chicken, peppers, and black beans in a yummy enchilada sauce. They're delicious, simple to make and healthy all at the same time.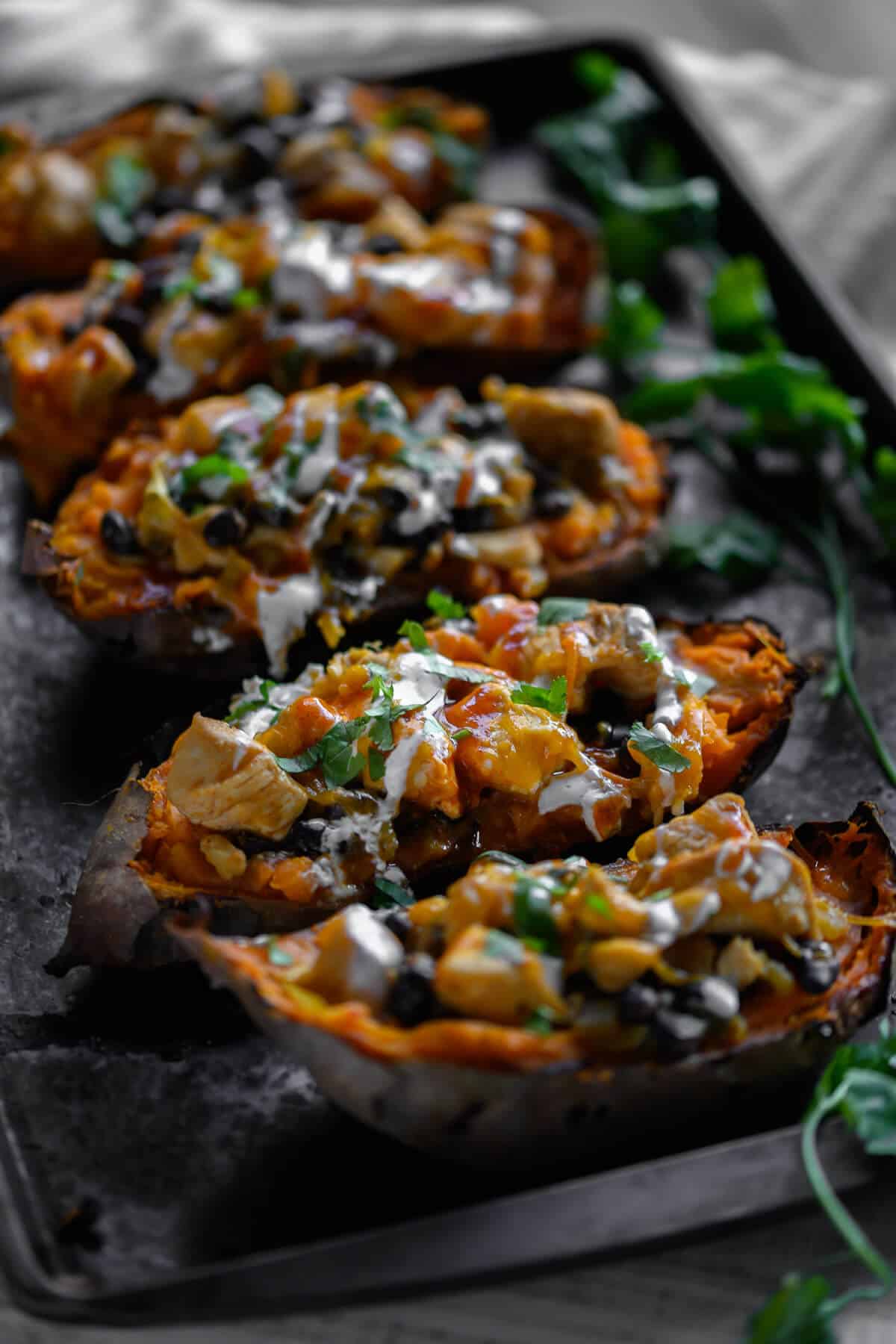 We have a pretty busy household, but it's still important to me that we gather around the table and have dinner together. For that reason, I'm all about a low maintenance meal that tastes delicious. These Enchilada Stuffed Sweet Potatoes are just that.
Sweet Potatoes are one of my favorite vegetables. They are a staple in our house, and we just don't get sick of them. We love them in roasted vegetables, baked with a little butter and cinnamon, or mashed.
Sweet Potato Pairings
Since they have a naturally sweet flavor, they pair well with their culinary counterparts, salt, and spicy heat. That's why they work so well in this recipe. Sweet potatoes also go well with beef (ground or steak), turkey, pork, even eggs.
The hands-on time for this recipe is around 30-40 minutes. It gives you plenty of time to do all the things AND get a super tasty dinner on the table.
Main ingredients
Besides the potatoes, of course, here are the main things you need for this recipe.
boneless, skinless chicken breasts cut into bite-size pieces
black beans- if you use canned, I recommend rinsing really well. You can also start from dried beans, and prepare them ahead of time.
onion, diced
chopped green chilis
Enchilada sauce- this homemade version is my favorite, but you can buy a pre-made one too.
For the complete list, see the recipe card.
How to make Enchilada Stuffed Sweet Potatoes
Step one: Bake the potatoes
Scrub the potatoes with a vegetable brush or a clean cloth.
Using a paring knife, prick the potatoes several times on all sides.
Then place them on a rimmed baking sheet. Bake at 400° for one hour.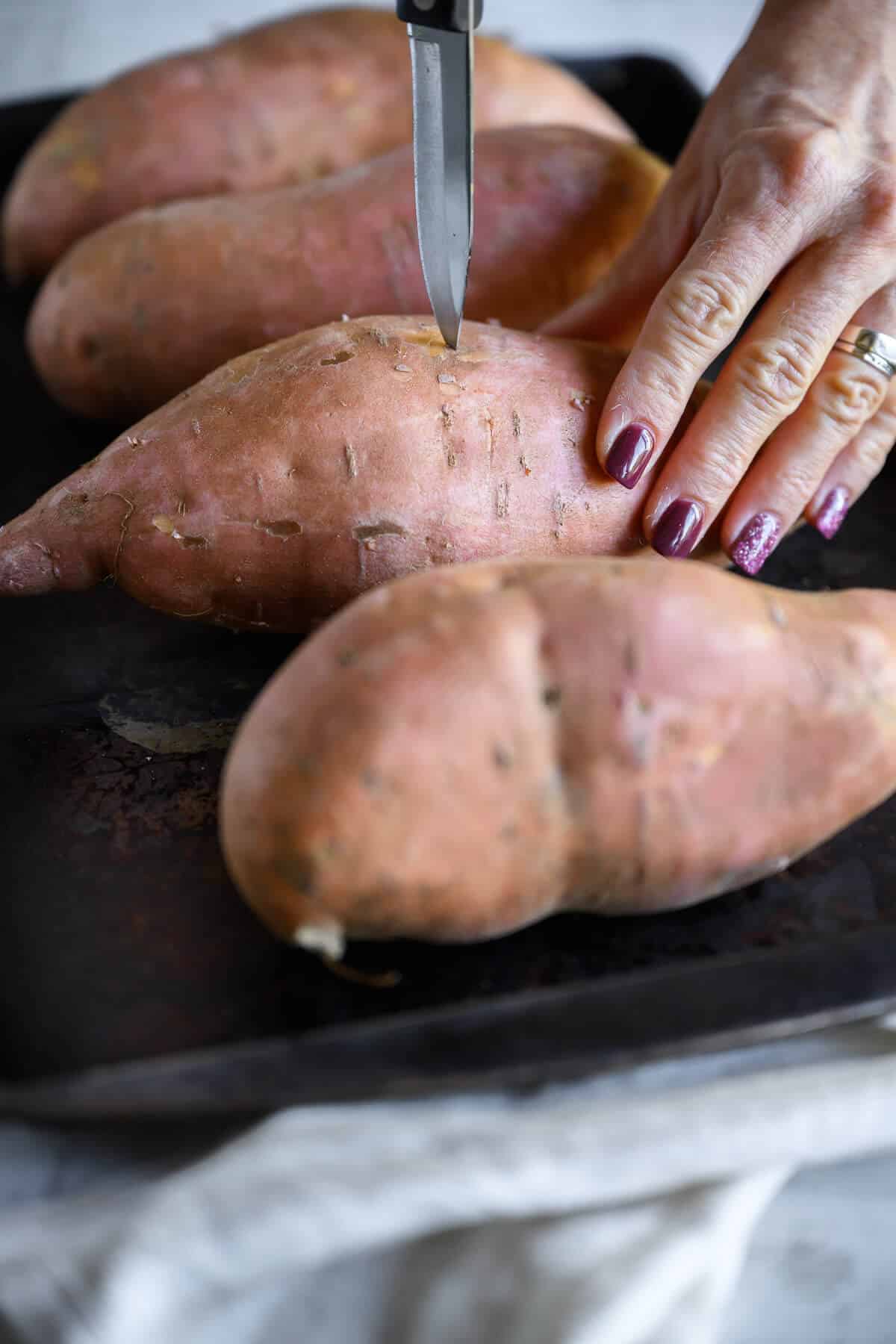 Step two: Make the filling
While the sweet potatoes are baking, make the filling.
over medium heat, saute' the onions in olive oil until translucent, this will take about 5 minutes.
Add the chicken and stir occasionally, until cooked through, season with cumin
Add the chilis, black beans, and enchilada sauce, stir to combine.
Keep the mixture warm until the potatoes are ready. Just set your stove to the lowest temperature and cover with a lid.
Step three: Fill and serve
Slice the sweet potatoes lengthwise and open them up.
Using a spoon, gently push a well into each potato to make room for the filling.
Add the filling, top with cheese, and place back in the oven for a few minutes until the cheese is melted.
Remove from the oven and drizzle with more enchilada sauce and Greek Yogurt. Sprinkle some cilantro on top (if you have trouble keeping cilantro fresh, try storing it this way).
How easy is that?! Enchilada Stuffed Sweet Potatoes, and dinner's done! It's delicious, easy, and healthy!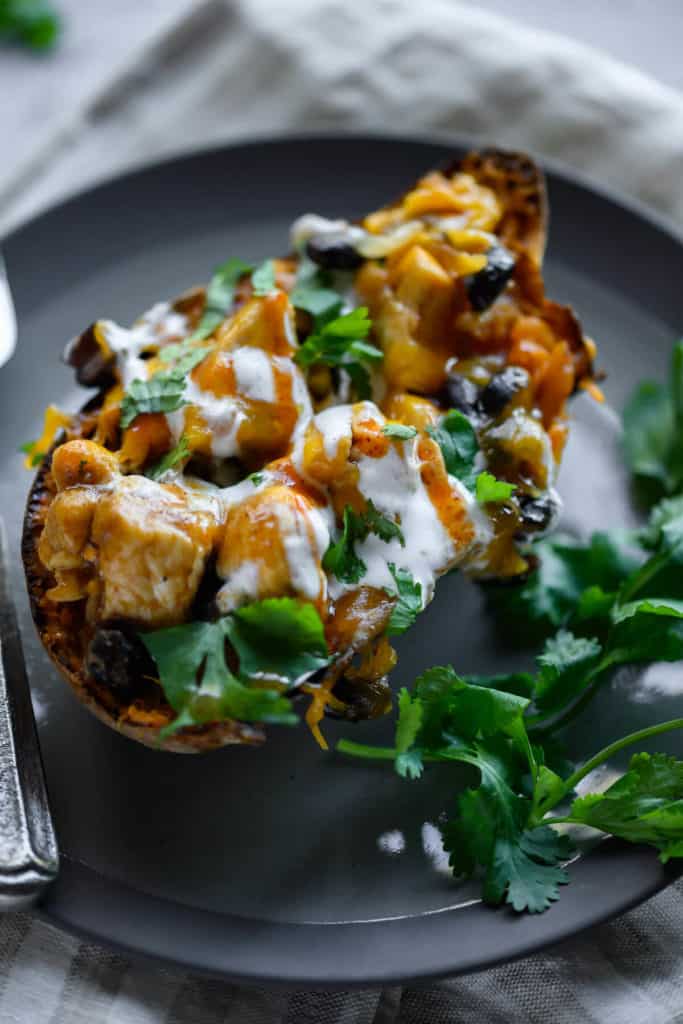 Recipe Notes
Baking time on the potatoes will vary depending on the size. Smaller potatoes may only need 45 minutes, and larger ones may need more than an hour.
Sweet potatoes are done when you can pierce a knife all the way through and they are tender.
I always opt for nonfat plain Greek yogurt instead of sour cream in my southwestern inspired dishes. However, sour cream is delicious too.
In order to get the Greek yogurt or sour cream to a drizzling consistency, put some in a separate small bowl, add a little milk or water and stir well. It won't affect the taste at all, it just thins it out. If you don't want to drizzle it, just plop a dollop on top, works just as good.
Freezing Instructions
Stuffed sweet potatoes work great for a make-ahead option. There are two ways you can freeze and reheat them:
Freeze the filling
Freeze the whole enchilada
Option 1: Freeze the filling. After you make the filling and completely cool it, place it in a freezer storage bag (I always double bag), and lay it flat in the freezer. When you're ready to use it, thaw it in the refrigerator, gently reheat it on the stove. You would bake the potatoes, then fill and serve.
Option 2. Freeze the whole enchilada (see what I did there? haha) Make the full meal, load up the sweet potatoes with the enchilada fillings (leave off the cheese and toppings) and let it cool completely. Wrap them individually in plastic wrap. Then put them in a freezer storage bag until you're ready to eat.
To reheat, unwrap them, place the stuffed sweet potatoes on a rimmed baking sheet, cover with foil (to keep them from drying out) and heat at 350° until warmed through, about 30 minutes. Then add the cheese, place it back in the oven, uncovered, until the cheese melts. Top with yogurt, enchilada sauce, and cilantro.
Are sweet potatoes healthier?
As far as how they compare to white potatoes, sweet potatoes have fewer carbs and calories, and more vitamin A and C. They also have a lower glycemic index, which means they don't make your blood sugar spike as much. A medium baked sweet potato is 103 calories.
Can you eat the skin?
Yes, the skin is edible and adds more nutrition to your plate. It's always a good idea to clean the potato before using it, especially if you plan on eating the skin.
Ways to eat sweet potatoes
There are so many things you can do with them besides stuffing them, here are some suggestions:
Baked-perfect with butter and a little cinnamon.
Roasted
Mashed
Sautéed- like in a hash
Hasselback
Toast- Have you seen this? Slices of sweet potato toasted in your toaster and topped with whatever you choose.
Spiralized
Chips
Do you have a solution for a low maintenance meal? Tell me about it in the comments!
More Sweet Potato Recipes