These Healthy Baked Apples are perfect for Fall. Sweet apples are filled with pecans and cinnamon and bring the warmth of the season to your table. They're finished off with a drizzle of yogurt sauce, pecans and a dash of nutmeg. No one will believe it when you tell them there is no sugar in this recipe!
Don't you just love a fresh apple straight from the orchard? There's so many ways to enjoy them. This Overnight Oatmeal with apples and peanut butter is a wonderful breakfast. An Apple Pie Smoothie anyone? What a great pick me up. I also love to savor the fresh apple all winter long by making a big batch his easy apple sauce and freezing it.
Baked Apples
These simple baked apples are a great addition to any meal. They're easy to make, filling, and delicious. If you've been holding back on dessert because of your waistline-- now's your time to indulge! It feels like an indulgence, but it's not really. The yogurt sauce even adds a bit of protein, so dig in!

This post may contain affiliate links which won't change your price on an item but because we are an affiliate, they will share some commission for a referral.
How to make Healthy Baked Apples
step one: gather your ingredients
apples
cinnamon
chopped pecans
coconut oil
non fat yogurt (shortcut: use Oikos triple 0 vanilla yogurt)
stevia based sweetener (I like truvia) - omit this if using the Oikos triple 0 yogurt
vanilla extract (omit this if using Oikos triple 0 yogurt)
fresh nutmeg (or ground nutmeg)
microplane (if using fresh nutmeg)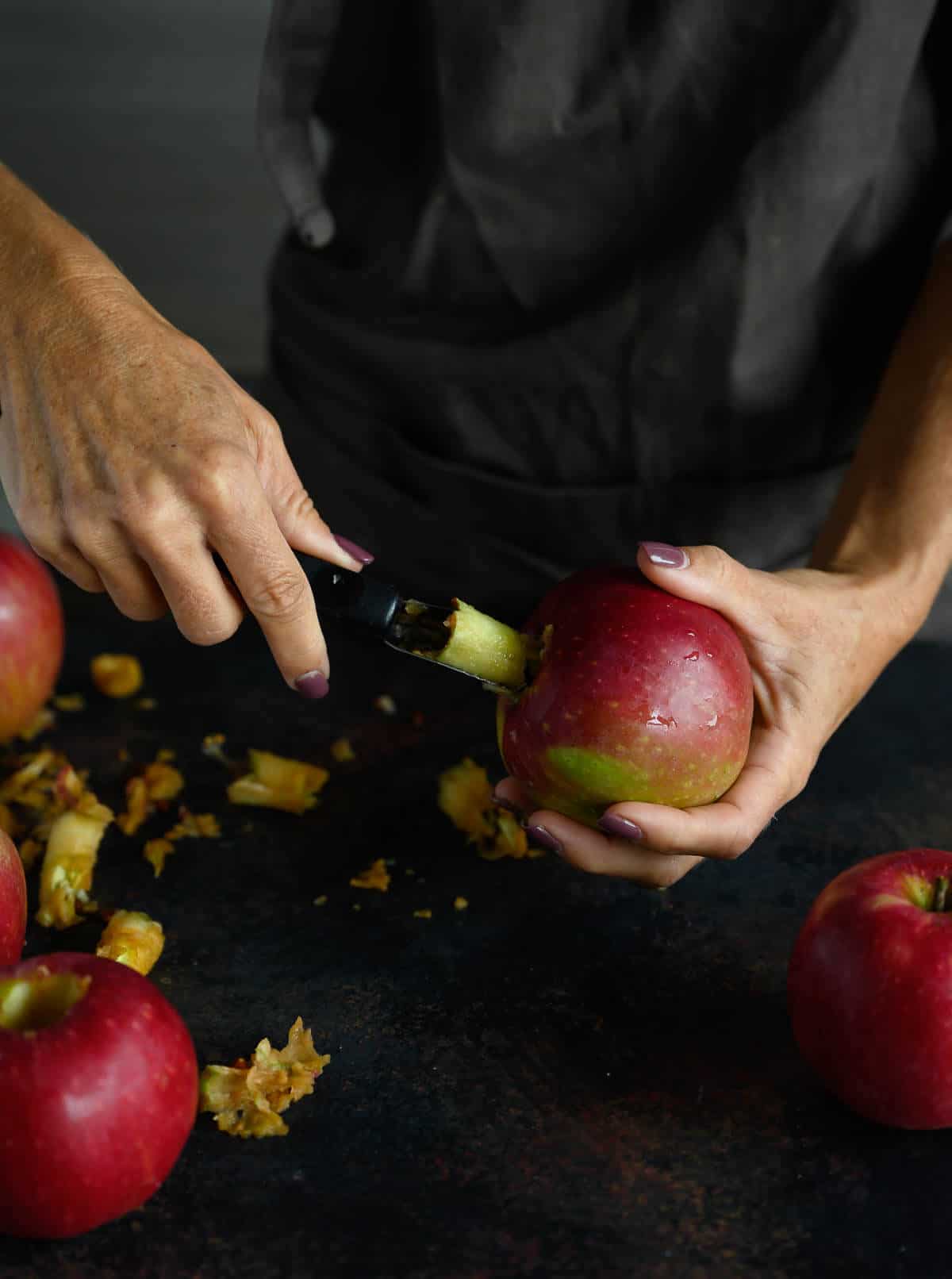 step two: core the apples
Using an apple corer, take out the cores. Place the corer over the stem, gently push down, and rotate the corer. Once you've made a full rotation, slide it out. Make sure you don't go all the way through the apple, aim for about ⅔rds of the way down. Sometimes you'll have to use the tip of a pairing knife to grab a few stray seeds.
step three: fill the apples
place the apples in a baking dish, first put the pecans inside the apples, follow with the cinnamon
top it with a pat of coconut oil
pour a cup of water in the bottom of the dish
step four: bake the apples
Bake the apples in a 350º F oven for 45-60 minutes. Check them after 35 minutes. The baking time is going to depend on the size of your apples. You want them to be tender, but not mush. If you leave them in too long, they will explode and you'll have apple sauce. 🙂
step five: garnish and enjoy
While the apples are baking, you can prepare the yogurt sauce. I like to use non fat Greek yogurt because it has a higher protein content. But it's thick so in order to make it drizzle, thin it out with a bit of almond milk or water.
Originally when I created this recipe I made my own sweetened vanilla yogurt. I've listed those steps below, but since then Oikos triple 0 vanilla non fat Greek yogurt works great! You will need to thin it out a bit to drizzle it. Follow step #1 for that.
Put some of the yogurt in a small bowl and add almond milk a tablespoon at a time until you have the desired consistency. I like ¼ cup of yogurt to 1 ½ tablespoons of almond milk.
add the vanilla extract and a stevia based sweetener, such as Truvia or powdered stevia (I like the trim healthy mama brand) to taste and stir well. Alternatively you could use honey or maple syrup to sweeten it, but keep in mind it won't be sugar free anymore.
Drizzle the apples with the yogurt sauce and garnish with a few more chopped pecans
Finish with a dash of fresh nutmeg. Fresh is best, but you can also use ground nutmeg.
What are the best apples for baking?
I used Graham Spy's for this recipe for 2 reasons. First, they were in season when other varieties weren't ready yet. They are an earlier variety. And second, they are sweet, sweet enough that you don't need to add sugar.
Graham Spy's are also great for pies, sauce, and dried apples. Other apples that work this this recipe:
Jonagold
Honeycrisp
Braeburn
Mutsu (Crispin)
Winesap
Pink Lady
These all hold up well to baking, they stay firm and won't turn to mush. They all have very different flavors though. So, if you're aiming to not add sugar, go with the Graham Spy, Honeycrisp or Mutsu.
If you like a more tart apple, go with the Jonagold. A good blend of both tart and sweet is the Pink Lady, and the Winesap has a deep cider-y flavor.
Variations for healthy baked apples
use walnuts instead of pecans
use apple pie spice instead of cinnamon
use butter instead of coconut oil (coconut oil is lower in fat)
use homemade whipped cream with a stevia based sweetener in it.
Can you reheat baked apples?
If you have left overs, or simply want to make a few extra for another time, you can reheat the apples at 350º F for 25-30 minutes.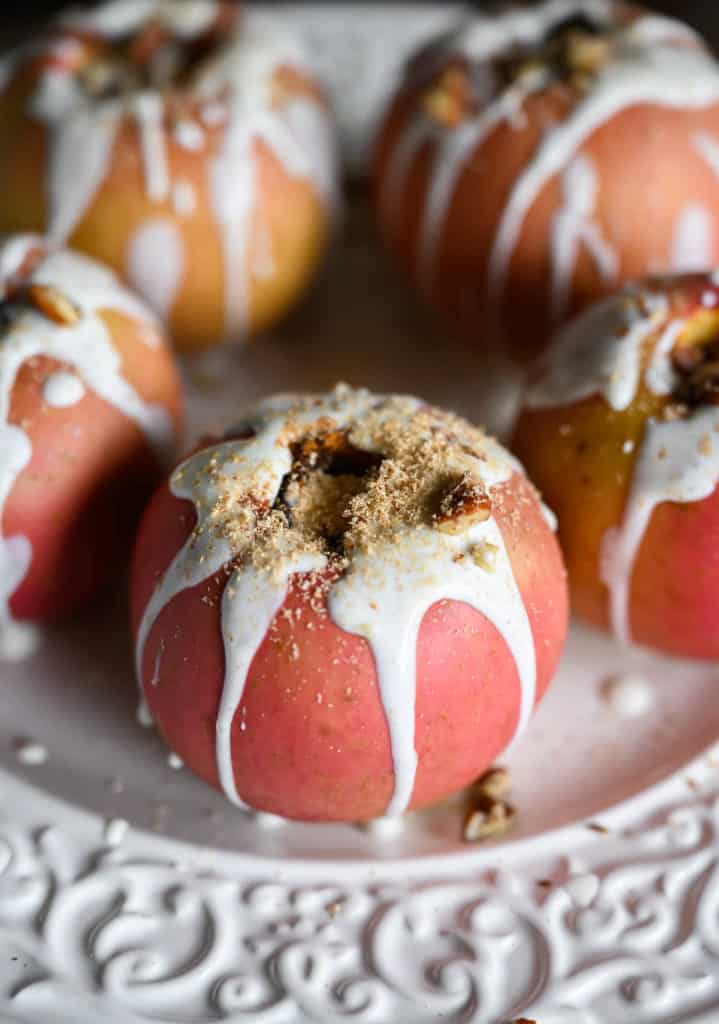 Other Must-Have Apple Recipes
Salted Caramel Apple Oatmeal
Notes
I've written this recipe for 4 people, however, it's very easy to adapt for more or less. You can use the slider button in the recipe card to adjust the serving size. It's basically 1 apple per person and each apple has 1 teaspoon of chopped pecans, ½ teaspoon of cinnamon and 1 teaspoon of coconut oil on top.
For my Trim Healthy Mama friends-- This is on plan! Make sure you eat it after an E meal. The yogurt does offer some protein, but probably not enough to stand on its own. So, if you're just craving something sweet, add more yogurt or another protein source to amp it up. You could put some collagen in your yogurt sauce to increase protein.
Healthy Baked Apples
Baked apples stuffed with pecans and cinnamon and topped with a creamy vanilla yogurt sauce.
Print
Pin
Rate
Equipment
apple corer

microplane

9x13 dish or 8x8 dish
Ingredients
4

Graham Spy Apples

read post for other apple choices

4

tsp

chopped pecans

2

tsp

cinnamon

2

tsp

coconut oil

½

cup

plain non fat Greek yogurt

1

tsp

vanilla extract

½

tsp

nutmeg

fresh nutmeg grated with a microplane is best, but ground nutmeg works too.

2-3

tbsp

Almond Milk

½

cup

water

¾

tsp

stevia based sweetener, such as truvia

If not using Truvia, refer to a conversion chart for proper measurements.
Instructions
For the apples
Using an apple corer, take out the cores of the apples. Make sure you don't go all the way through the bottom. Aim for ⅔rd of the apple.

Place the cored apples in an 8x8 baking dish. Fill each hole with 1 tsp chopped pecans and ¼ tsp cinnamon.

Put ½ tsp coconut oil on the top of each filled apple. Pour ½ cup of water in the bottom of the baking dish and bake for 45-60 minutes.
For the yogurt sauce
Combine the yogurt, vanilla extract, Truvia, and apple pie spice, mix well. Add Almond milk 1 tbsp at a time until desired consistency (should be like a sauce that will drizzle) *** see notes

After apples are finished baking, remove from the oven, plate it, and serve with yogurt sauce drizzled over the top. Add additional chopped pecans and fresh nutmeg as optional garnish.
Notes
This apple corer is a great tool and will make your life easier!
Originally when I created this recipe I made my own sweetened vanilla yogurt. Since then I've often used Oikos triple 0 vanilla non fat Greek yogurt as a shortcut. It's still all natural and sugar free. Just omit the plain yogurt, vanilla extract, and sweetener if using the Oikos.
If you don't have Graham Spy apples, you can use Honey Crisp or Mutsu's (also known as Crispins). These are naturally a sweeter apple.
Nutrition
Calories:
165
kcal
|
Carbohydrates:
28
g
|
Protein:
3
g
|
Fat:
6
g
|
Saturated Fat:
2
g
|
Cholesterol:
1
mg
|
Sodium:
22
mg
|
Potassium:
246
mg
|
Fiber:
5
g
|
Sugar:
20
g
|
Vitamin A:
98
IU
|
Vitamin C:
8
mg
|
Calcium:
63
mg
|
Iron:
1
mg