As an Amazon Associate I earn from qualifying purchases.


Pomegranate ice cream is the perfect blend of sweet and tart. Refreshing on a hot summer day, and a delightful after dinner dessert or any time of the year.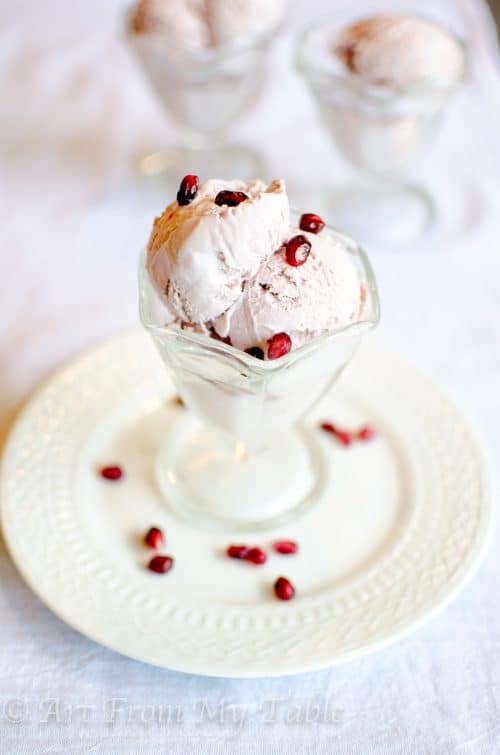 Disclosure: I'm honored to be partnering with United Dairy Industry of Michigan in order to bring you delicious dairy recipes that your whole family will love! Of course, all opinions are my own.
Ice cream, ice cream, we all scream for ice cream! And you'll definitely be screaming for Pomegranate Ice Cream!!
Another one of my favorite things in the summer is ice cream. I really do like it year round, I mean, who doesn't? But something about the hot summer sun makes me crave cold creaminess on my tongue and It. Is. Delightful.
This summer we've started a new tradition, Ice Cream Sunday's. Yes, we eat ice-cream every Sunday. I know, it's a brilliant idea, right?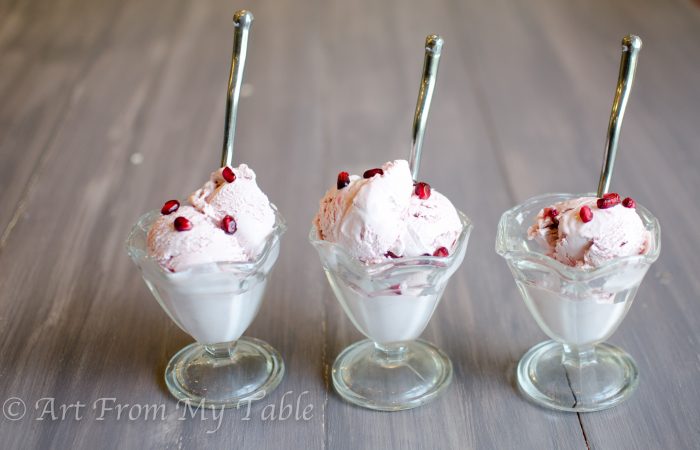 We have an ice cream maker, therefore we love to experiment with new flavors. I've been wanting to try pomegranate for while now. This pomegranate ice cream has bold flavor. It's tart and sweet, and super creamy.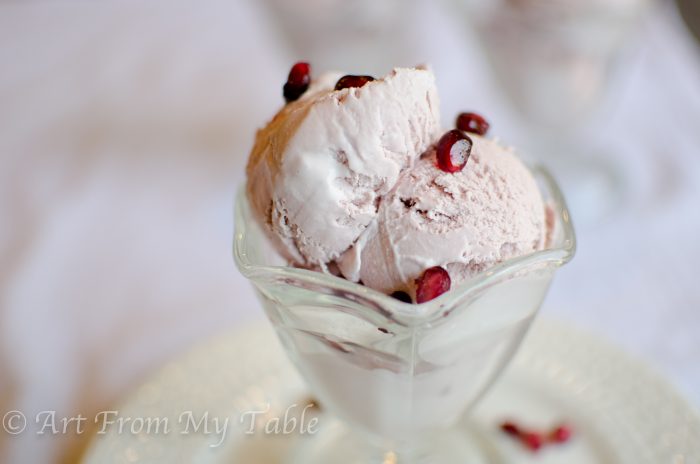 Here's how to make it: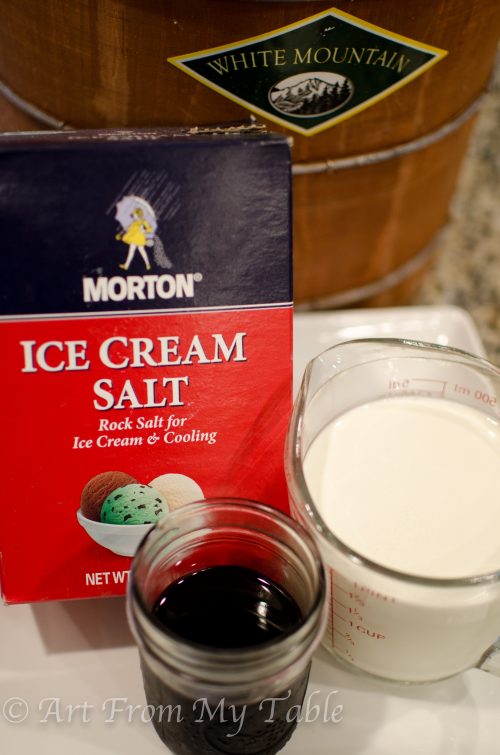 You'll need an ice cream maker, ice, ice cream salt, pomegranate reduction (recipe follows), cream, and pomegranate arils for garnish (optional) If you want it rich, use all cream, if you want it a little lighter use a combination of cream and half & half, or cream and milk. I used all cream.
Mix your pomegranate reduction and cream together. I used a pitcher for easy pouring into my ice cream maker.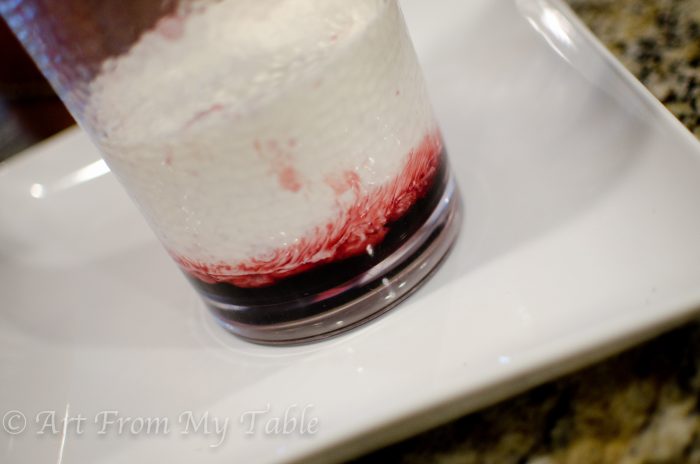 Stir it well.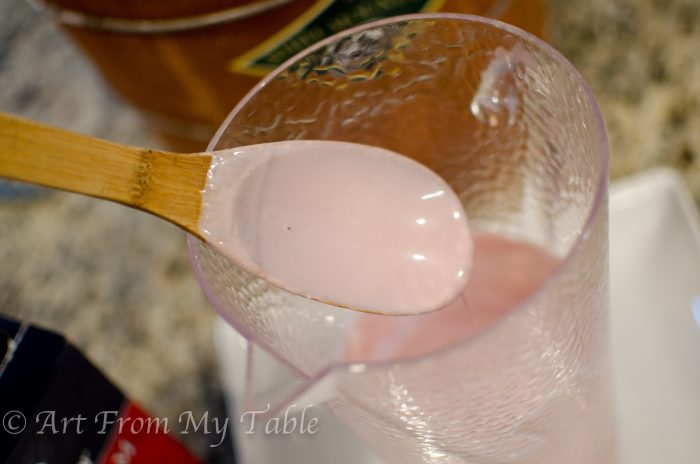 Now it's time to put it in your ice cream maker and let it work it's magic. That hardly felt like any work at all right? Super simple.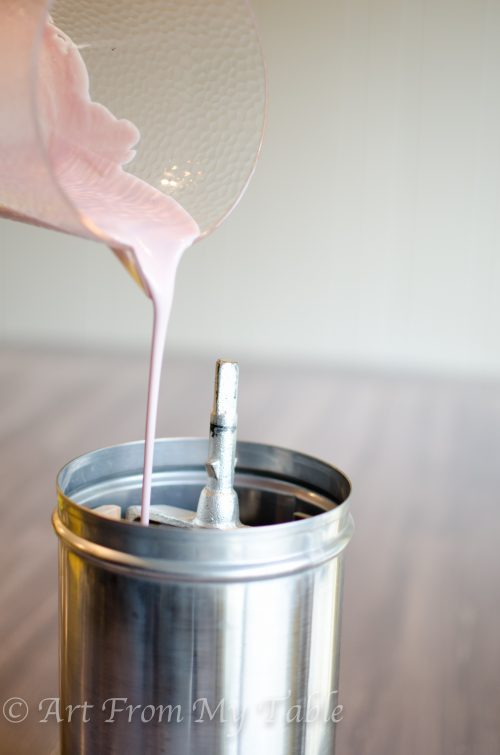 After you've followed your ice cream makers instructions, it should look like this: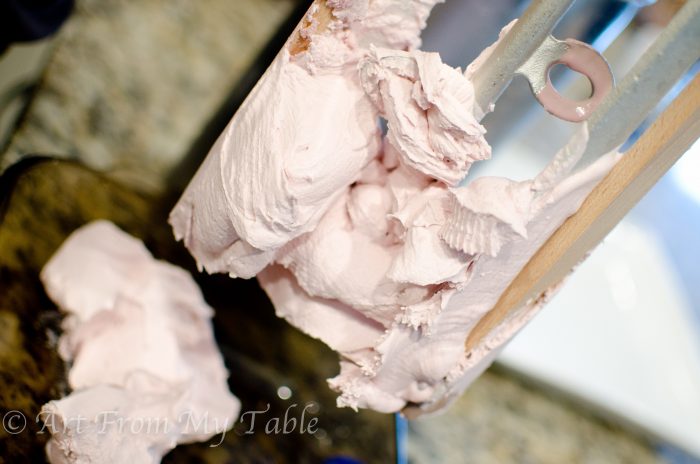 Creamy deliciousness! Who wants to lick the spoon... or um, blade thingy? You can serve the pomegranate ice cream right away if you want to, right now it's soft serve consistency. Or package it up and put it in your freezer until it hardens up and is more firm. The colder your ice cream is, the less flavor you can taste, so ideally, if it's in your freezer already, let it sit out for 10-15 minutes for ultimate flavor.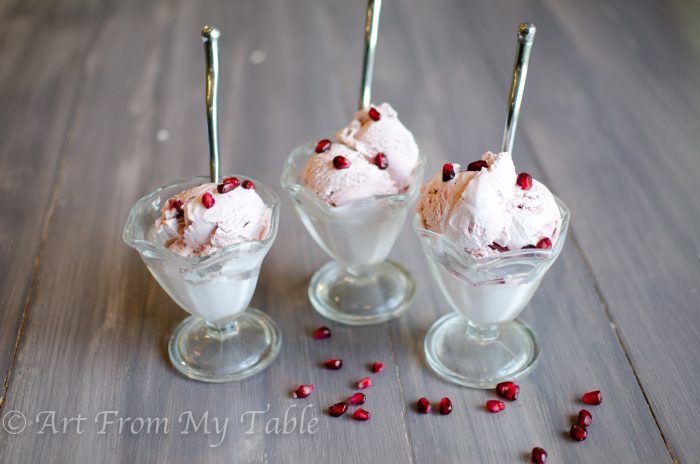 Another great thing about ice cream is it's nutritional value. Dairy has so many good nutrients for your body. Milk does a body good! You can read more at www.milkmeansmore.org. Plus, there are tons of recipes on their site. You won't be disappointed!
So here's the scoop on the pomegranate reduction. (I just realized I said 'scoop', hardy had har!) When you do a reduction, you're obviously reducing what you start with, in this case 100% pure pomegranate juice, but also, it creates an intense flavor. That's why I chose to do a reduction for this recipe, as I mentioned before, it's bold.
For the reduction:
4 cups 100% pomegranate juice (I like the POM brand, no matter what you use, it has to be 100% pomegranate, no blends)
½ cup sugar
¼ cup lime juice from freshly squeezed lime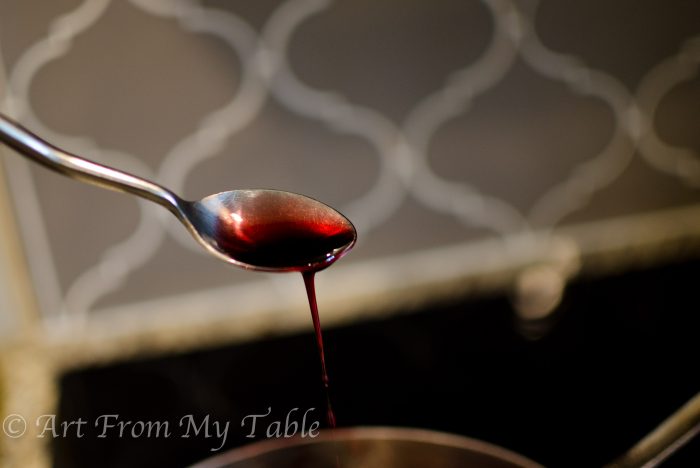 Combine all ingredients in a medium saucepan.
Bring it to a simmer, and let it go uncovered for about an hour until it's reduced to 1 ½ cups. It will be a syrup consistency.
I want to hear from YOU! What is your favorite ice cream flavor? Tell me in the comments! Plus, stay tuned, I'll be doing a giveaway in the next couple weeks and it has something to do with ice cream!!! 🙂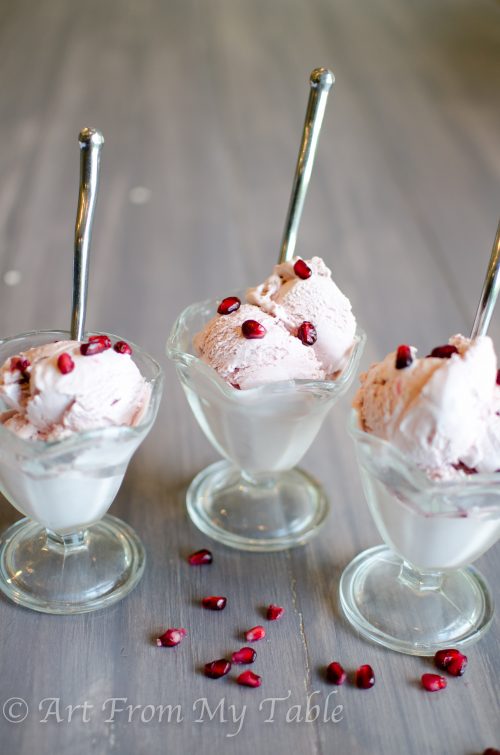 Want to take it up a notch? Infuse the cream with some cardamom pods. Just heat it gently over the stove. Remove the pods, and then cool the cream completely in the fridge before continuing with the recipe. This makes a great fall/winter addition to the pomegranate ice cream.
You May Also Like
Please share
Your shares are how this site grows, and I appreciate each one. Do you know someone who would enjoy this recipe?

I'd love it if you shared it on your favorite Pinterest board or Facebook! AND…if you like this recipe, please do me a favor and give it a ⭐️ ⭐️ ⭐️ ⭐️ ⭐️ rating! TIA 🥰

You can also follow along on YouTube and Instagram!
📋 Recipe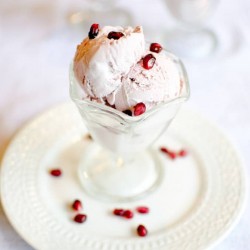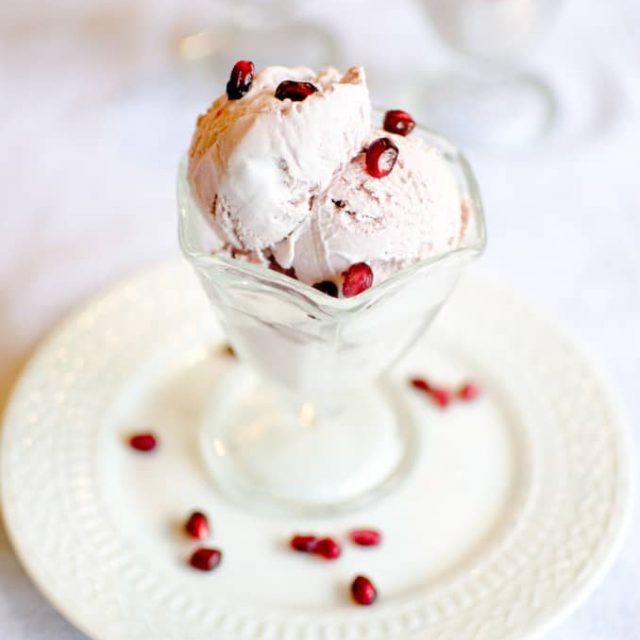 Pomegranate Ice Cream
Bold flavor that's tart and sweet.
Print
Pin
Rate
Ingredients
½

cup

pomegranate reduction

see the notes for how to make reduction

2

cups

heavy cream

or a combination of cream, half & half and/or milk

pomegranate arils

seeds for garnish
Instructions
In a pitcher, add pomegranate reduction and heavy cream, stir to combine.

Add the mixture to the ice cream maker. Follow the manufacturer's instructions to churn the ice cream.

After churning, it will be soft serve consistency. Either serve right away, or place in a container and cover and store in your freezer. It will firm up more after chilling for a couple of hours.

To serve, scoop into dishes and garnish with pomegranate arils.
Notes
To make the pomegranate reduction:
In a small sauce pan, combine 4 cups 100% pomegranate juice, ½ cup of sugar, and ¼ cup lime juice (freshly squeezed)
Bring it to a simmer, let it continue to simmer until the mixture is reduced to about half. It will thicken to a syrup consistency and coat a spoon. It takes about an hour.
Cool completely and store in a covered container or jar in the refrigerator.
You only need ½ cup of the reduction for this recipe. Use the left overs in salad dressing, drizzled over vegetables, drizzled over ice cream or other fruit desserts, add some to your coffee or hot chocolate.
Nutrition
Calories:
285
kcal
|
Carbohydrates:
5
g
|
Protein:
2
g
|
Fat:
29
g
|
Saturated Fat:
18
g
|
Cholesterol:
109
mg
|
Sodium:
32
mg
|
Potassium:
104
mg
|
Sugar:
3
g
|
Vitamin A:
1166
IU
|
Vitamin C:
1
mg
|
Calcium:
54
mg
HUNGRY FOR MORE? Subscribe to my newsletter to have recipes delivered to your inbox and to stay up to date on the latest!