These healthy and light chicken stuffed sweet potatoes will leave you feeling energized and satisfied. Seasoned chicken, healthy veggies and crunchy lettuce, you can't go wrong.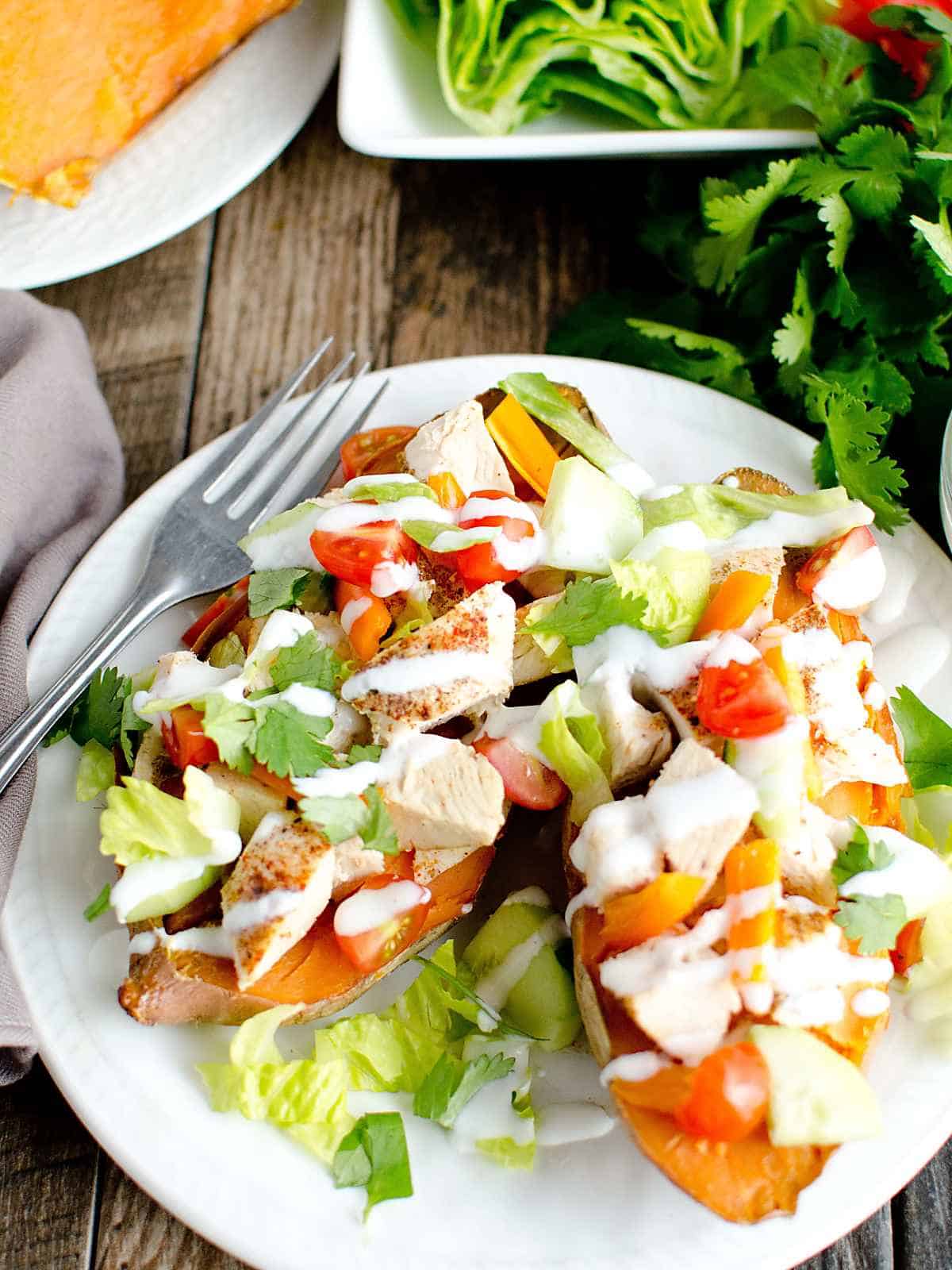 Happy New Year friends! Who's ready to get back on track when it comes to eating right?  Did anyone else indulge over the holidays?  🙂  You will love these Skinny Chicken Stuffed Sweet Potatoes!  Only about 5 ingredients and super easy to make~that's my kind of meal!
I hope your holidays were wonderful.  It's hard to believe it's all over now and we have a brand new year ahead of us. I love how the new year brings a fresh start, a clean slate.  Any resolutions?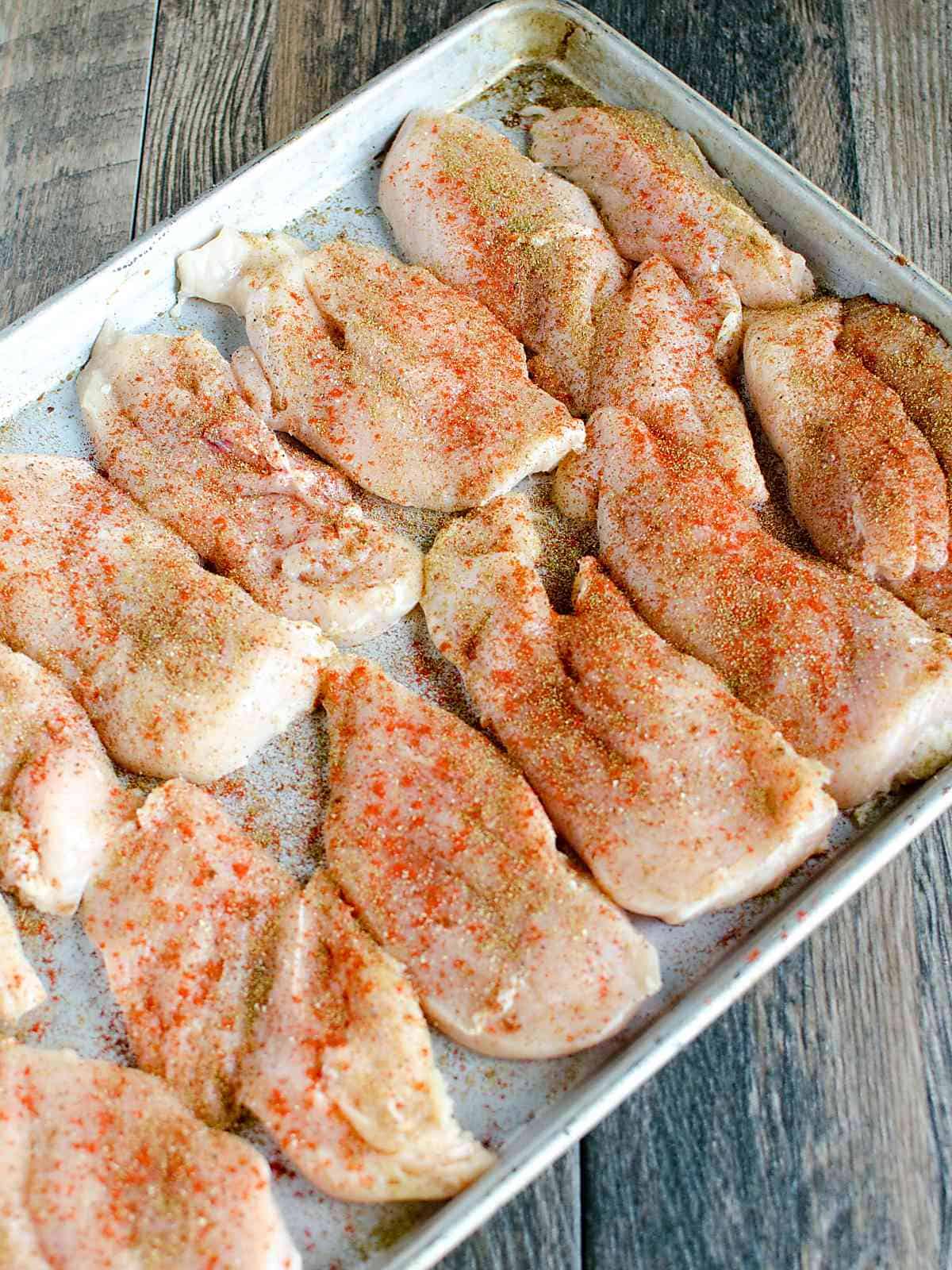 This post may contain affiliate links
I don't know about you, but I'm pretty much an 80/20 kind of gal.  I eat healthy most of the time, but I do indulge once in awhile.  That week between Christmas and New Years? Yeah, that was probably my 80/20 turned around.  Haha!
Don't worry about what you eat between Christmas and New Years, worry about what you eat between New years and Christmas.
Back in May, I started eating the Trim Healthy Mama way.  This recipe was inspired by one of the recipes in the Trim Healthy Mama cookbook.  I love it, because as I mentioned, it just has a few ingredients and comes together quickly. Perfect if you have a busy family meal time.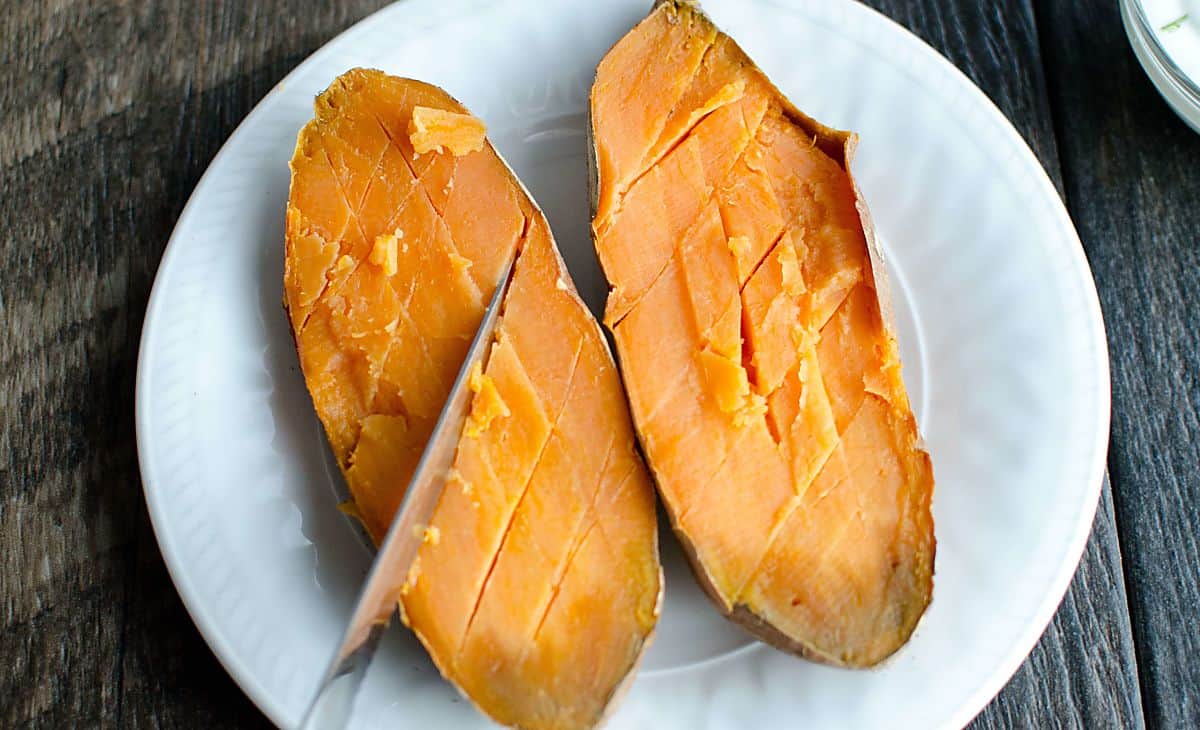 I'm also fond of these chicken stuffed sweet potatoes because they leave me feeling satisfied. Sweet potatoes are a healthy carb, but you get that filled up feeling that starches can give you without the unhealthy results.  🙂  I think one of the worst things about getting on a healthy eating plan is often people feel hungry all the time.
If you're looking to boost your metabolism this season, check out this metabolism boosting tea. Another favorite from the cookbook, it's actually called "the shrinker".  🙂  It has a deliciously sweet chai-like flavor.  So yummy!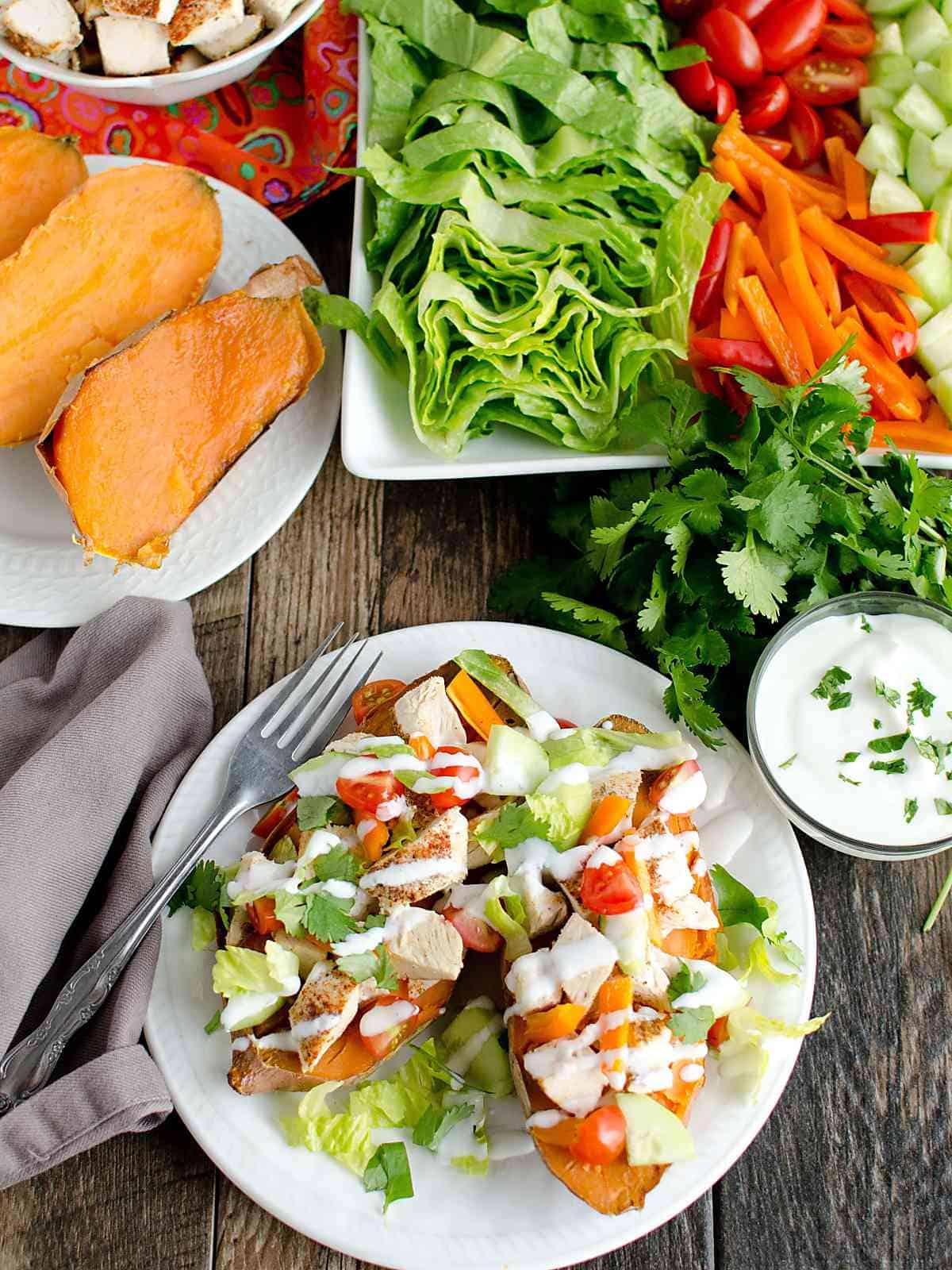 Okay, back to our potatoes.  It's easy as 1-2-3.  Bake up some sweet potatoes and chicken, slice up some veggies, and load that potato.  See?  So easy!
I used crunchy romaine lettuce, some orange and red bell peppers, cherry tomatoes and cucumbers. You could use any of your favorite ones.  It's super versatile.
And, to keep it nice and light with an extra dose of protein, I use Greek yogurt instead of sour cream to top it all off.

I would love to connect with you! Leave me a comment and follow me on Facebook, Twitter, Instagram and Pinterest.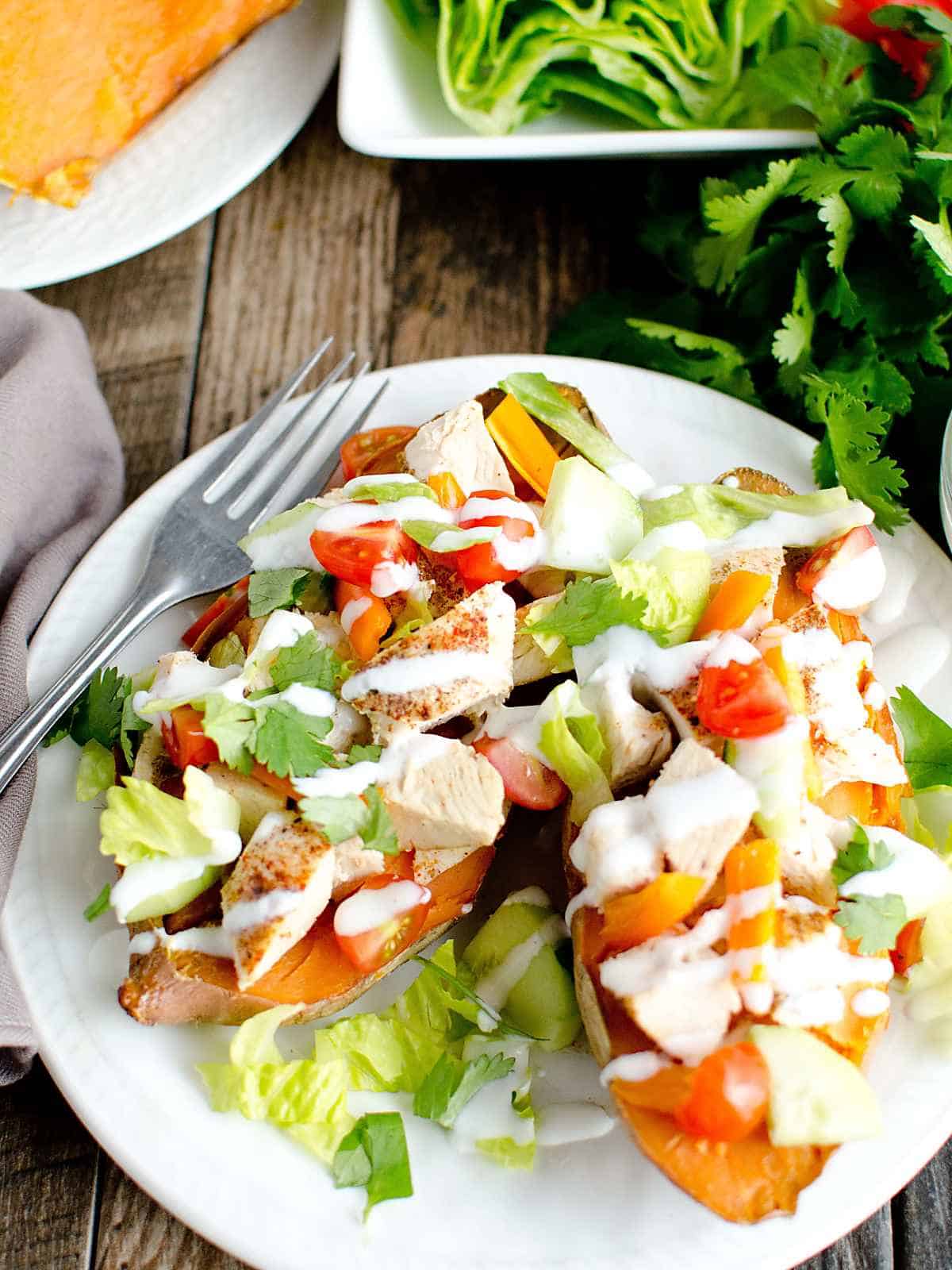 Looking for more awesome ways to incorporate sweet potatoes?  Check out these~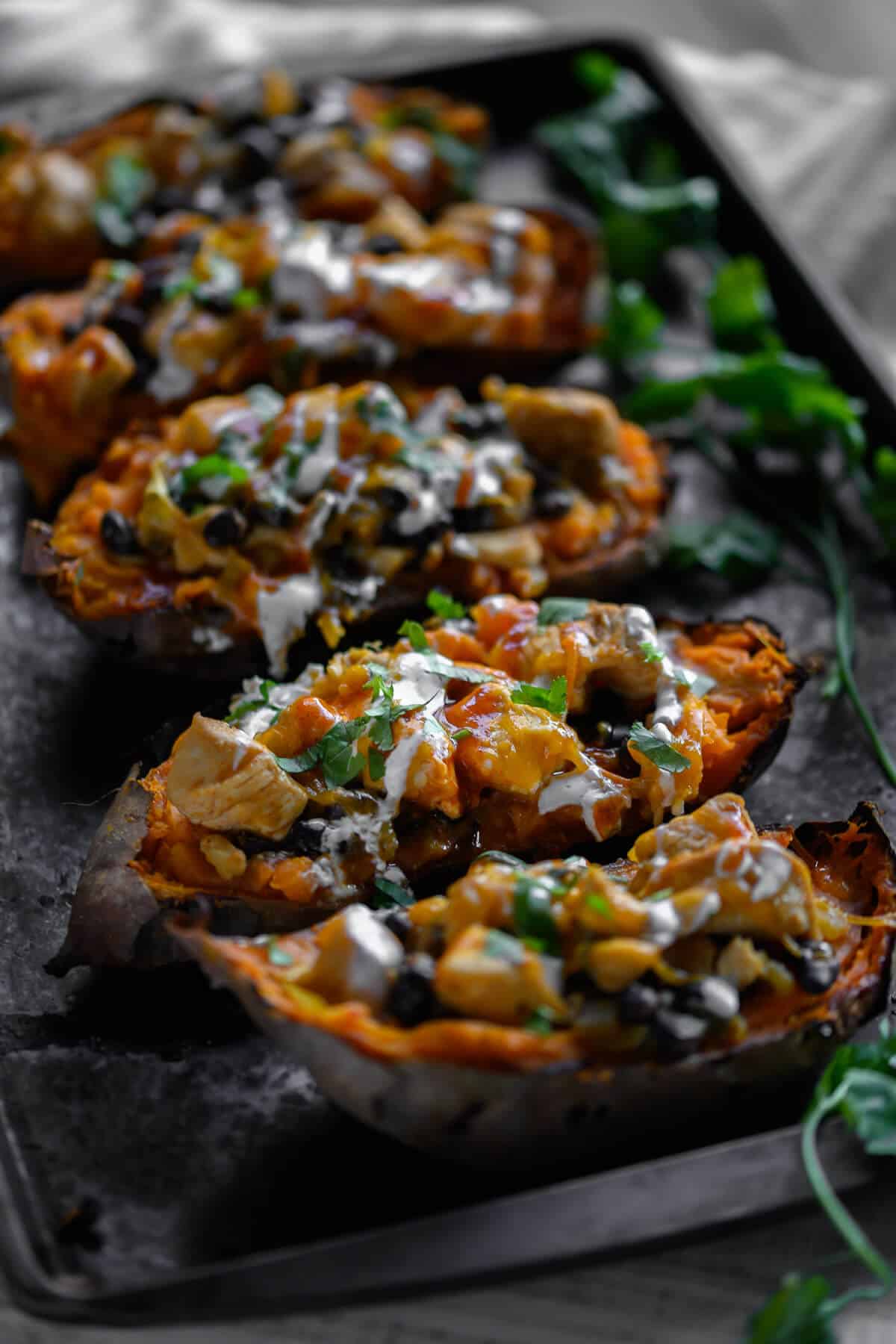 Enchilada Stuffed Sweet Potatoes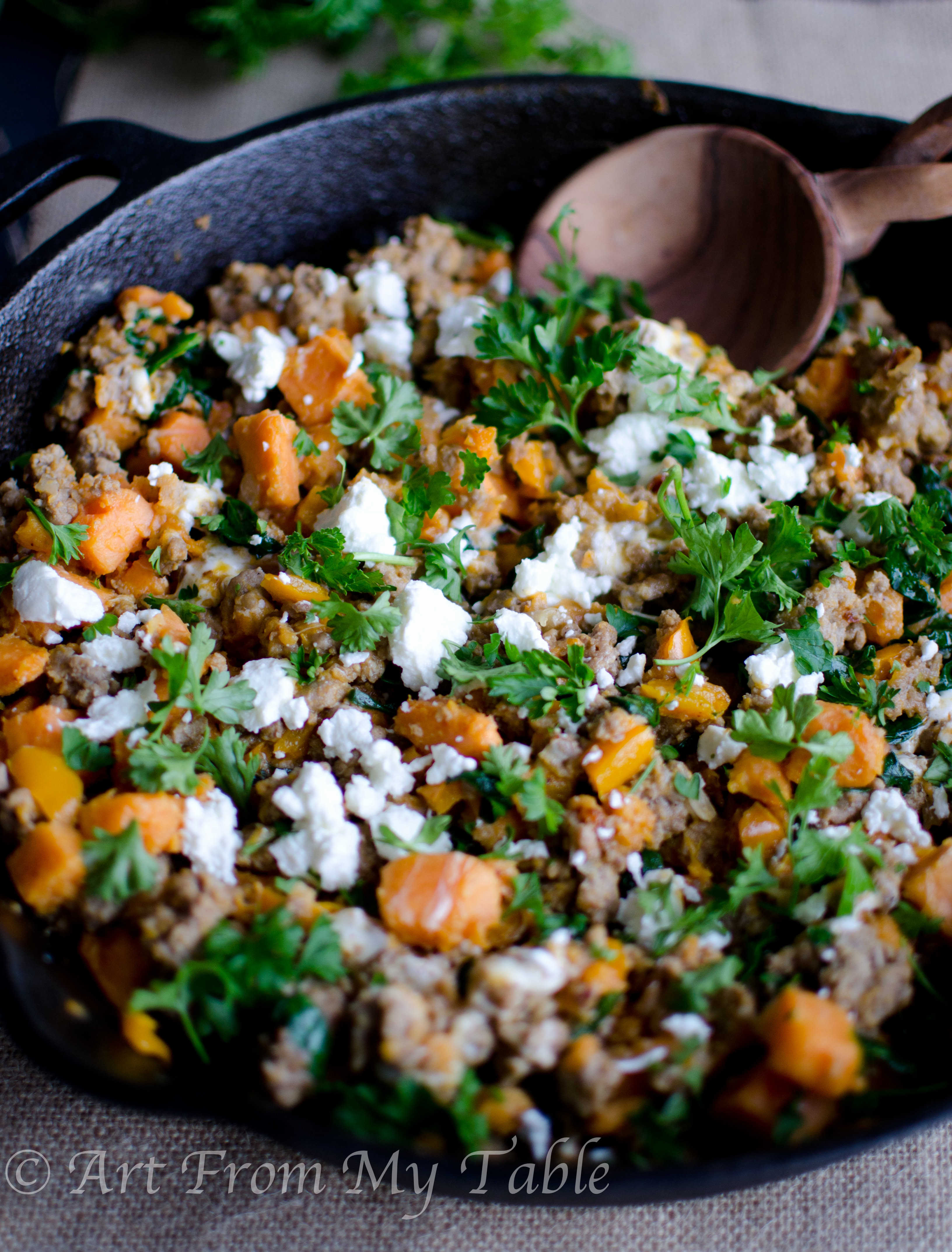 Turkey Skillet Dinner with Sweet Potatoes & Kale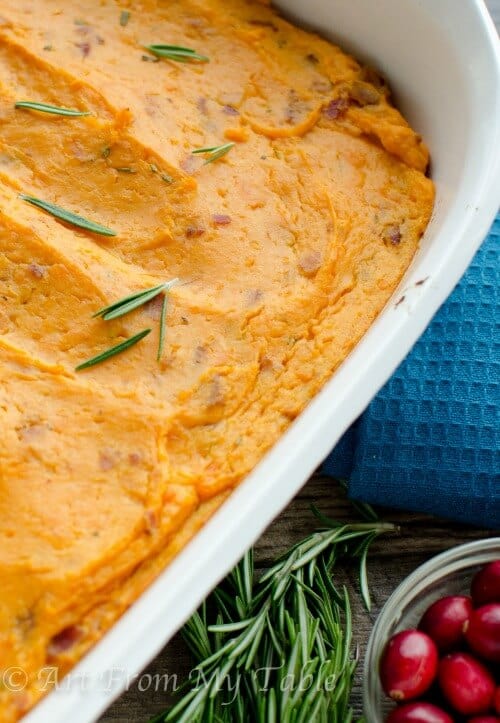 Savory Sweet Potato Mash
Don't want to miss a thing?
[mc4wp_form id="2571″]