As an Amazon Associate I earn from qualifying purchases.


Greek Style Baked Vegetable Medley will give you a welcome change of pace in the veggie department.
Are you in the habit of serving the same vegetables over and over? I kind of get that way too. Of course any habit that includes vegetables has to be a good one, right?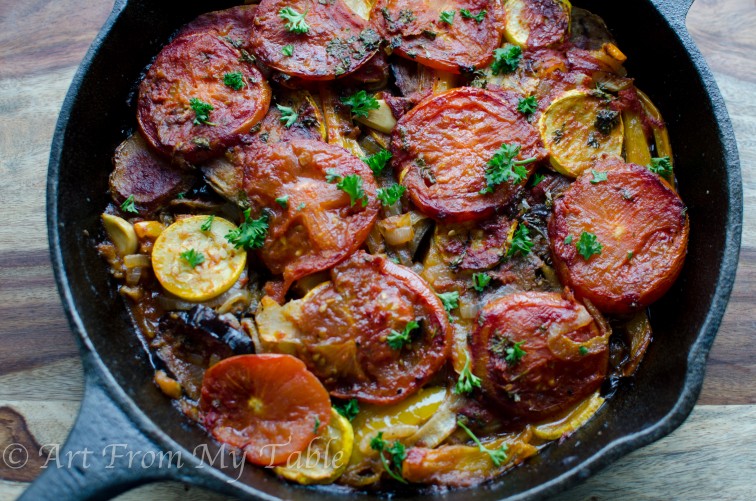 Baked, steamed, or raw?
One of the things that's so amazing about food is the different flavors you can create with the same foods. When you eat a tomato raw, it's juicy and delicious, but when you roast it, it brings out the sweetness and a deeper flavor. How about garlic? Raw, it's crunchy, has bite and a little spiciness, but roast it and it becomes soft, and mild. I could give you a plethora of examples here, but I think you get the idea.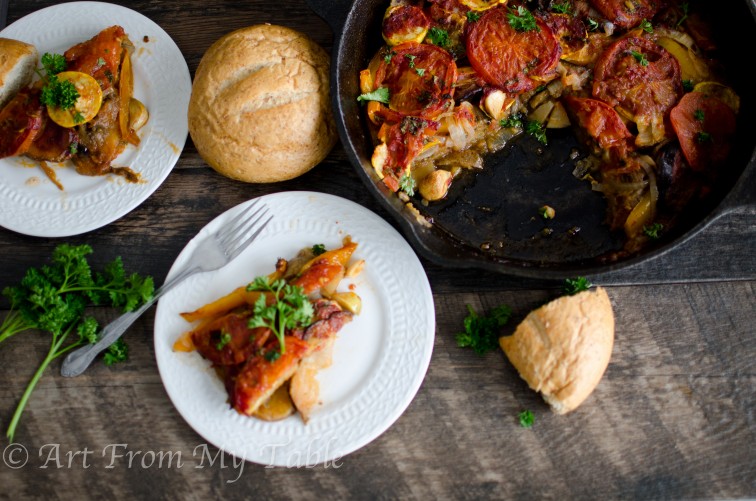 Baked Vegetable Medley is a recipe I found paging through a magazine. We have a new store in town called "Fresh Thyme". It's an awesome store, I only wish it were closer. Ya know how stores have little magazines/flyers they pass out? This recipe was found in their little hand out. It originally comes from "The Islands of Greece" by Rebecca Seal. This is my adapted version.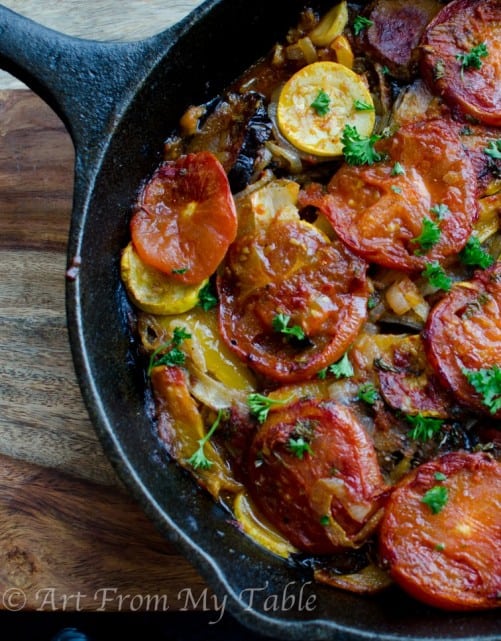 This dish requires a little more time than the average dish, however, I think you'll find it completely worth the extra effort. Most of the time is hands off.
A baked vegetable medley makes a lovely side dish to change up your staple vegetable served, or, it can be a main dish for fewer people. A perfect vegetarian, gluten free option!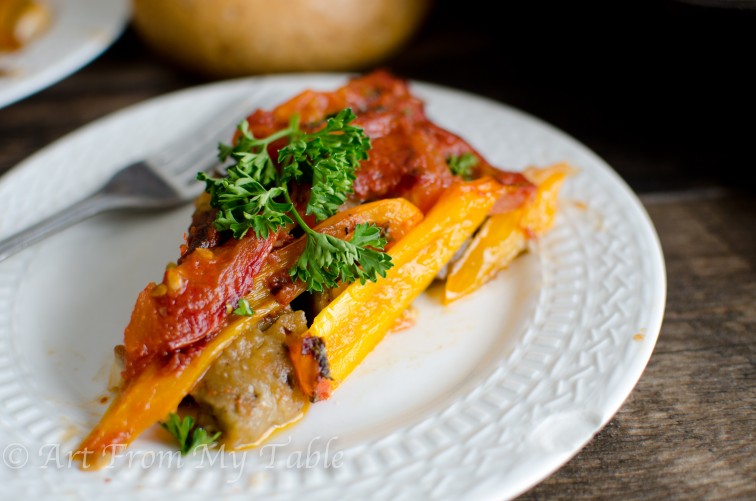 Here's a basic overview. Complete recipe is on the card below.
Ingredients:
Olive oil
potato
onion
summer squash
bell pepper
eggplant
garlic
tomatoes
parsley
salt & pepper
tomato paste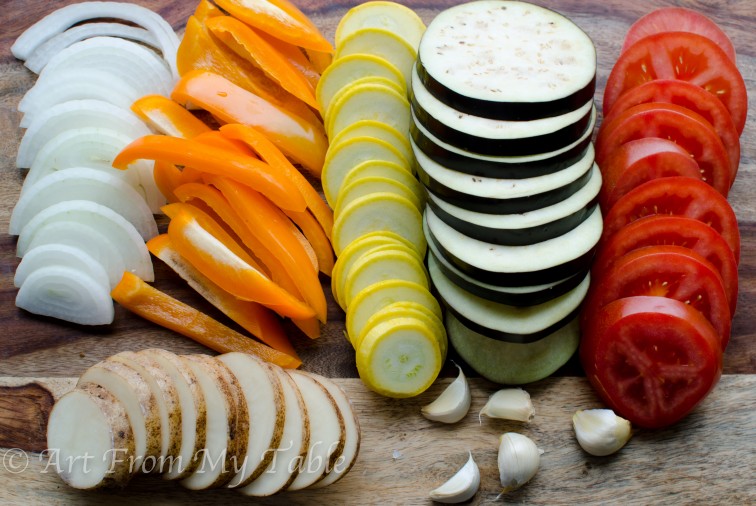 Instructions:
After slicing your veggies, heat some olive oil in a large saucepan and saute' the potatoes, squash, onion and eggplant. Just long enough to get some color on them.
Place potatoes in a layer on the bottom of an oven proof pan (I like my cast iron skillet for this). Then layer the squash, and eggplant, mixing some of the onions and peppers throughout. Or, layer the veggies however you prefer. Top with tomatoes, parsley and season with salt and pepper.
Mix the tomato paste with water and whisk well until blended. Pour over the top of the vegetables. Drizzle some olive oil over the top and place in a preheated 350 degree oven. After 30 minutes, remove the dish and baste the vegetables with their juices. Reduce the oven to 325 and cook for another hour. Check it every 20 minutes to make sure the liquid isn't too low. If you need to, top with a little more water. If the vegetables are browning too quickly, cover it with foil.
Take it out of the oven when the vegetables are a little charred on top and soft. Let it stand for 10-15 minutes before serving.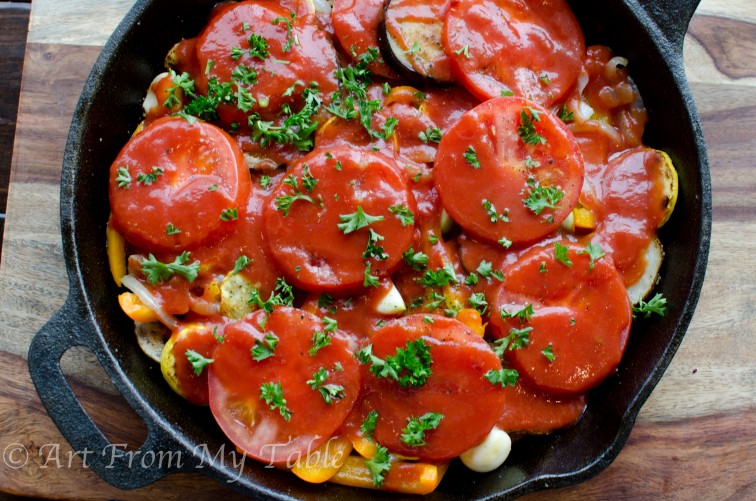 Serve this with some delicious crusty bread as a main dish, or make it the perfect side dish to compliment any meal.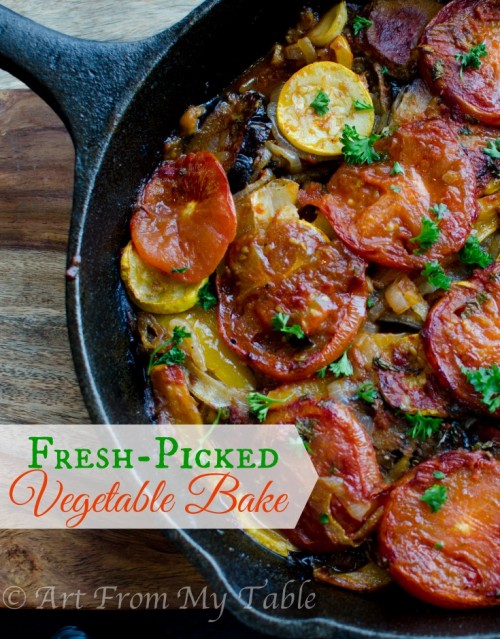 More Veggie Recipes
📋 Recipe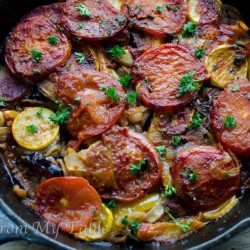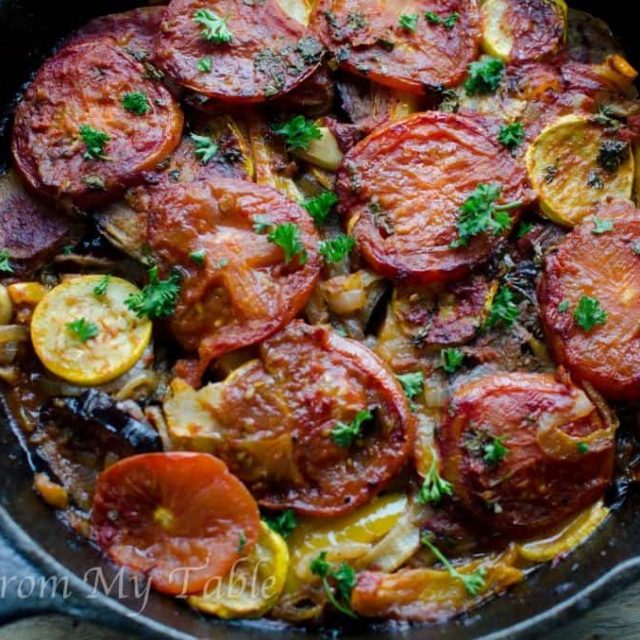 Baked Vegetable medley~Greek Style
a delicious medley of vegetables that will compliment any meal, or stand alone as the star of the show.
Print
Pin
Rate
Ingredients
5

tbs

olive oil

2

large russet potatoes

cut into ½ inch slices

1

cup

onion

sliced into half moons

1

summer squash

sliced

1

bell pepper

cut into strips

1

eggplant

sliced into ¼ in. thick rounds

6

whole garlic cloves

peeled

2

tomatoes

slice into ¼ in. rounds

2

tbs

parsley

finely chopped

salt and pepper to taste

1

teaspoon

tomato paste
Instructions
Preheat the oven to 350.

Heat 3 tablespoons of olive oil in a large saute pan. Add potato, onion, garlic, squash, bell pepper, and eggplant and saute for 5- 10 minutes, until golden.

Layer up the sauteed vegetables in an oven proof pan/dish.

Finish with the tomatoes and parsley and season with salt and pepper.

Mix 1 teaspoon of tomato paste into ⅔ cups of water and whisk well.

Pour over the top of the dish.

Drizzle remaining olive oil over the top.

Place in the oven and cook for 30 minutes.

Remove and baste the vegetables in their juices. Reduce the oven to 325 and cook for another hour. Check every 20-30 minutes to make sure you have enough liquid. If it gets low just add some water.

If vegetables brown too fast you can loosely cover them with foil.

Remove from the oven when the vegetables are slightly charred and soft.

Let stand 15 minutes before serving.
Nutrition
Calories:
199
kcal
|
Carbohydrates:
21
g
|
Protein:
4
g
|
Fat:
12
g
|
Saturated Fat:
2
g
|
Sodium:
23
mg
|
Potassium:
761
mg
|
Fiber:
6
g
|
Sugar:
7
g
|
Vitamin A:
1167
IU
|
Vitamin C:
51
mg
|
Calcium:
50
mg
|
Iron:
3
mg