This Turkey skillet dinner is the perfect one pot meal.  It's quick, easy, and super tasty.  Dinner in 30 minutes!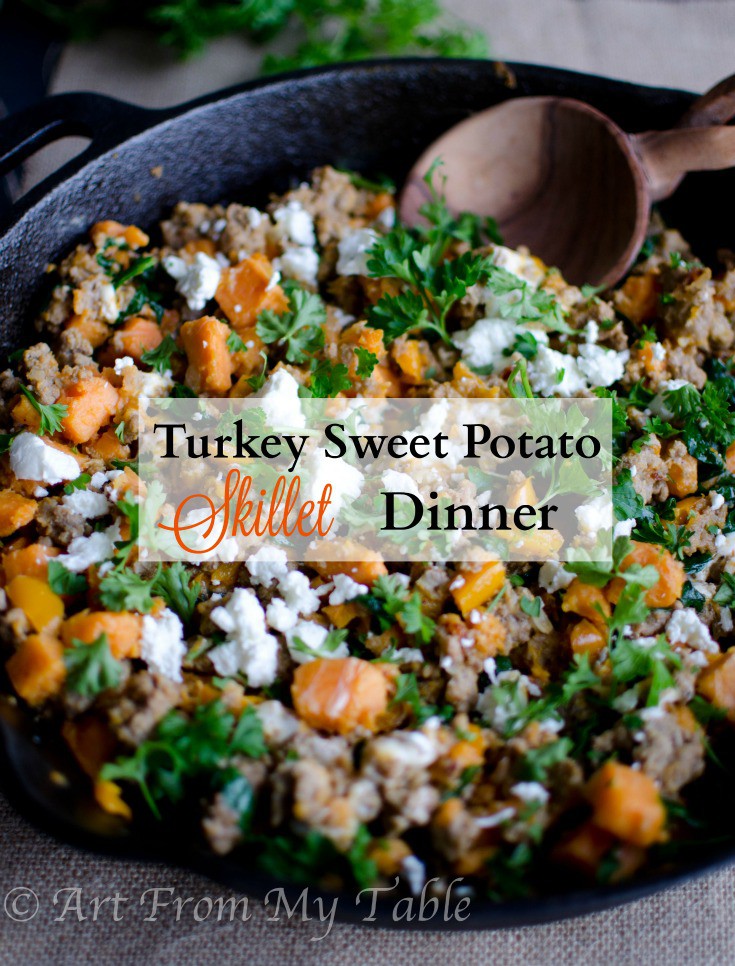 Turkey Skillet Dinner
Life is busy isn't it?  I don't even like that word, busy.  We are all busy, I prefer to use the word "full".  Because I think busy almost has a negative connotation to it.  In my life, busy doesn't necessarily mean bad, or crazy.  We have four kids, we homeschool, and we have extracurricular activities.  It's all good stuff friends, but it is full, and it's a season.  That's one of the reasons I love this Turkey Skillet Dinner.  On those days when I need dinner in a hurry, and not just take out or pizza, this is the answer.  Plus, not only does it taste awesome, it's really good for you.  What more could you ask for?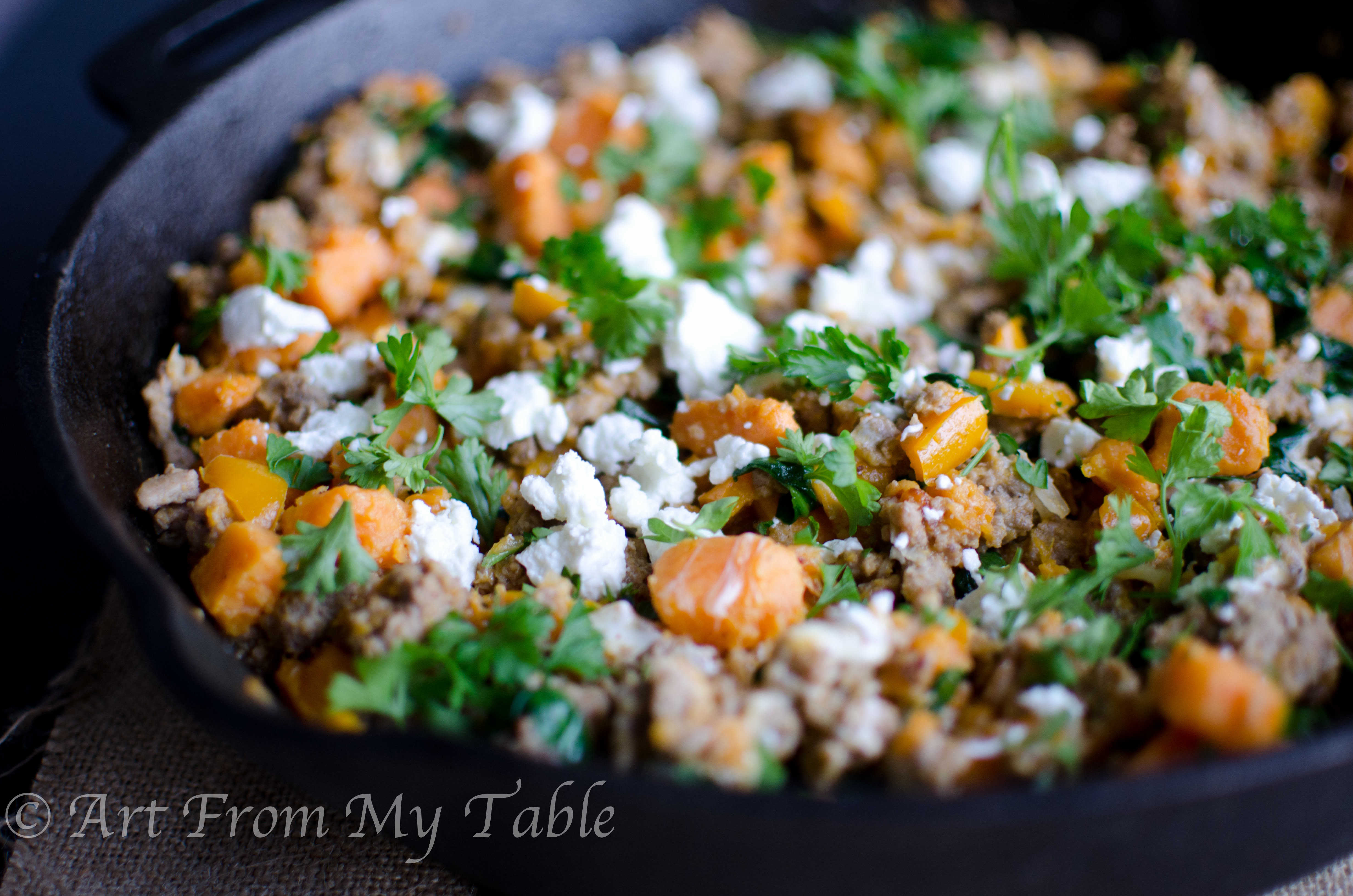 Easy Does It
Just a few ingredients and you have a one pot wonder!  Ground turkey, onion, sweet potato, kale (or spinach), and cheese.  Only 5 ingredients, besides your salt and pepper, which I don't usually count as an official ingredient because everyone has that.  I guess 6, if you count the parsley.  I used that to garnish it, but it does add some great flavor and it's good for you too.  Completely optional.
If you're really short on time, take a few minutes on the weekend, or the night before and peel and cut the sweet potatoes.  They will keep just fine in the fridge.
Here's the basics– brown the ground turkey, add the sweet potato (and some water if there's no liquid in the pan), cover it and cook until the potatoes are tender.  That'll take about 10-15 minutes max.  Then add the kale or spinach, whichever you prefer, let it cook down and top with goat cheese.  Garnish with parsley and serve it up.  There ya go!  Turkey skillet dinner, dinner is done, one pot meal!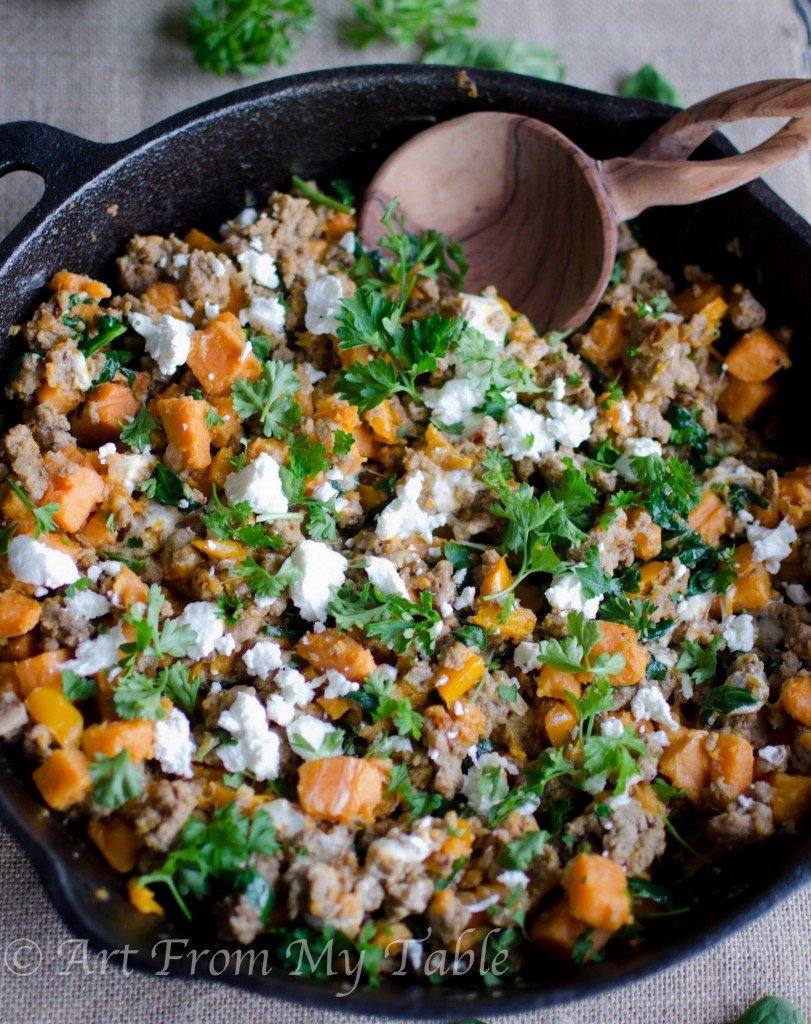 Variation:  If you're really into cheese?  Throw some fresh mozzarella in top, and toss it in the oven for a few minutes while it melts, then top with the goat cheese.  You can never have enough cheese!  Am I right or am I right?
Turkey Skillet Dinner with Sweet potatoes and Kale
One pot wonder, just 5 ingredients and you have a healthy well balanced meal in 30 minutes.
Ingredients
2 Tbs olive oil
2 pounds lean ground turkey
1 small onion, diced
3 cups sweet potatoes, peeled and cut into chunks
3 cups Kale or Spinach
¼ cup crumbled goat cheese (or more to taste)
Salt and Pepper to taste.
parsley, optional for garnish
Instructions
Warm the olive oil in a skillet
Add onions and saute until translucent, 5 minutes.
Add the ground turkey, browning and breaking up until cooked through.
Add the sweet potatoes, and cover. (you may need to add a little water) Cook until tender, 10-15 minutes.
Add the Kale, and cook until wilted.
Add the cheese.
Garnish with parsley if desired.
Looking for more easy dinners?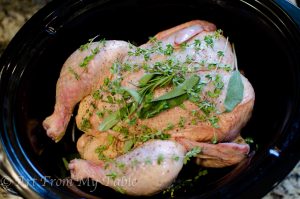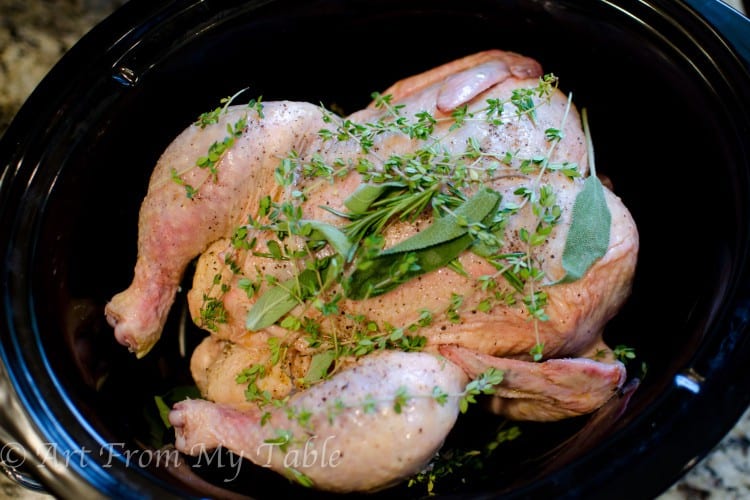 Slow Cooker Rotisserie Chicken
Carnitas Casserole Verde
Vegetarian Chili
Don't want to miss a single thing?  Sign up for my FREE newsletter and receive my FREE cookbook!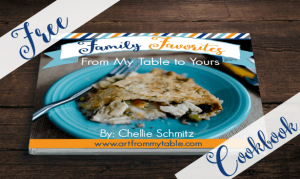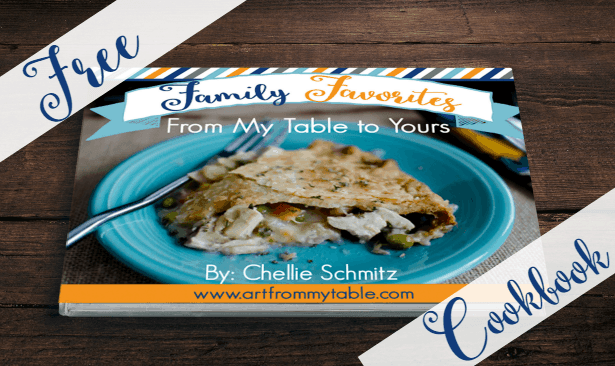 Blessings, Chellie