As an Amazon Associate I earn from qualifying purchases.


These delicious Oven Roasted Brussels Sprouts are tossed in a tasty pomegranate balsamic reduction, and garnished with pomegranate arils (seeds), making them the perfect side dish for any dinner!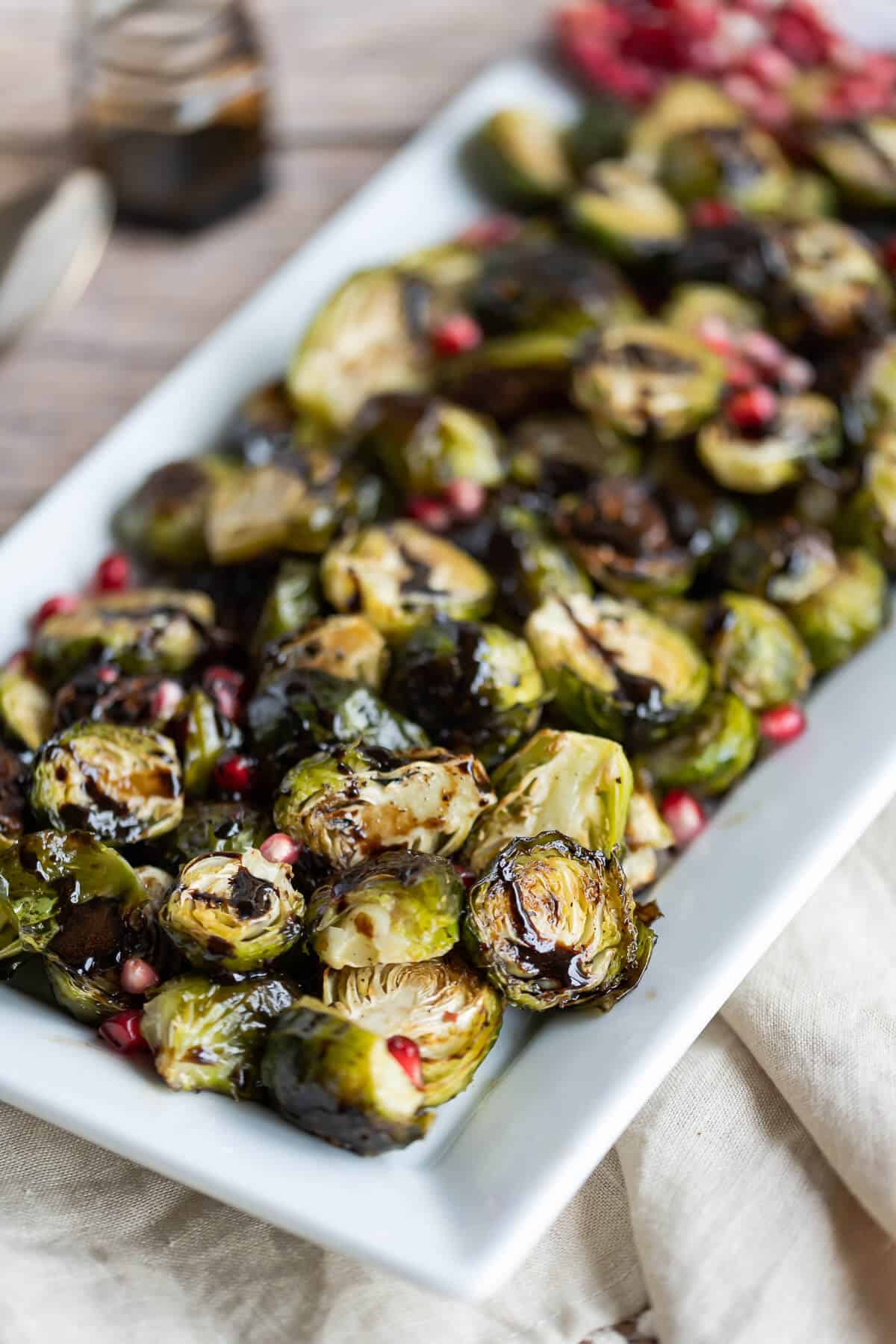 Raise your hand if you like brussels sprouts! Okay, so if you didn't raise your hand, you are not alone!! (used to be me too.)
Brussels sprouts can be a pretty divisive side dish. While some people LOVE them, most guests typically pass the bowl to the next person at the table without a second thought.
If you're one of those people in the second group, I'm here to change your mind about brussels sprouts!
This recipe is a game-changer, I promise you! I have made these dozens of times, and all the haters changed their minds.
How to Roast Brussels Sprouts
To make the best brussels sprouts, you really need to take the time to roast them.
Giving your brussels sprouts time to cook through while roasting in the oven enhances their flavor and improves the texture of the vegetables.
Perfectly cooked Roasted Brussels Sprouts are slightly sweet, a little crisp, and mildly flavored.
But if you're not a fan of brussels sprouts or haven't tried cooking them before, you might be wondering how to do it.
The good news is roasting them is one of the easiest ways to cook them!
Ingredients: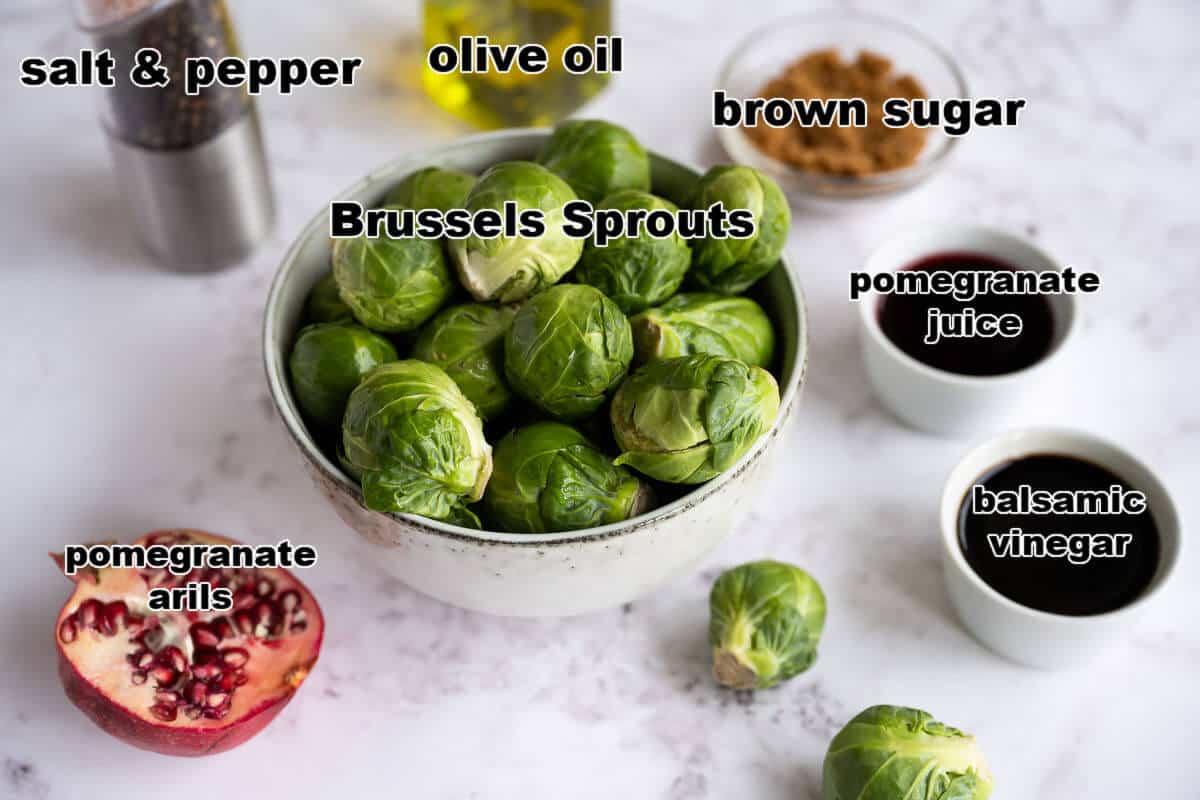 FOR THE BRUSSELS SPROUTS
Brussels sprouts
Olive oil
Salt and pepper
FOR THE REDUCTION:
Balsamic vinegar
Pomegranate juice
Brown Sugar
On top of only needing a few ingredients, you also only need a few minutes of prep work to start roasting your brussels sprouts.
One of the keys to properly roasting vegetables is high heat, so the oven will need to be preheated to 400 degrees.
STEP ONE- Prepare the brussels
To get an even bake on your vegetables, it's important to take the time to trim and slice your brussels sprouts before they go in the oven.
Wash the sprouts to remove all the dirt and debris.
Slice the tough stem off the top of each sprout.
Slice each brussels sprout lengthwise from the tip to the end.
Place the sprouts on a large rimmed baking sheet, drizzle oil toss them to evenly distribute the oil. Then season with salt and pepper.
AFMT PRO-TIP! No need to remove damaged or wilted leaves off the outside, they will fall off naturally when you trim them.
STEP TWO- Roast the vegetables
Place the brussels in a pre-heated 400° oven
Roast for 20-25 minutes, they should be golden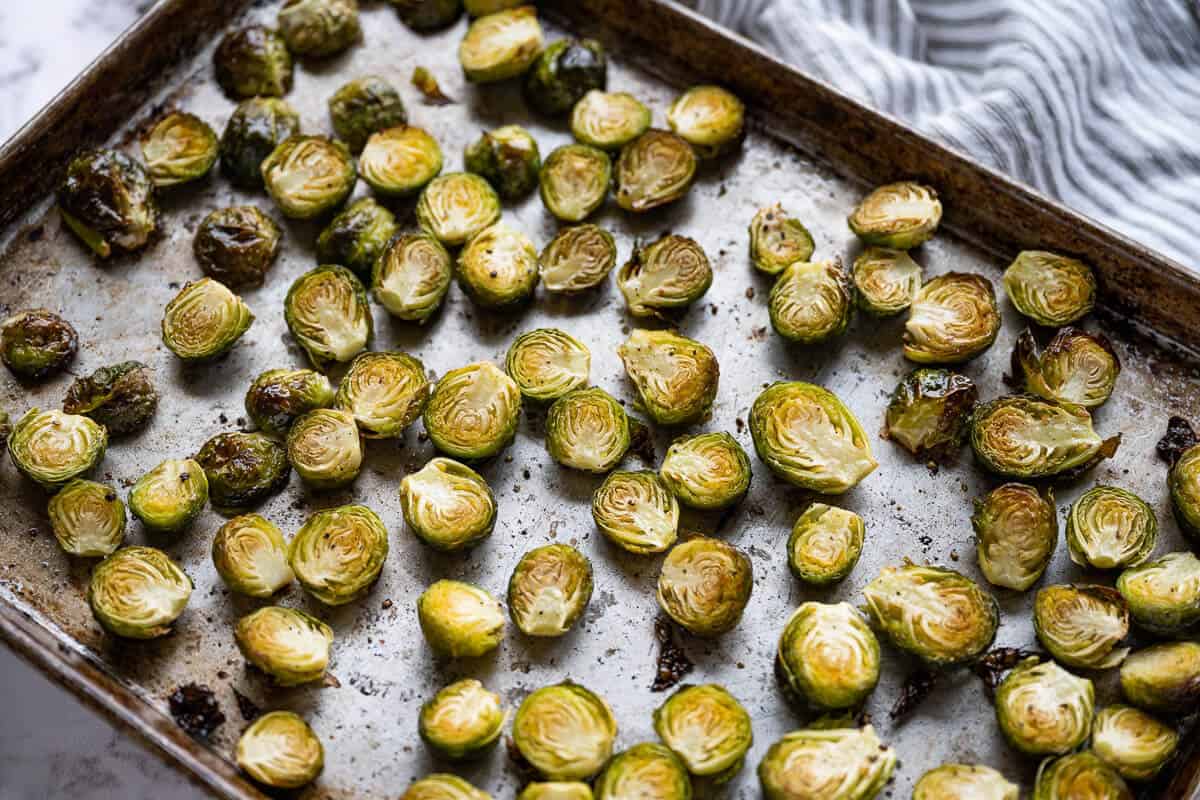 STEP THREE- Make the reduction
While your brussels sprouts are roasting, make your pomegranate balsamic reduction to drizzle over the crispy sprouts after they're finished baking.
While this may sound like a complicated sauce to make for such an easy side dish, a reduction is actually very easy!
Place the sugar, pomegranate juice (make sure it's 100% juice), and vinegar in a small sauce pan over medium high heat.
Bring to a boil, and then reduce the heat and simmer until the sauce is reduced by half.
NOTE: The sauce will become thicker upon standing, but initially after reducing, it should cling to a spoon.
If your sauce cools down and becomes hard, don't fret, just gently heat it to the consistency you'd like.
While sauce is reducing, prep the pomegranate arils, if using.
AFMT PRO-TIP! The easiest and cleanest way to release pomegranate seeds (called arils) is to do it in water.

Cut the pomegranate in quarters, then one at a time put the quarter under the water in a bowl. Using your fingers, bend the peel back a bit and gently pull the seeds out. The seeds will sink and the white pithy part will float, making it easier to separate.
STEP FOUR- Garnish & Serve
By now, your brussels sprouts are probably finished cooking to a nice, crisp texture.
Place the sprouts in a serving dish
Drizzle with the sauce
To add a little bit of flair to your dish, garnish the side dish with a handful of pomegranate arils.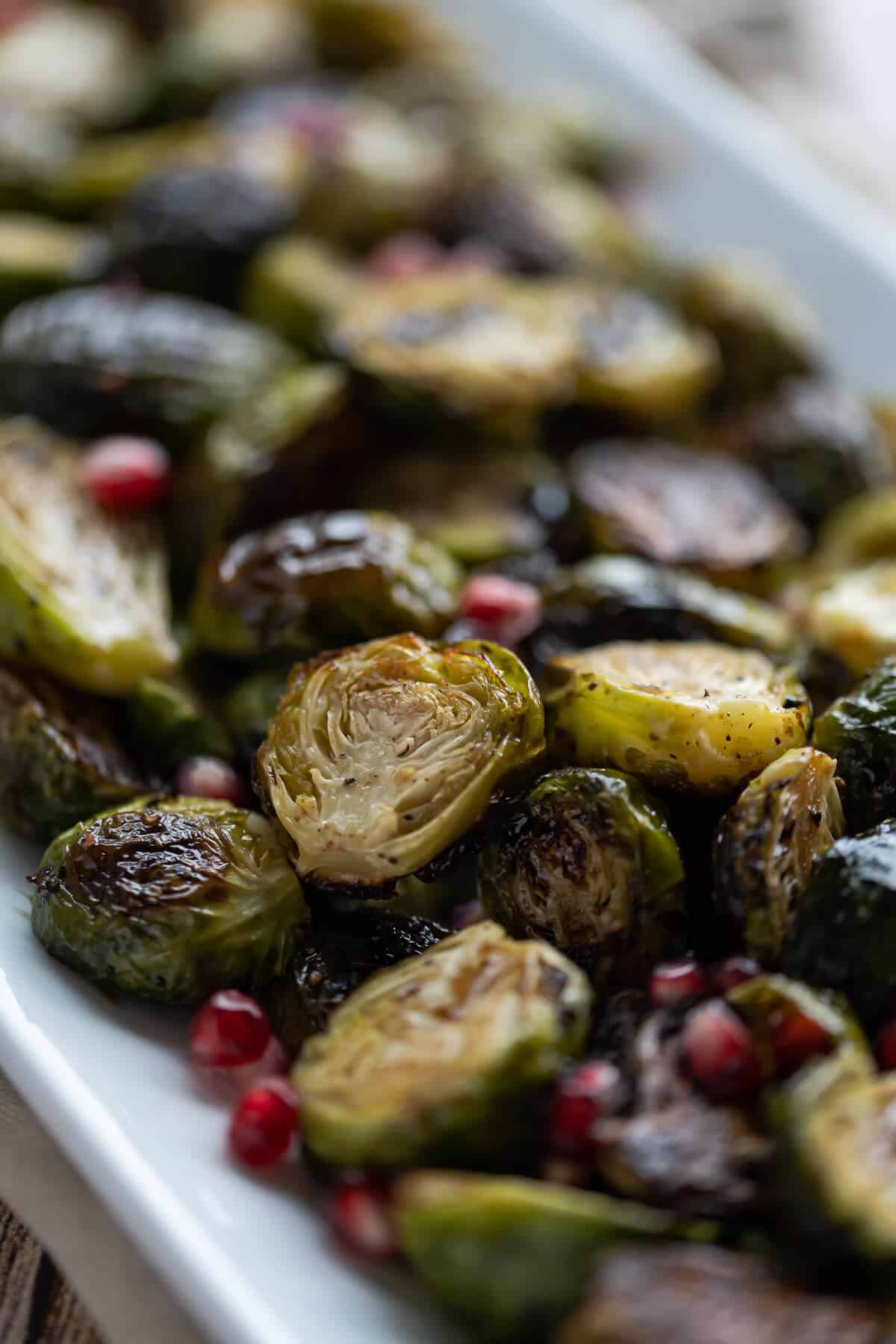 This delicious side really is one of the best roasted brussels sprouts recipes! It was so good, in fact, that my kids couldn't get enough of them!
Notes/Variations for Roasted Brussels Sprouts
You can make a 'plain' or unflavored balsamic reduction, just omit the pomegranate juice and reduce the sugar.

Sugar adds a nice sweetness, but if you like savory and tangy, you can actually skip the sugar altogether. If you're watching your sugar intake, feel free to use an alternative, I like Swerve Brown.
Substitute a seasoned salt for regular salt
Add some fresh herbs (such as rosemary or thyme) after roasting, and before serving. Make sure what you choose pairs well with your seasonings.
Add freshly grated parmesan cheese
Add bacon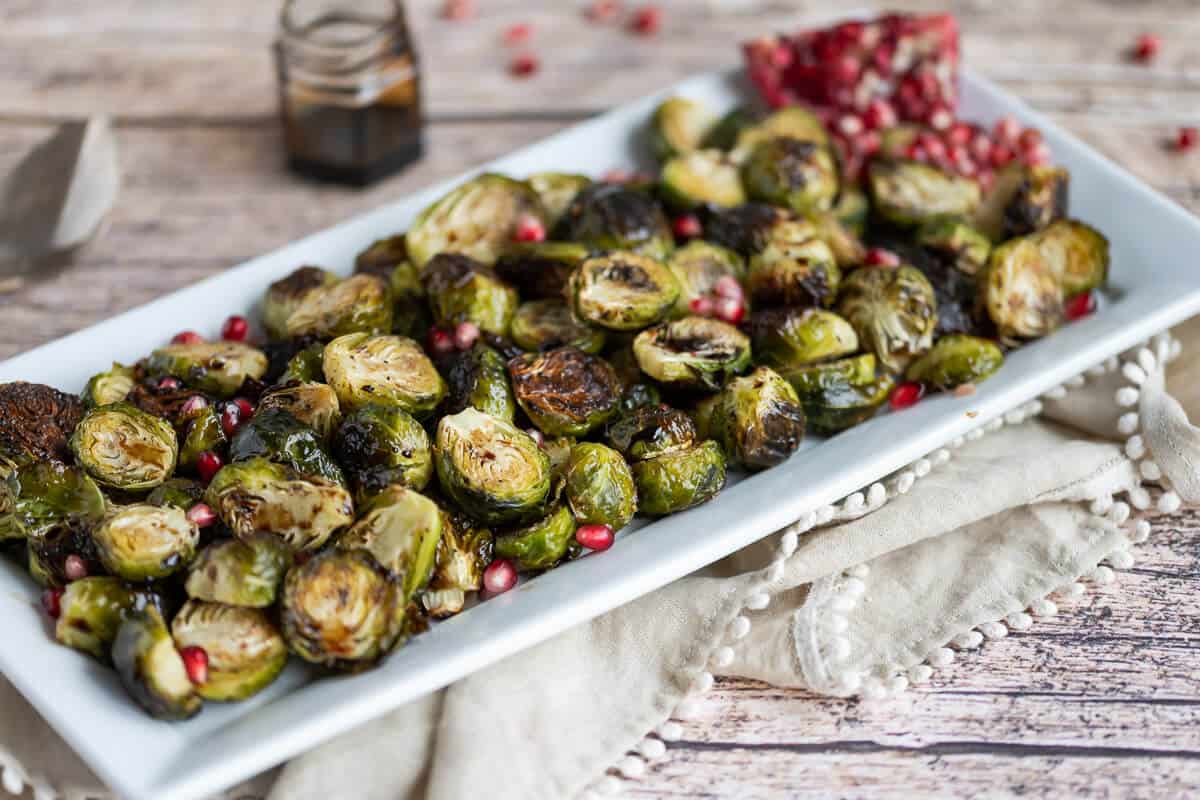 Faq's
Should you blanch brussels sprouts before roasting?
It's optional, I don't do it in this recipe. Blanching first will allow you to roast them at a higher temperature which will crisp the edges more.
Why are my brussels sprouts mushy?
When they are overcooked, they become mushy due to the release of excess sulphur. Sulphur is what makes cabbage and brussels sprouts smell like... cabbage and brussel sprouts. But, when they are cooked correctly, brussels sprouts are mildly flavored, a little sweet, and a little crisp
Can you roast brussels sprouts in advance and reheat them?
Yes, you can. Reheat them on a baking sheet at 300° for about 15 minutes, or until warm throughout. You don't want to cook them more. Reheating them in the oven will help them maintain their crispness.
What to serve with Brussels Sprouts
This easy side goes well with a variety of main dishes!
Pork. Brussels sprouts complement the flavor of several pork cuts, including pork chops and tenderloin.
Chicken. Whether you're serving roasted chicken or chicken breasts, thighs and legs, these easy roasted brussels sprouts will taste amazing. Here's a few to try:
Pasta. Skip the salad the next time you make a pasta dish and serve some roasted brussels sprouts instead.
Beef. Brussels sprouts also go well with beef dishes, including steaks and beef roasts, making them a great option for any weeknight dinner. Some of my favorites: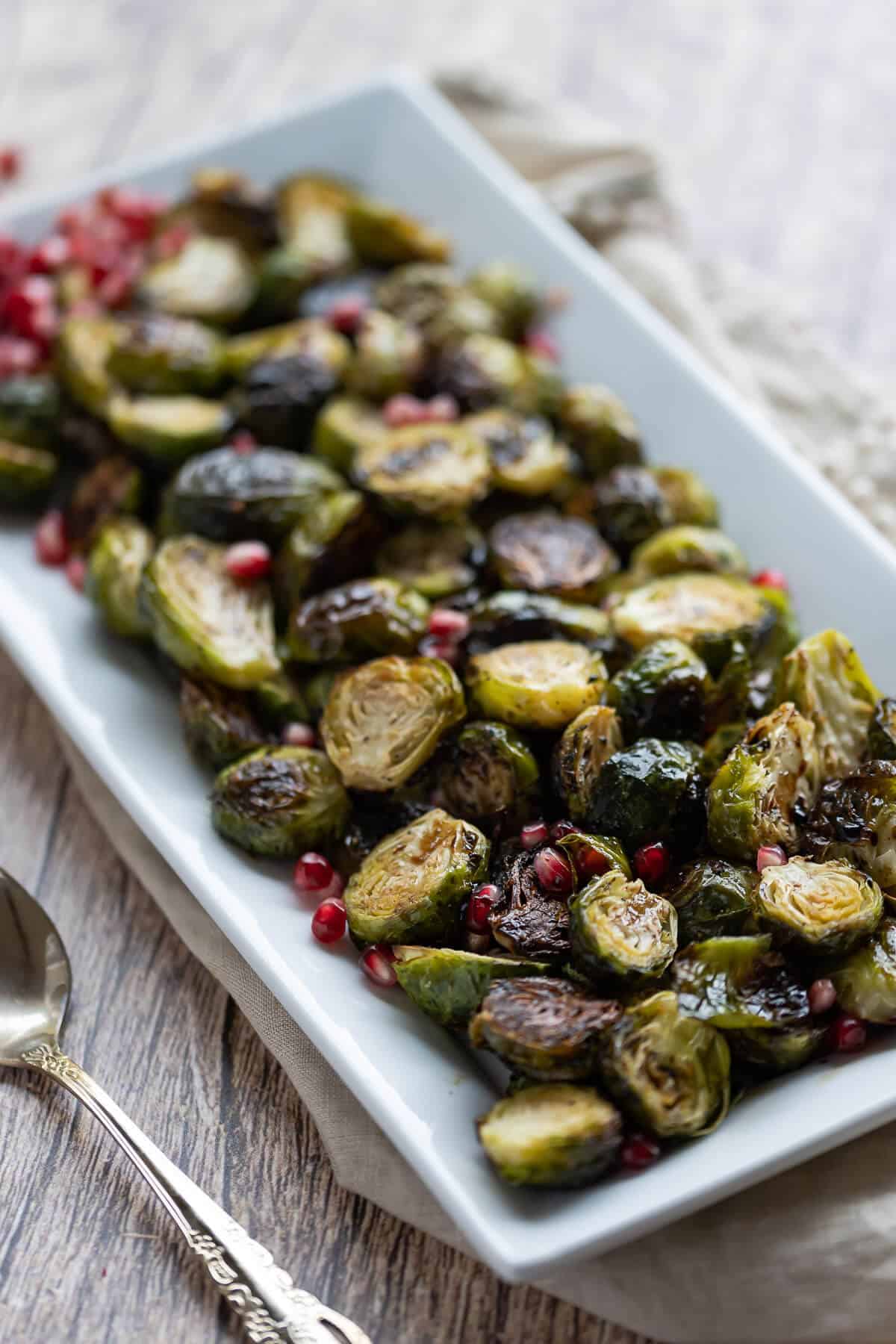 More Side Dishes
HUNGRY FOR MORE? Subscribe to my newsletter to have recipes delivered to your inbox and to stay up to date on the latest!
Please Share!
Your shares are how this site grows, and I appreciate each one. Do you know someone who would enjoy this recipe?

I'd love it if you shared it on your favorite Pinterest board or Facebook! AND…if you like this recipe, please do me a favor and give it a ⭐️ ⭐️ ⭐️ ⭐️ ⭐️ rating! TIA 🥰

You can also follow along on YouTube and Instagram!
📋 Recipe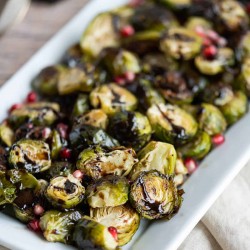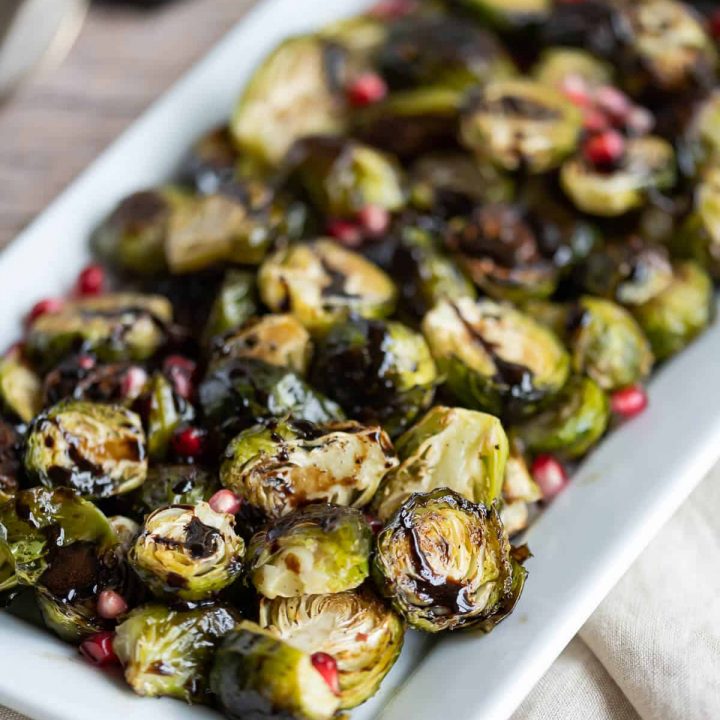 Roasted Brussel Sprouts
Roasted brussel sprouts with a sweet and tangy balsamic glaze
Print
Pin
Rate
Equipment
large rimmed baking sheet
Ingredients
1

pound

brussels sprouts

2

tablespoon

Olive oil

salt and pepper to taste

½

cup

balsamic vinegar

½

cup

pomegranate juice

I like POM, make sure it is 100% juice

¼

cup

brown sugar
Instructions
Prepare your brussels sprouts. Cut off very bottom of the stem, then slice the sprouts in half lengthwise.

Place on a rimmed baking sheet, drizzle with the oil, then toss to evenly distribute the oil. Season with salt and pepper.

Bake for 20-25 minutes until slightly golden.

Meanwhile, combine the vinegar, sugar and pomegranate juice in a small saucepan.

Bring to a boil, over medium high heat, then turn it down just a bit so it's to a simmer.

Reduce to about a half of a cup. This will take about 10-15 minutes. See notes for more details. Once it's reduced, turn off the heat and set it aside.

Place the Brussels sprouts on a serving dish and drizzle with the glaze. Garnish with pomegranate arils (optional).
Notes
As you are reducing the balsamic reduction, you'll see a 'line' in the pan where the sauce was. This will help you know when you have reduced by half. You can always measure it too.

The reduction will become thick enough to 'coat' a spoon, but it's still liquid-y.

It will thicken as it cools, so if it's coating a spoon but not as thick as you want it, let it cool a bit.

If you find it too thick as it cools, it may have cooked too long. No worries, just warm it up to drizzle consistency.

Store left over reduction in the refrigerator for up to two weeks.

Don't stop at brussels sprouts, it's great on other veggies and protein.
Nutrition
Calories:
136
kcal
|
Carbohydrates:
21
g
|
Protein:
3
g
|
Fat:
5
g
|
Saturated Fat:
1
g
|
Sodium:
413
mg
|
Potassium:
362
mg
|
Fiber:
3
g
|
Sugar:
16
g
|
Vitamin A:
570
IU
|
Vitamin C:
64
mg
|
Calcium:
40
mg
|
Iron:
1
mg
Update Notes: This post was originally published on August 26, 2016, but was updated with some more information, step by step instructions, and updated notes and tips in January of 2021.