As an Amazon Associate I earn from qualifying purchases.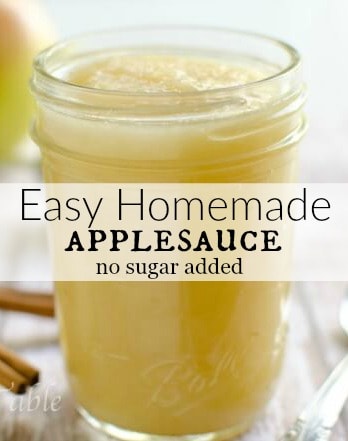 Happy Fall ya'll! One of my very favorite fall things is apples. There is just nothing like a fresh apple from the orchard! We love eating them, we love baking with them and we love making applesauce. Today I'm sharing my Sugarless 3 Step Applesauce with you.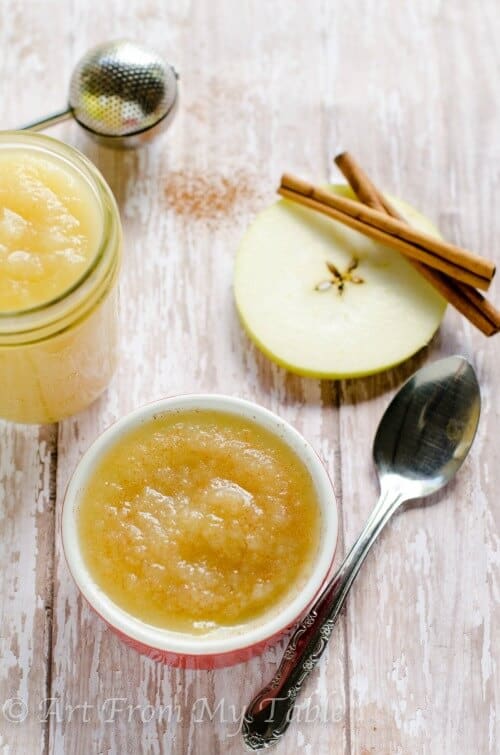 Post contains affiliate links
Sugarless 3 step applesauce
You might have noticed I said "sugarless". Don't let that scare you off. We really strive for a low sugar intake at our house. Children have enough energy with out it, right? If you want to add sugar, by all means, feel free. But, I'm convinced you won't need it with this recipe.
And when I say no sugar? I mean it! No honey, syrup, stevia, nada, nothin'!
The secret to "no sugar added"
This applesauce is still very sweet tasting. You know why? The secret is in the apple. I'm aware you can make applesauce with all kinds of different apples, but the best apple for an unsweetened version that tastes ultra sweet, is the Mutsu. Also known as Crispins, these apples are naturally sweet.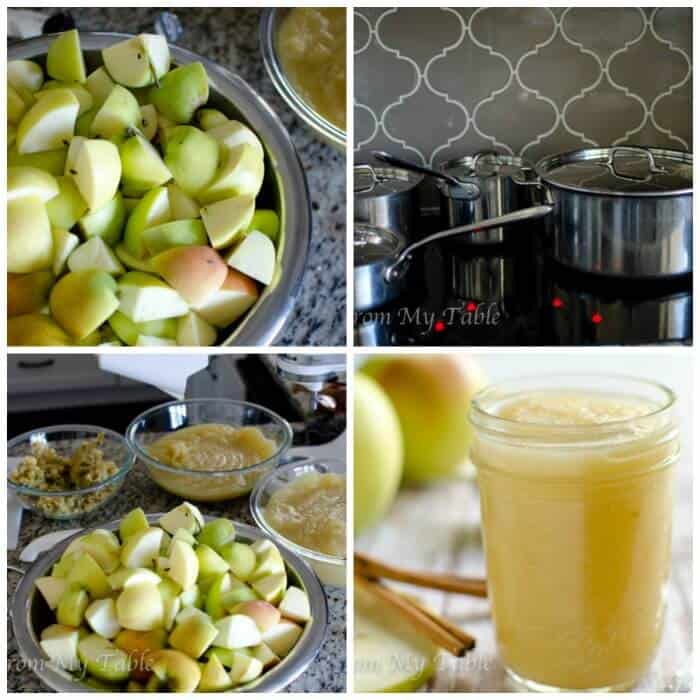 Another thing I like about the Crispins, is that they come out a bit later in the apple season. Usually around mid-October. Fall is a full season anyways for most people, but we have 5 birthdays between the end of September through November.
Since they come out later, I don't feel all pressured to get my applesauce made in the midst of birthday season. I have a little time, and I like that.
Freezer Friendly
This applesauce freezes well too. Remember how I'm not a canner? I talked about that in my freezing peaches post. I also use this handy tool, which is how I can make this sauce in 3 steps.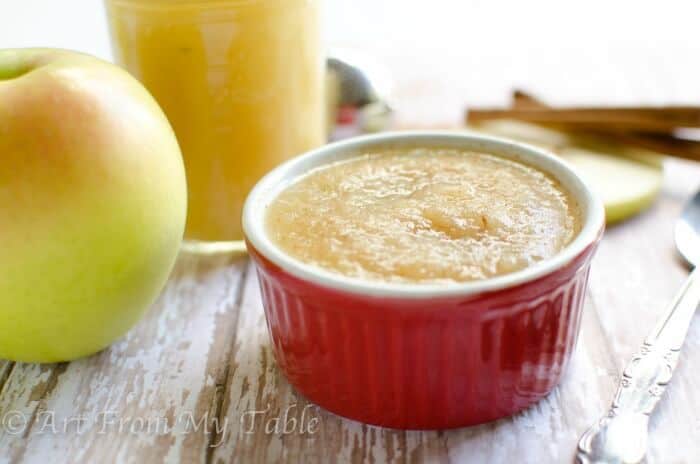 I don't actually own that tool, but one of my besties does and she always lets me use it, every year. It's great for making cranberry sauce too! So don't feel like you have to go out and buy all this stuff, just ask your friends on Facebook, use your resources!
All you need is Crispin Apples. Oh, and cinnamon. I add cinnamon to some of my batches, and some I make plain. If you ever substitute applesauce in your baking, this sauce is perfect.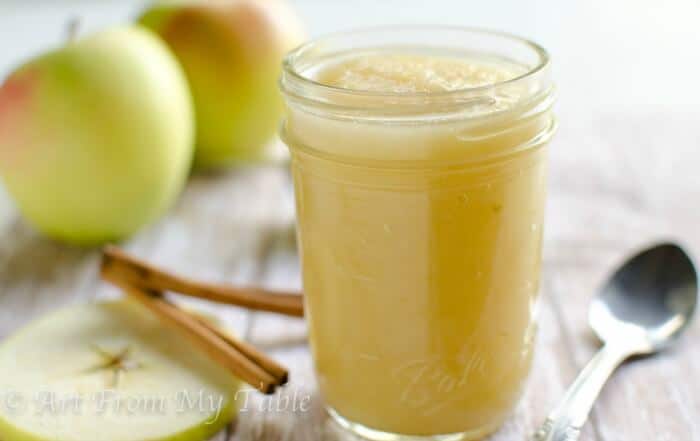 Three easy steps
Are you ready for your 3 steps?
Quarter the apples (that's right, no peeling or coring required)
Place them in a large pot(s) with a tiny bit of water so they don't stick to the bottom
run them through the Kitchenaid with the fruit/vegetable strainer attachment.
That's it! Sugarless 3 Step Applesauce! The Kitchenaid tool does all the hard work work for you. It will spit the seeds and peels right out. And I promise, no one will even notice that there's no sugar in them.
Tips & Tricks
If you're making a big batch, for freezing, use as many pans as you have. Start the first batch, then keep cutting and so on. You'll move into a natural rotation.
Also for big batches, after it cools, place a gallon size bag into a pitcher and fold it over the top. This makes it super easy to fill your bags. Lay flat in the freezer. A cookie sheet works great for this, then once frozen it stacks and stores really well.
We also save quart sized yogurt containers to use for freezing.
If you're adding cinnamon, add it to the sauce at the end, not to the apples in the beginning.
Crispins are typically quite large, sometimes I'll more than quarter them just to keep all the apple chunks similar in size.
📋 Recipe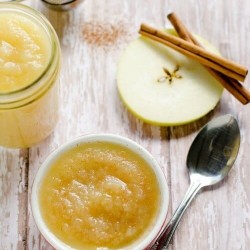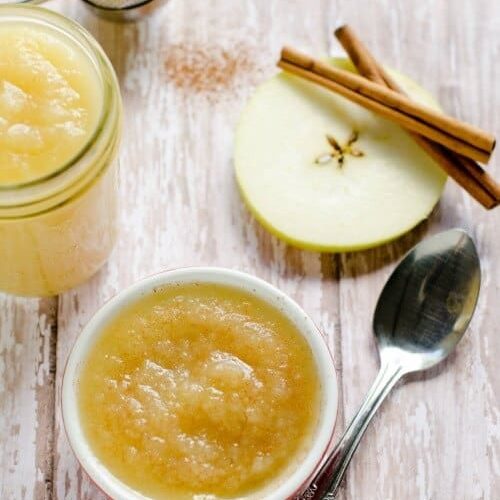 Sugarless 3 Step Applesauce
Naturally sweet delicious apple sauce, no sugar added.
Print
Pin
Rate
Ingredients
½

cup

water

22

pounds

Crispin apples

this is equivalent to a ½ bushel. Also known as Mutsu apples.

Cinnamon

optional
Instructions
Quarter the apples, no need to peel or core.

Working in batches, place the water and apples in a large pot or pan.

Cover and place over medium heat. Cook until apples break down, about 20-30 minutes.

When the apples are soft, run them through a Kitchenaid with the fruit and vegetable strainer attachment, or use a food mill to separate the seeds/skins from the apples.

Add cinnamon, if using, and stir.

Store in the fridge or freezer.
Notes
This recipe is to make a big batch and freeze. You can easily cut this recipe down to smaller batches. For just a single batch that would feed 6 or so people, use 6-8 apples.
Cinnamon is optional and depends on your preferences. I just add a tablespoon at a time until it's to my liking.
To freeze: After sauce is completely cooled, put it in gallon size ziplock bags, and lay flat in the freezer. Storing it this way, it thaws quite quickly. Alternatively, you can use mason jars. To serve, thaw in the refrigerator.
Nutrition
Calories:
81
kcal
|
Carbohydrates:
22
g
|
Protein:
1
g
|
Fat:
1
g
|
Saturated Fat:
1
g
|
Sodium:
2
mg
|
Potassium:
167
mg
|
Fiber:
4
g
|
Sugar:
16
g
|
Vitamin A:
84
IU
|
Vitamin C:
7
mg
|
Calcium:
9
mg
|
Iron:
1
mg
Enjoy making your applesauce! I'd love to see your results, add them to my Facebook page, or tag me on Instagram @artfrommytable. While you're there be sure to check out my "Instagram Stories" where I often share step by step recipes.