As an Amazon Associate I earn from qualifying purchases.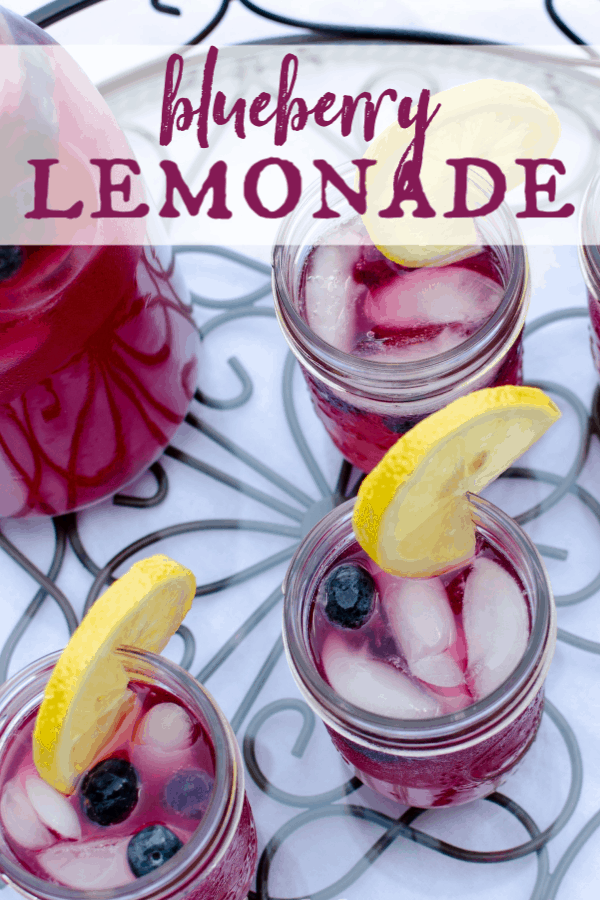 This blueberry lemonade is the perfect refreshment on a hot summer day. Sweet blueberries and tart lemons makes a perfect balance to quench your thirst!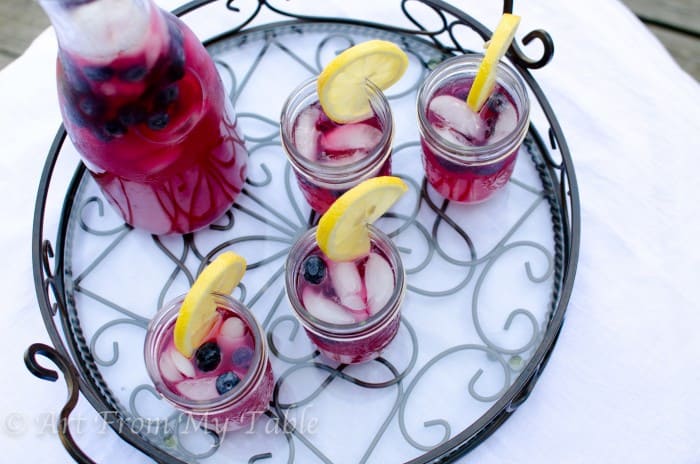 If you've been following along this week, you know I am sharing some of my favorite recipes to use with blueberries. Check out this pie, and this beautiful crisp.
I usually buy boatloads of blueberries and freeze them. We eat them just about every week in our pancakes. This year my daughter, and the rest of the kids, really wanted to go picking.
I'm all for the pick your own experience, but it's not always the ideal with young children. I've sort of fell into a pattern of purchasing stawberries, picking cherries, and buying blueberries. Sometimes convnience wins. Can anyone relate?
There is a great cherry tree orchard near us and their trees are nice and low so the kids can all reach. Even my 3 year old did a really good job this year. Between the 4 kids and myself we picked 21 pounds.
The blueberry picking, well, let's just say it was a different a experrience. After about 15 minutes, my daughter, who begged me to go, was ready to go home. Yeah, I saw that one coming. But hey, I'm really glad we did it. I think we picked about 7 pounds and I just bought the rest.
Blueberries are really good for you as well. They are great anti-oxidants. I literally can eat them by the handful. The're addiciting! I can't get enough. Even despite the blueberry.... Okay, you know where I'm going here. Ya'll know what happens when eat too many blueberries. I'm not gonna say it. But I know you totally get it!!
One of the great things about summer is all the beautiful colors of fresh produce. This blueberry Lemonade is a gorgeous purplish red color. I like to add a few frozen blueberries to act as ice and garnish it.
Here's what you need:
Lemons, sugar, water, blueberries.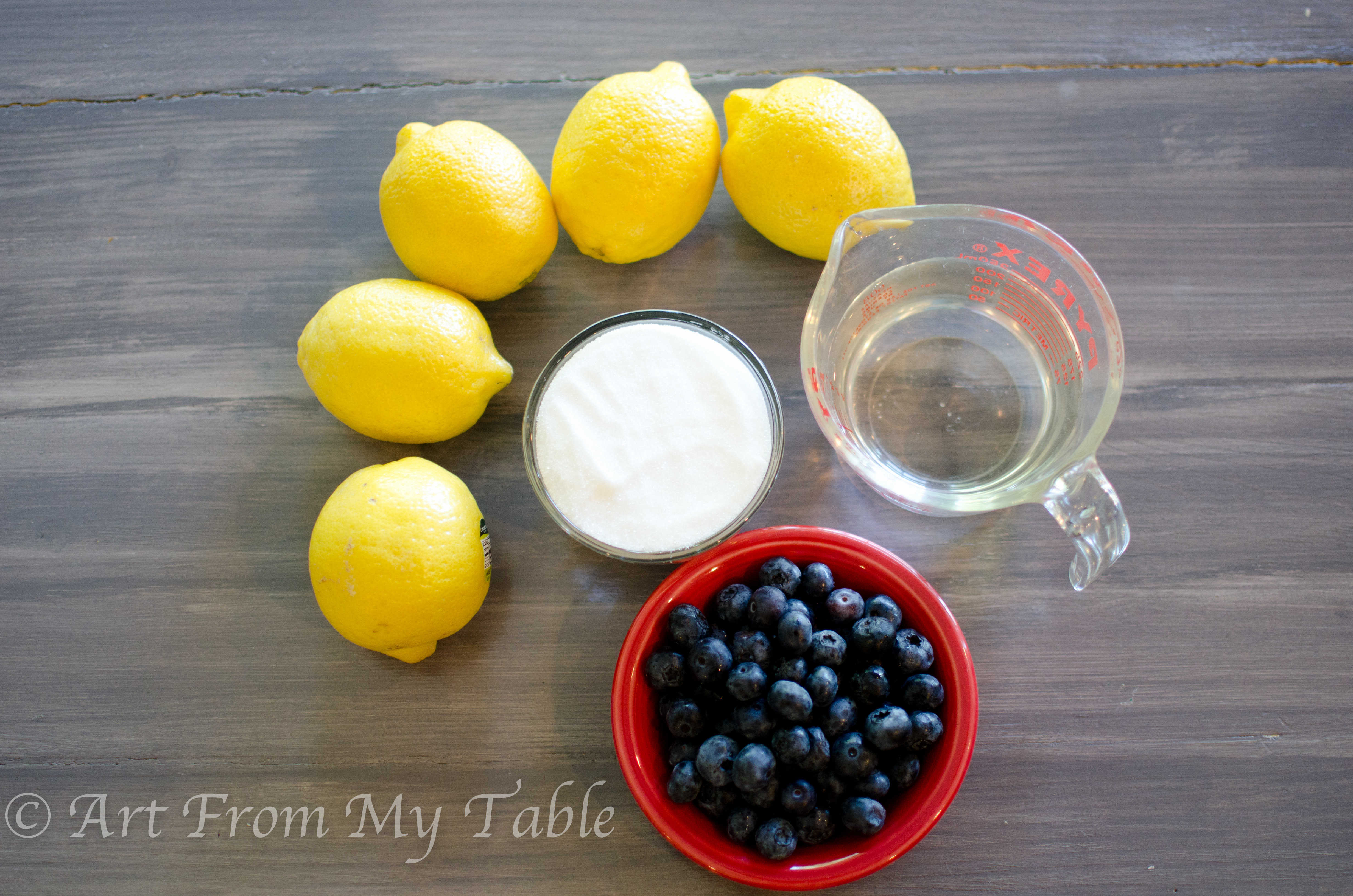 First, make a simple syrup by mixing 1 cup of water with one cup of sugar.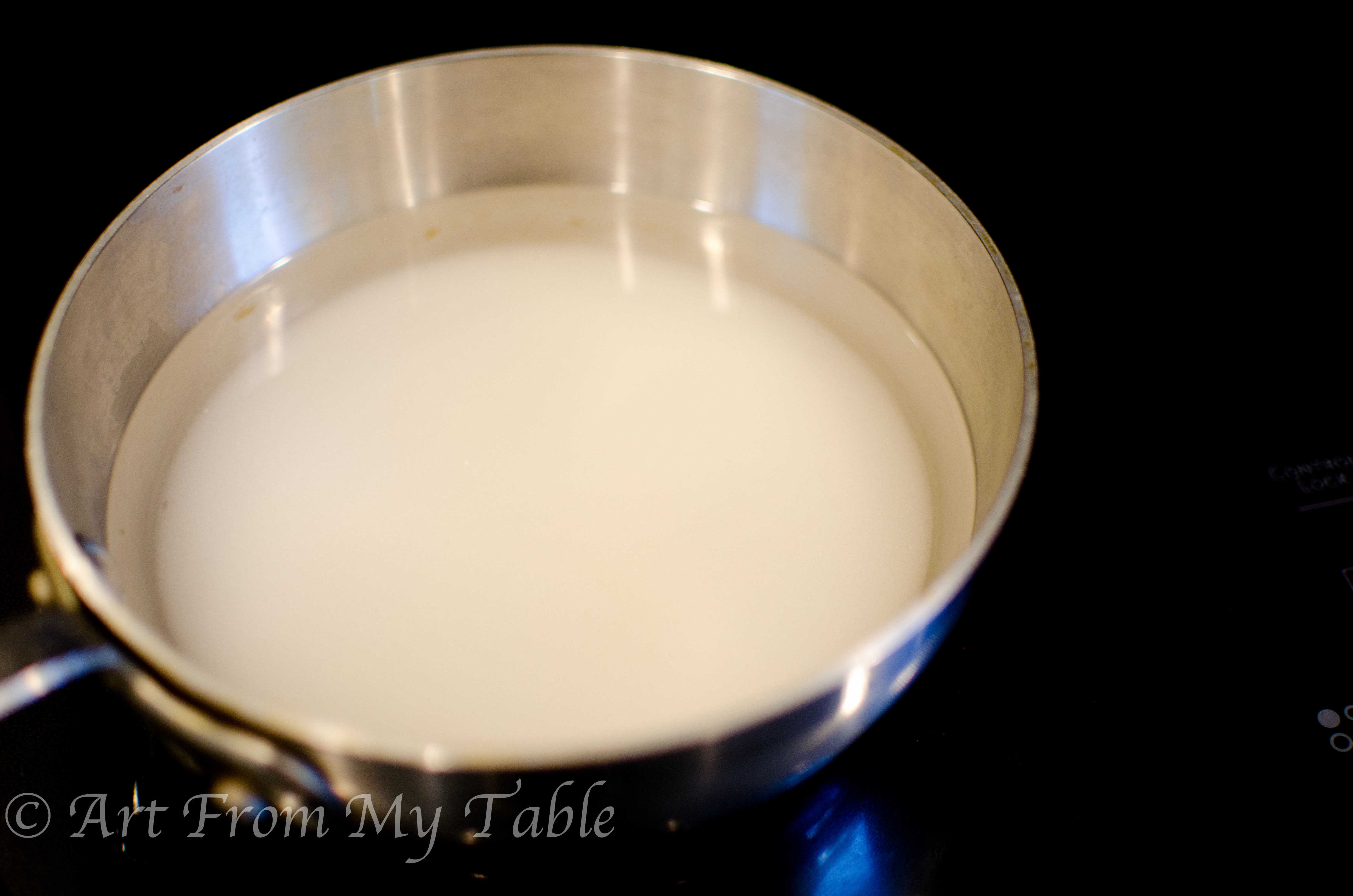 Cook that over medium heat until the sugar is dissolved.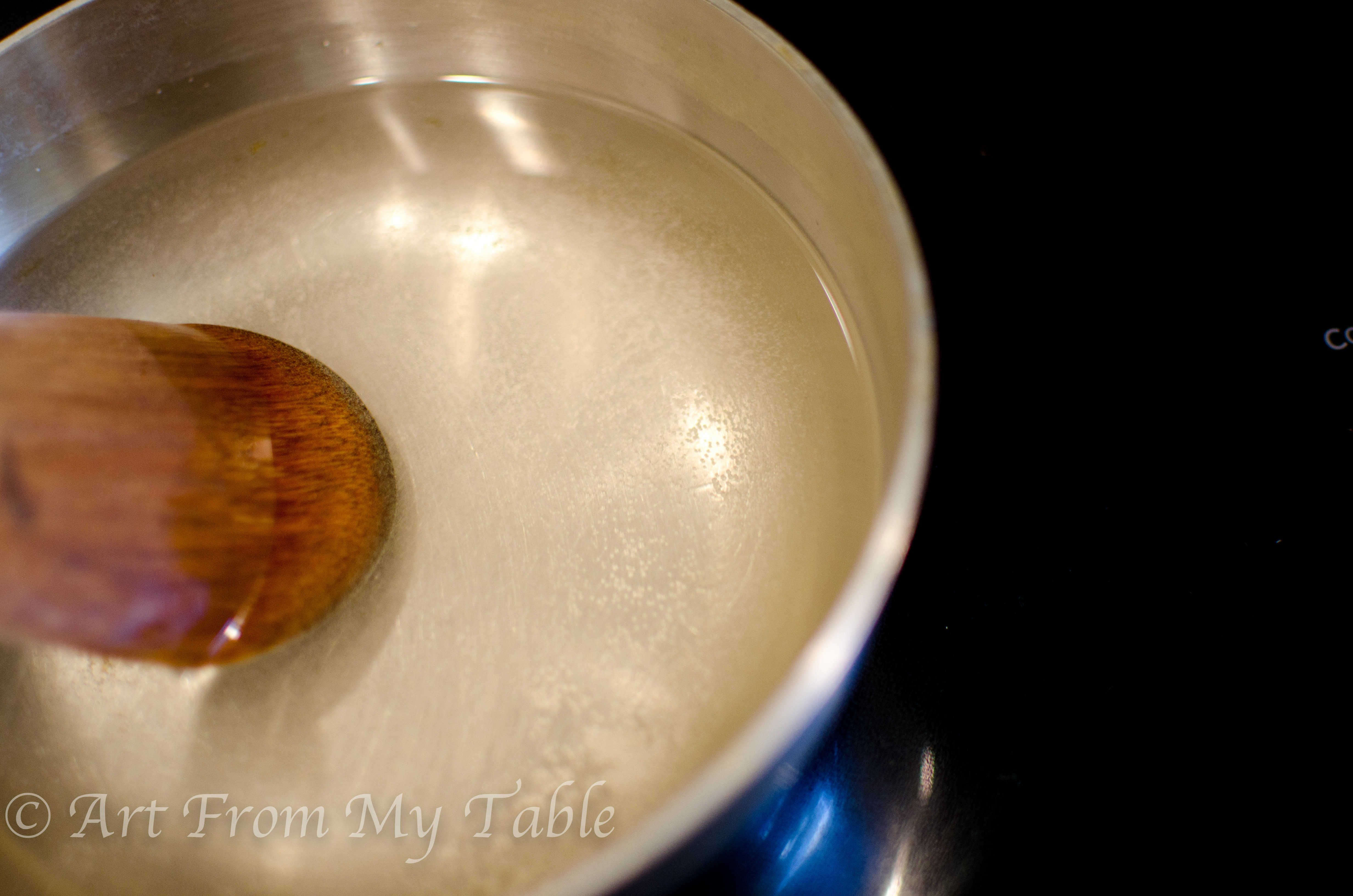 Add 1 cup of blueberries and bring the heat up to a gentle simmer. Let it simmer for 15 minutes or so. The blueberry skins will pop a little and you'll see the liquid turn to that lovley purple color.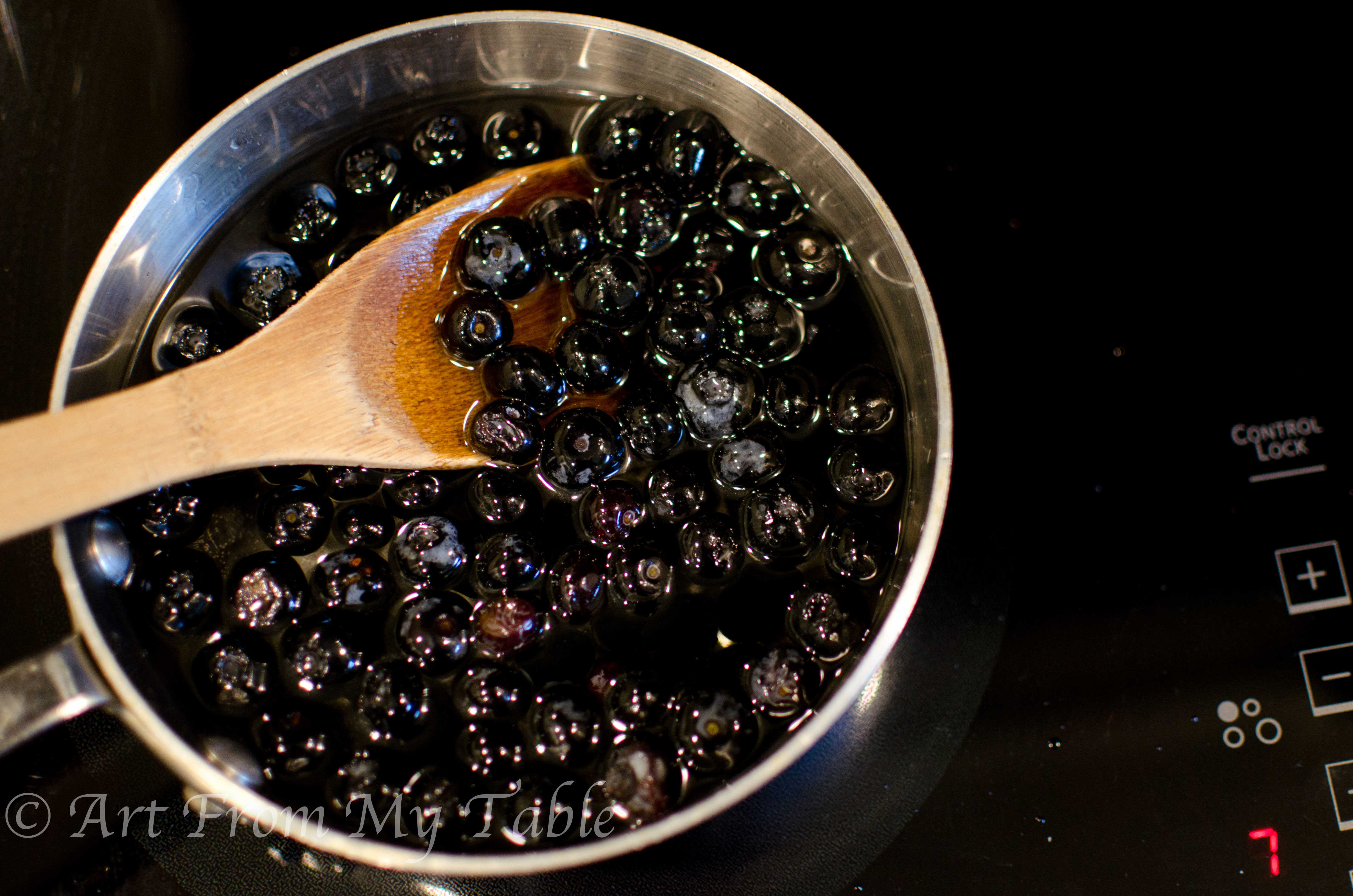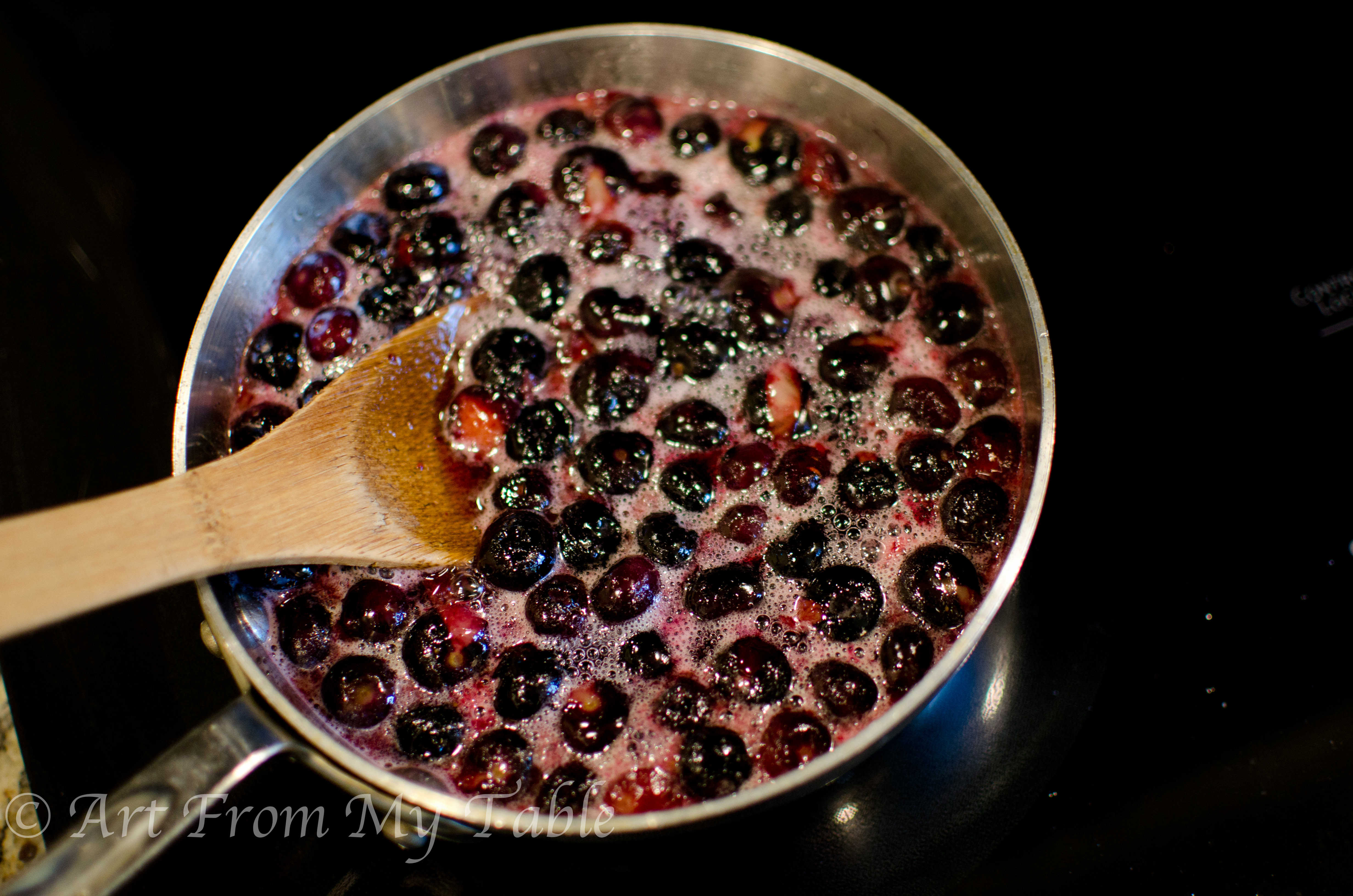 Strain the blueberry syrup through a fine mesh sieve and set aside to cool.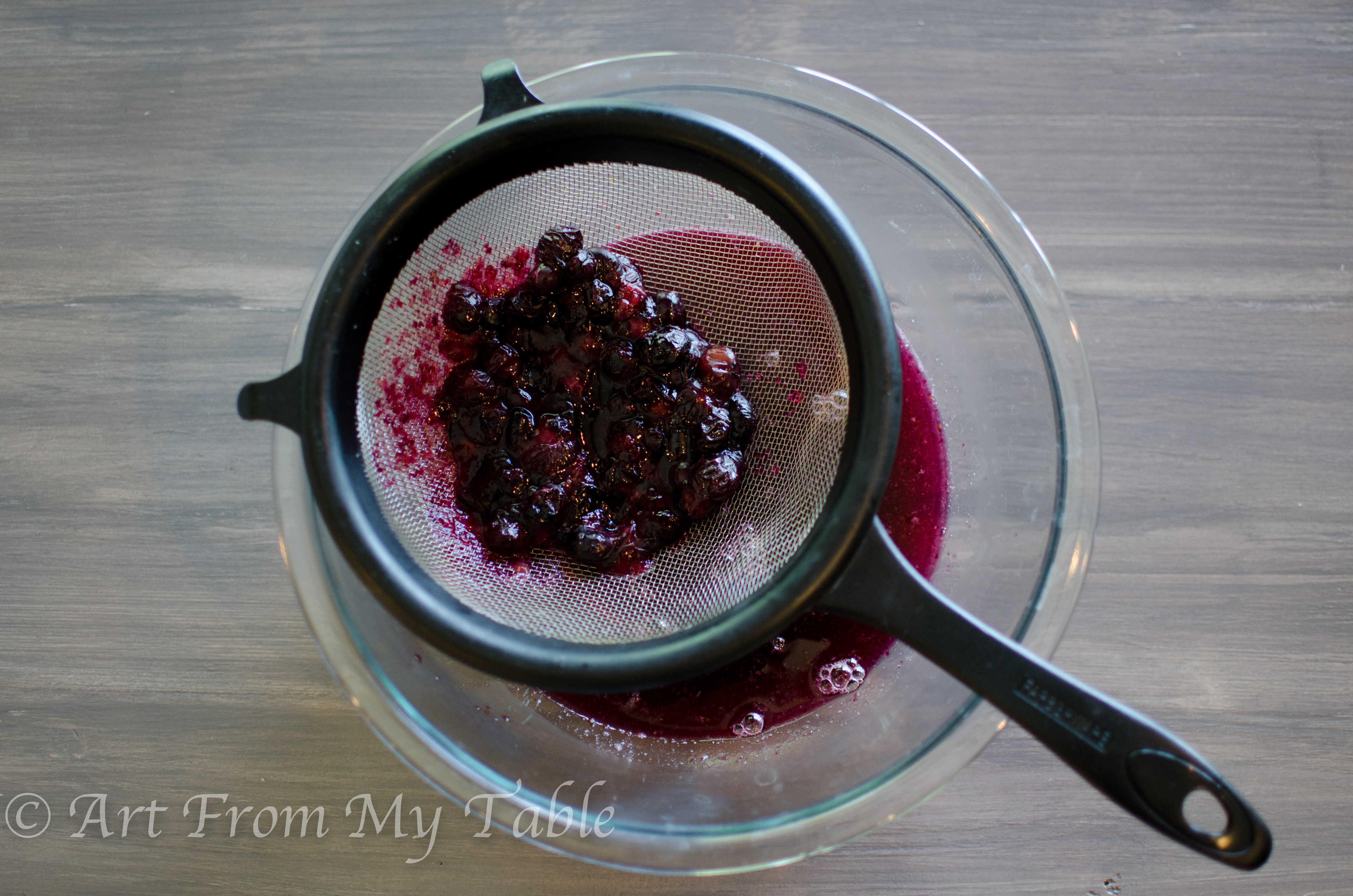 Squeeze 5-8 lemons. You need 1 cup of freshly squeezed lemon juice. How many lemons you use really depends on the size and juciness of the lemons. I like to use a manual juicer (not electric), but you can do whatever is easiest for you. You don't need one of these to do it, but it does strain out the seeds much easier than picking them out or straining a second time.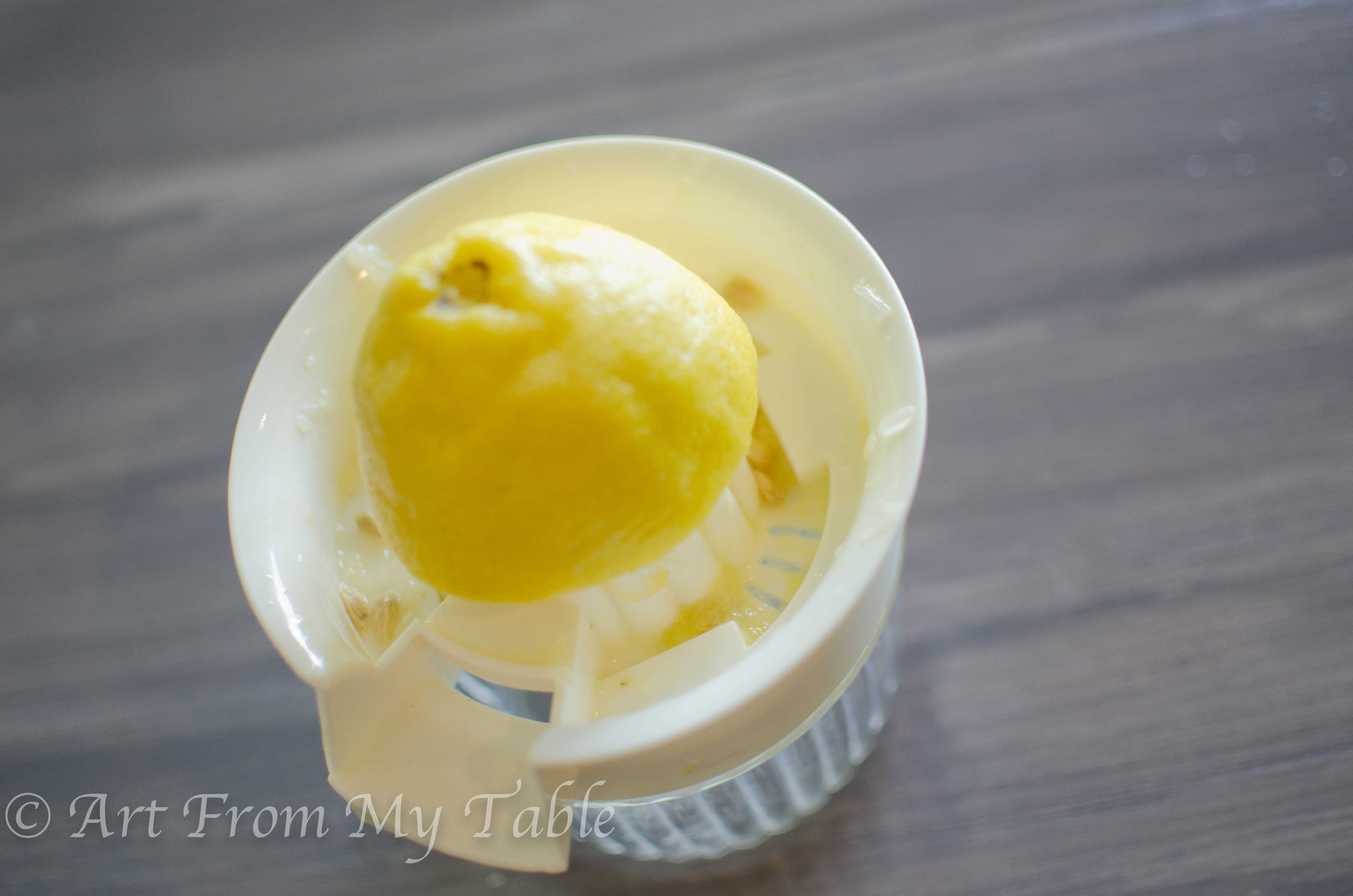 Once the syrup is cooled, pour it in a pitcher and add the lemon juice.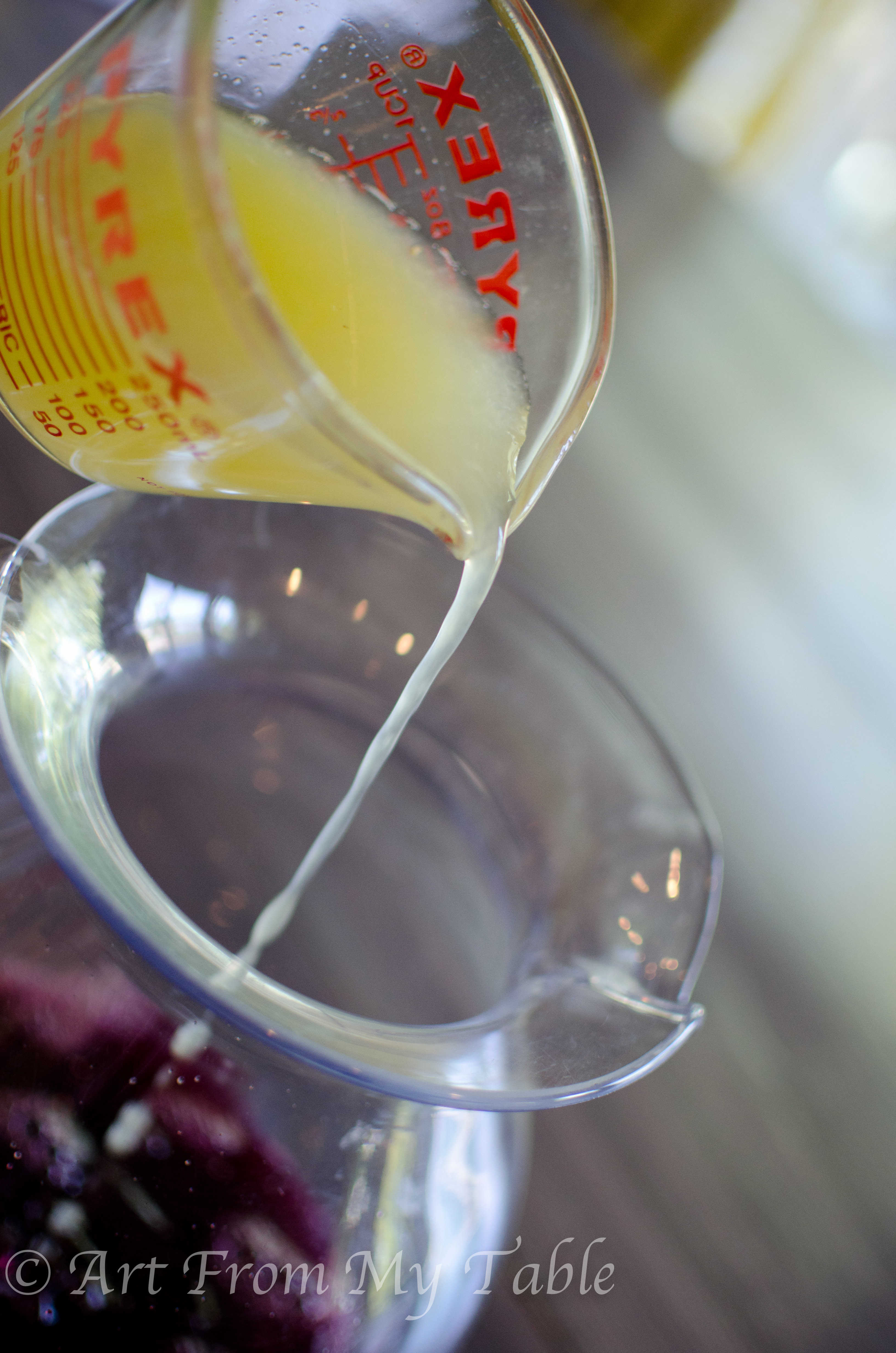 Then add 4 cups of water. At this point your delicious beautiful lemonade is made. I usually add ice to the glass, then add the lemonade. If you want, you can add ice to the pitcher, and a little less water. Unless you are going to drink it all right away. Then, it really doesn't matter.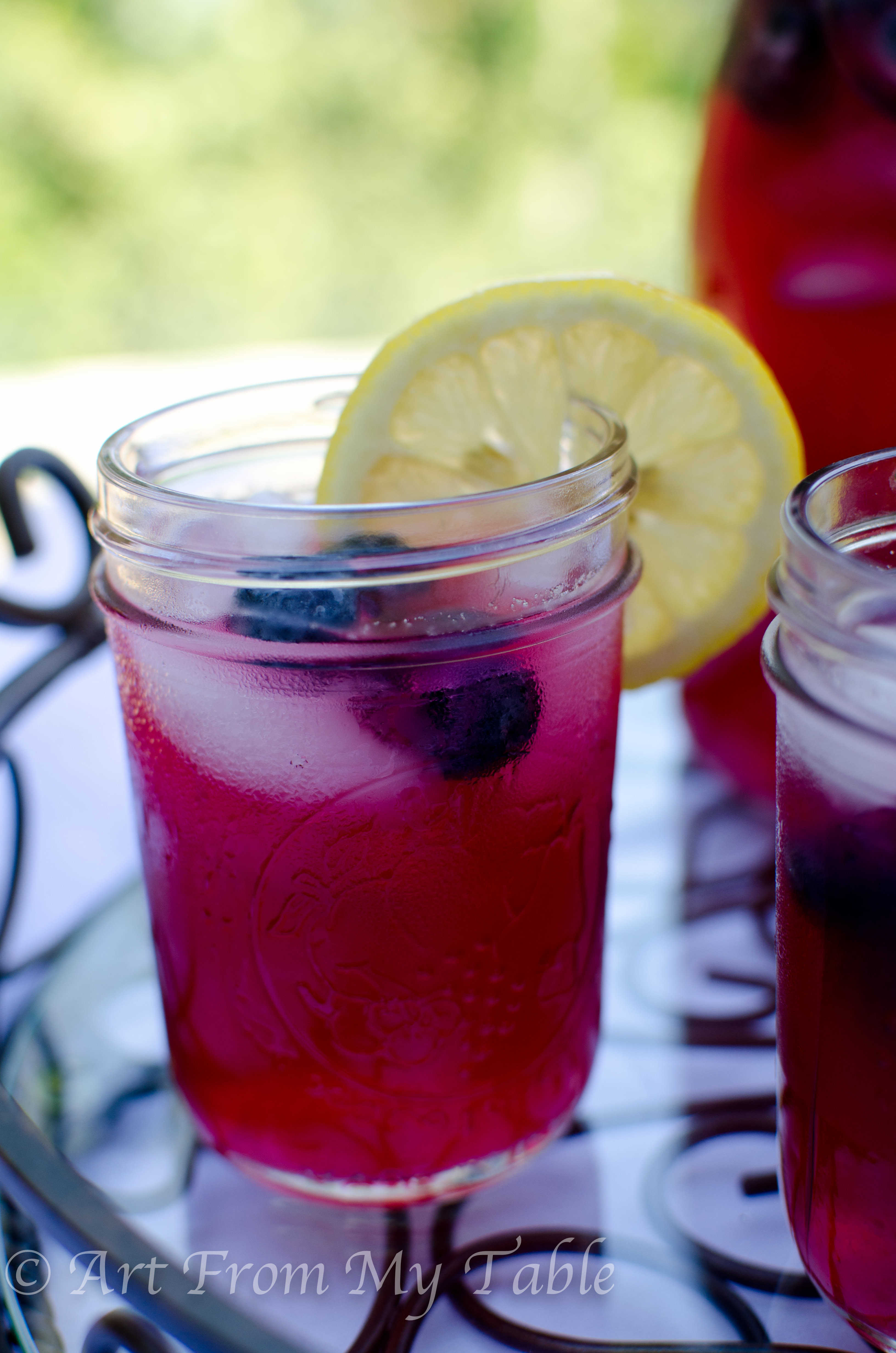 I hope you've enjoyed these blueberry recipes this week. Please be sure to tell me if you try any of these and what you think. I'd also still love to hear your favorite ways to eat blueberries if you haven't shared with me yet.
And speaking of sharing, if you like what you see here, would you consider sharing with your friends? Please pretty please? You can also sign up to get my FREE subscription service. My recipes are delivered straight to your inbox, so you'll never miss one!
Thanks for stopping by!
More refreshing beverages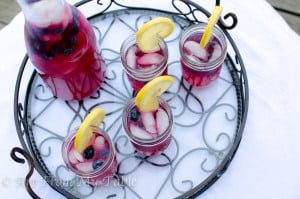 Blueberry Lemonade
tangy lemons and sweet blueberries come together for a perfect refreshing summer drink
Print
Pin
Rate
Ingredients
6-8

lemons

1

cup

blueberries

5

cups

water

1

cup

sugar

Lemon slices and additional blueberries for serving
Instructions
Heat 1 cup of water and 1 cup of sugar over medium heat, stirring occasionally, until sugar is dissolved

Add 1 cup blueberries, bring to a boil and then turn back to a simmer for about 15 minutes.

Strain syrup through a fine mesh sieve.

Set aside to cool

Squeeze lemons until you have 1 cup juice.

Once syrup is cooled, place it in a pitcherr and add lemon juice.

Add 4 cups cold water.

To serve, add ice to each glass, pour lemonade, and garnish with a lemon slice and/or blueberries.
Nutrition
Calories:
105
kcal
|
Carbohydrates:
28
g
|
Protein:
1
g
|
Fat:
1
g
|
Saturated Fat:
1
g
|
Sodium:
2
mg
|
Potassium:
101
mg
|
Fiber:
2
g
|
Sugar:
23
g
|
Vitamin A:
22
IU
|
Vitamin C:
36
mg
|
Calcium:
17
mg
|
Iron:
1
mg