As an Amazon Associate I earn from qualifying purchases.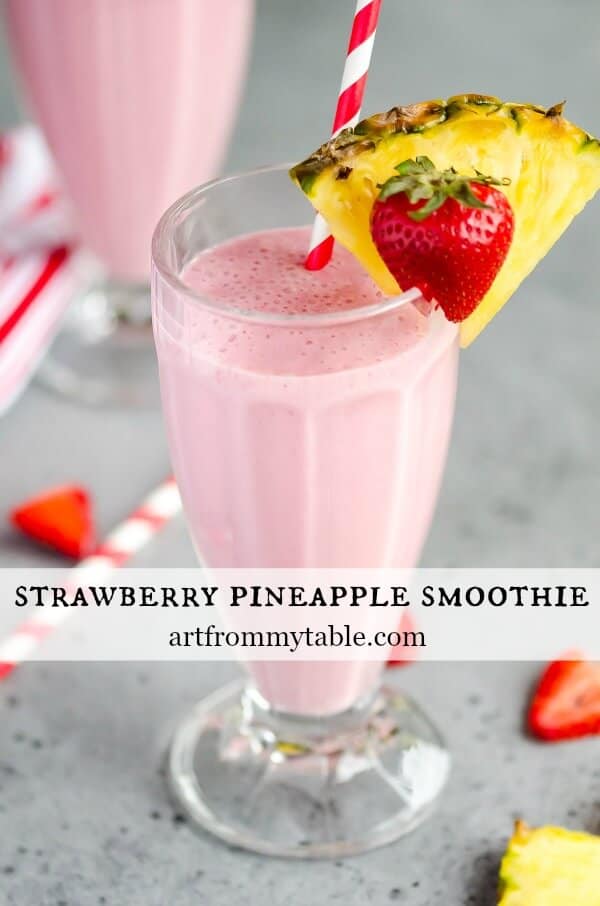 A Strawberry Pineapple Smoothie is the perfect way to start your day. Can you guess what veggies we snuck in? Thick, creamy, and delightful this easy recipe packs a punch of protein too!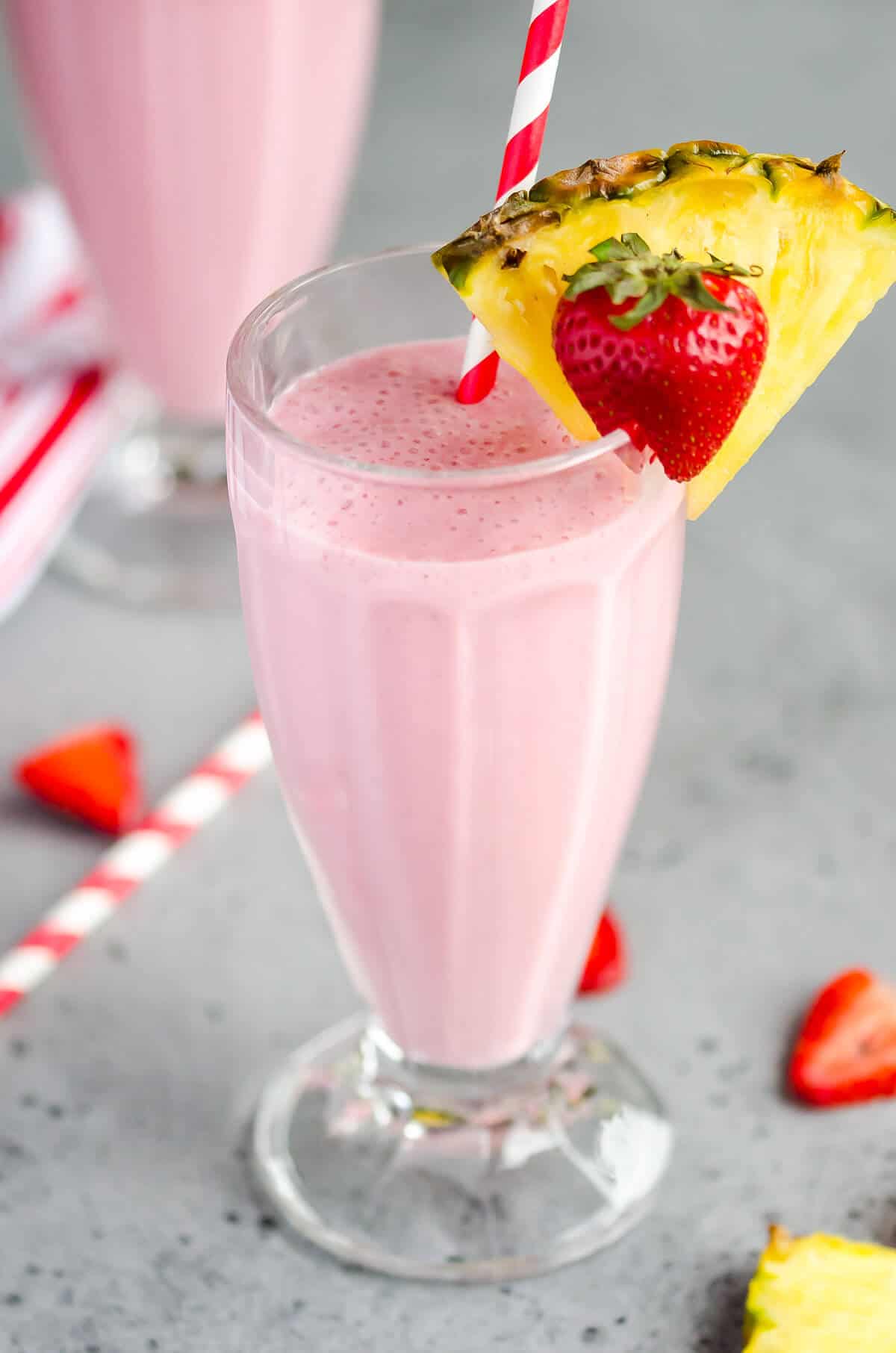 I'm honored to partner with the American Dairy Association Mideast to bring you this recipe!
All opinions are my own.
For some of you, it's here. Back to School! We're a few weeks out yet (ahhh, summer!) but that doesn't mean I'm not thinking about what our new routines will look like.
I find that starting the day with a great routine results in the rest of the day going well, overall. So I try to start with a great breakfast routine. And that's where this Strawberry Pineapple Smoothie is going to come in VERY handy!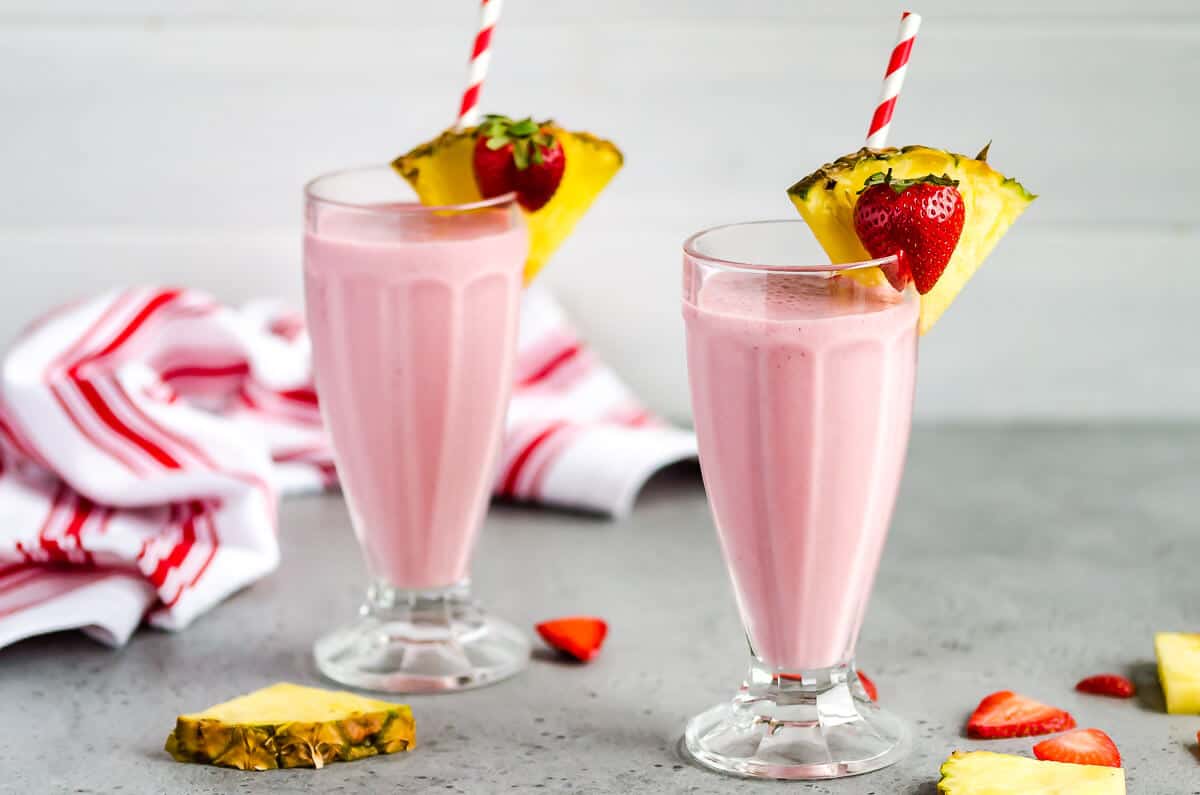 I spent a good amount of time freezing fruit this summer. I always do. Here's how to freeze strawberries, it's super easy. This year I also froze pineapple. (do you see where this is going??) ????
Having frozen fruit on hand makes whipping up a smoothie super easy. And, when your favorite fruit goes out of season--no worries, you've got it preserved.
What fruits work well together in a smoothie?
You know, it's almost impossible to mess up a smoothie, but here are a few of my favorite combinations.
strawberry, banana, pineapple
strawberry, blueberry, raspberry (here's a recipe for a berry smoothie)
apple, pineapple, kiwi, grape
orange, banana (think creamsicle)
blueberry, banana
watermelon, canteloupe
Those are some great fruit combos, but I LOVE sneaking veggies in too, such as spinach, kale, beets, carrots, or cucumbers. You usually can't taste the vegetables, because the fruit flavor will overpower it. So, don't be afraid!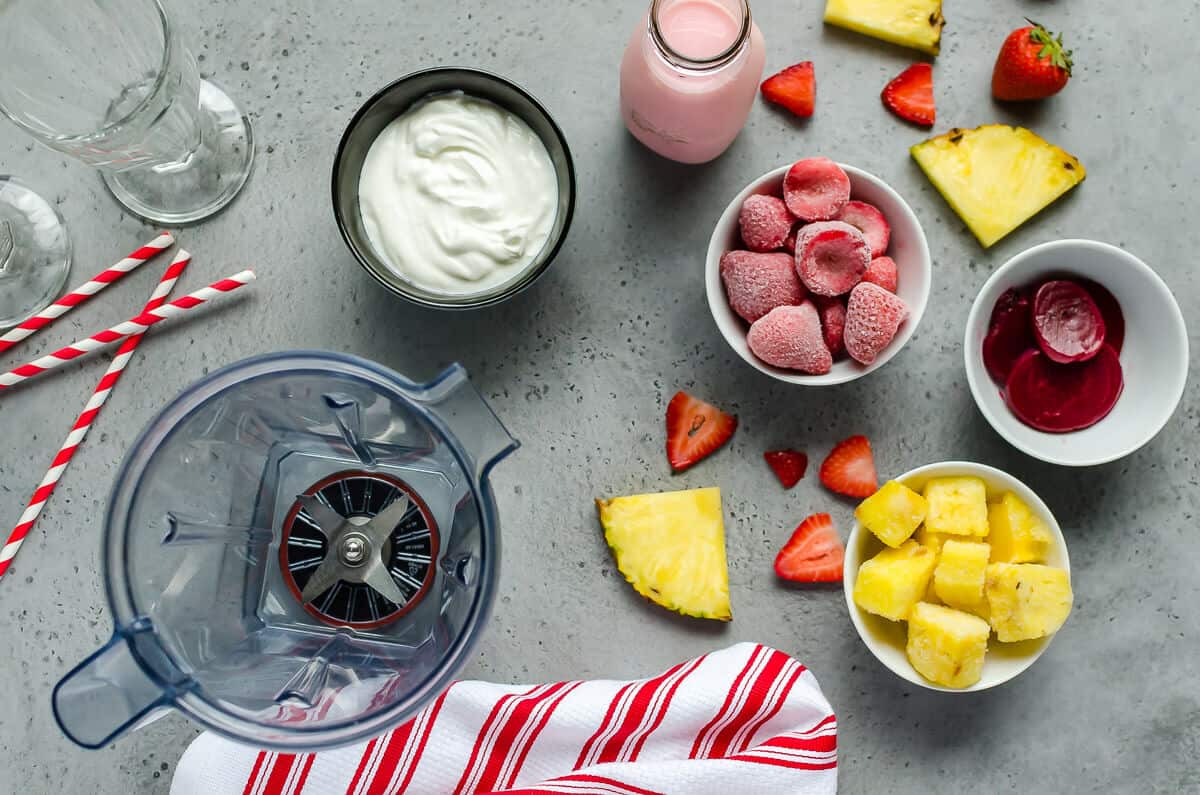 What ingredients do you need to make smoothies?
Here's the basics, you'll find some of these in every smoothie.
fruits
vegetables
milk
yogurt
juice
ice
I'm a big fan of fruit smoothies and as mentioned above, I do like to add veggies for even more nutrients. So those are the obvious ones, but you'll also use milk, yogurt, and/or juice. You need some liquid in there to help blend up the fruit.
I always add milk because it has 9 essential nutrients, and adds a whopping 8 grams of protein! For this Strawberry Pineapple Smoothie I used strawberry milk (yum!).
Adding flavor to milk doesn't take away nutrients. Chocolate and Strawberry milk still have the same essential nutrients as white milk has, including calcium, protein and vitamin D. Many kids don't get enough of these. So go ahead... add some more flavor. ????
I know what you're thinking... what about the sugar? Actually flavored milk contributes only 4% of the added sugars in children's diets. Soft drinks, and non carbonated sweetened beverages contribute 46% of the added sugars.
Overall the small amount of added sugars is an acceptable trade off for the daily nutrients provided. Several leading health organizations agree! Kids will often drink more milk when they're given choices. Here's some more info on that!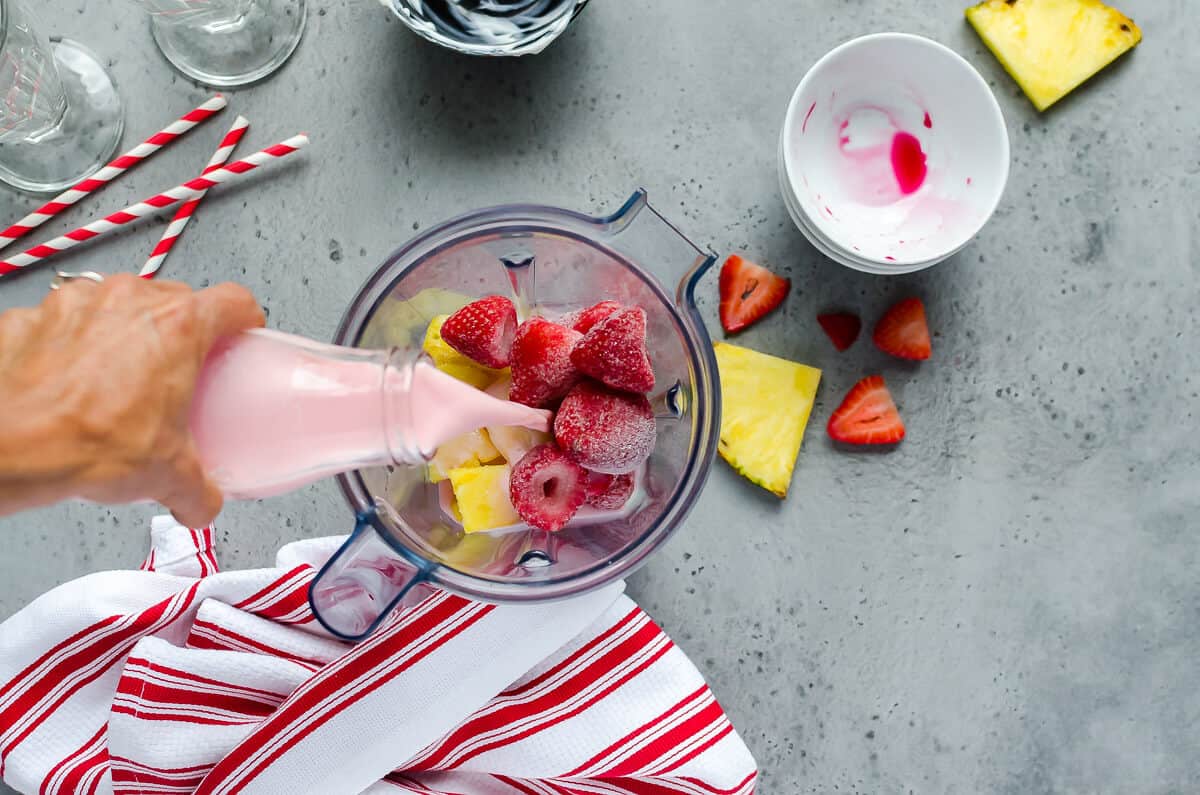 Strawberry Pineapple Smoothie
So, back to the new routine thing. With all my frozen fruit at the ready, I'm making smoothies a part of our morning routine when school starts.
They are a great addition to breakfast, and could even be your whole breakfast. But in my house, people eat. So the smoothie will be part of a nutritious breakfast even though it could stand alone. (I only have 1 teenager-- how do I run out of food so quickly??)
For the strawberry pineapple smoothie, you'll need:
strawberry milk
yogurt
frozen strawberries
frozen pineapple
banana
beet juice (yep, the secret ingredient!)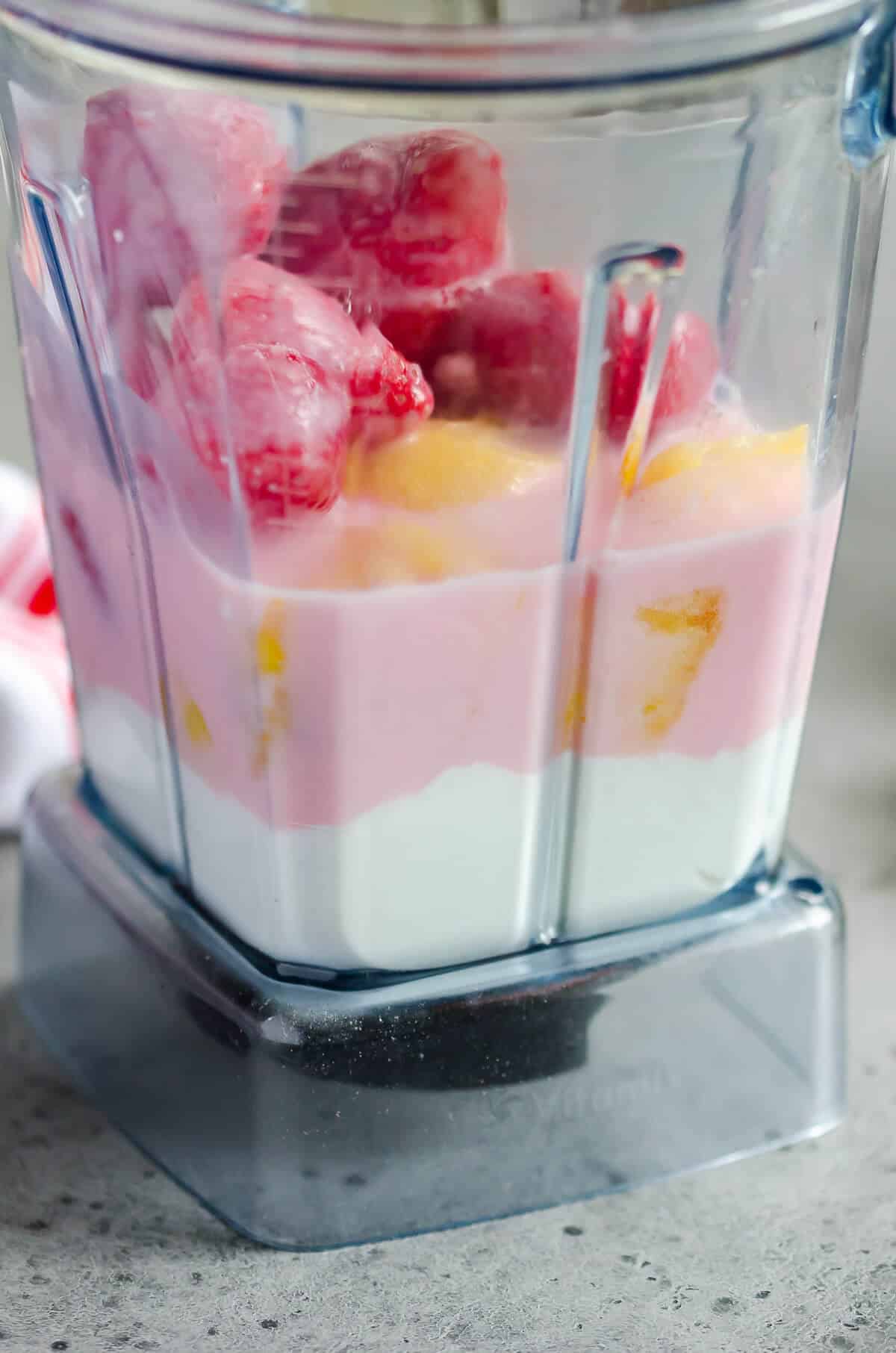 That's it. Just blend baby blend and you've got yourself a delicious smoothie. Here's a tip-- you do not have to wait for breakfast. You can enjoy this ANYTIME ????
Notes on Strawberry Pineapple Smoothie
Like to eat your breakfast instead of drinking it? Turn this into a smoothie bowl! After blending up your smoothie, pour it into a bowl and add fresh fruit such as pineapple chunks, strawberries, banana slices. You could even throw in some chia seeds and shredded coconut.
You can use fresh fruit in place of the frozen fruit if you wish. I would recommend adding ice if you use fresh fruit, it helps keep the temperature down as the motor of the blender heats up and it adds thickness.
You can use a few sliced beets instead of the beet juice if you'd like. The beets will add a bit of an earthy flavor, my kids preferred the beet juice.
More Smoothie Recipes
I would love to connect with you! Leave me a comment and follow me on Facebook, Instagram and Pinterest.
📋 Recipe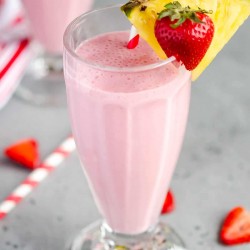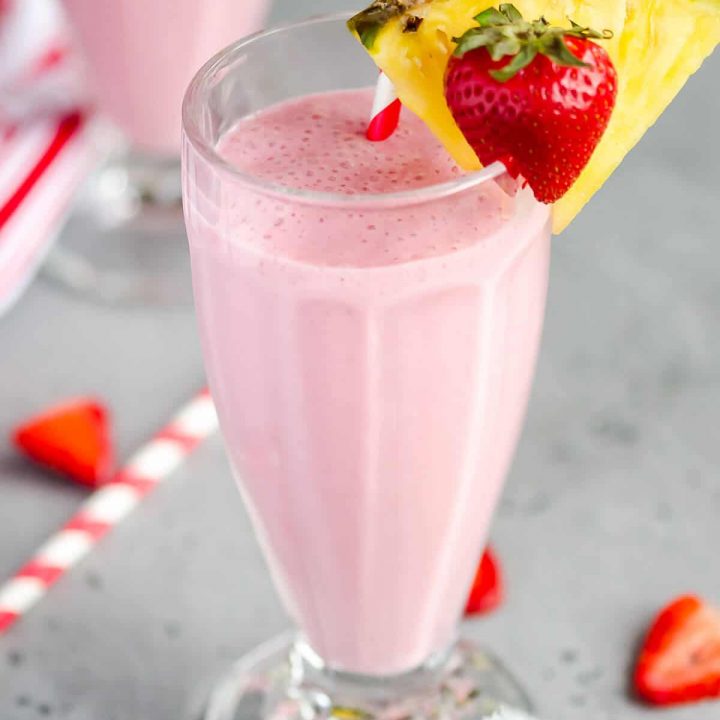 Strawberry Pineapple Smoothie
A thick creamy delicious smoothie using strawberries, pineapple and a punch of protein.
Print
Pin
Rate
Ingredients
1

cup

nonfat Greek yogurt

½

cup

strawberry milk

½

cup

strawberries

frozen

½

cup

pineapple

frozen

1

banana

¼

cup

beet juice
Instructions
Place all ingredients in the blender and blend on high until smooth. Enjoy!
Notes
If you'd rather a smoothie bowl, poor the blended mixture into a bowl and top with fresh strawberries, bananas, pineapple, coconut and chia seeds.
You can use fresh fruit instead of frozen if you wish. I recommend adding some ice to it to keep in cool and thick. Sometimes the blender can heat it a bit.
Nutrition
Calories:
188
kcal
|
Carbohydrates:
29
g
|
Protein:
13
g
|
Fat:
2
g
|
Saturated Fat:
1
g
|
Cholesterol:
11
mg
|
Sodium:
76
mg
|
Potassium:
588
mg
|
Fiber:
3
g
|
Sugar:
20
g
|
Vitamin A:
135
IU
|
Vitamin C:
46.9
mg
|
Calcium:
190
mg
|
Iron:
0.6
mg
For more information about dairy nutrition, to find delicious new recipes and to meet Ohio and West Virginia dairy farmers, visit www.drink-milk.com and follow the American Dairy Association Mideast on Facebook, Twitter, Pinterest, and Instagram.