One of the best things about Michigan in the summer is all the fresh, local produce. We have summer for such a short time, and I do my best to take advantage of it. This week it's all about peaches. I'm sharing How To Freeze Peaches the easiest way, and, without sugar!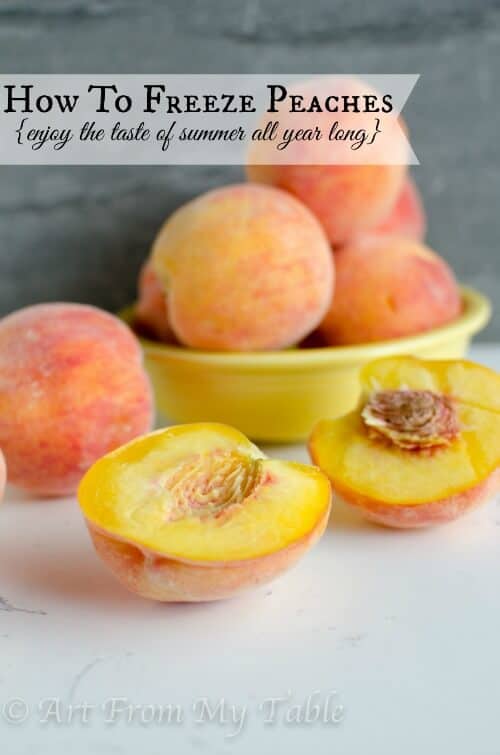 How to freeze peaches
Whenever the local produce is out, we just eat gobs of it and enjoy it as much as we can. I only wish the season was longer. But, to ensure that awesome taste of summer, we load tons of produce in the freezer. You may remember this post during cherry season. We also freeze about 40 pounds of blueberries to enjoy throughout the year.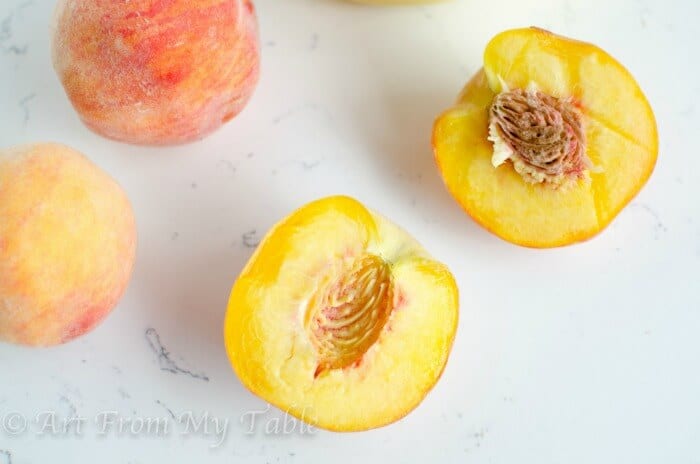 To can or not to can?
Not a canner? Then this post is for you! All you canners out there~ you are my heroes!! Every year, I dream about canning. I'm going to can tomatoes and peaches and everything! Yes, these are my ambitious thoughts. The reality is, it just doesn't happen.
So, I'm not saying "I'm going to can" anymore. Just like I quit picking strawberries and started buying them instead. It's okay. I think there will be a season when I'll be able to do it and love it. No one does it all people. No. One. I find comfort in this. 🙂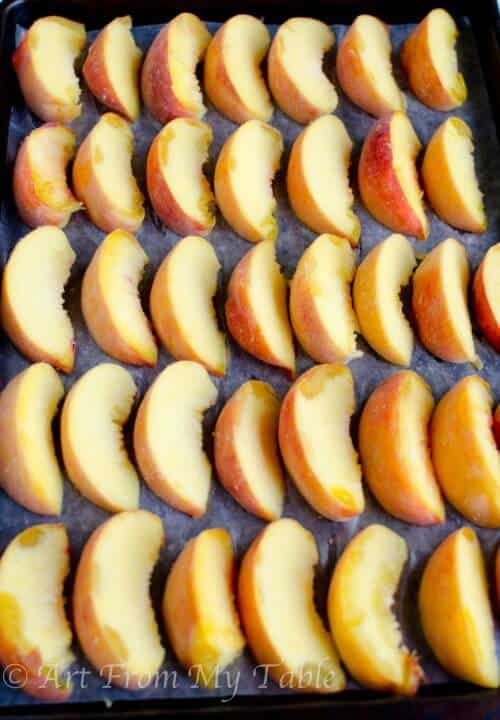 Freezing is my answer to the canning dilemma! Yes, it's different. But the point is, it's another way to preserve your food. And in my opinion it's easier and faster. And for now, it just works for me! To clarify, I'm not saying one is better than the other. But you canners–I love ya!!! If any of you would can for me? Let me know!
Let's Freeze!
Okay, not literally. Winter is my least favorite because I'm always so cold!! Let's freeze peaches! Here are some tips, but check out the whole list of instructions in the recipe card below.
Tips & Tricks
Line your pans with wax paper so the peaches don't stick to the pan. I do about 4 rimmed baking sheets at a time. That's what fits in my deep freezer.
Freezing with the skin on is optional. If you want to peel them, feel free, but that is another (long) step.
You can freeze halves, quarters, or slices.
For a stubborn pit, slice the peach in half around the pit and pull apart. Then slice the half, with the pit in it, in half again and pull off one piece. Now you should be able to pull even a stubborn pit right out.
Flash freezing is simply freezing items individually so that when you place them in a bag, they are easy to use as much or as little as you want.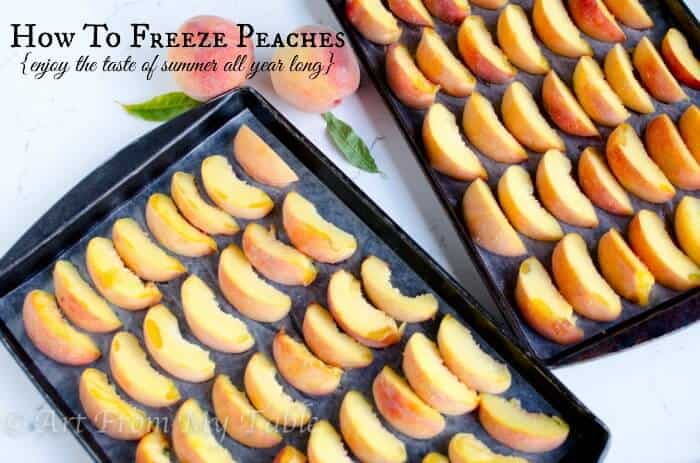 And… Action!
Here's a quick video demonstrating these tips. Please don't judge me, I didn't get fixed up all pretty for this one. 🙂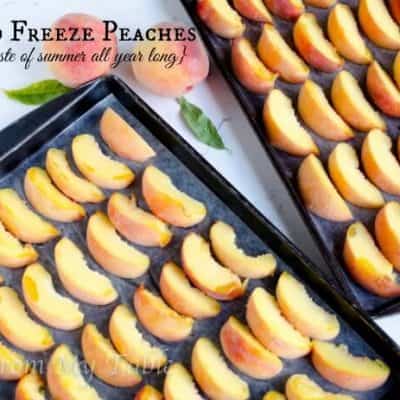 How To Freeze Peaches
Not a canner? Try freezing instead! The perfect way to preserve your peaches through the winter. Great to eat in baked desserts and smoothies!
Print
Pin
Rate
Equipment
sheet pans

wax paper or parchment paper

chef's knife
Ingredients
1/2

bushel of peaches

I used red haven
Instructions
Pit and cut peaches in halves, quarters or slices.

Lay peaches out on a wax paper lined baking sheet(s). Peaches should be close togethr, but not touching.

Flash freeze for a couple of hours or until frozen.

Remove peaches from baking sheets and store in an airtight sealed freezer bag.
Notes
Flash freezing is simply freezing the fruit in individual pieces, then transferring it to freezer bags to be stored in the freezer. This allows you to use exactly how much you need for a recipe because the peaches are not sticking together in a big clump
Taking the skins off is not necessary. I never do it and I don't notice them in smoothies or crisps or in any of the ways I use them. However, if you want to, here's how: 

Bring a pot of water to a boil
Prepare an ice bath-- a large bowl of water with ice cubes
Score the bottom of the peaches with an X
Place 3-4 at a time in the boiling water for 2 minutes.
Remove with a slotted spoon to the ice bath to stop the cooking
Skin will slide right off
slice and start instructions at step 1.

To keep them from turning brown in the freezer:  Personally, I haven't had an issue with this, but if you want insurance, toss the slices with fresh lemon juice. About a tablespoon per pound of peaches. Then continue with the instructions at step 2.
Nutrition
Calories:
1
kcal
|
Carbohydrates:
1
g
|
Protein:
1
g
|
Fat:
1
g
|
Saturated Fat:
1
g
|
Potassium:
1
mg
|
Fiber:
1
g
|
Sugar:
1
g
|
Vitamin A:
2
IU
|
Vitamin C:
1
mg
|
Iron:
1
mg
The time it takes to prep these depends on how many peaches you do. I used 1/2 bushel of Red Haven peaches. I did 4 trays at once, 2 times, and I yielded about 6 (1) gallon size freezer bags of peaches.
Here's one of my favorite recipes that includes both peaches and blueberries!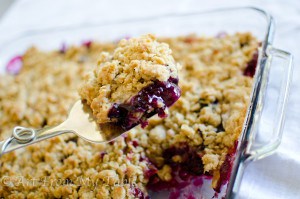 Blueberry Peach Crisp
What's your favorite way to preserve fresh summer produce?