As an Amazon Associate I earn from qualifying purchases.


Freezing peaches is one of the best ways to make the summer last the whole year! Here's How to Freeze Peaches quickly and easily – and without the need for any sugar.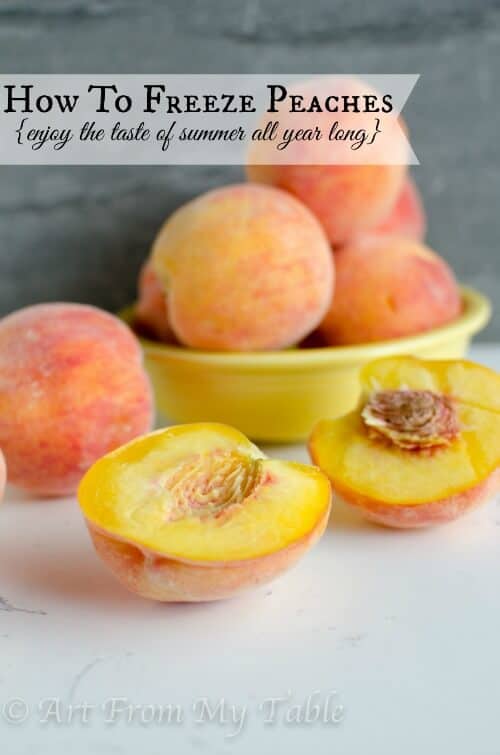 Enjoying fresh produce all season long is one of my favorite things about the summer months.
And while the growing season always comes to an end, you can still enjoy the flavors of summertime months later by taking the time to freeze those summer fruits and veggies.
The very best way to freeze peaches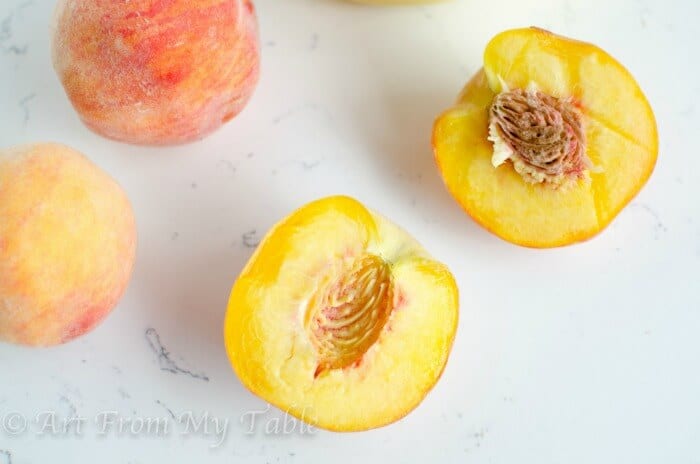 There's a few different options you have when it comes to freezing peaches.
Blanching
Whether or not to peel them
With or without sugar
Flash Freezing
The method you use to freeze your fruit will depend on how you plan to use it after it's been frozen.
BLANCHING- Blanching helps to stabilize the color, protects flavor and texture.
PEELING- Removing the skin is going to be a personal preference. There are some health benefits to eating the skin. It's always a good idea to wash the fruit before eating it.
WITH OR WITHOUT SUGAR- It's much healthier to NOT use sugar. Plus you'll save yourself a step. Freezing them with sugar produces a sweeter result and releases the peach juices.
FLASH FREEZING- is freezing individual pieces of food separately. This allows you to use exactly how much you need for a recipe because the peaches are not sticking together in a big clump.
I have found that the very best method for freezing peaches without sugar is flash-freezing them.
It's quick, it's easy, and you still have a lot of choices in how you use the fruit.
Peeling Peaches
AFMT PRO-TIP: Peeling is optional! you don't have to peel the peaches first. And I recommend NOT doing it. It will save you time and you usually won't notice when you use them.
I typically use my frozen peaches for smoothies, cobblers, crumbles, oatmeal, or jam.
In most of those cases, the peel is so blended up or cooked down, you don't even notice it.
HOWEVER, if you do want to peel them, you have two choices.
Peel with a pairing knife- gently slide the knife under the skin at the top of the peach and pull the skin off in strips. Just like you would an apple.
Blanching- bring a pot of water to a boil. Score the peaches in an X pattern at the bottom. Place a few peaches at a time in the boiling water for 30-60 seconds, remove them with a slotted spoon, and place in a bowl of ice water. Now the skins will slide right off.
How to Freeze Sliced Peaches
Slicing the peaches is one of the easiest ways to store and use them. They take up less room in your freezer and are simpler to remove from the freezer and use in your favorite recipes.
STEP ONE: Prepare the peaches
Wash the peaches
Slice the peaches in half, remove the pit, then cut each half into slices
AFMT PROT-TIP: For a stubborn pit, slice the peach in half around the pit and pull the two halves apart. Then slice the half with the pit in it in half again, and pull off one piece. Now you will be left with a quarter of the peach with the pit attached. You should be able to pull pit right out.
STEP TWO: Flash Freeze
Line a rimmed baking sheet with wax paper or parchment paper
Lay the peach slices in a single layer on the tray. Make sure they are not touching each other.
Place in the freezer for 3-4 hours or overnight.
Once frozen, transfer to zip lock bags. Be sure to squeeze out as much air as possible to prevent freezer burn. Don't forget to label and date the bags!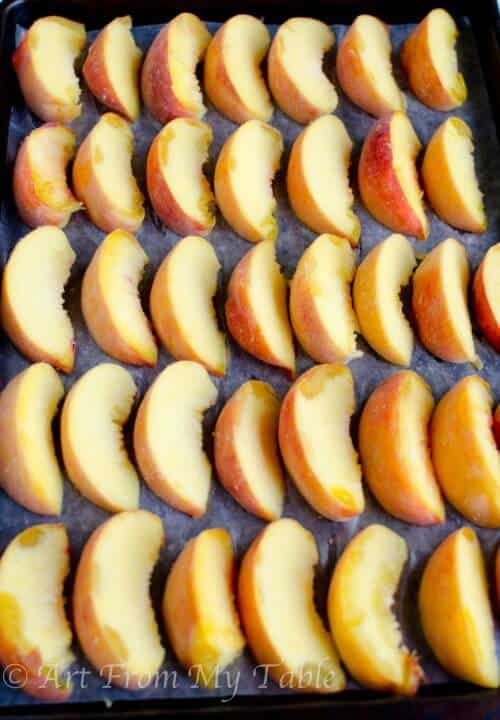 Notes and Tips
Always choose high-quality peaches- make sure to freeze the fruit when it's ripe for the best flavor.
Ripe peaches are slightly soft with a dark yellow tint. They have a sweet smell and are more round in shape than fruit that isn't fully ripe.
Line your pans- wax paper will keep the peaches from sticking to the pan.
You can freeze halves, quarters, or slices.
Remove excess air before sealing- This helps prevent freezer burn on your peaches.
I use zip lock bags and get as much air out as possible. Another option is using vacuum-sealed bags.
Label your bags- What it is and when you put it in the freezer.
I speak from experience here. You don't want to find a mystery bag months later, and you won't have to wonder if it's still good.
Here's a quick video demonstrating these tips. Please don't judge me, I didn't get fixed up all pretty for this one. 🙂
How can you keep peaches from turning brown?
If your peaches are discoloring when you freeze them and it bothers you, toss them with some lemon juice before laying them on the tray. You'll need the juice of 1 lemon per 8-10 peaches.
How long will peaches keep in the freezer?
6-12 months.
Can you freeze whole peaches?
Yes you can. However, you will need to thaw them fully and remove the pit before using them. It's more of a hassle later, but it can be done.

To flash freeze, after washing the fruit, place on a tray and put in the freezer until frozen. Transfer to a zip lock bag and remove excess air when sealing. Transfer back to the freezer.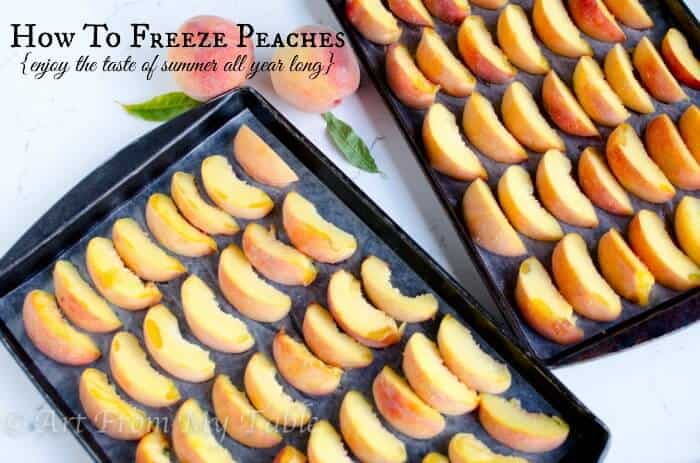 How to use Frozen Peaches
More Peach Recipes
HUNGRY FOR MORE? Subscribe to my newsletter to have recipes delivered to your inbox and to stay up to date on the latest!
You May Also Like
Please Share!
Your shares are how this site grows, and I appreciate each one. Do you know someone who would enjoy this recipe?

I'd love it if you shared it on your favorite Pinterest board or Facebook! AND…if you like this recipe, please do me a favor and give it a ⭐️ ⭐️ ⭐️ ⭐️ ⭐️ rating! TIA 🥰

You can also follow along on YouTube and Instagram!
📋 Recipe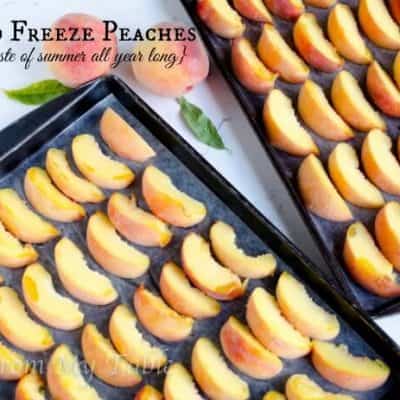 How To Freeze Peaches
Not a canner? Try freezing instead! The perfect way to preserve your peaches through the winter. Great to eat in baked desserts and smoothies!
Print
Pin
Rate
Equipment
sheet pans

wax paper or parchment paper

chef's knife
Ingredients
25

pounds

peaches

A half bushel, I used red haven
Instructions
Pit and cut peaches in halves, quarters or slices.

Lay peaches out on a wax paper lined baking sheet(s). Peaches should be close togethr, but not touching.

Flash freeze for a couple of hours or until frozen.

Remove peaches from baking sheets and store in an airtight sealed freezer bag.
Notes
Flash freezing is simply freezing the fruit in individual pieces, then transferring it to freezer bags to be stored in the freezer. This allows you to use exactly how much you need for a recipe because the peaches are not sticking together in a big clump
Taking the skins off is not necessary. I never do it and I don't notice them in smoothies or crisps or in any of the ways I use them. However, if you want to, here's how:

Bring a pot of water to a boil
Prepare an ice bath-- a large bowl of water with ice cubes
Score the bottom of the peaches with an X
Place 3-4 at a time in the boiling water for 2 minutes.
Remove with a slotted spoon to the ice bath to stop the cooking
Skin will slide right off
slice and start instructions at step 1.

To keep them from turning brown in the freezer: Personally, I haven't had an issue with this, but if you want insurance, toss the slices with fresh lemon juice. About a tablespoon per pound of peaches. Then continue with the instructions at step 2.
Nutrition
Calories:
44
kcal
|
Carbohydrates:
11
g
|
Protein:
1
g
|
Fat:
1
g
|
Saturated Fat:
1
g
|
Potassium:
215
mg
|
Fiber:
2
g
|
Sugar:
10
g
|
Vitamin A:
370
IU
|
Vitamin C:
7
mg
|
Calcium:
7
mg
|
Iron:
1
mg
Update Notes: This post was originally published on August 26, 2016, but was updated with some more information, step by step instructions, and updated notes and tips in January of 2021.