As an Amazon Associate I earn from qualifying purchases.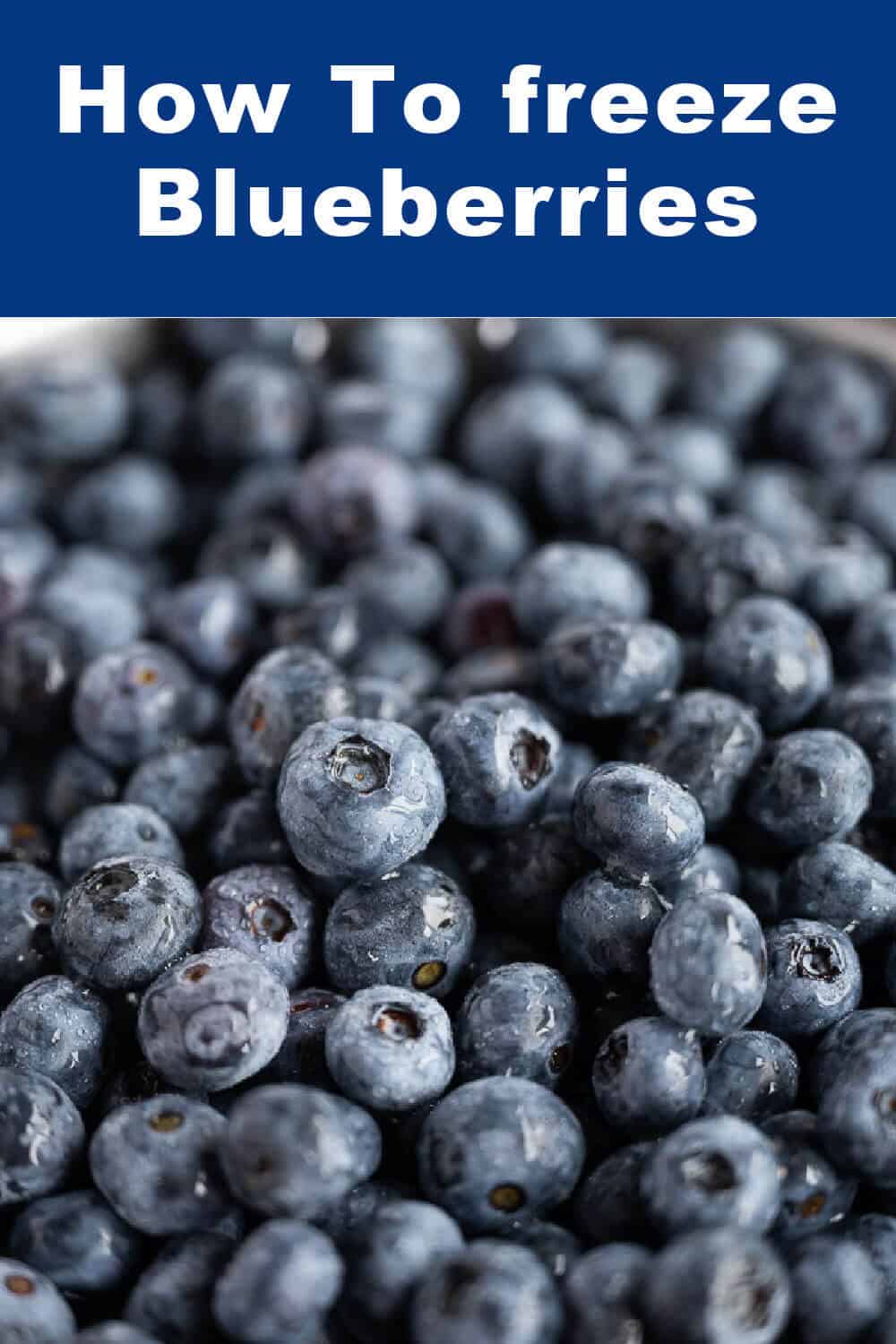 Learn how to freeze blueberries when they are fresh and plentiful. Pick (or buy) them when they are in season and enjoy them all year! Blueberries are the easiest fruit to freeze, there's no cutting stems off, peeling, or slicing.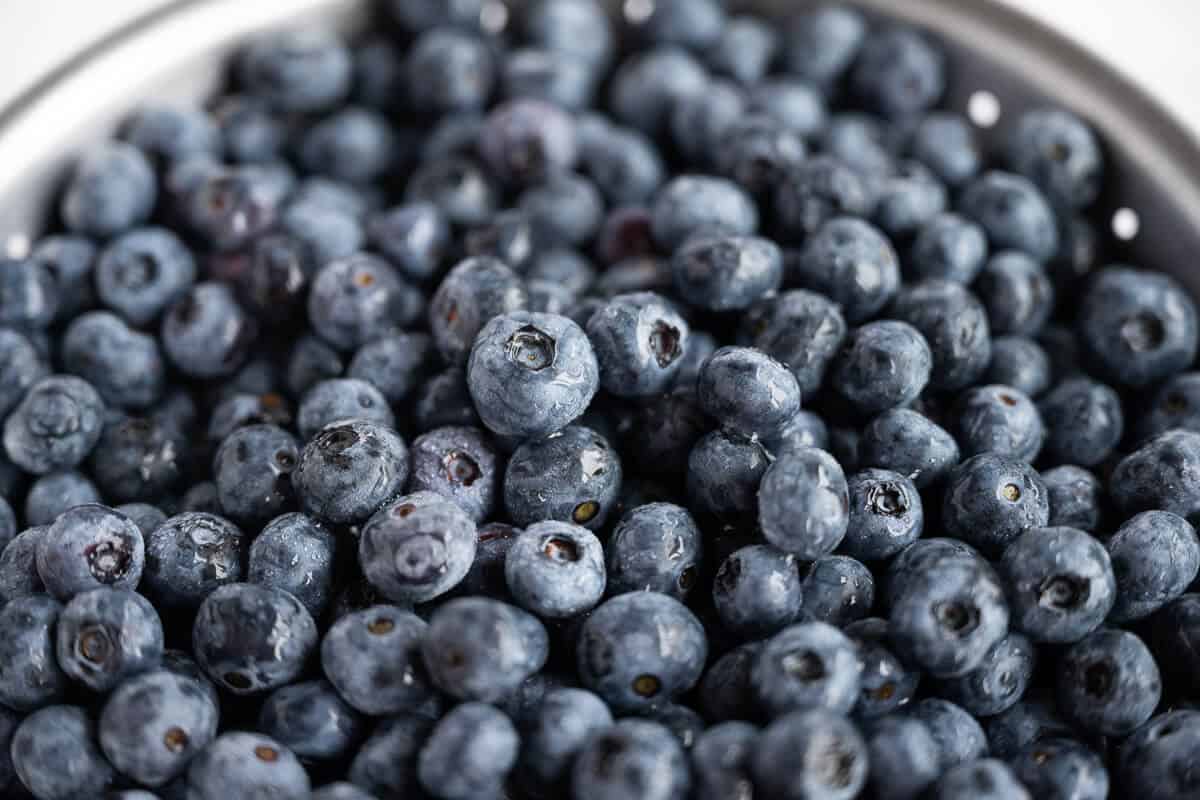 Jump to:
We love blueberry season! We eat them by the handful and we still can't get our fill!
When they are fresh in the grocery store or ripe off the bush, I love to use the berries in a Quinoa and Fruit Breakfast Bowl. It is a great way to start your day.
For a fresh spring or summer salad, Watermelon Salad with Blueberries is refreshing and light. And while we are talking about salad, you'll want to try this Broccoli and Blueberry Salad drizzled with some homemade Blueberry Balsamic Vinaigrette.
With my frozen berries, I can make yummy desserts all year long, like Blueberry Peach Crisp, ice-cold fruit smoothies, and so much more! And let's not forget Fresh Blueberry Pie. I told you I was crazy for blueberries!
Now I am in blueberry heaven!
WHY YOU'LL LOVE THIS RECIPE
Super Fast & Easy- No pitting, peeling, slicing, or dicing and no flash freezing on trays with wax paper.
No Clumps-Easily use as little or as much as you need for a recipe.
Year-Round Berries-They last up to a year in the freezer.
Health Benefits: Blueberries contain Vitamin C, are rich in various vitamins and minerals, and are a great source of fiber. Bonus- they are just 80 calories per cup.
Ingredients And Equipment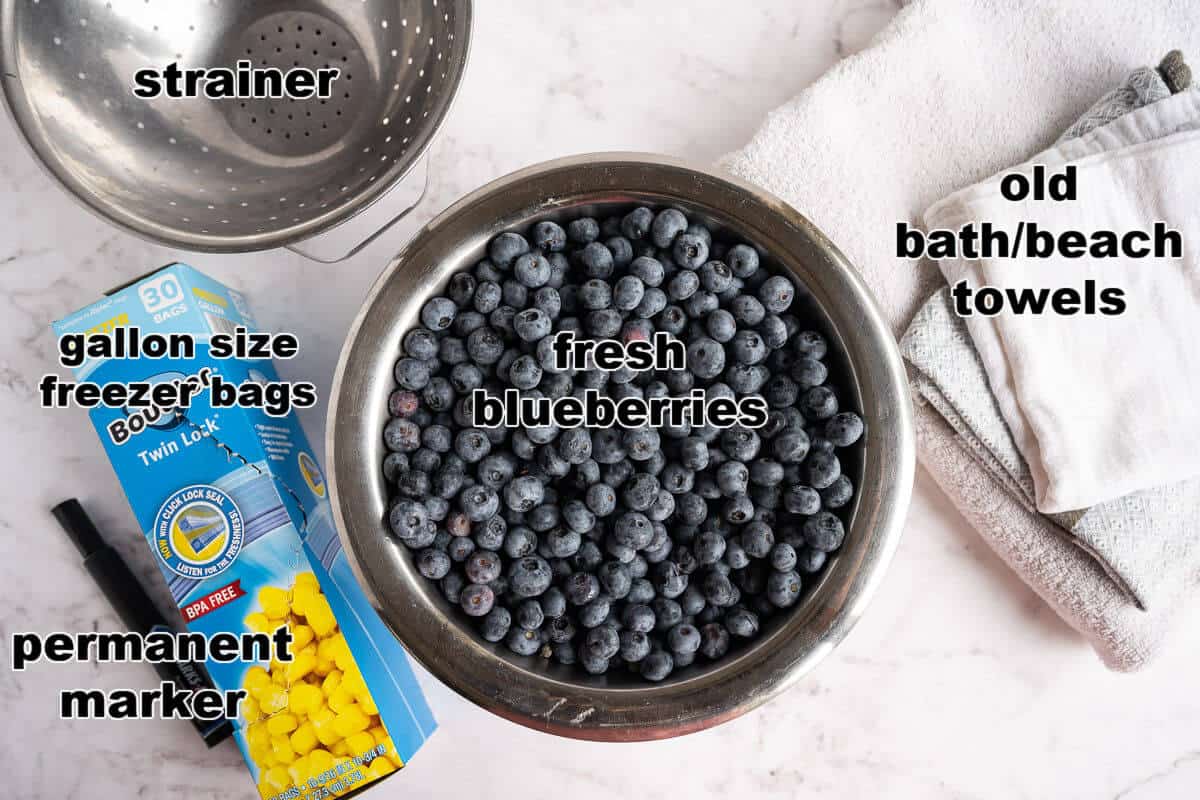 Blueberries- I like them best when they are fresh picked and in season.

Colander or Strainer- Always a good idea to rinse your berries before you begin.

Towels- For drying the rinsed berries. You can use paper towels on a try or old towels for large batches.

Large Freezer Bags- Gallon-size freezer bags work great. But if you want to freeze smaller batches, any size will do.

Permanent Marker- Labeling your bags ensures you know when you froze the berries if they happen to get buried in the freezer! (Never happens, right?)
How to Freeze Fresh Blueberries
This is an overview of the instructions, be sure to see the recipe card for all the details.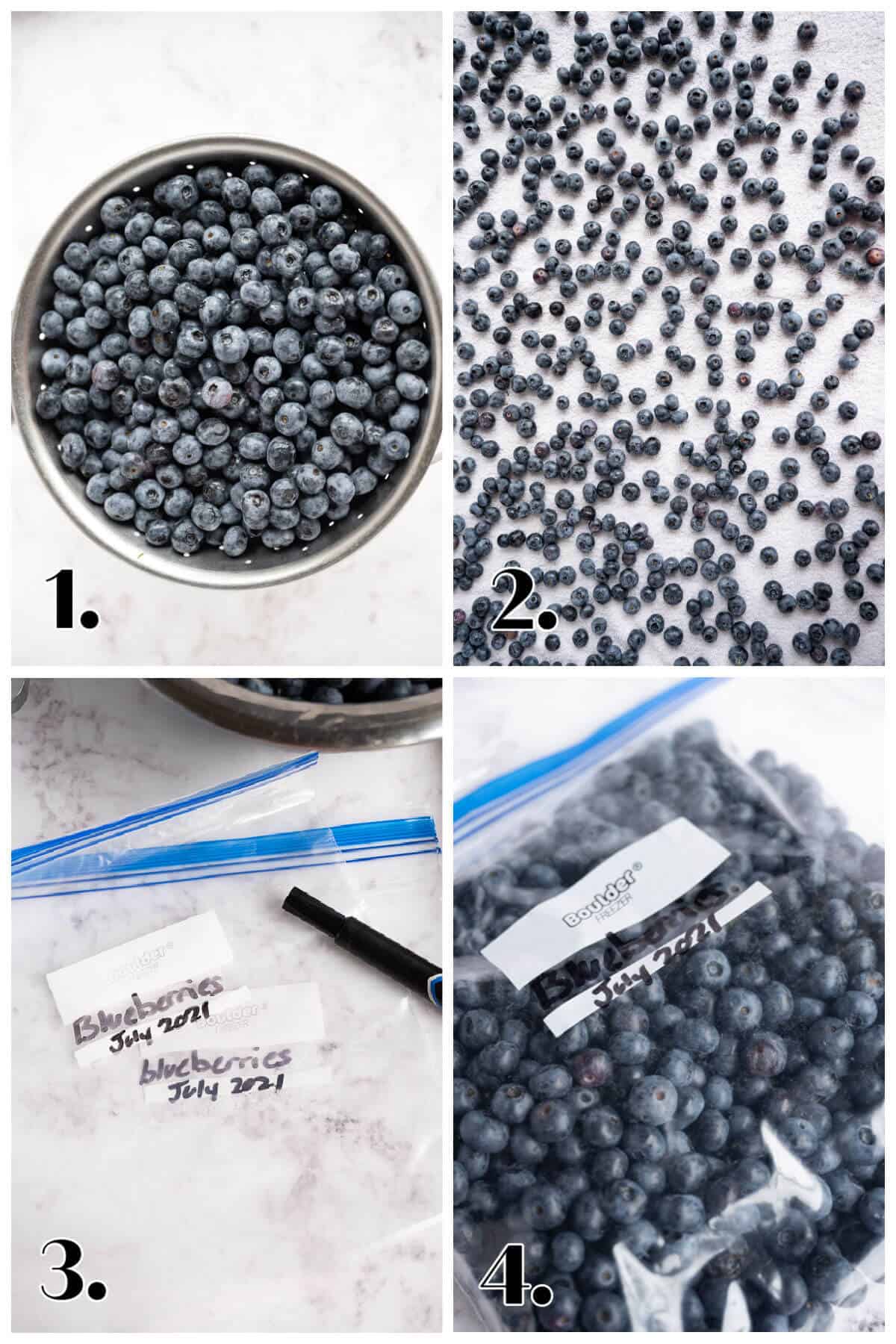 Wash Blueberries: Start by rinsing the berries with cold water in a strainer. I never like to use fresh fruits or veggies without washing them first.

Air Dry Berries: Lay all the berries out on a baking sheet or tray lined with paper towels or on an old beach towel. You never want to freeze fruits and vegetables when wet or they will all stick together.

Label the Bags: It is important to label the berries with the date you freeze them. Use a gallon-size freezer bag and a sharpie to mark the bag.

Bag the Berries: Time to place all the dry blueberries in the freezer bags you have prepared for freezing.
See? Easy Peasy Blueberry Squeezy!
Expert Tips
Making a large batch? Maximize counter space by laying your berries out to dry on old large towels after rinsing!

Be sure your blueberries are dry before freezing so they do not stick together in a clump- and spread them out!

Remove any stems before you freeze them so you do not get them in your smoothie or cake!

Try to get all of the air out or vacuum seal the bag of berries to help them avoid freezer burn.

Frozen blueberries are best used in smoothies, cooking, and baking, as they do become slightly mushy after freezing and thawing.

Date the bag on the day you place them in the freezer. That way you know to use them before they get too old.
Frequently Asked Questions
How long can the frozen blueberries stay in the freezer?
Frozen berries can stay in the freezer for 6 months to a year.
Do frozen blueberries need to be thawed out before using them in baked goods?
Nope- Just rinse and dry them, then add them to the recipe.
Are frozen blueberries the same as using fresh berries?
These frozen berries can be substituted for fresh ones in baking. But if you want them for a gorgeous topping to your salad or pie, stick to fresh.
Can I use frozen blueberries in a drink?
Using the frozen berries is a great way to cool your beverage while adding color and flavor. Try this recipe for Blueberry Lemonde or add them to one of my yummy Mocktail Recipes.
Storing and Freezing
Frozen berries can be stored in the freezer for up to a year. When ready to use, you can toss the frozen berries right into the batter of your choice.
Or, if you are storing these fresh and frozen berries for a healthy snack- store a loose bag of them in the front of the freezer to grab and enjoy.
You May Also Like
Please share
Your shares are how this site grows, and I appreciate each one. Do you know someone who would enjoy this recipe?

I'd love it if you shared it on your favorite Pinterest board or Facebook! AND…if you like this recipe, please do me a favor and give it a ⭐️ ⭐️ ⭐️ ⭐️ ⭐️ rating! TIA 🥰

You can also follow along on YouTube and Instagram!
📋 Recipe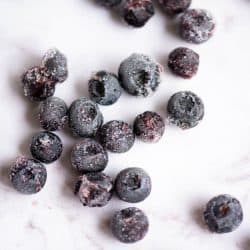 Equipment
Colander/strainer

Large towels

Bath towels or beach towels work great, just be sure to use something that you don't care about as it can stain.

Gallon size Zip lock bags

Sharpie marker

or other permanent marker to label the bags.
Ingredients
10

pounds

blueberries

or however many you'd like.
Instructions
Rinse the berries in a strainer under cold water.

Gently lay the blueberries out on top of large towels on the countertop to air dry.

Once the blueberries are dry, place them in the labeled and dated freezer bags, lay flat in the freezer.
Notes
Nutrition information is based on a ½ cup serving of blueberries.
Blueberries are the easiest fruit to freeze. Just be sure they are dry before you bag them up. They will automatically freeze individually, like a flash freeze. This makes it easy to measure as little or as much as you need for a recipe.
Don't overstuff the bags, and lay flat in the freezer to store.
Nutrition
Calories:
43
kcal
|
Carbohydrates:
11
g
|
Protein:
1
g
|
Fat:
1
g
|
Saturated Fat:
1
g
|
Polyunsaturated Fat:
1
g
|
Monounsaturated Fat:
1
g
|
Sodium:
1
mg
|
Potassium:
58
mg
|
Fiber:
2
g
|
Sugar:
8
g
|
Vitamin A:
41
IU
|
Vitamin C:
7
mg
|
Calcium:
5
mg
|
Iron:
1
mg
HUNGRY FOR MORE? Subscribe to my newsletter to have recipes delivered to your inbox and to stay up to date on the latest!