Delicious & healthy with all the traditional chili seasonings plus the sweetness of butternut squash. It's a match made in heaven.  Instant Pot Turkey Chili just might be your new go-to chili recipe.  🙂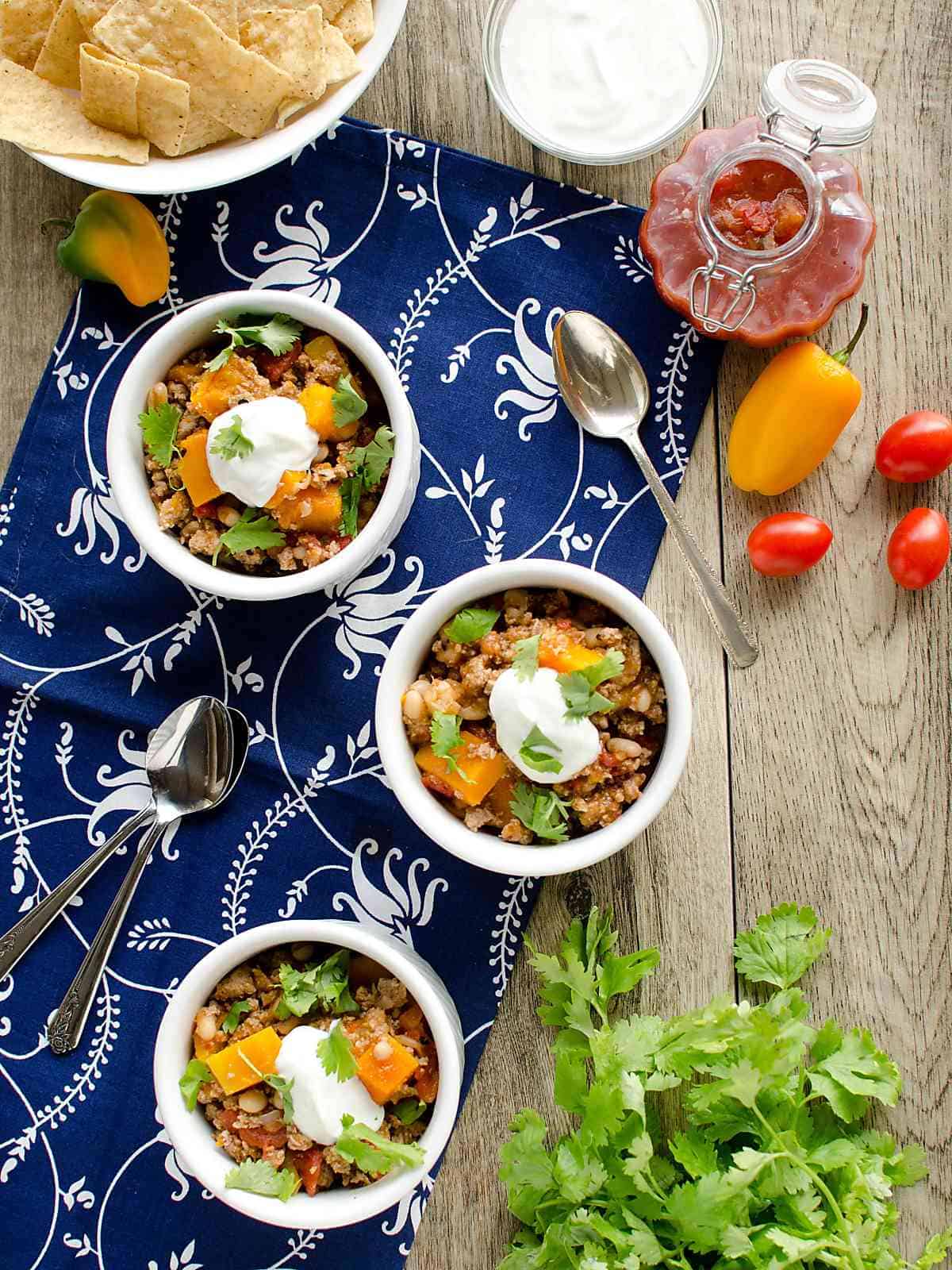 As you probably know, the Instant Pot is all the rage these days.  I have to admit, I love a good kitchen tool.  But, I'm also pretty conscientious about bringing more stuff into my house.
Before I make a purchase, I'm already thinking about where it's permanent home will be. I have to have room for it, or make room for it, which means probably getting rid of something else.  🙂
Well, one day, after making a Slow Cooker Mongolian Beef, I noticed it had leaked.  Actually at first, I thought I just spilled.  But when I went to wash out the crock, there was a big crack all the way across the bottom.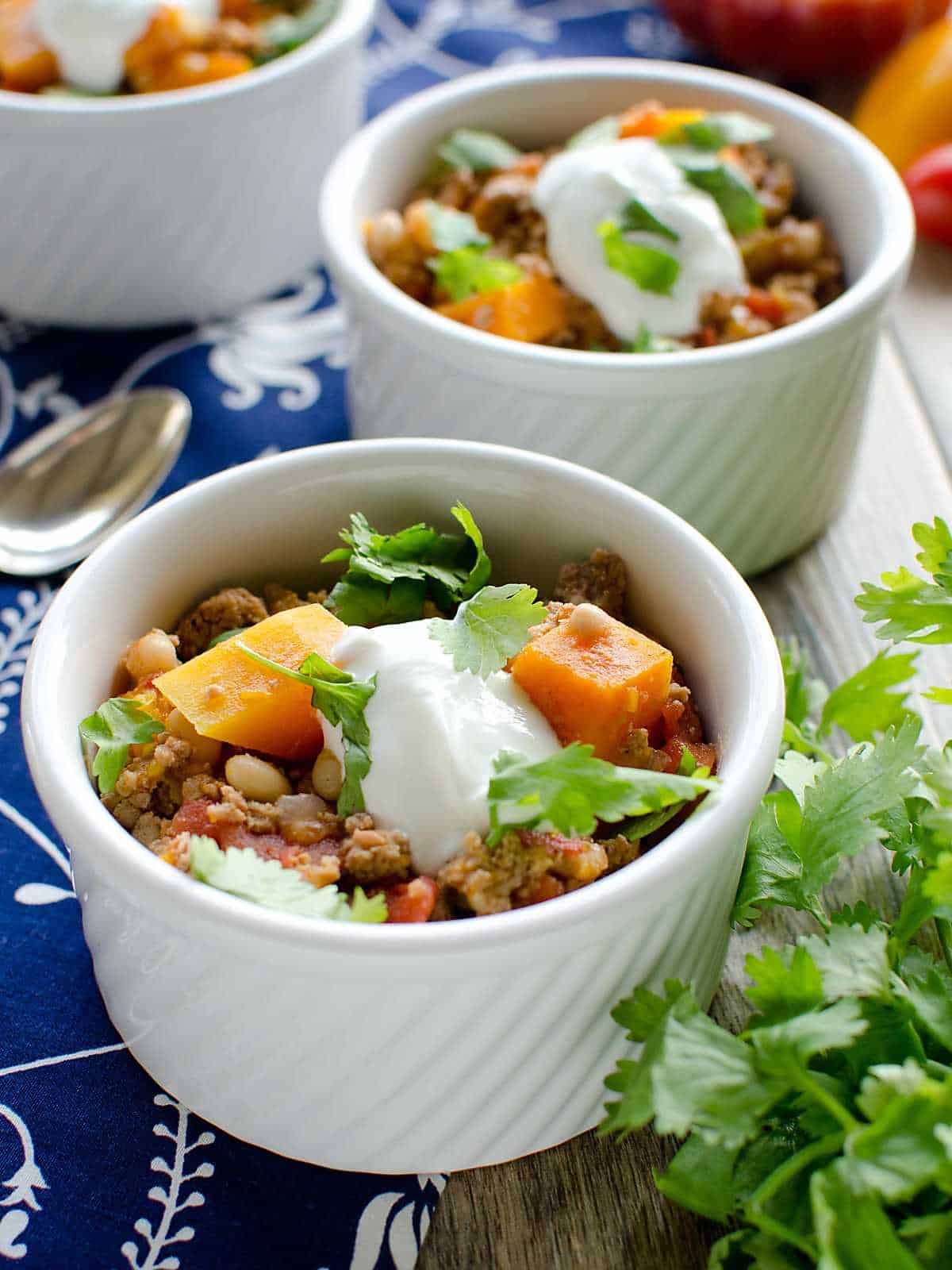 Post may contain affiliate links
No idea how this happened.  But, live without a Crock Pot?  Ummm, not sure it's possible.  😉  Okay, it's possible, but my Slow Cooker is a life saver for me!  Perfect for those busy days, I know you all agree, right?
Well, here was my chance. I could either replace the ceramic pot part of the slow cooker, or… I could check out this Instant Pot thing everyone is talking about.
I'm happy to report that I LOVE MY INSTANT POT! This is the Instant Pot I have.
Instant Pot Turkey Chili is one of the first recipes I made in it. One of my favorite features is the Saute' function.  When I typically do chili in a slow cooker, I still have to brown the meat in a separate pan.  Not so with the Instant pot!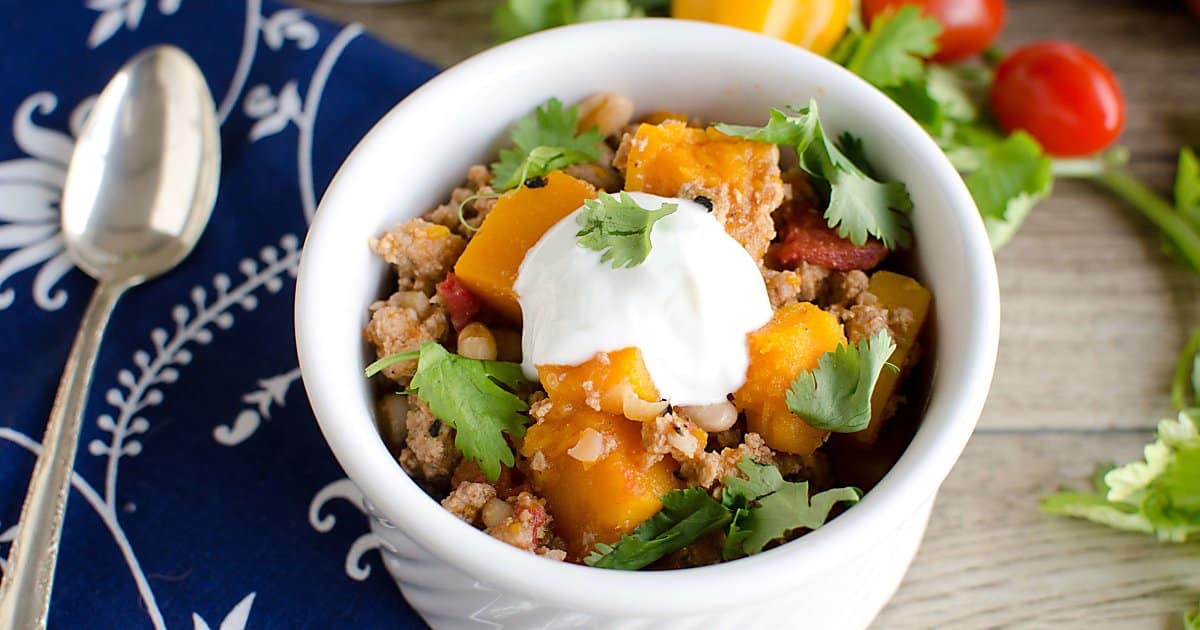 Instant Pot Turkey Chili
For this recipe, I was able to saute' my meat, onions and garlic, in the same pan that I was going to cook the chili. Because even one less pan to clean is helpful.  Am I right?
Besides making this fantastic turkey chili recipe, I've been experimenting with the pressure cooking as well.  Last week, I cooked a whole frozen chicken!  It took about 3 hours total.  Amazing. And it was delicious.
Then I made some bone broth in a fraction of the time it normally takes me.  Yep, I'm sold. Oh, and I love to use bone broth in all my soups/stews for added benefits.
But let's talk about this Instant Pot Turkey Chili!  It just might be your new favorite.  A little lighter because you're using ground turkey instead of beef, and I love the flavor the squash adds. Let me know what you think!  (P.S. Are you one of my Trim Healthy Mama friends?  This recipe is THM friendly! It's an 'E'.  Just don't eat those chips you see in the corner, k?)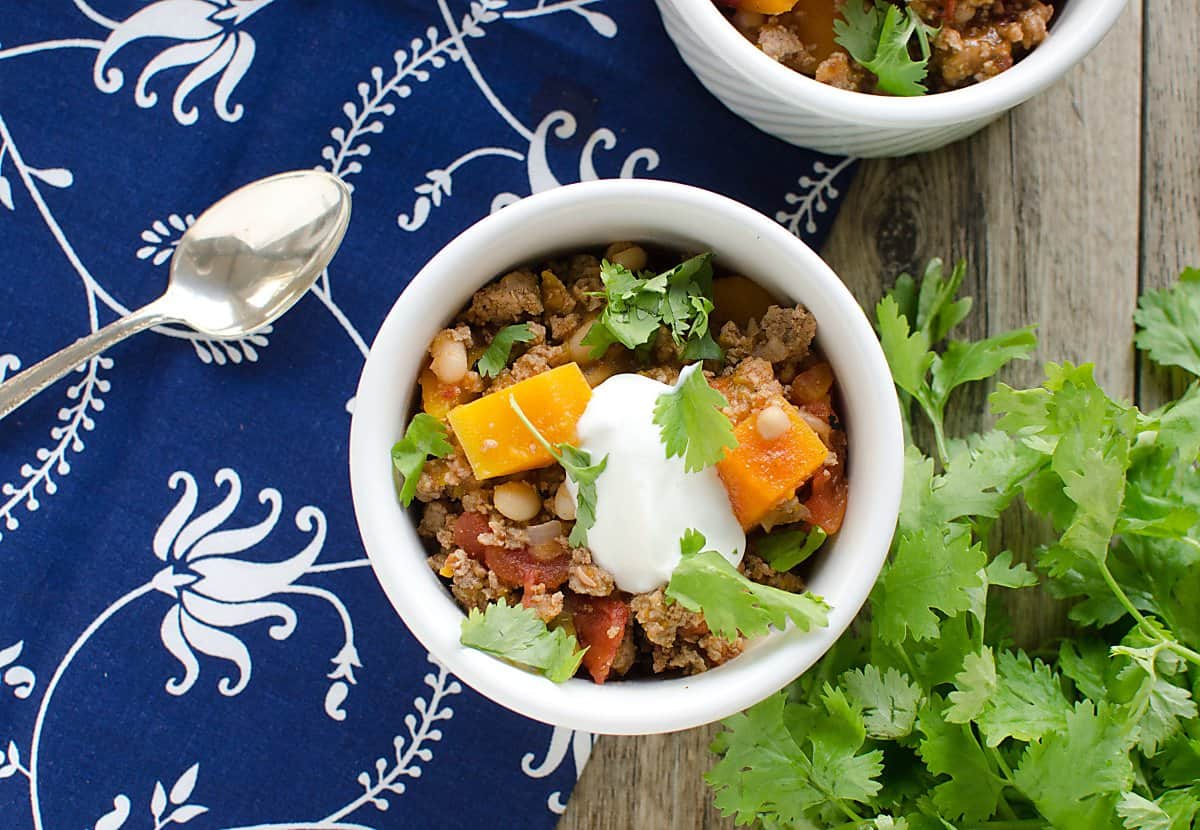 You certainly don't have to cook this in an instant pot.  It'll work in your traditional slow cooker or even on the stove top.  I love these 8 oz ramekins for serving soup and chile.  They're not too big and not too small.  Pioneer Woman has these colored ramekins which I'd love to own.

I would love to connect with you! Leave me a comment and follow me on Facebook, Twitter, Instagram and Pinterest.
Looking for more chile recipes (personally, I can't get enough)?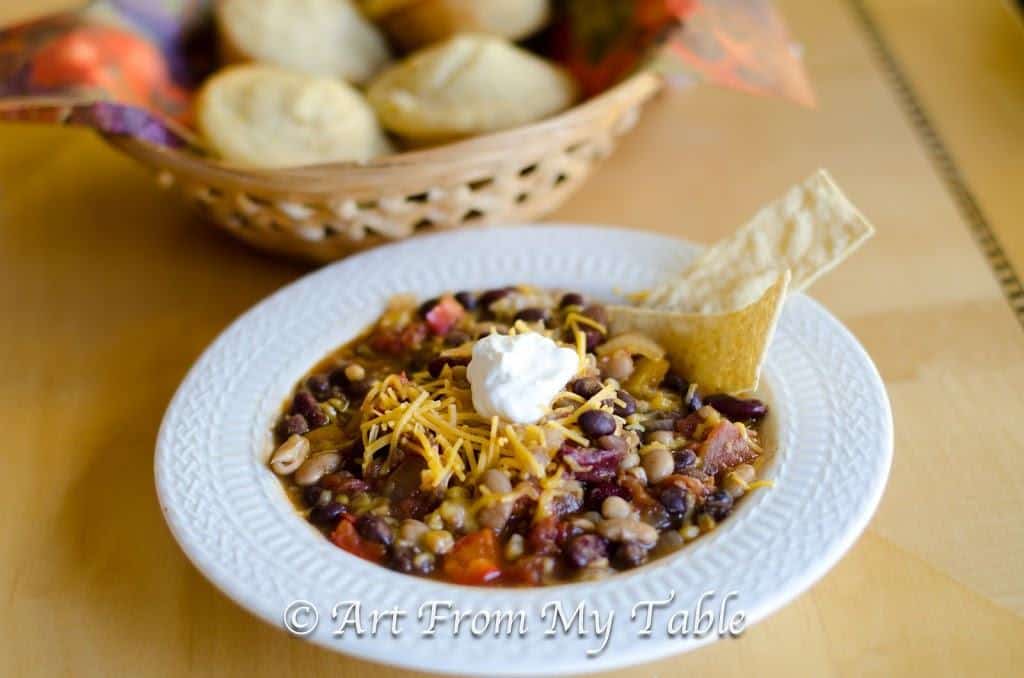 Vegetarian Chili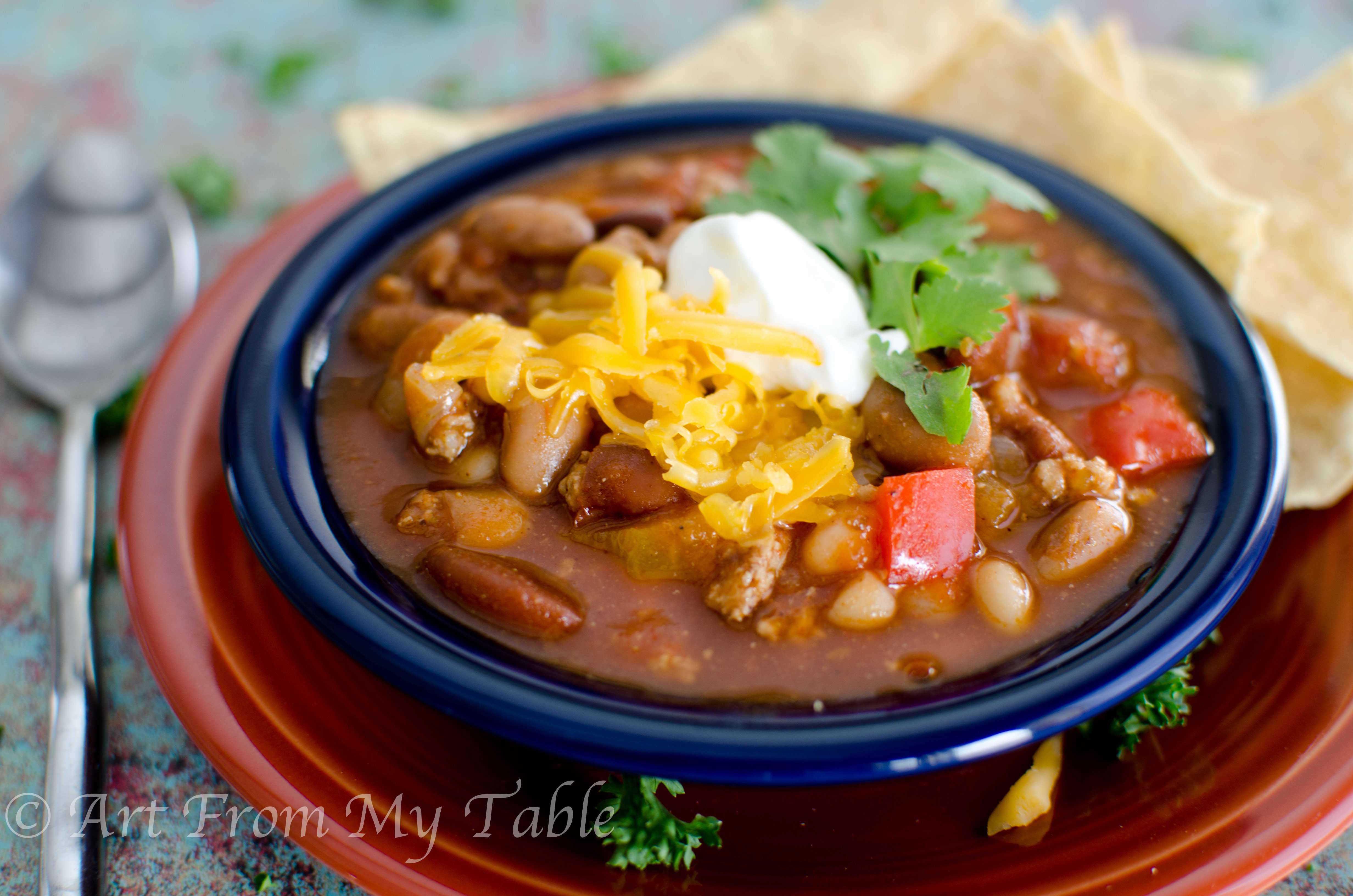 Slow Cooker Turkey Chili