Dark chocolate, almonds and coconut with a punch of protein ~ this healthy almond milk smoothie is just what you need to satisfy your sweet craving and fuel your body.  What could be better?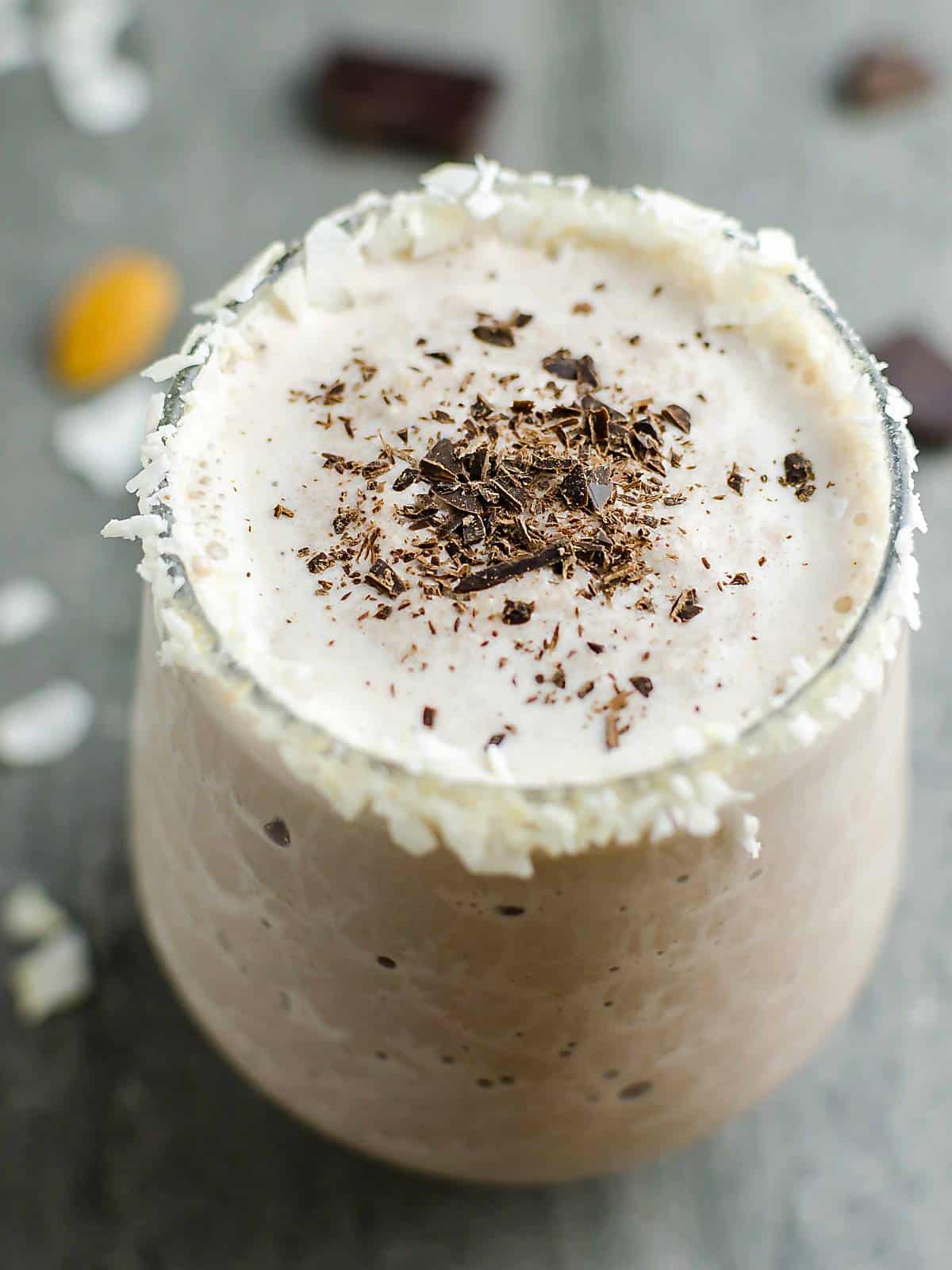 Sometimes you feel like a nut… I'm dating myself (again), do you guys know this tune?  Remember that commercial for Mounds and Almond Joy candy bars?
Back in the day, I always preferred the mounds, I didn't really like almonds.  Actually, I'm not sure we were even a nut family.  Let me just clarify~ we were a little 'nuts', we just didn't eat them much that I remember.  Sometimes Spanish nuts on an ice cream sundae, and maybe some mixed nuts that my parents had for parties.  But I'm not sure I liked them then.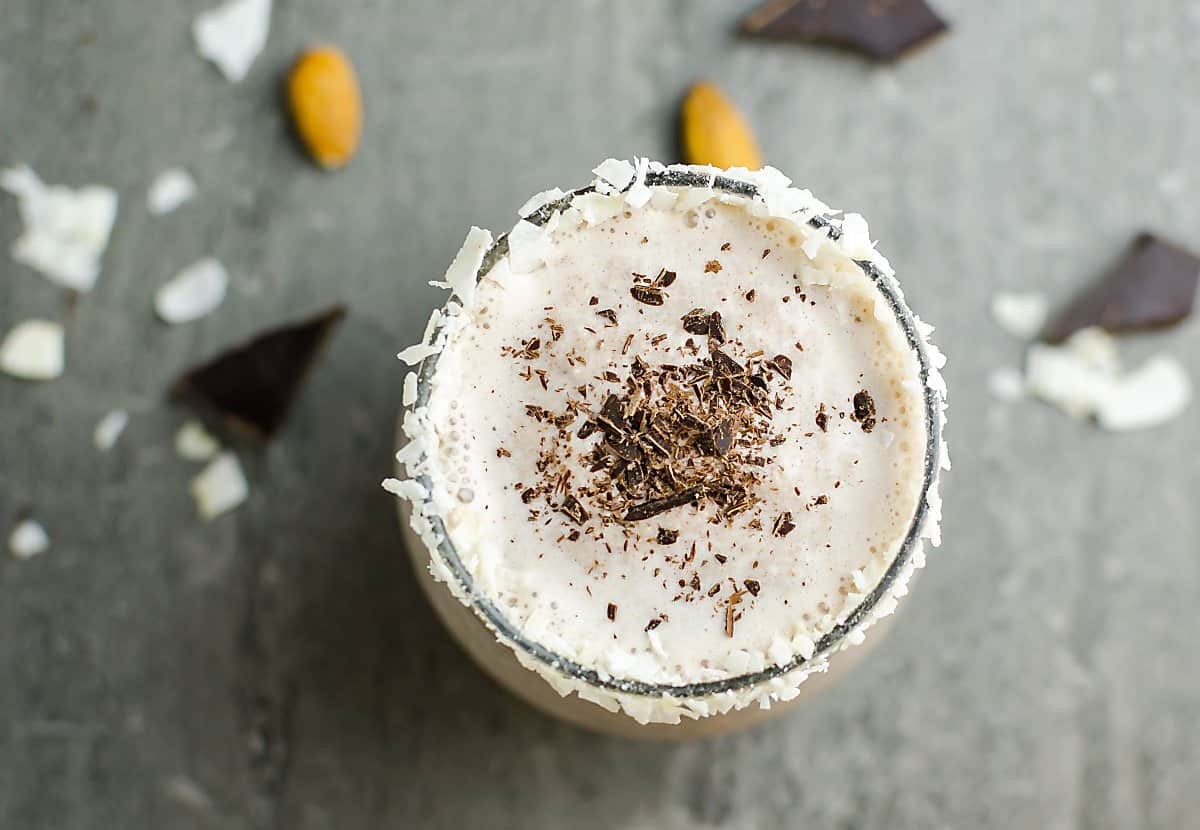 I remember my Grandmother always had whole nuts in the shell at Christmas time, and we loved cracking them, but mostly the walnuts.  Anyway, I digress, my point is, now that I'm an adult, I would choose the Almond Joy.  I heart almonds!  Raw, toasted, ground into butter, almond paste… you name it.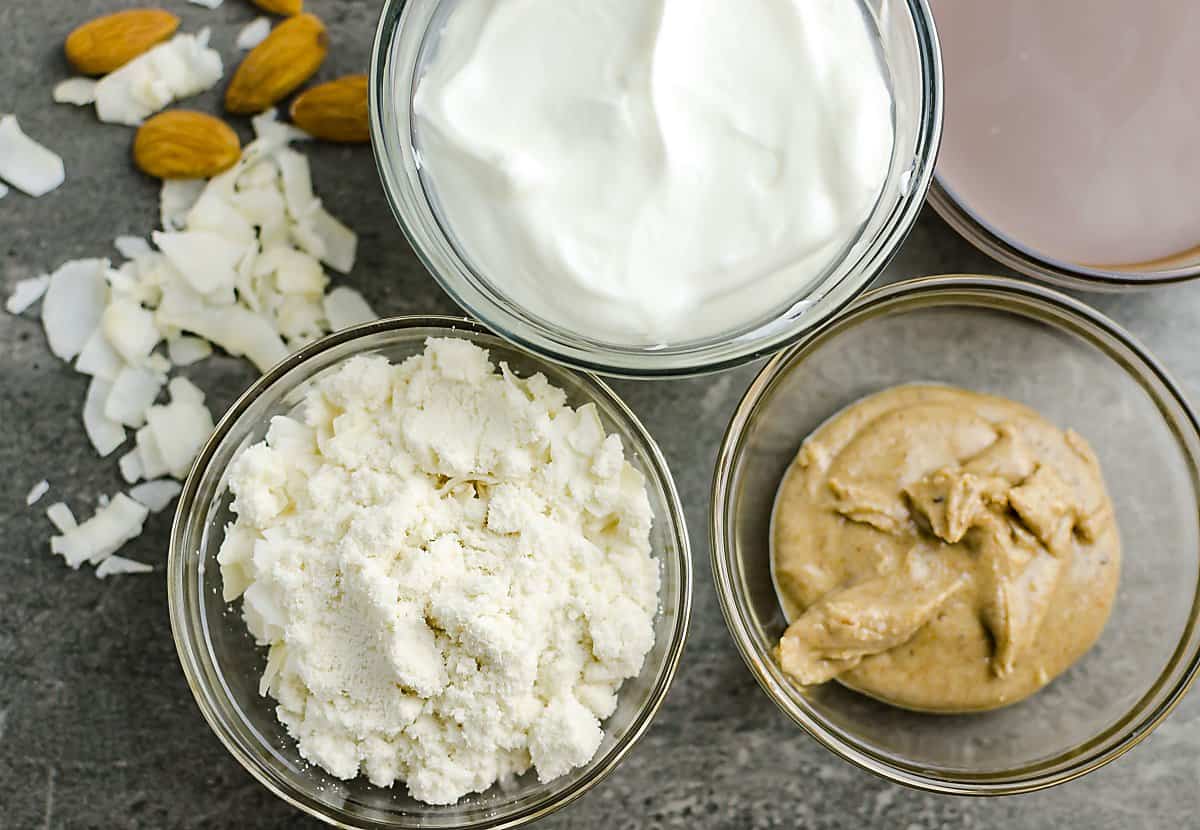 This post may contain affiliate links
Which one do you prefer?
Now, also, as an adult, I don't really eat candy bars anymore.  If you've been around here at all, you know this. Mostly we eat healthy.  I won't just buy a candy bar.  But I LOVE creating something sweet and delicious that actually is good for you.  And this Almond Joy Smoothie– It's the bomb!
It might be my favorite one.  I really really really like the chocolate covered cherry one too.  The best part? My kids think I'm giving them a treat, and actually I'm giving them super food.  😉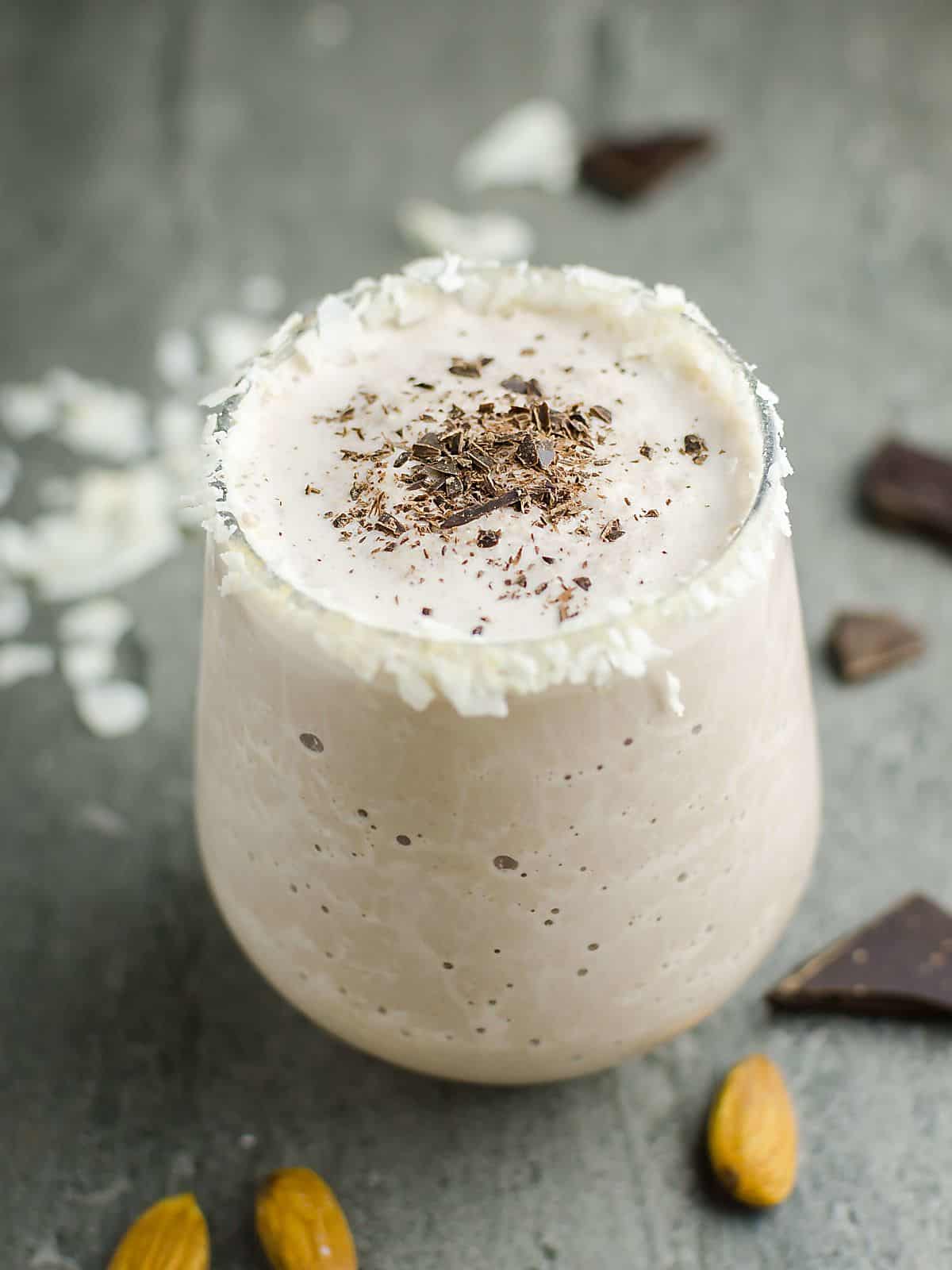 Don't get me wrong, my kids like healthy food. I don't really need to trick them.  But, I know there are picky eaters out there and people that just don't like 'health food'.  But I dare them to try my healthy almond milk smoothie (or any of my healthy protein smoothie recipes) they will be converted.  😀
For super extra extra creamy and smooth smoothies, I highly recommend the Vitamix or a Blendtec blender.  Not only will they rock your smoothies, but so many other things!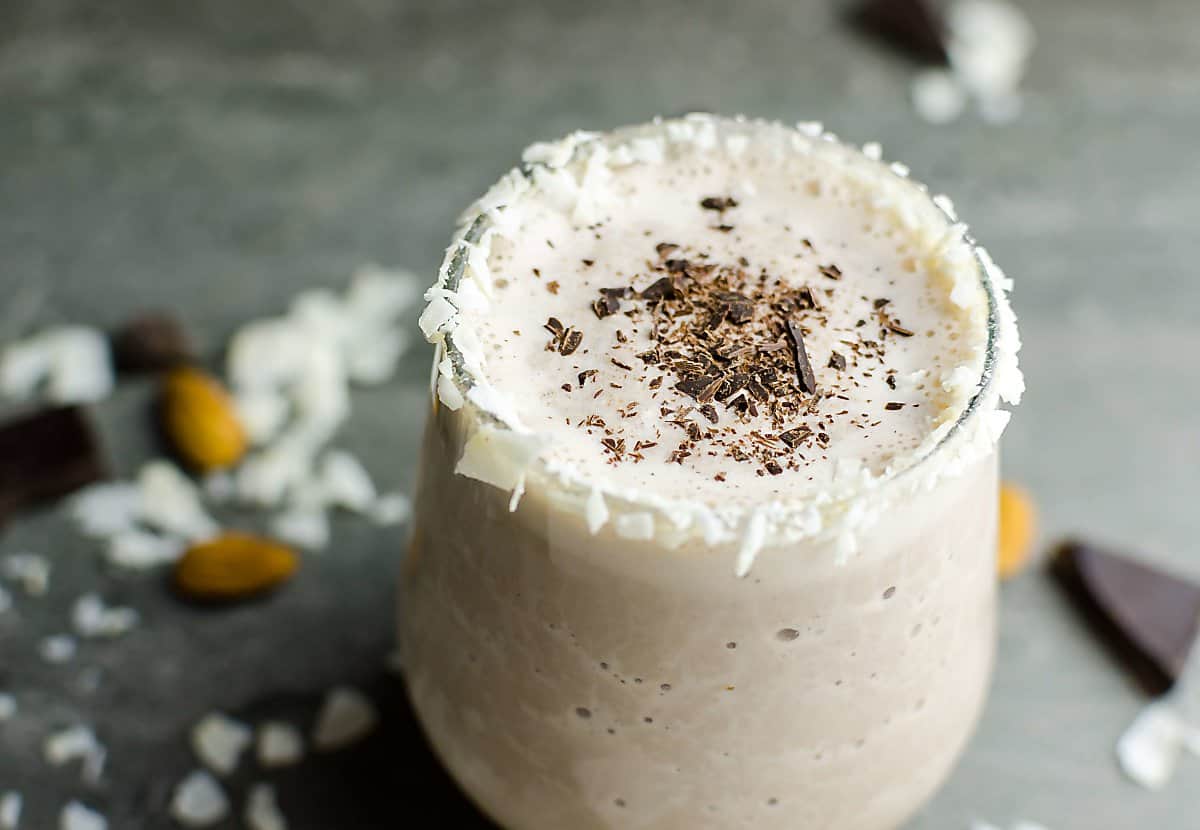 For more recipe inspiration, follow me on Pinterest and Facebook!
If you are looking for more healthy protein smoothie recipes, I have an awesome book.
[mc4wp_form id="2571″]
Like coconut? Check these out…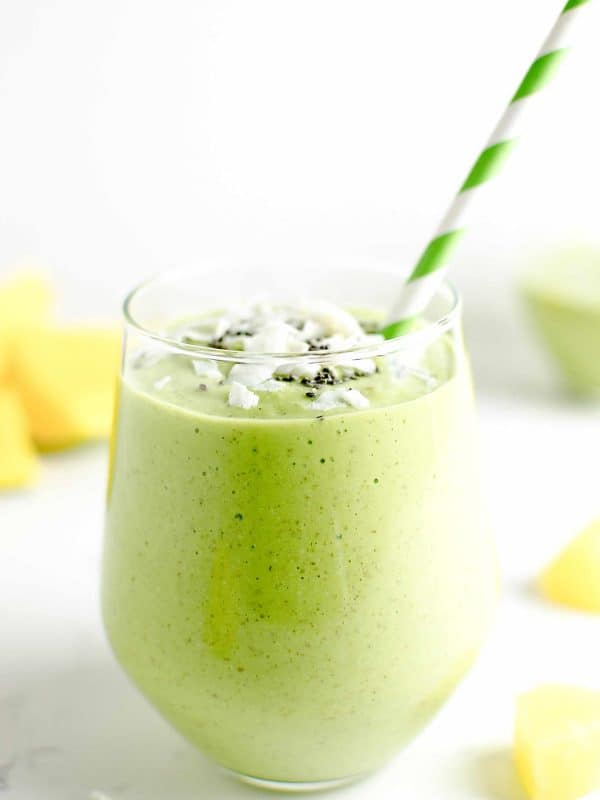 Tropical Green Smoothie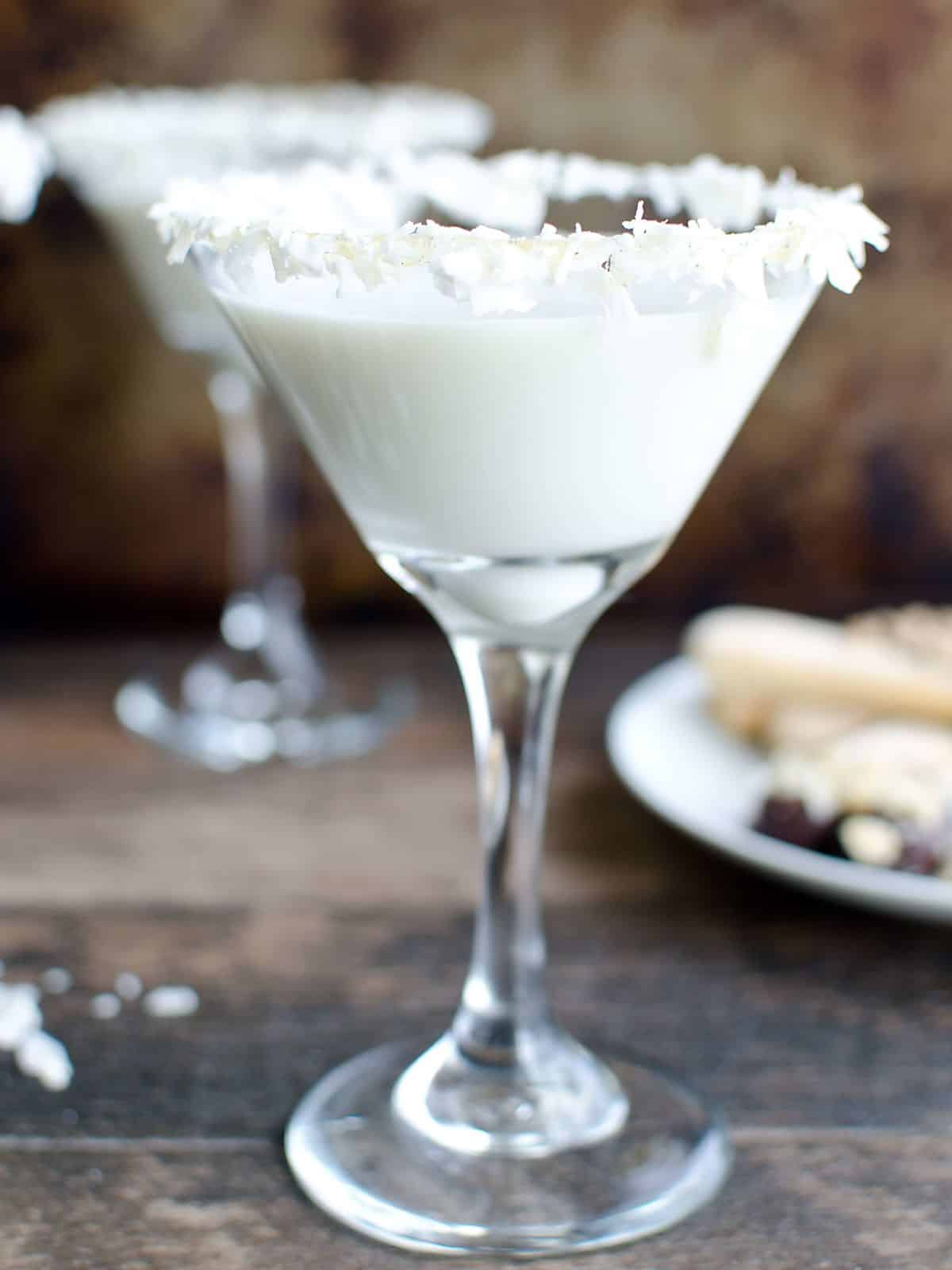 Coconut Creme Mocktini