As an Amazon Associate I earn from qualifying purchases.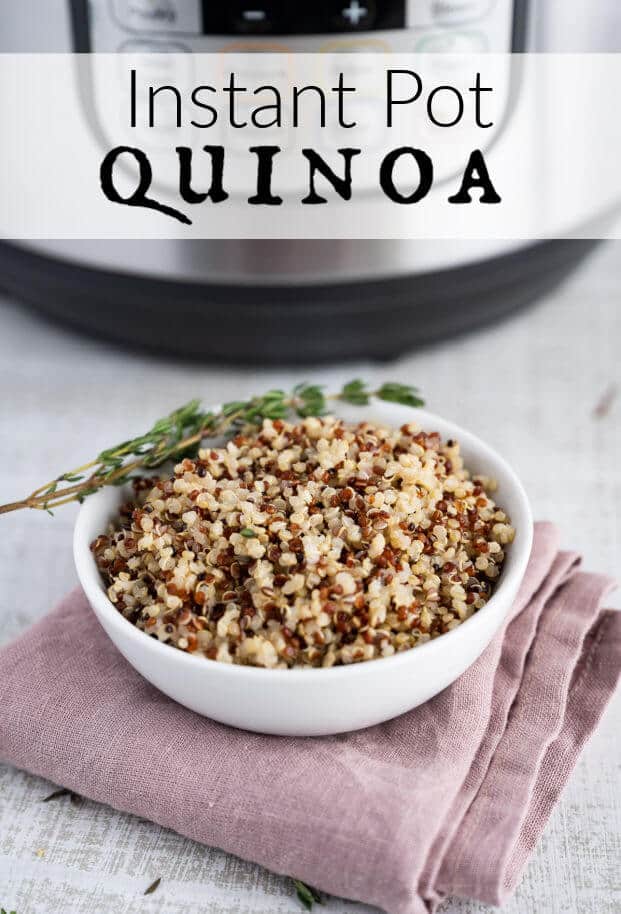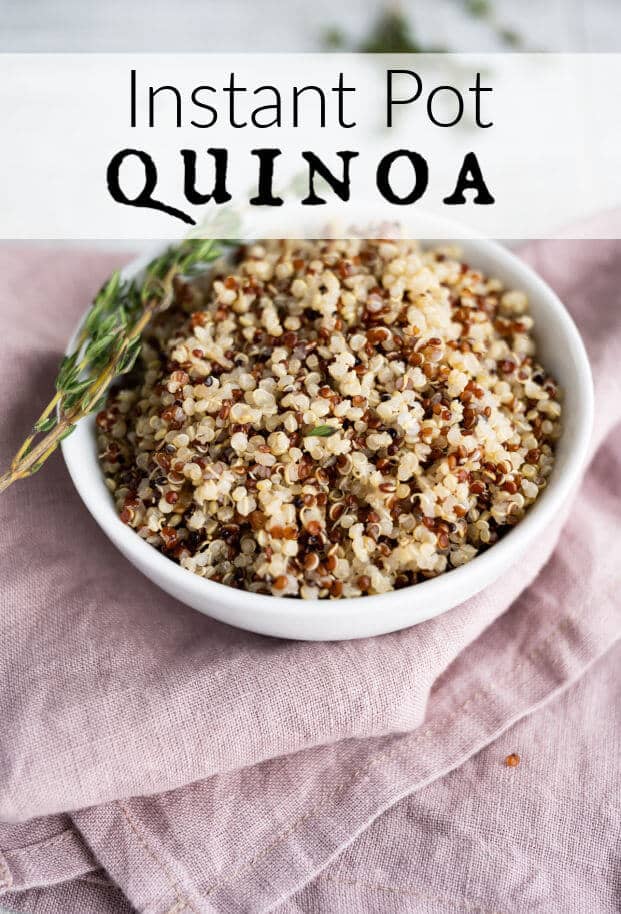 This recipe makes it easy to sneak in all the healthy grain goodness! The secret to making great quinoa is in what types of liquids you use, the ratio of liquid, and your cooking method.
Pressure Cooker Quinoa is an easy, fast, and healthy addition to any meal and provides a wonderful earthy flavor to a wide variety of dishes. It's a wonderful alternative to rice if you're looking to change up your usual.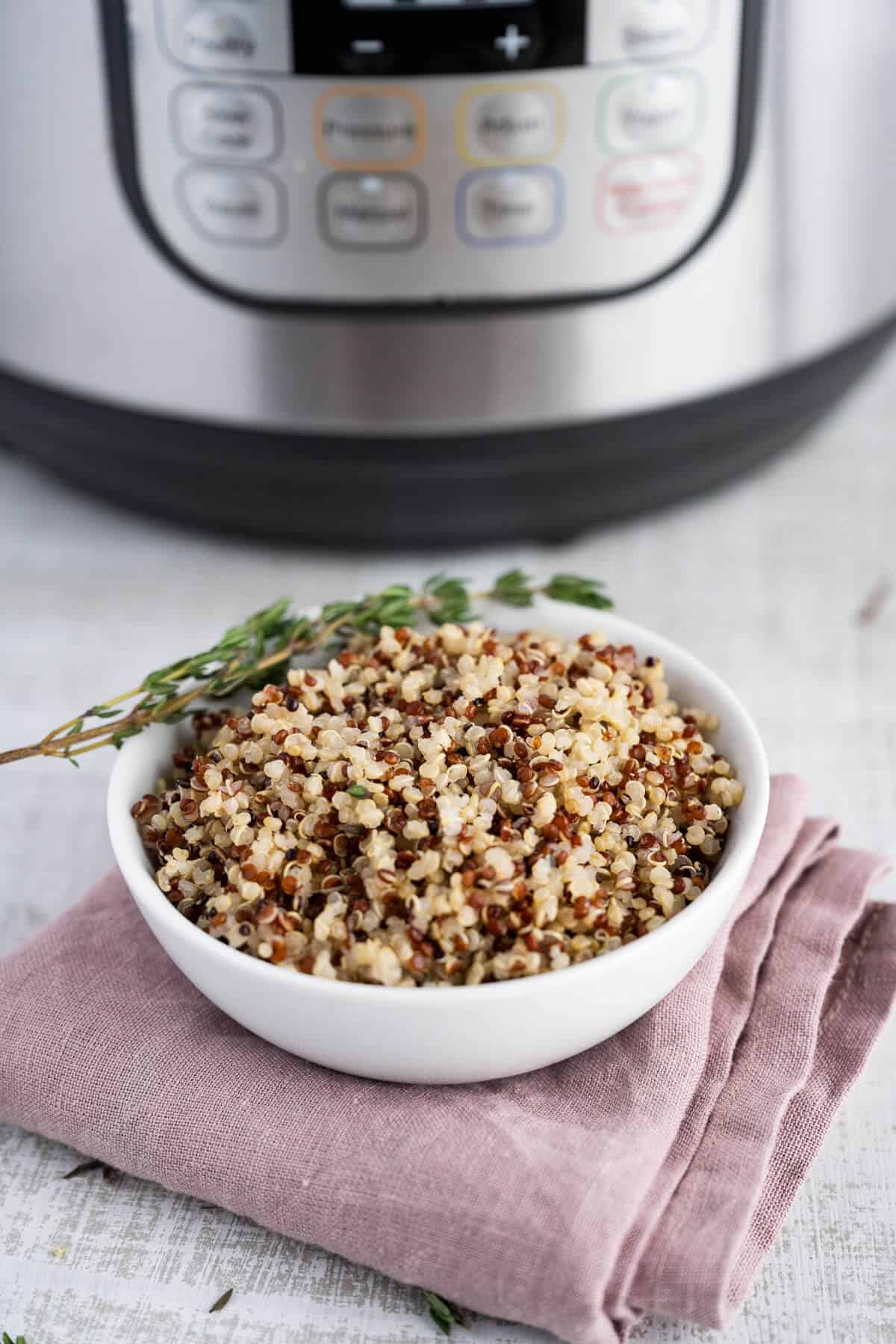 Jump to:
Quinoa in an Instant Pot or other electric pressure cooker makes it so simple because it literally takes a few minutes to rinse and one minute to pressure cook.
What's also great about quinoa is that you can portion it out, freeze it, and then use it in weekly meals or lunches. Just pull it out of the freezer when you need it. It only takes about an hour to thaw. If you want to use it in a dinner that has a skillet or add it to a soup, you don't have to thaw it at all. Simply add it in!
Key Ingredients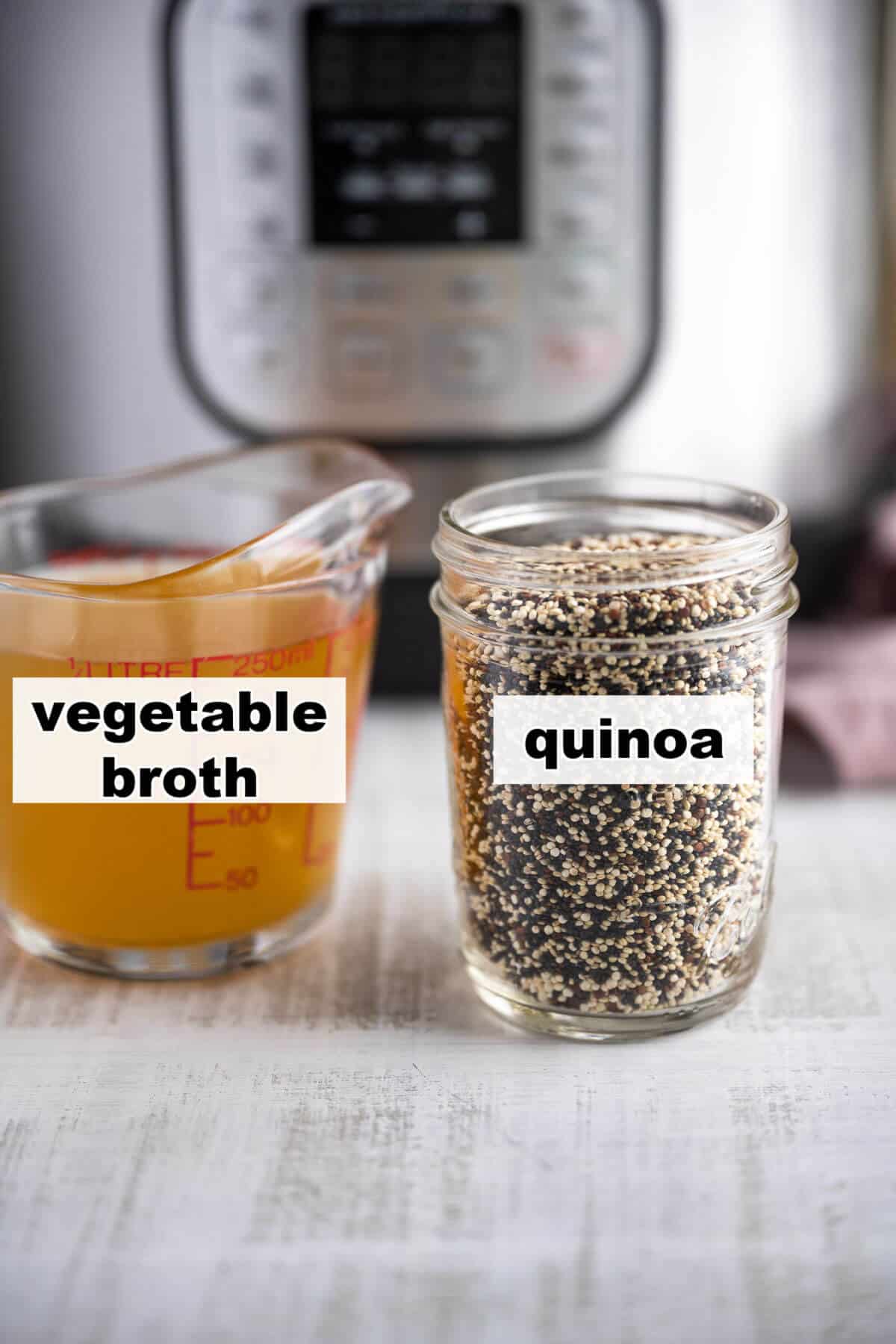 Quinoa - I like the rainbow variety for the color, but you can use white, red, or black quinoa.This fantastic protein packed plant can be found in the rice section of your grocery store.

Vegetable Broth - Adds a lovely flavor base, however, you can use chicken broth or water.

Salt- (optional) I recommend not using salt if you are cooking with broth or stock. If you are using water as a base, you will want to add salt to bring out the flavor of the grain.
With only two ingredients, you can have an easy and healthy side dish to add to any meal. I even have a breakfast recipe that uses quinoa with fruit.
How to Make Quinoa in the Instant Pot
This is an overview of the instructions, be sure to see the recipe card for all the details.
NOTE: I have the Instant Pot, but any electric pressure cooker will do.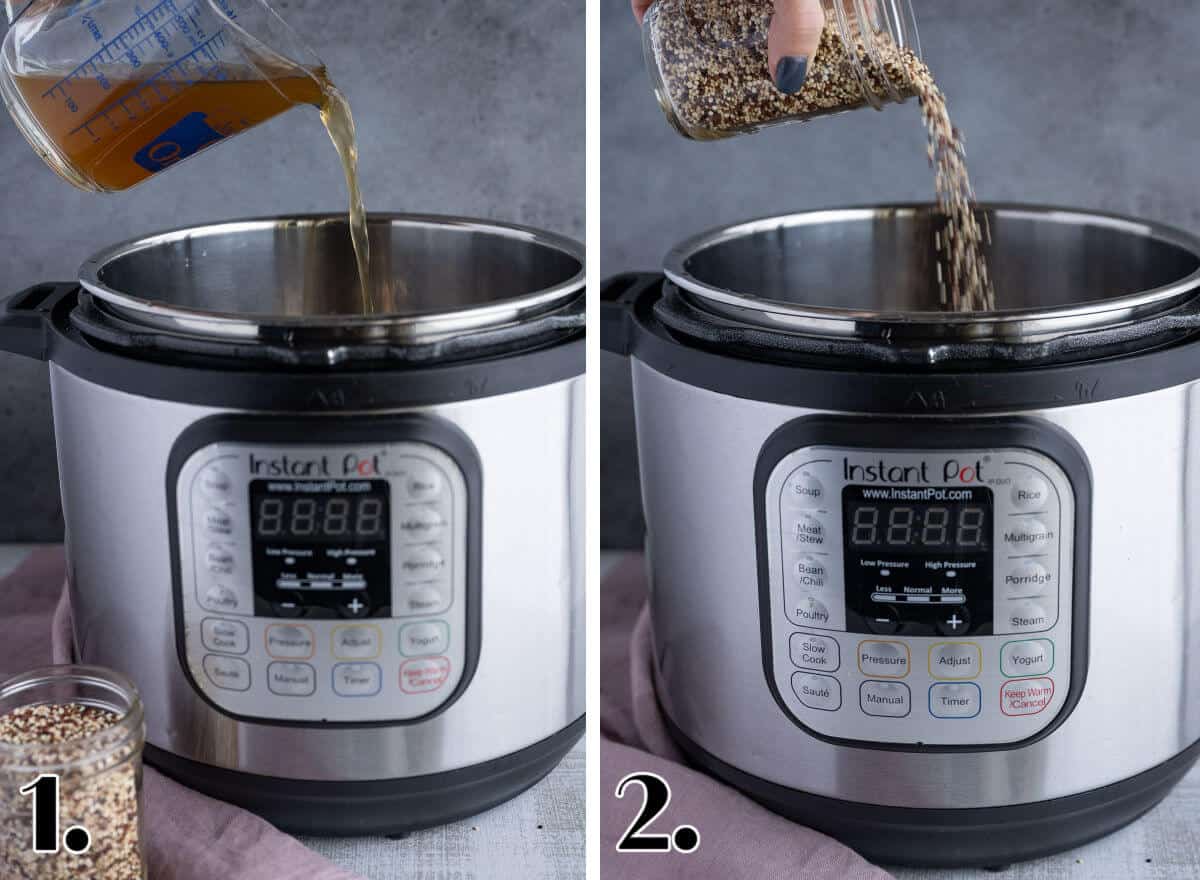 Before you get started, rinse the quinoa in a fine-mesh strainer and rinse until water runs clear, this can take 30-60 seconds.
This step is important because quinoa has a saponin coating that has a bitter flavor if you don't give it a thorough rinse.
Add the broth (or water) to the inner pot of your pressure cooker.

Add the quinoa (and salt if using), then stir gently with a fork. Make sure all the quinoa is submerged and there are no grains stuck to the side of the pot.
Make sure the valve is in the sealed position. Use manual pressure for 1 minute and allow the pressure to release naturally when it is done cooking. Fluff with a fork and it's ready to serve.
Expert Tips
Use a fine-mesh strainer. You need a fine-mesh strainer because quinoa is so small, it will go right through the holes in a traditional strainer. If you don't have a fine-mesh strainer, you can layer coffee filters in your colander. A fine-mesh bag would also work.

A 1:1 ratio for liquid and quinoa works best in the Instant Pot. Whether you're cooking for yourself, or a crowd, you can use a 1:1 ratio to measure for more or less.

At high altitude, you may increase the amount of liquid just slightly to ensure you get that fluffy consistency.

Salt the water, not the broth. It is easy to oversalt quinoa and in turn overrun the light earthy flavors it adds to your dish. I prefer to not add extra salt if I'm using broth and salt lightly if I'm using water.
Why you'll love this recipe
Cooks quickly.
Stores Well.
An excellent alternative to rice.
Frequently Asked Questions
What is the ratio of water to quinoa?
The ratio of water or any liquid to quinoa, when cooking in an instant pot is 1:1. At higher altitudes, slightly more liquid may be required to keep the consistency the same.

When cooking it on the stove, the ratio is 2 parts liquid to 1 part quinoa. If the texture feels mushy to you, you can drop the liquid down to 1 ¾ cup to 1 cup of quinoa.

How long does it take to cook quinoa on the stove?
It takes roughly 10-20 minutes to cook quinoa in a pot. Cooking quinoa is a lot like cooking rice. You should reduce your heat and simmer after the first ten minutes. Cook until the water has boiled off and your quinoa is soft and fluffy. Remove from heat and steam for the last five minutes.

How much dried quinoa makes 1 cup cooked?
Quinoa puffs up dramatically. One cup of dry quinoa will make roughly three cups of cooked quinoa. To make one cup reduce to a little under half a cup and follow up with a 1:1 ratio of liquid to cook with.
Is quinoa healthier than rice?
With fifty percent more plant protein, fewer carbs, more micronutrients such as phosphorus, magnesium, and selenium, quinoa takes the lead in the healthy category above brown rice.

Both are gluten-free, both have close to the same amount of calories, and both have about the same amount of fiber with brown rice beating quinoa by 1 gram.

When compared to white rice, quinoa has a lower glycemic index, more fiber, fewer carbs, and more nutrients. It is also three times higher in calcium and five times higher in iron.
Storing and Freezing
Cooked quinoa will last for five days in an airtight container in the fridge. If you have leftover uncooked quinoa, it should last for up to a year in an airtight container and in a cool, dry place.
You can freeze cooked quinoa, when it has cooled completely, in a freezer bag. Make sure to remove all of the air from the freezer bag when sealing. TIP: Store freezer bags flat in your freezer, this is a space saver and thaws quicker.
When ready to reuse, thaw on the counter for one hour or you can add directly to skillet meals or soups.
Serving Suggestions
Pair this easy quinoa recipe with one of our favorite dinner recipes.
You may also like
Please share
Your shares are how this site grows, and I appreciate each one. Do you know someone who would enjoy this recipe?

I'd love it if you shared it on your favorite Pinterest board or Facebook! AND…if you like this recipe, please do me a favor and give it a ⭐️ ⭐️ ⭐️ ⭐️ ⭐️ rating! TIA 🥰

You can also follow along on YouTube and Instagram!
📋 Recipe
Instant Pot Quinoa
A tasty alternative to rice, this Instant Pot Quinoa recipe is a fast, healthy addition to any meal and provides a wonderful earthy flavor to a wide variety of dishes.
Print
Pin
Rate
Equipment
Instant Pot or pressure cooker

Fine Mesh Strainer
Ingredients
1 ½

cups

quinoa

1 ½

cups

vegetable broth

or water or other stock.

Salt to taste

optional
Instructions
Place the quinoa in a fine-mesh strainer and rinse until water runs clear, about 30-60 seconds.

Add the broth and quinoa to the pressure cooker. Stir with a fork to make sure the quinoa is all covered and there is none sticking to the side of the pot.

Use the manual setting to cook on high for 1 minute, making sure the vent is sealed.

After cooking, allow the pressure to release naturally. Remove the cover and fluff with a fork. Add salt for taste if necessary.
Notes
A fine-mesh strainer is necessary because quinoa is a very small grain and can fit through the holes of a traditional colander.
When cooking quinoa in the instant pot, you always use a 1:1 ratio of quinoa and cooking liquid.
I recommend not using salt if you are cooking in broth or stock. If you're using water, you will want that extra to bring out the flavor.
Nutrition
Calories:
159
kcal
|
Carbohydrates:
28
g
|
Protein:
6
g
|
Fat:
3
g
|
Saturated Fat:
1
g
|
Polyunsaturated Fat:
1
g
|
Monounsaturated Fat:
1
g
|
Sodium:
237
mg
|
Potassium:
239
mg
|
Fiber:
3
g
|
Sugar:
1
g
|
Vitamin A:
131
IU
|
Calcium:
20
mg
|
Iron:
2
mg
HUNGRY FOR MORE? Subscribe to my newsletter to have recipes delivered to your inbox and to stay up to date on the latest!