As an Amazon Associate I earn from qualifying purchases.


This jalapeño yogurt dip is a perfect pair to all your fresh veggies. And even if you don't buy them at the farmer's market, but your local grocery, you will still love it. And, it's actually good for you! Greek yogurt is power packed with protein, probiotics, B12, calcium, and much more. And of course, you can eat this dip anytime, and it's sure to be a crowd pleaser!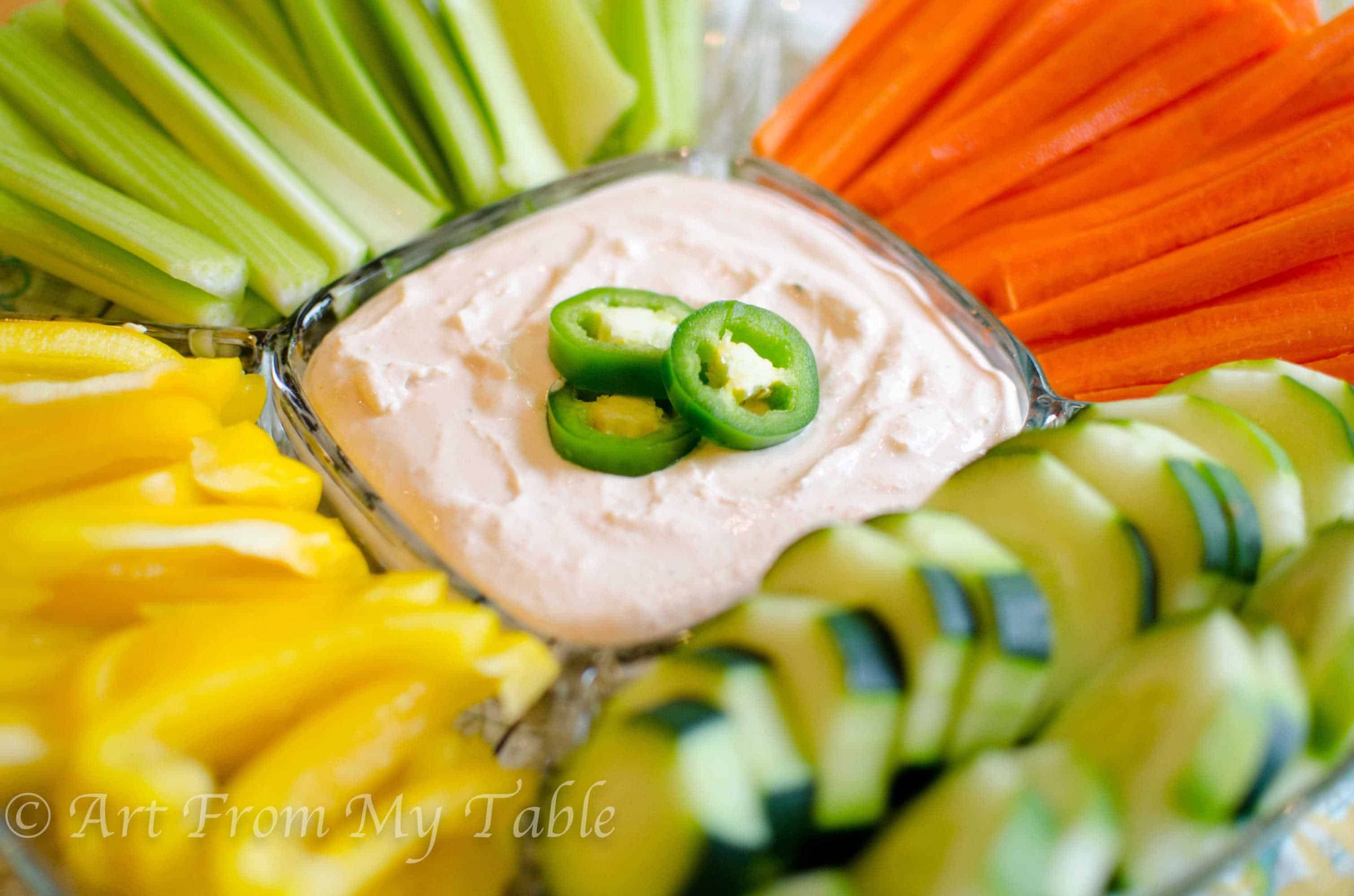 Disclosure: I'm honored to be partnering with United Dairy Industry of Michigan in order to bring you delicious dairy recipes that your whole family will love! All opinions are my own.
We are entering my favorite time of the year, summer! Here in Michigan we have 4 seasons, which I truly do enjoy. I've learned to appreciate them more as I've grown older. Summer has always been my absolute favorite. Fall is a close second. When it comes to food, summer brings fresh local produce, and nothing beats that.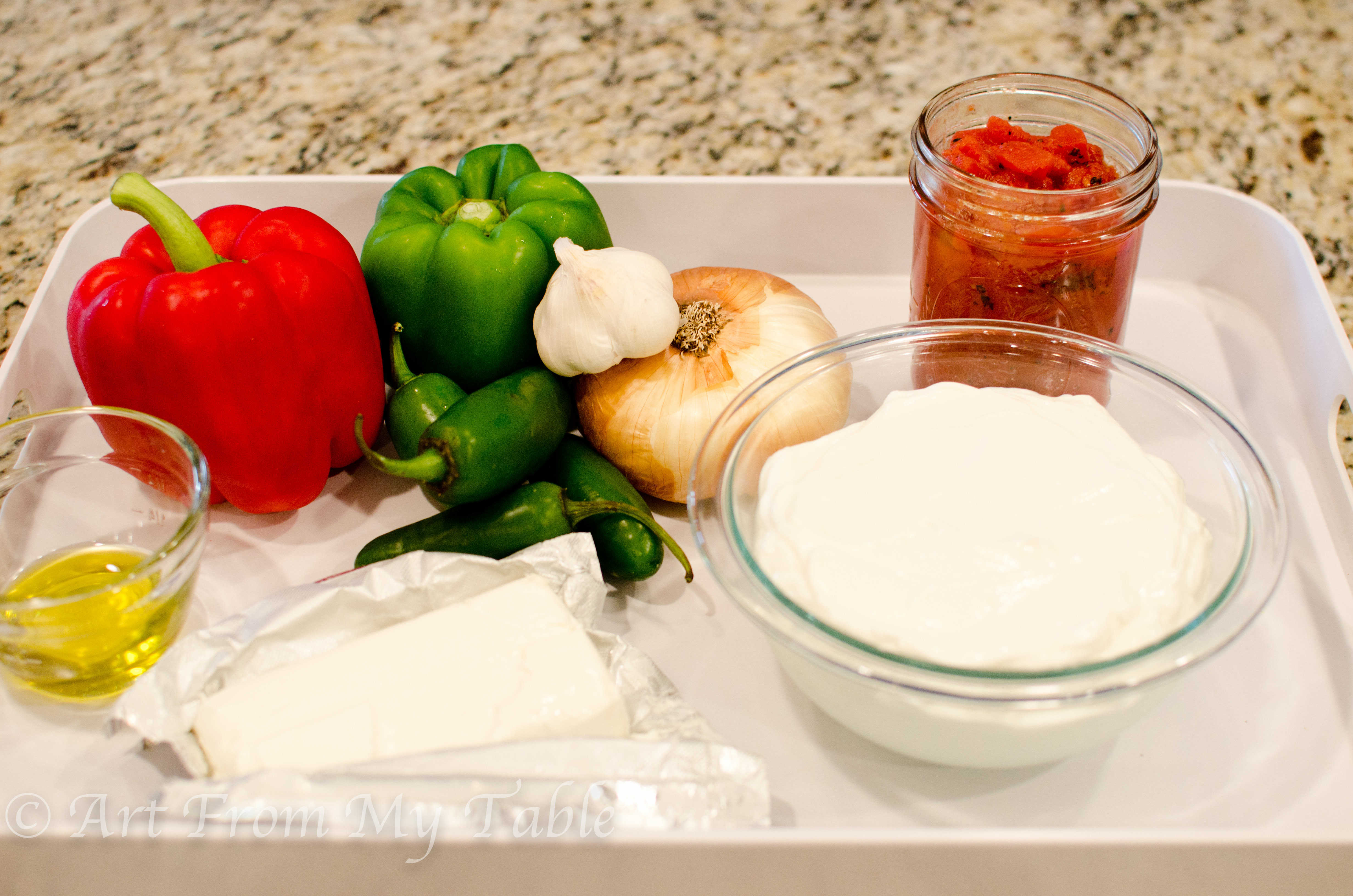 After you gather your ingredients, the first thing you want to do is roast your onions and garlic. To do this, preheat your oven to 400. Using a small oven proof pan, place the onion and garlic in it and add some olive oil. Be sure to coat them well. Place it in the oven for about 30 minutes, or until the garlic is golden and the onions are transparent.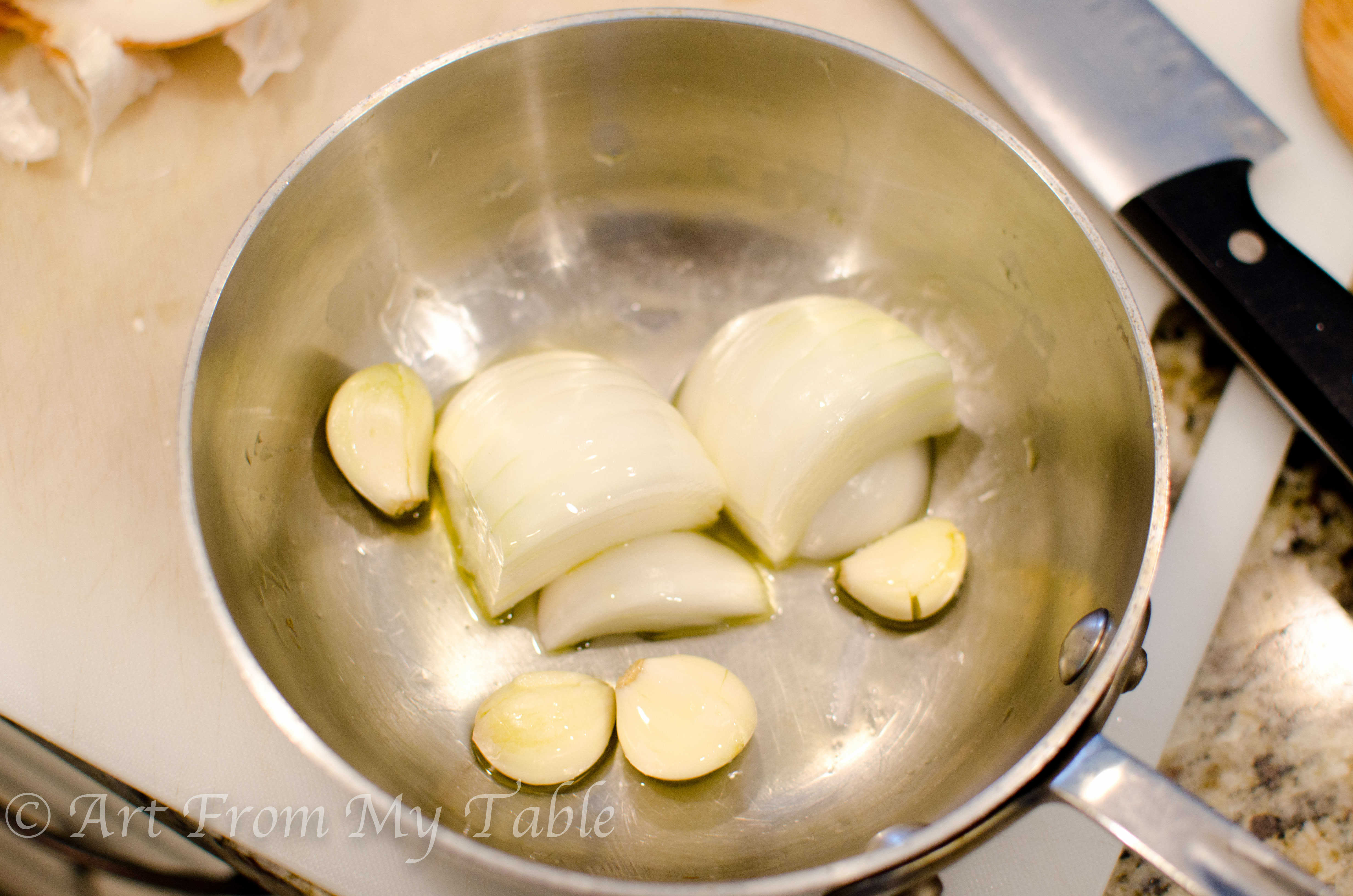 While your onions and garlic are filling your kitchen with it's lovely aroma, you'll want to char your peppers. There's a couple options here. 1. hold them over an open flame on your gas stove until they are blackened, or 2. Place them under your broiler. I have an induction glass top stove, so no open flames for me. I do happen to have a double wall oven, so I could do this while my roasting was happening. If you've got one oven, no worries, just do this in 2 steps.
Cut your bell peppers in half and place them on a rimmed baking sheet cut side down. Your jalapeños can charred whole. You can actually do your bell peppers whole too, but you just don't need that much for this recipe.
Put them as close to the broiler as you can without touching it. Keep an eye on them, but you literally want them to be blackened and charred, like this: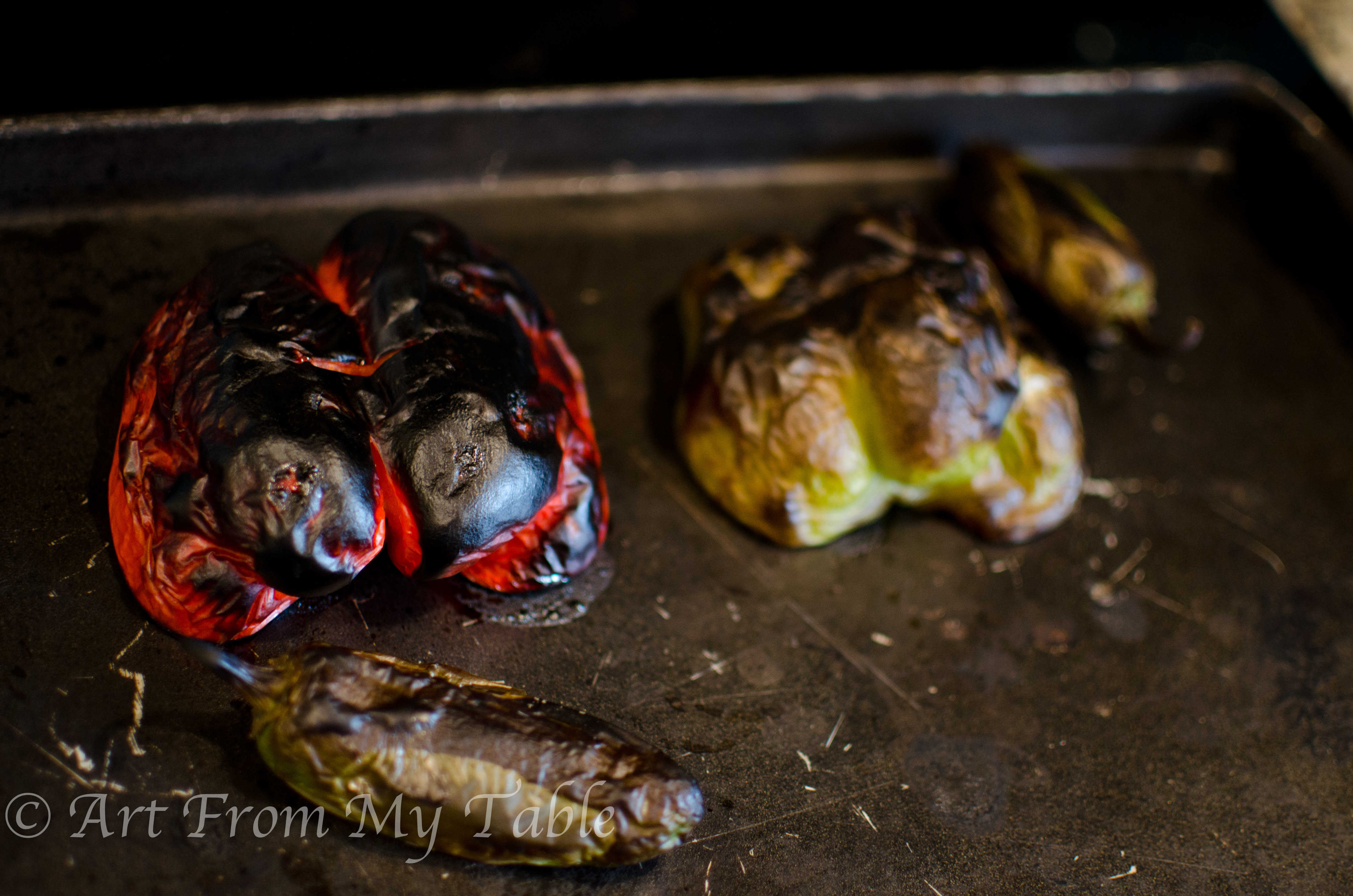 I actually could've left them in just a touch longer. Using a pair of tongs, place them in a bowl and cover them with plastic wrap.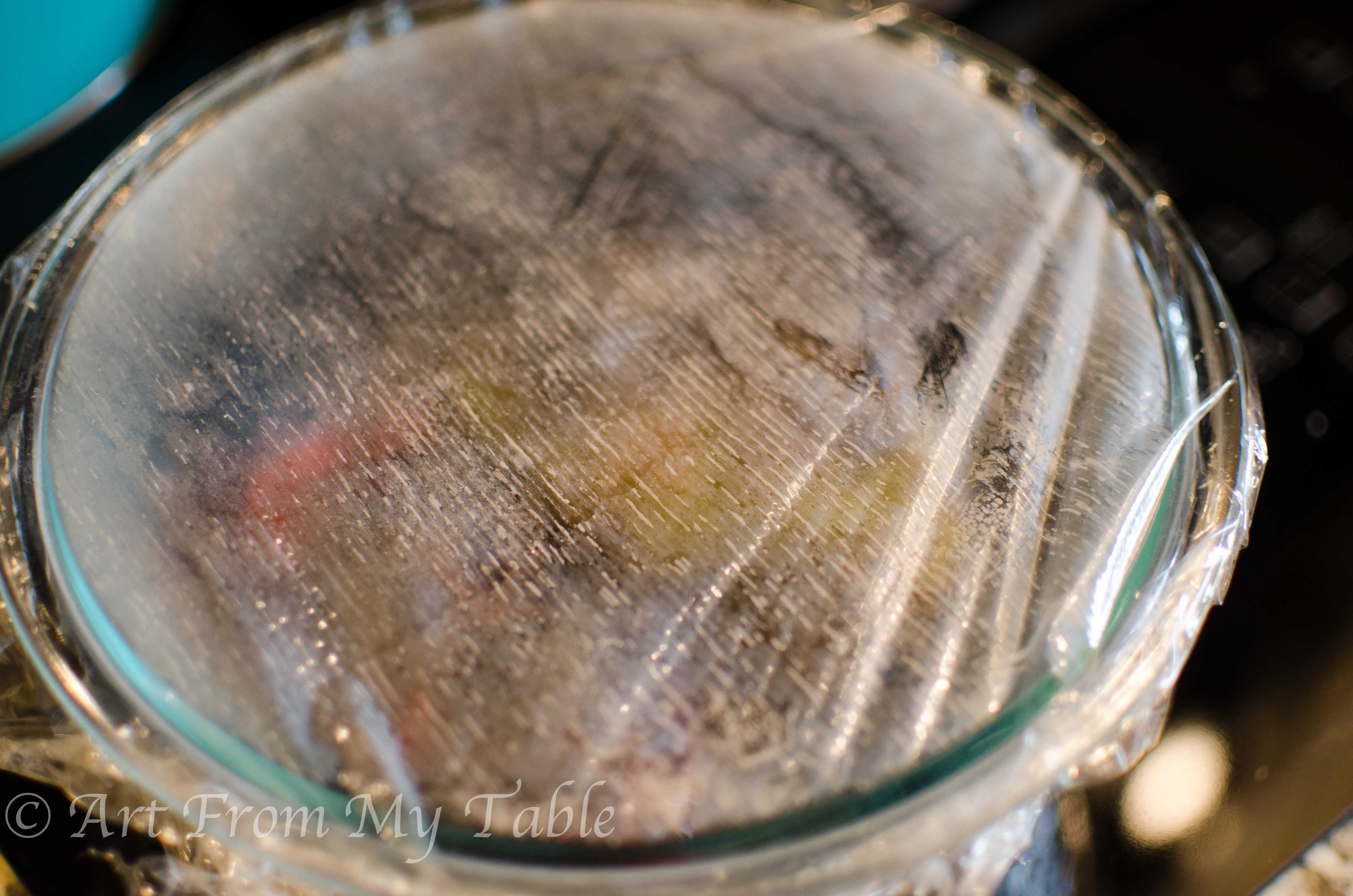 Give it about 10-20 minutes or so. Once it's cool enough to handle, just peel the skin of the peppers right off. For the jalapeños, I cut off the top, split it in half and take the seeds out. You can leave them in if you want.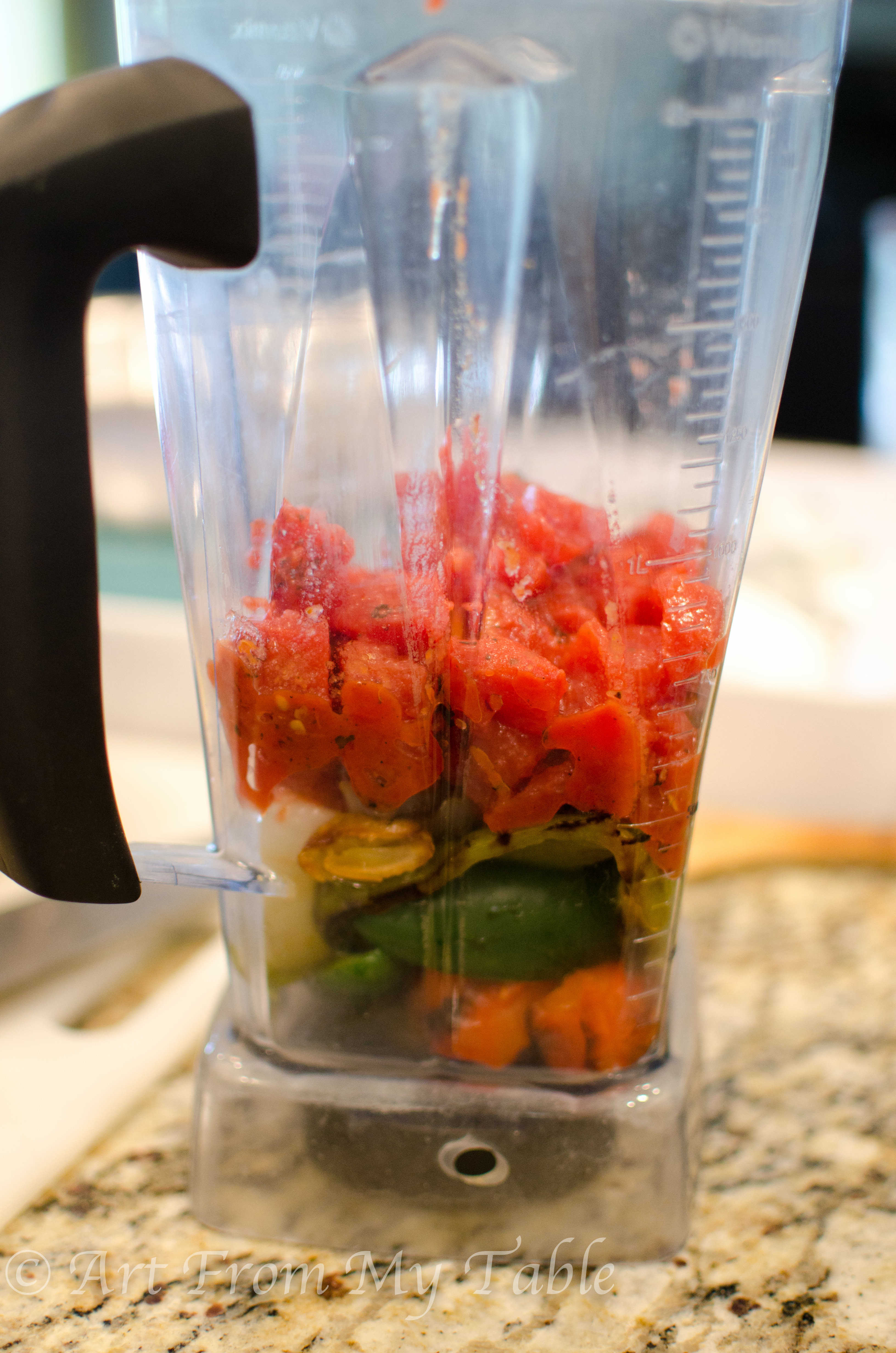 Now it's time to add ingredients to your blender or food processor.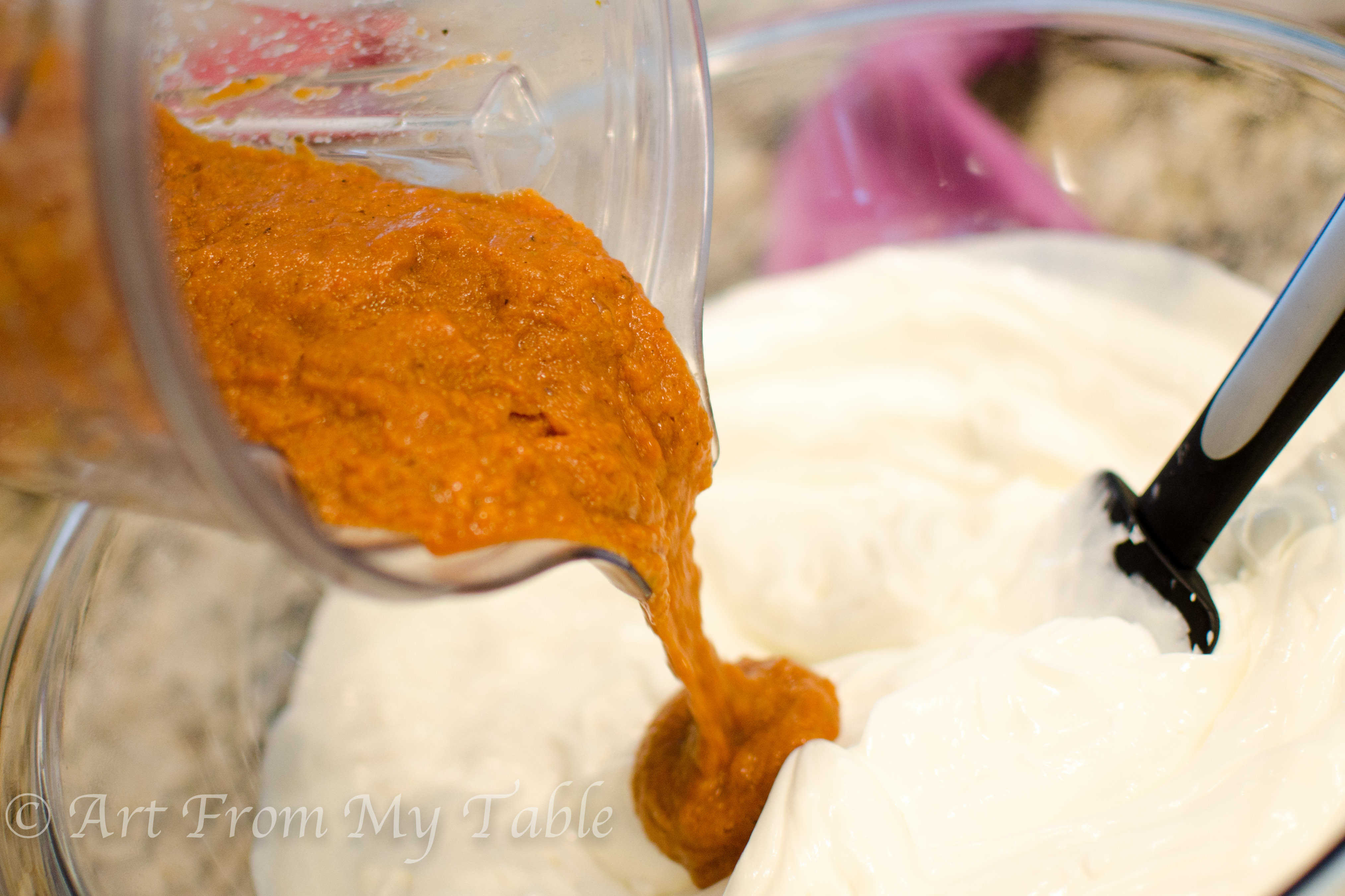 Puree' that up and you're ready to add it to the yogurt and cream cheese.

You will not need all of your puree for your dip. Use about a cup to a cup and a half. You have some leeway here. The more you use the softer the dip will be, but also the spicier. If you use less, you'll have a thicker dip and more of a mild flavor. For the remaining puree, save it in a ziplock back in your freezer and add it to your next pot of chili or soup or beans, it will add wonderful flavor, and make your life easier. 🙂
Stir all the ingredients together and chill for at least 2 hours. Then you're ready to serve!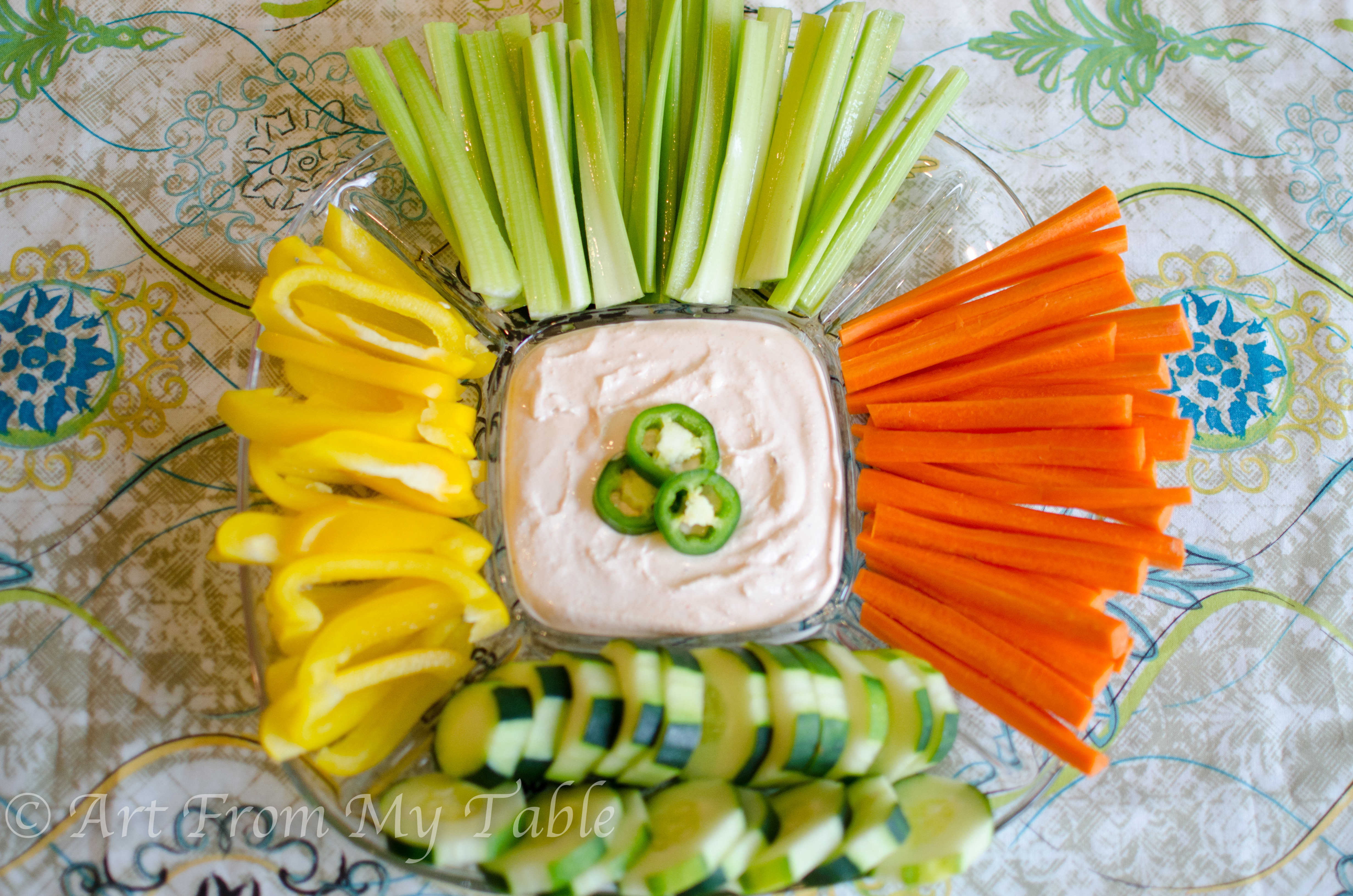 Jalapeno Yogurt Dip is perfect with veggies. It'll be a hit at your next party or bbq for sure.
We also like it with pretzels.

I'm finding this dip to be super versatile. I also use it in my black bean dip (recipe coming soon), today I added a dollop to my guacamole. Top off your chili with it, how about putting it on your tacos? Or, on a Mexican pizza! Anywhere you might use sour cream, try this one out. It adds a nice tangy-ness (is that even a word?) and a kick of flavor. What will you put it on? If you have ideas, share the love friend! Tell me in the comments! I love to hear from my readers, for real, it totally makes my day. 🙂
More dips
📋 Recipe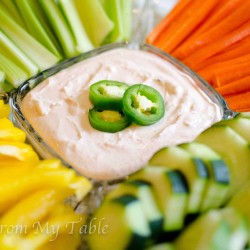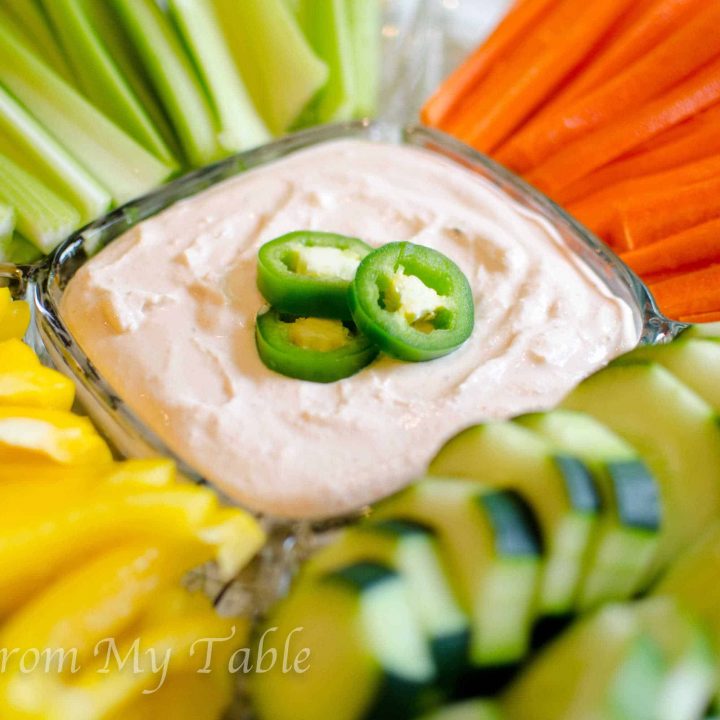 Jalapeno Yogurt Dip
A spicy yogurt dip made with fresh ingredients and packed with flavor, it's sure to please a crowd.
Print
Pin
Rate
Equipment
Blender or food processor
Ingredients
½

green bell pepper

½

red bell pepper

4

jalapeno peppers

½

onion

4

cloves

of garlic

peeled

2

Tbs

olive oil

1 ½

teaspoon

salt

1 15

oz

can fire roasted tomatoes

1

quart

greek yogurt

1 8

oz

block of cream cheese

veggies for serving
Instructions
Preheat oven to 400.

Place garlic and onion in an ovenproof pan and coat with olive oil.

Roast for 30 minutes or until garlic is golden, stirring half way through.

While the onions and garlic are roasting, place bell peppers (cut side down) and jalapeños on a rimmed baking sheet and put under the broiler until charred and completely black.

With tongs, carefully remove roasted peppers from the oven and place in a bowl. Cover with plastic wrap for 15 minutes.

After the roasted peppers have rested for 15 minutes, remove the skin and seeds.

Place tomatoes, roasted peppers, onions, garlic and salt in a blender or food processor and blend until smooth.

Combine 1 to 1 ½ cups of the pureed vegetables, yogurt and cream cheese in a bowl and mix well. Alternatively, you can use a blender.

Chill for at least 2 hours.
Nutrition
Calories:
91
kcal
|
Carbohydrates:
6
g
|
Protein:
8
g
|
Fat:
4
g
|
Saturated Fat:
2
g
|
Cholesterol:
11
mg
|
Sodium:
350
mg
|
Potassium:
149
mg
|
Fiber:
1
g
|
Sugar:
4
g
|
Vitamin A:
360
IU
|
Vitamin C:
13
mg
|
Calcium:
97
mg
|
Iron:
1
mg
For more delicious and nutritious recipes starring dairy, Follow United Dairy Industry of Michigan .