A delicious sweet cake made with wholesome ingredients that you can eat with no guilt! This Black Cherry Breakfast Cake is your new best friend!  There's no processed sugar and it can be gluten free. Great for breakfast or a mid-morning snack.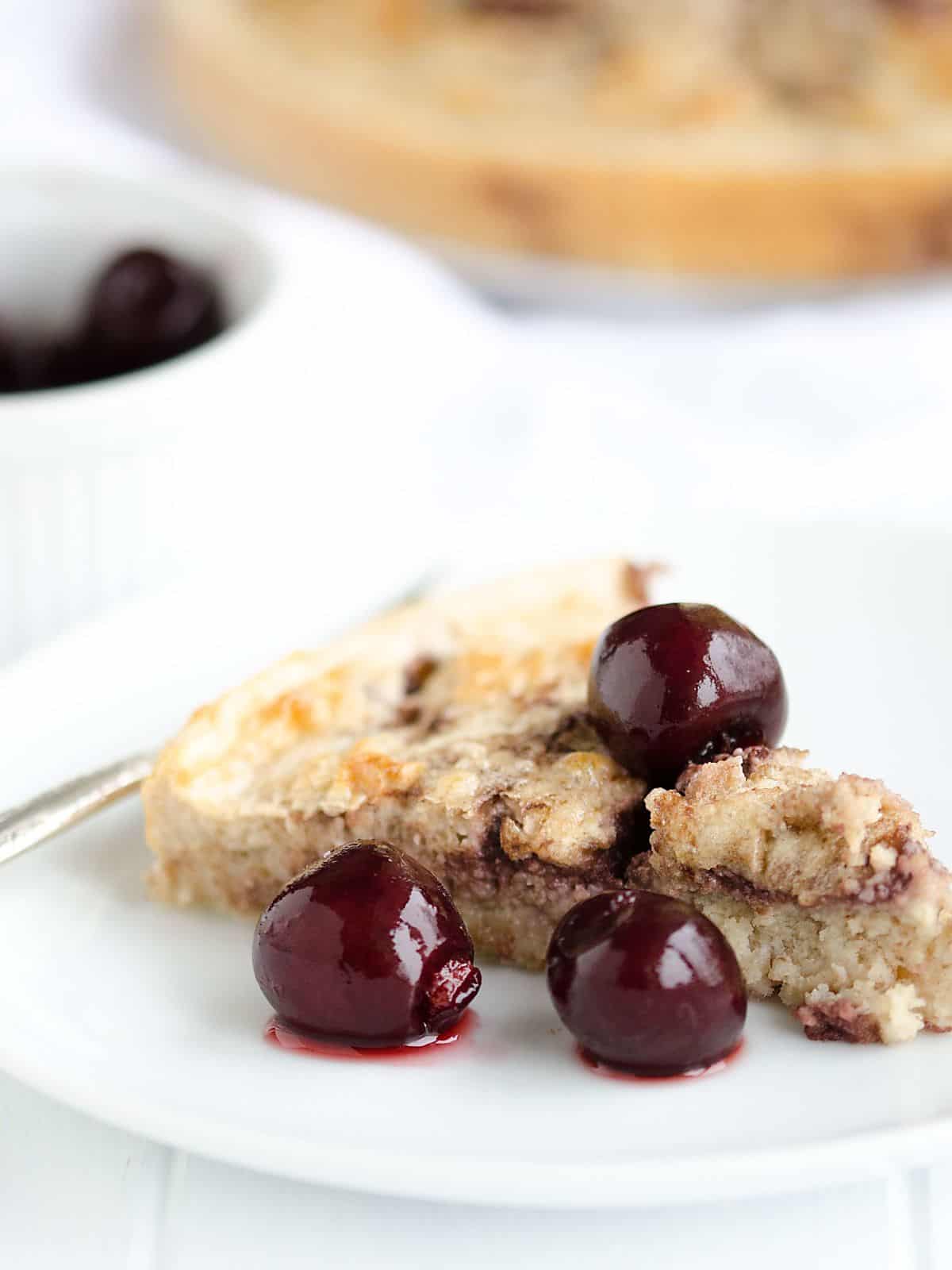 I've been on a cherry kick lately.  Just this week I posted this Chocolate Covered Cherry Smoothie (which will make you swoon by the way) and now this Black Cherry Breakfast Cake.  But the best part is that both of these delicious cherry treats are healthy!  What?!  Yes, really, I know you can hardly believe it.  🙂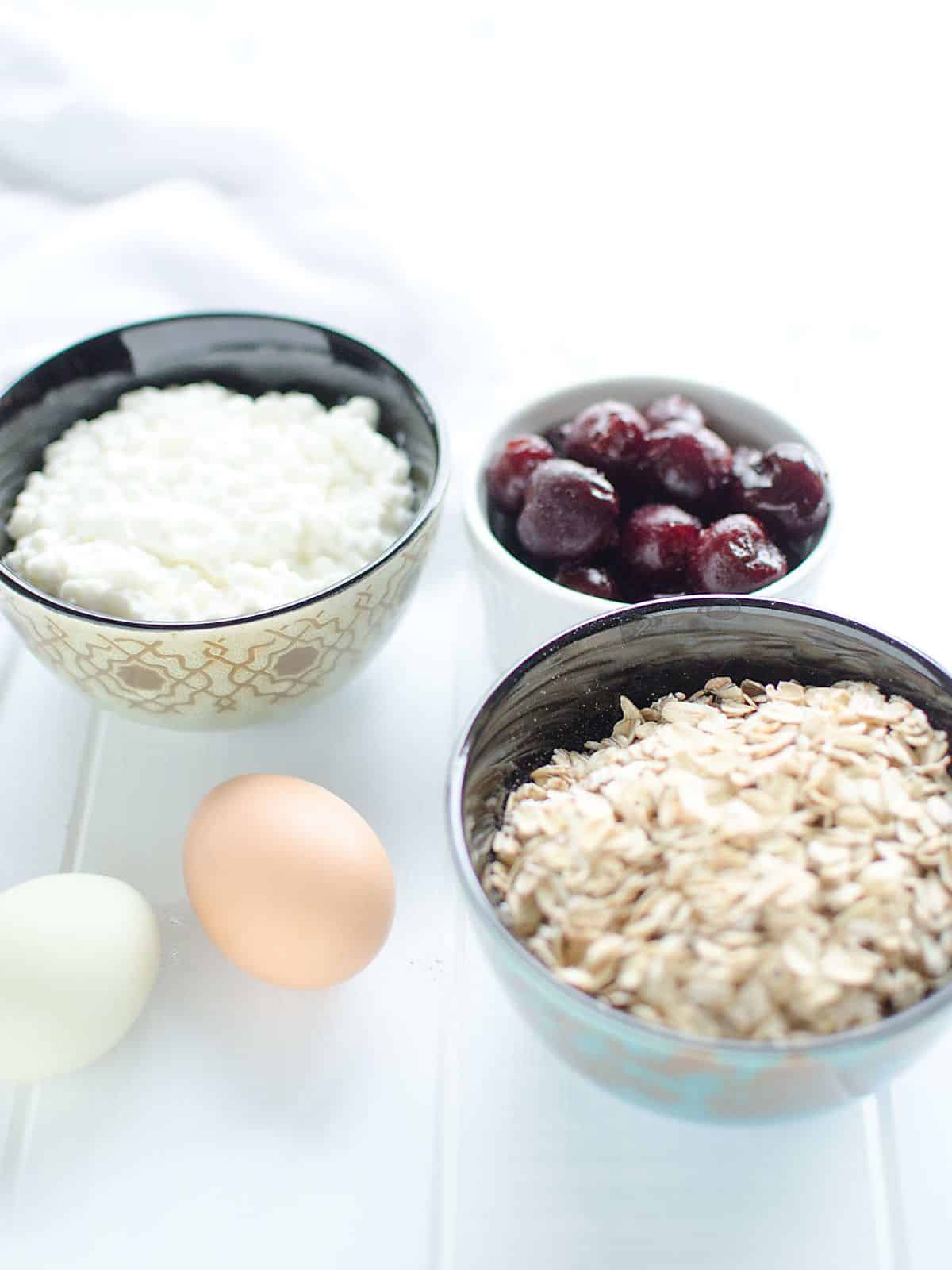 Black Cherry Breakfast Cake
The breakfast cake, or maybe you would call it a coffee cake is sweet and moist with a burst of cherry flavor.  I have all these scrumptious cherries in my freezer from last summer. We picked 63 pounds!  So back in the summer I was making lots of recipes with fresh cherries, like this cherry salsa and these pork chops.  Now I'm using up those frozen babies.  YUM!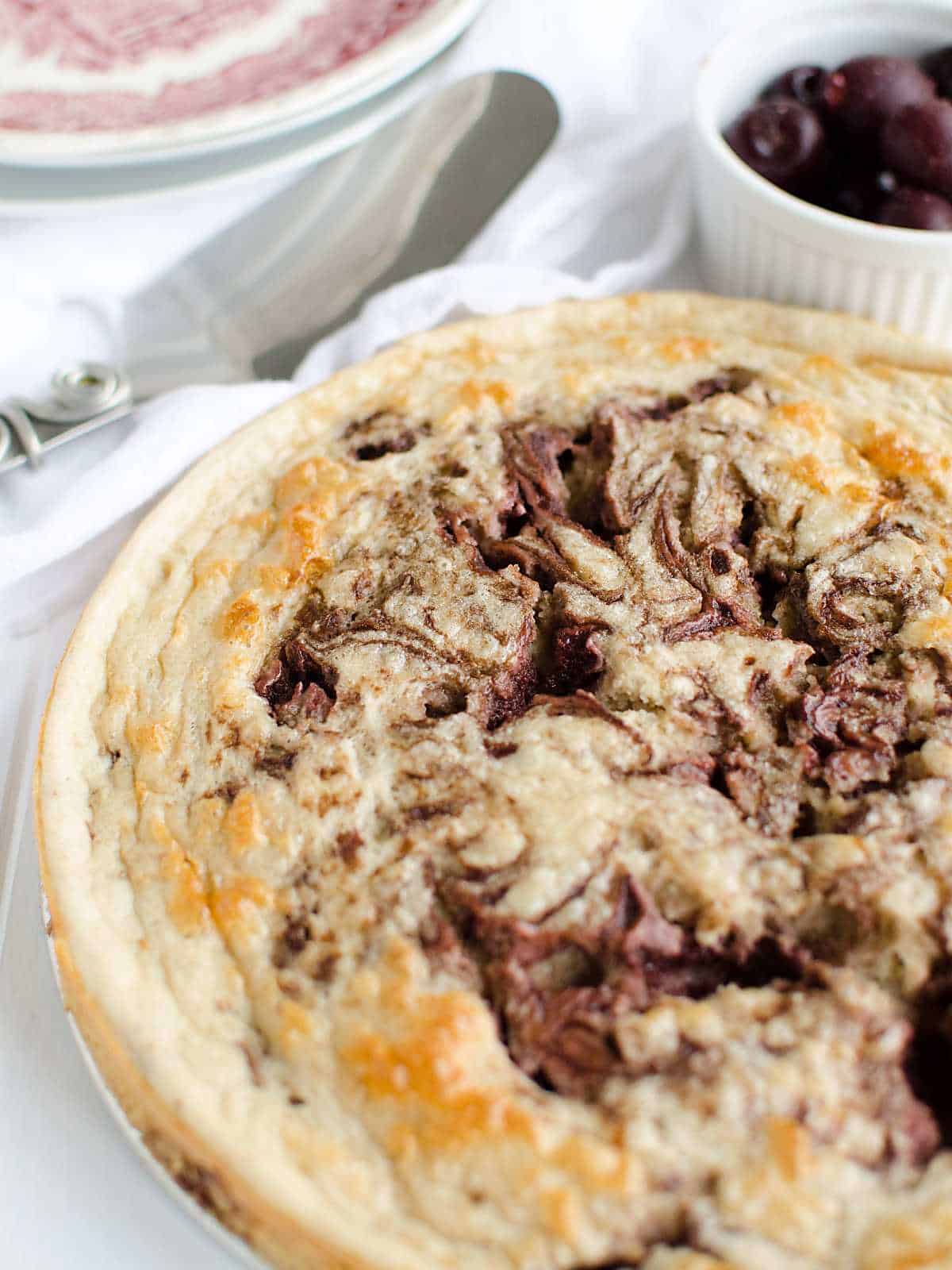 This post may contain affiliate links
I was inspired by the Trim Healthy Mama Giant Pancake recipe.  So this is a spin on that one. I make this over the weekend or at the beginning of the week and then just heat it up every day for breakfast. I love to eat mine with a dollop of yogurt on it.
It can be gluten free if you use gluten free oats.  If you are on the Trim Healthy Mama plan, this is an E. Also note that you can make it in an 8 x 8 inch pan, or double the recipe and make it in a 9 x 13 inch pan.   I chose the round spring form pan for this post for no other reason than to try and impress you with pretty pictures.  😀
To get the marble effect, dot the puree'd berries on top of your batter.  Then take a skewer, or toothpick or even a butter knife and just gently swirl it around.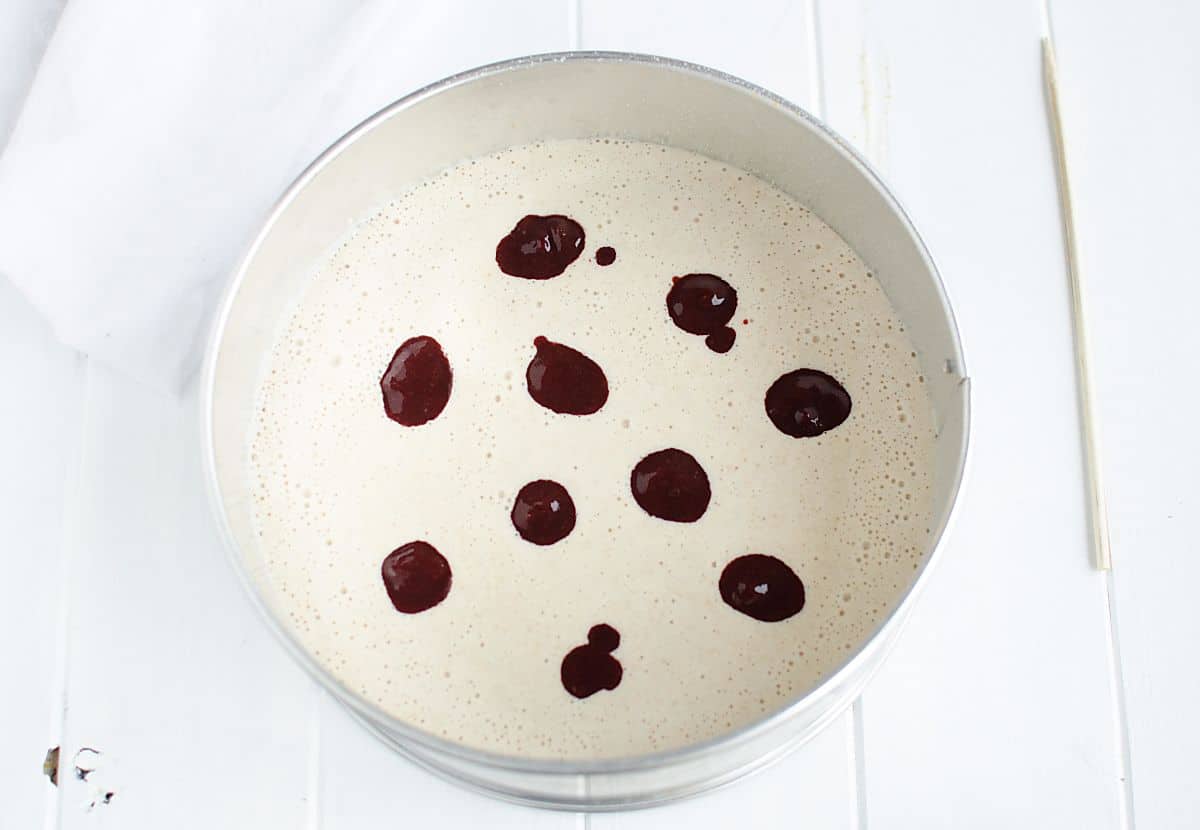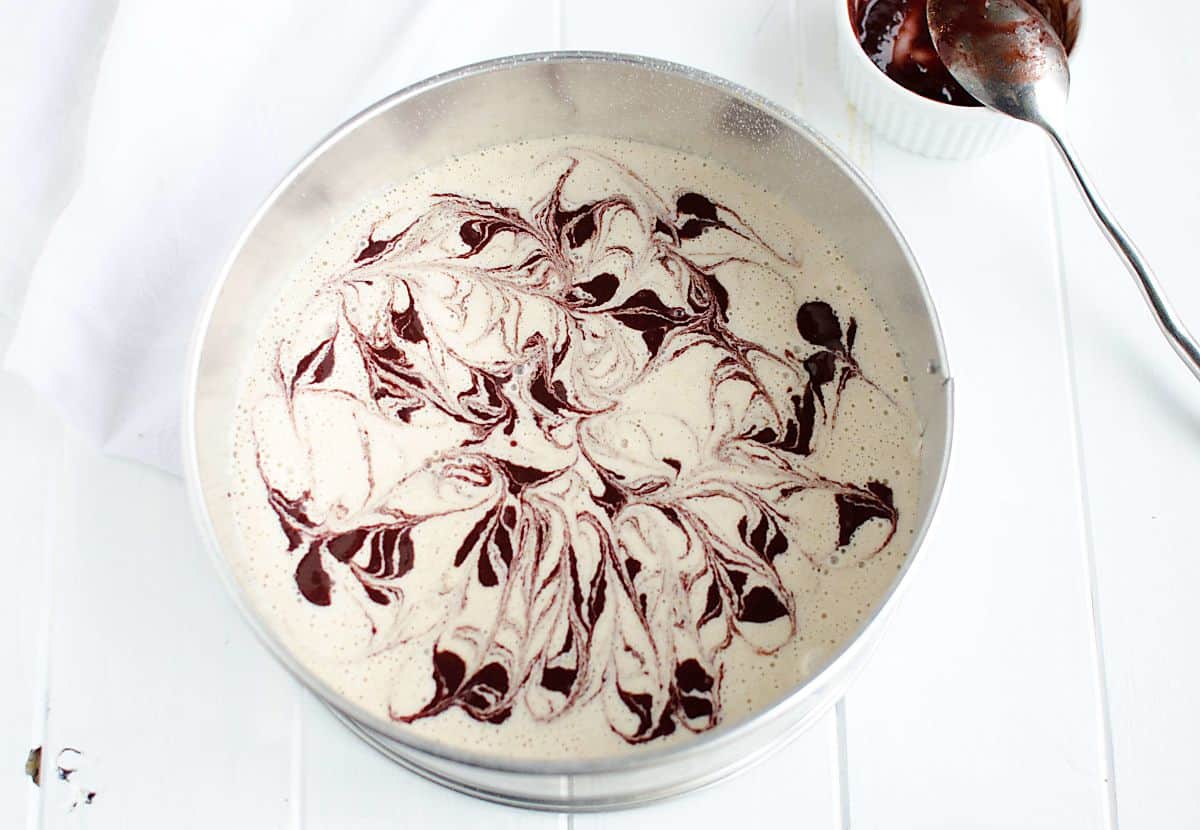 You can change up the fruit to your desires.  I love it with blueberries and raspberries as well.  And if you don't want to do the fancy marbling thing, just throw in your berries at the end, you don't even have to puree' them if you're going that route.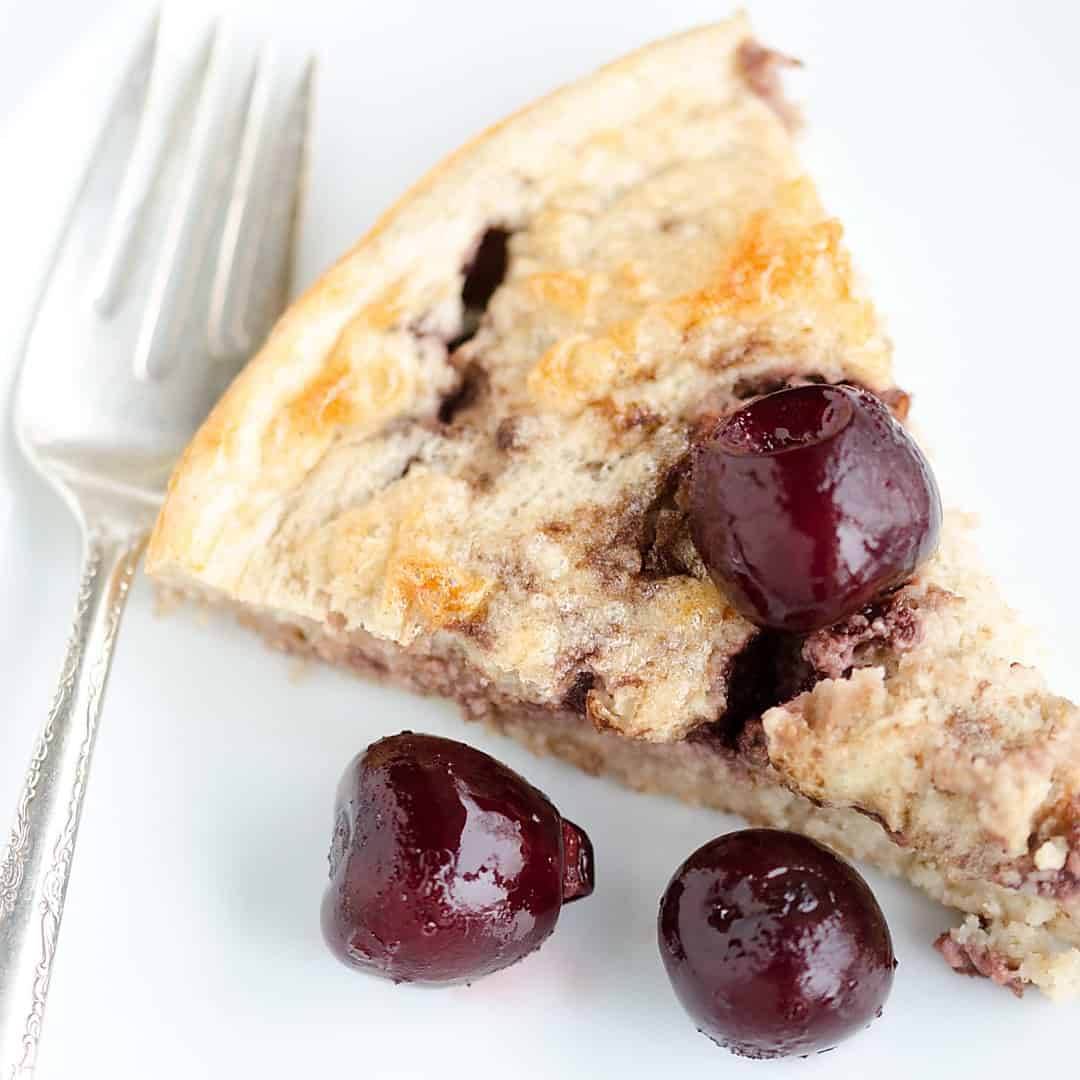 Black Cherry Breakfast Cake would be a great addition to your Valentines Day menu as well. 🙂

I would love to connect with you! Leave me a comment and follow me on Facebook, Twitter, Instagram and Pinterest.
If you make this, snap a picture and tag me on social media!  I'd love to see what's happening in your kitchen.
If you're curious about Trim Healthy Mama, I recommend The Trim Healthy Mama Plan and the Trim Healthy Mama Cookbook.  Or you can read more about my personal journey in this Metabolism Boosting Tea post.
For more healthy inspired treats, check out these…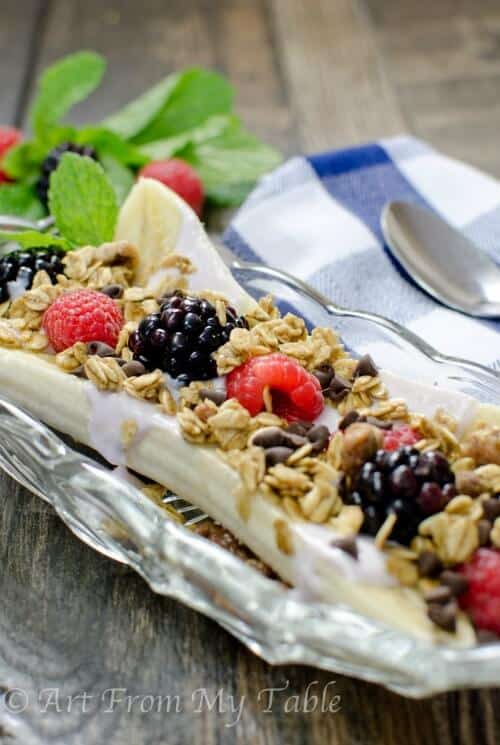 Breakfast Banana Split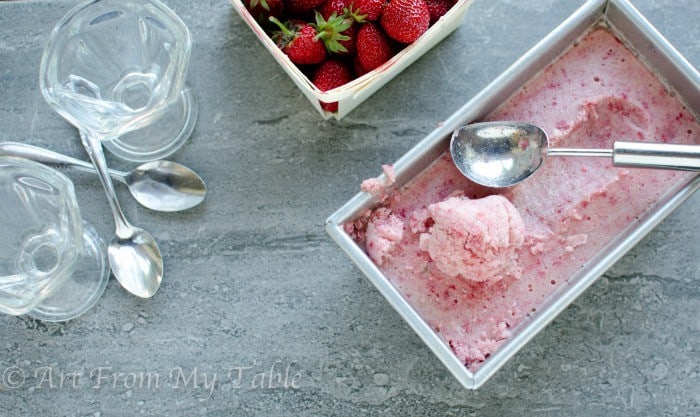 No Churn Strawberry Banana Ice cream