As an Amazon Associate I earn from qualifying purchases.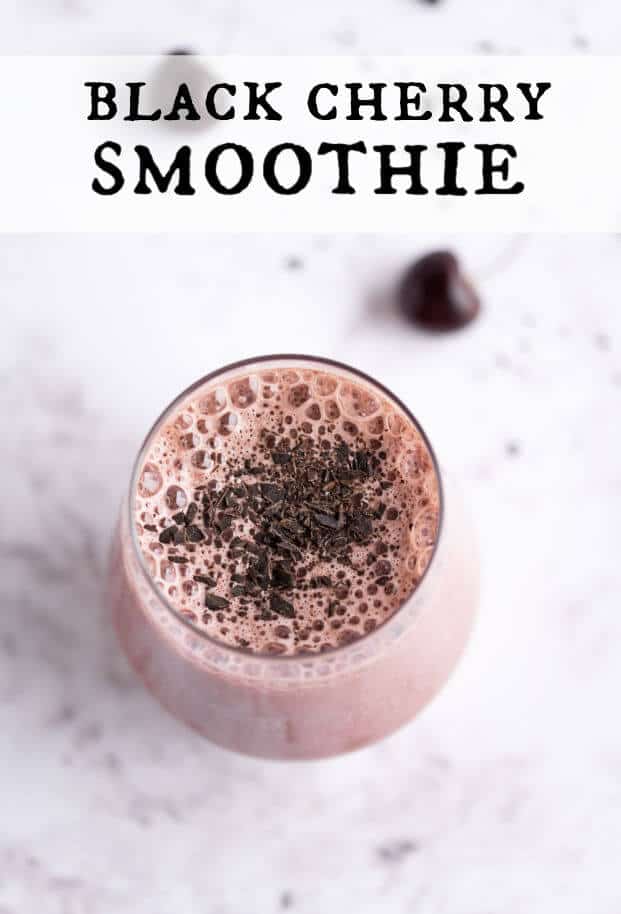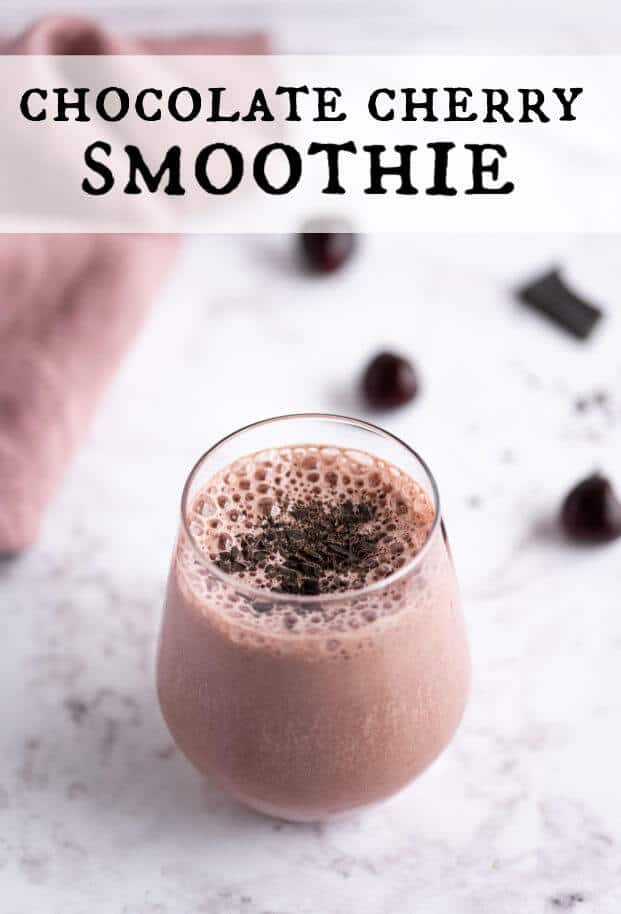 With rich velvety chocolate and juicy sweet cherries, this Chocolate Cherry Smoothie is a healthy spin on this classic pairing. Is there anything more decadent than chocolate-covered cherries? Trust me, you need this in your life!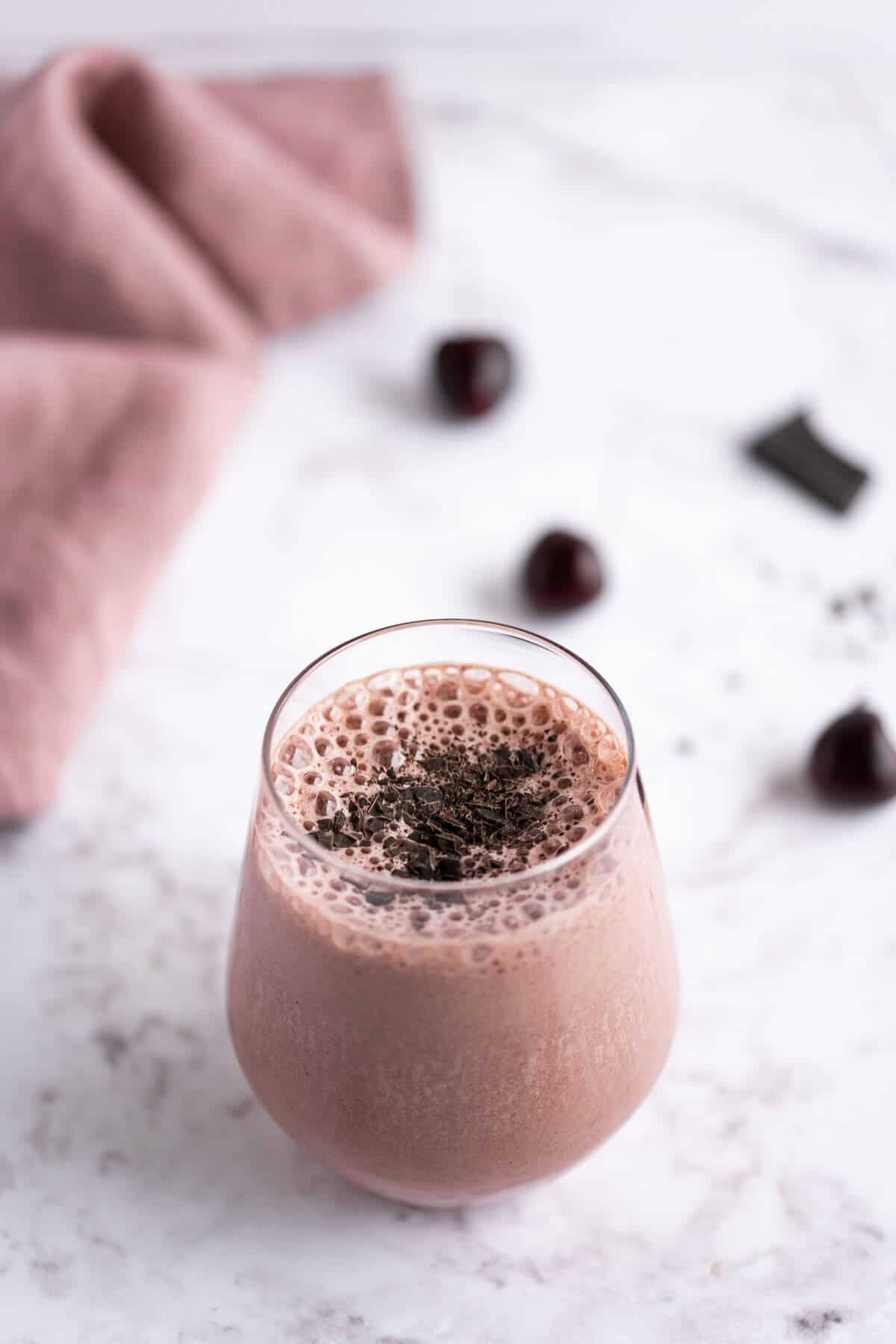 Jump to:
It's no secret I'm in love with chocolate. And if I can get my chocolate fix in a healthy form? Well, I'm all for it! This cherry smoothie recipe contains one of the best and healthiest chocolate hits of all time.
Packed with protein (that you can't taste I might add), dark chocolate which is an anti-oxidant, and superfood cherries, you will totally be tricking your taste buds into thinking this is an indulgent dessert.
I created a whole bunch of delicious healthy superfood smoothies, and I think this one, just might be my favorite. It's actually a toss up between this one and the Almond Joy Smoothie. Notice they both contain chocolate. Yes. My favorite is always chocolate 😁.
This is a great treat for Valentine's Day that you won't feel guilty about. I mean, we're all just coming off our "new year healthy eating habits" right? Keep the trend! Plus your kids will never know this is actually good for them.
Key Ingredients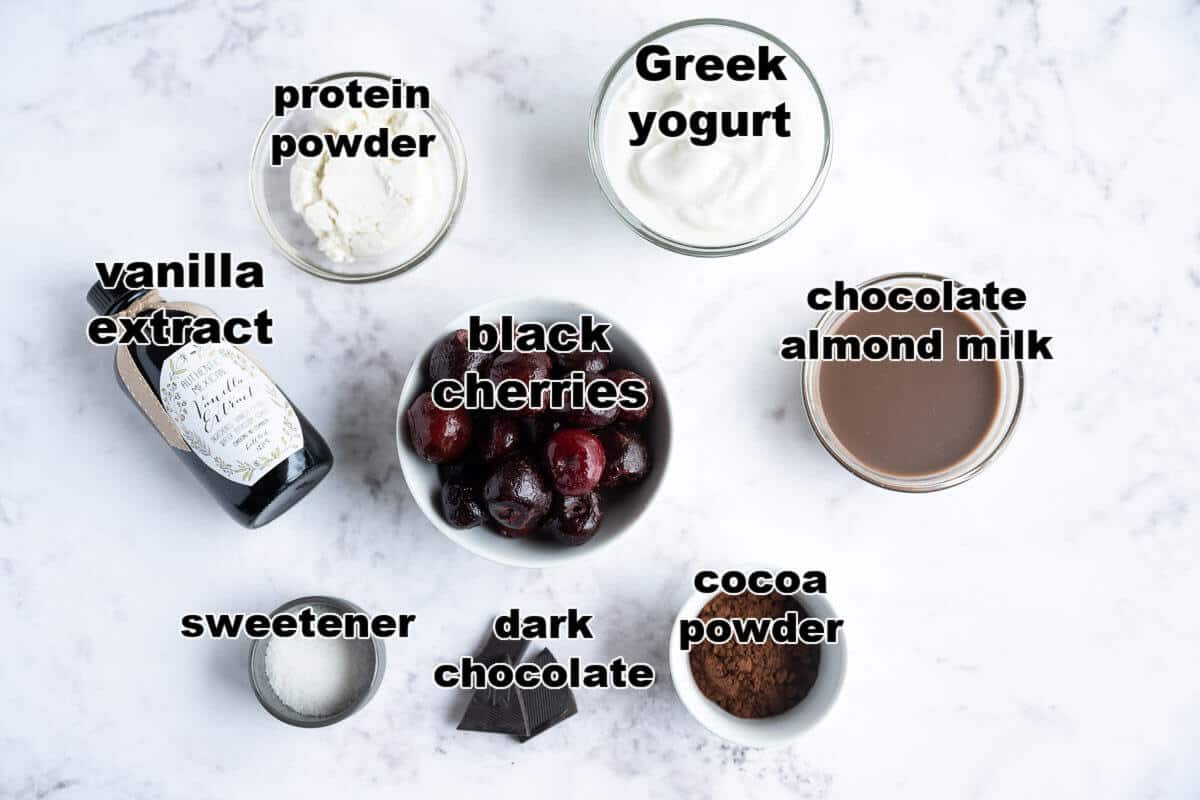 Plain Greek Yogurt - The plain Greek yogurt will give the smoothie a creamy consistency, and it also adds a shot of natural probiotics that will help with digestion. You can substitute Oikos triple zero Greek yogurt in either cherry or vanilla. Any other brand has too much sugar.

100% Whey Protein Isolate - This is my all time favorite protein powder because it's very pure with no fillers and there is no weird taste, it is literally tasteless. The whey comes from milk. However, the isolate is processed so that it reduces the fat and lactose (or sugars from milk) so that the protein is much easier on the digestive system.

Dark Chocolate Almond MIlk - The sugar content in almond milk is 25% lower than regular chocolate milk. It surprisingly also has 50% more calcium than milk. If you don't have almond milk on hand, regular chocolate milk will work.
Pitted Black Cherries - If you can, get them in season and then pit and freeze them, you can use them all year in your smoothies. You can also find them in the frozen foods section of your local grocery store. Fresh works great too, just add extra ice for the same texture.

Cocoa Powder - Rich chocolatey taste (yum!). Cocoa powder itself is not naturally sweet.

Stevia based sweetener - Stevia is great because it doesn't mess with your blood sugar. Truvia is a great option for this recipe. If you're not concerned about sugar, you can use honey, and you'll need 2x as much as the recipe is listed for sweetener.

Optional Dark Chocolate- shaved chocolate makes a beautiful and tasty garnish.
A naturally healthy and quick-to-make smoothie is all about ingredient prep. Most of these cherry smoothie recipe ingredients will store for up to a month or much longer. So it's great to have the ingredients around so that you can enjoy a healthy smoothie any time!
Why This Recipe Works
100% Whey Protein Isolate = no yucky protein flavor
Stevia based sweetener makes it better for you.
Ready in a minute.
How To Make A Chocolate Cherry Smoothie
This is an overview of the instructions, be sure to see the recipe card for all the details.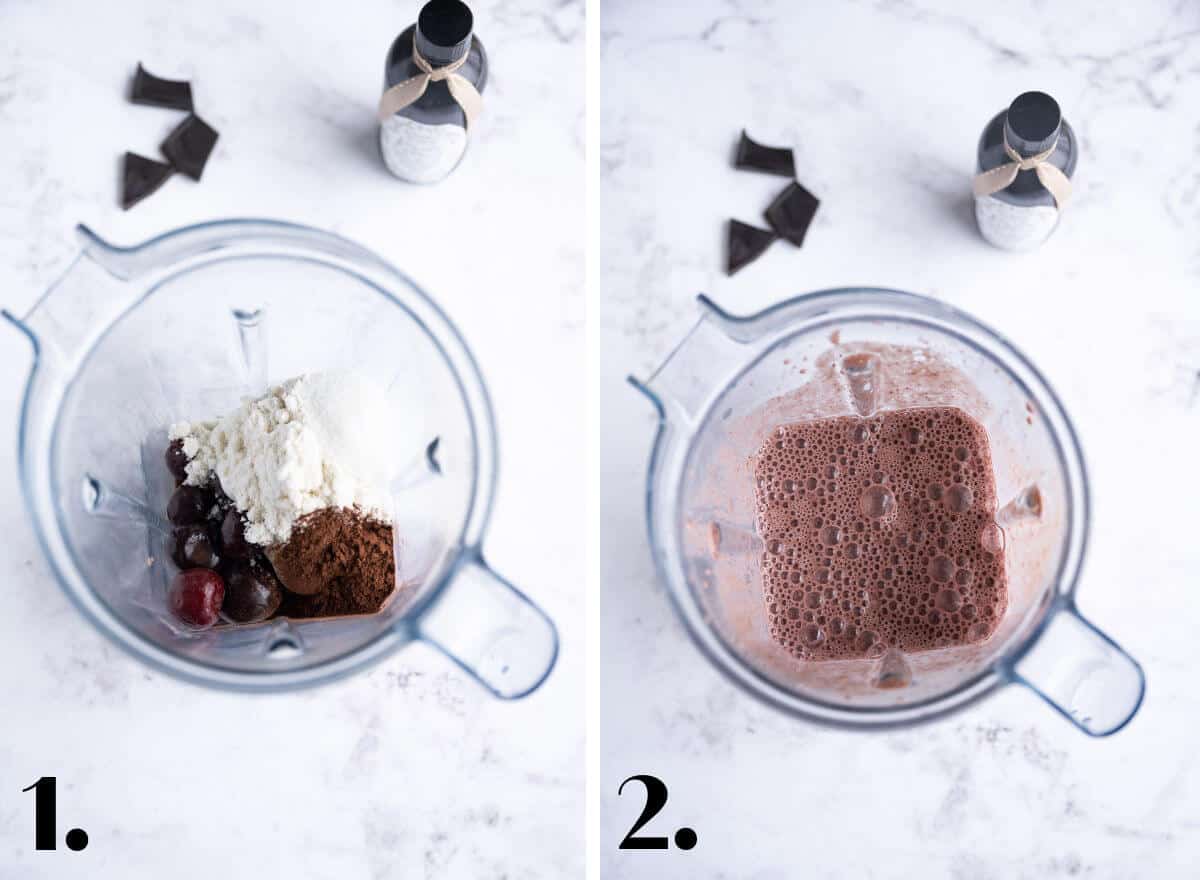 Add all ingredients (except the dark chocolate if using) to a blender.

Blend until smooth.
Expert Tips
Blender Speed - If you have a Vitamix or other high powered blender, it has a 'smoothie' setting. You'll notice it starts on a lower speed, then gradually increases. . The lower speed pulls the bigger chunks of fruit downward and blends them more evenly.

If you don't have this setting, then start it lower, and gradually increase the speed until you reach high.

If you leave it on a higher speed the entire time, the chunks of fruit won't blend as well. Start low for thirty seconds. Then high for another thirty seconds.

Where to find Whey Isolate: This one from amazon looks decent. I typically buy mine from the local health food store. You could also substitute collagen.

There are plenty of stevia based sweeteners out there. I always recommend checking a conversion chart because they are not all created equally. Truvia is twice as sweet as sugar.

Use the fine side of a grater, or a microplane to 'shave' or grate some dark chocolate on top of the smoothie as a garnish. I prefer 80% dark, use your favorite.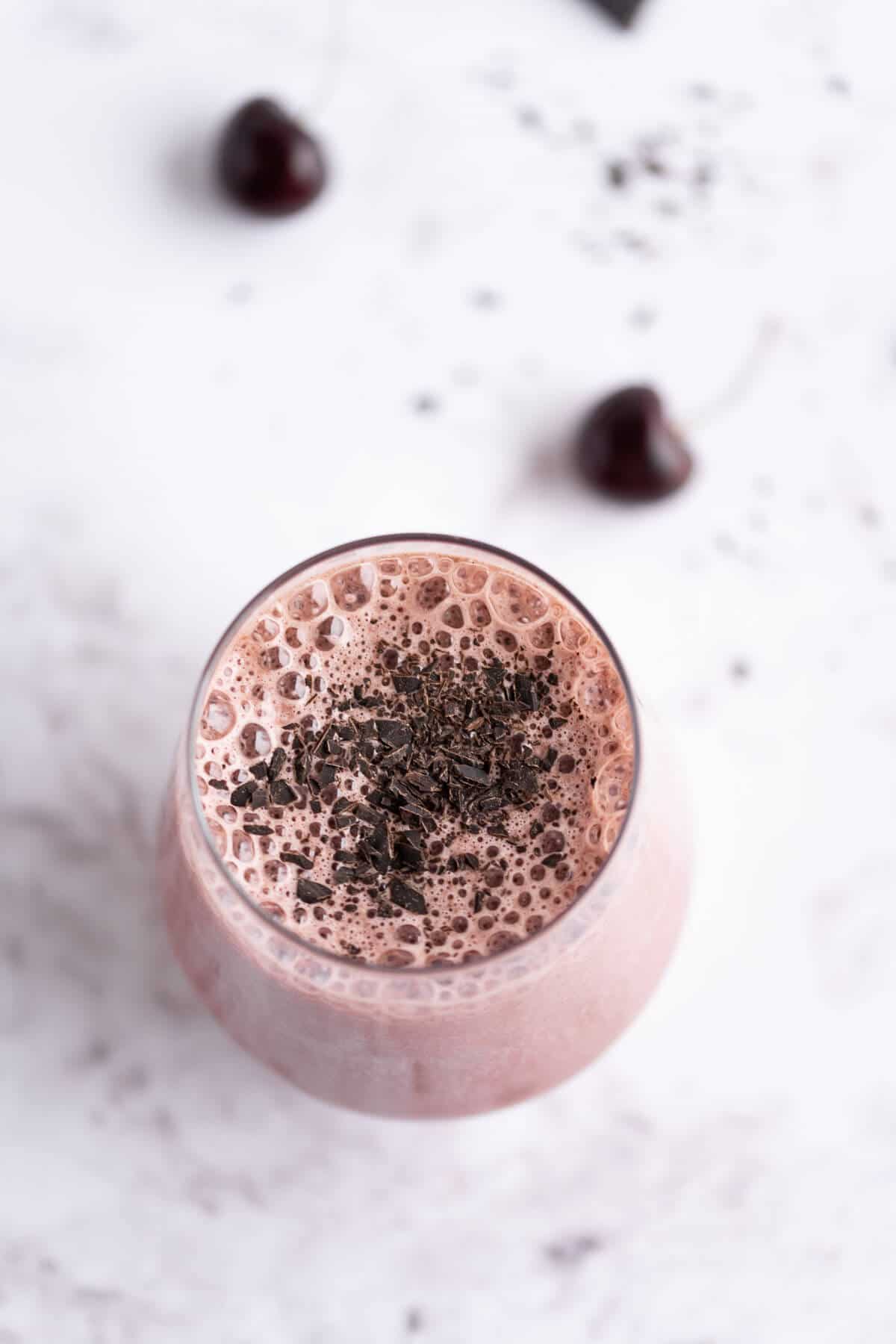 Frequently Asked Questions
What are the benefits of eating cherries?

Cherries are high in antioxidants, fiber, and vitamins like C, A, and K. They also are packed with calcium, magnesium, and potassium. Because they have so much fiber, they will keep you feeling full for longer. Plus they taste great and are found in a variety of recipes.

Are cherries a Superfood?
Cherries are considered a superfood because they are so high in antioxidants. These antioxidants are excellent for your blood and contain anti-inflammatory properties. Surprisingly cherries also are the only food source known to contain melatonin. Melatonin is a hormone that regulates sleep and sleep cycles. If you're having difficulty sleeping, a natural source for a sleep agent are sweet cherries.
Can you put whole cherries in a blender?

Yes, most blenders are powerful enough to break them down. Definitely remove the pits first. Frozen pitted cherries are also fine to put in the blender, but because they are frozen it will take a little longer to break down.
Storing and Freezing
Smoothies are best consumed immediately after making them.
Freezing the smoothie itself is not recommended, but here are some options:
Prepare the non-liquid ingredients in air tight freezer bags and store in the freezer for up to three months. Each bag should make 1 smoothie. Then when ready to make it, just add the liquid ingredients and your smoothie pack to the blender.

You can make your prepared smoothie into popsicles or

gogurts

. Use popcicle molds or these disposable zipcicles. They will keep for up to 3 months in the freezer.
Back story/side note
My mom loved chocolate-covered cherries. Every year on Valentine's Day my dad would give her a box of them. And we would all beg for one!
Being the generous person my mom was, she always shared. She was a much better person than I am because I hide my chocolate from my kids. Is it just me? Anyway, this smoothie reminds me a bit of that nostalgic treat.
You might also like
More Valentines Day Recipes
📋 Recipe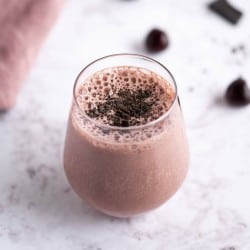 Chocolate Covered Cherry Smoothie
Rich velvety chocolate and sweet dark cherries come together in a healthy smoothie that tastes like an indulgent treat.
Print
Pin
Rate
Equipment
Blender

I use Vitamix, but any will work. A less powerful blender may need a longer blend time.
Ingredients
¾

cup

Plain Greek Yogurt

¼

cup

100% pure whey protein isolate

¼

cup

dark chocolate almond milk

1

cup

frozen pitted black cherries

1

tablespoon

cocoa powder

1

tablespoon

Truvia or other natural sweetener

½

teaspoon

vanilla extract
Instructions
Place all ingredients into a blender and blend on high until smooth.
Notes
There are plenty of stevia based sweeteners out there. I always recommend checking a conversion chart because they are not all created equally. Truvia is twice as sweet as sugar. If you don't care about the sugar, use 2 tablespoons of honey.
Use the fine side of a grater, or a microplane to 'shave' or grate some dark chocolate on top of the smoothie as a garnish. I prefer 80% dark, use your favorite.
For Trim Healthy Mama, use unsweetened Almond Milk in place of the dark chocolate almond milk as it has sugar in it. Or, leave it out completely.
Nutrition
Calories:
193
kcal
|
Carbohydrates:
28
g
|
Protein:
18
g
|
Fat:
3
g
|
Saturated Fat:
1
g
|
Cholesterol:
8
mg
|
Sodium:
141
mg
|
Potassium:
562
mg
|
Fiber:
4
g
|
Sugar:
18
g
|
Vitamin A:
1989
IU
|
Vitamin C:
16
mg
|
Calcium:
265
mg
|
Iron:
1
mg
HUNGRY FOR MORE? Subscribe to my newsletter to have recipes delivered to your inbox and to stay up to date on the latest!