As an Amazon Associate I earn from qualifying purchases.


Is there anything more decadent than chocolate covered cherries? Rich velvety chocolate and tart juicy cherries, you'll love this healthy spin on a classic pairing, you need this Chocolate Covered Cherry Smoothie in your life!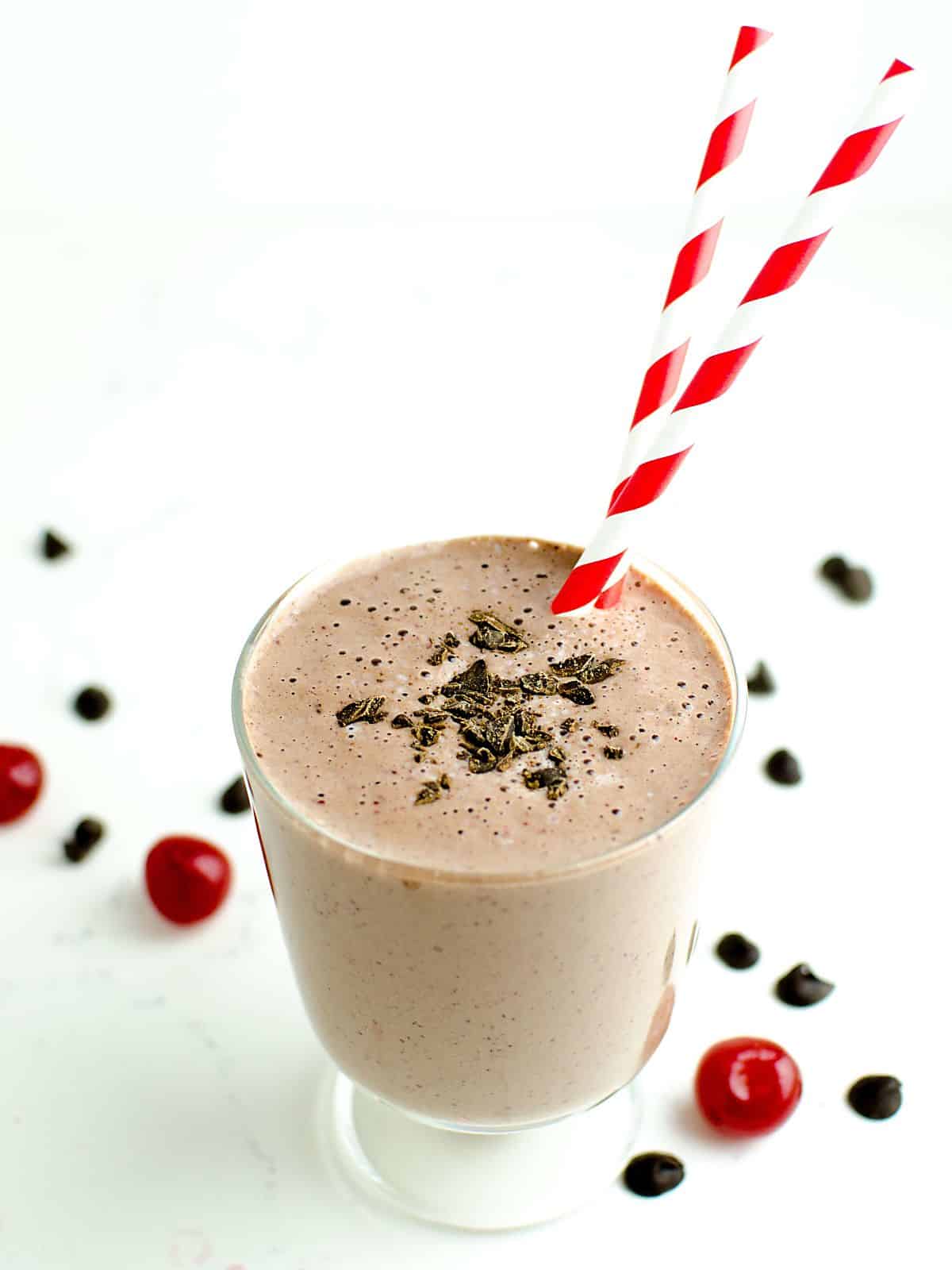 It's no secret I'm in love with chocolate. 😉 And, they say it has health benefits! Of course, everything in moderation, but a chocolate 'diet' sounds pretty good to me!
If you've been around at all, you know I'm an 80/20 ~ everything in moderation kind of a gal. I say, life is too short, EAT THE COOKIE! Or the brownie, or cake, or chocolate... Whatever it is for you.
But. If I can get my chocolate fix in a healthy form? Well, I'm all for it! And this is one of those times. However, you will totally be tricking your tastebuds into thinking this is an indulgent dessert.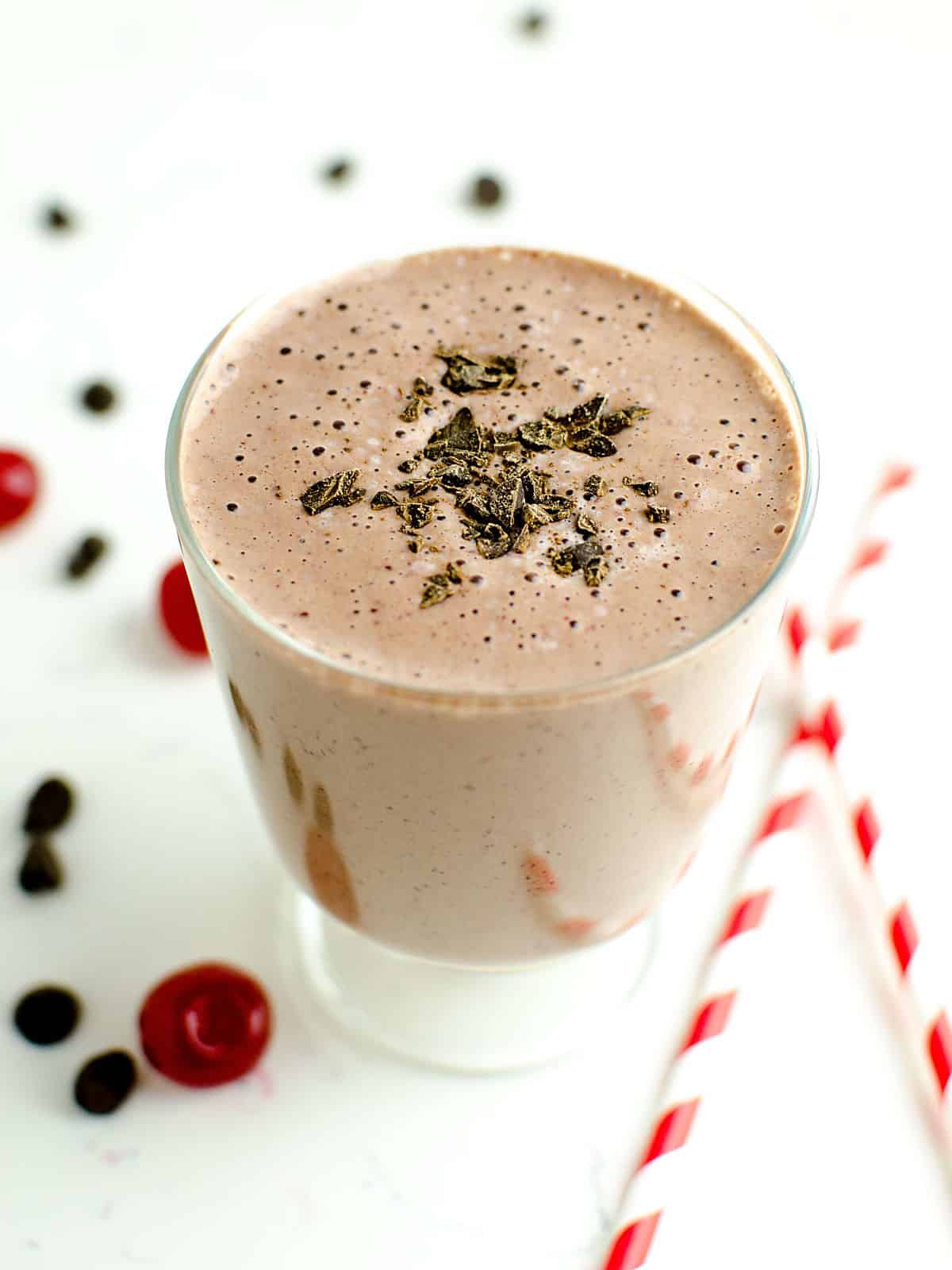 I created a whole bunch of delicious healthy superfood smoothies, and I think the chocolate covered cherry smoothie, just might be my favorite. It's actually a toss up between this one and the Almond Joy Smoothie. Notice they both contain chocolate. 🙂 Yes. My favorite is always chocolate.
The other thing this smoothie reminds me of is Valentine's Day. Something about the red and the chocolate just says "Will you be my Valentine?" My mom actually loved chocolate covered cherries. Every year on Valentine's Day my dad would give her a box of them. And we would all beg for one! Being the generous person my mom was, she always shared. She was a much better person than I, because I hide my chocolate from my kids. 🙂 Is it just me?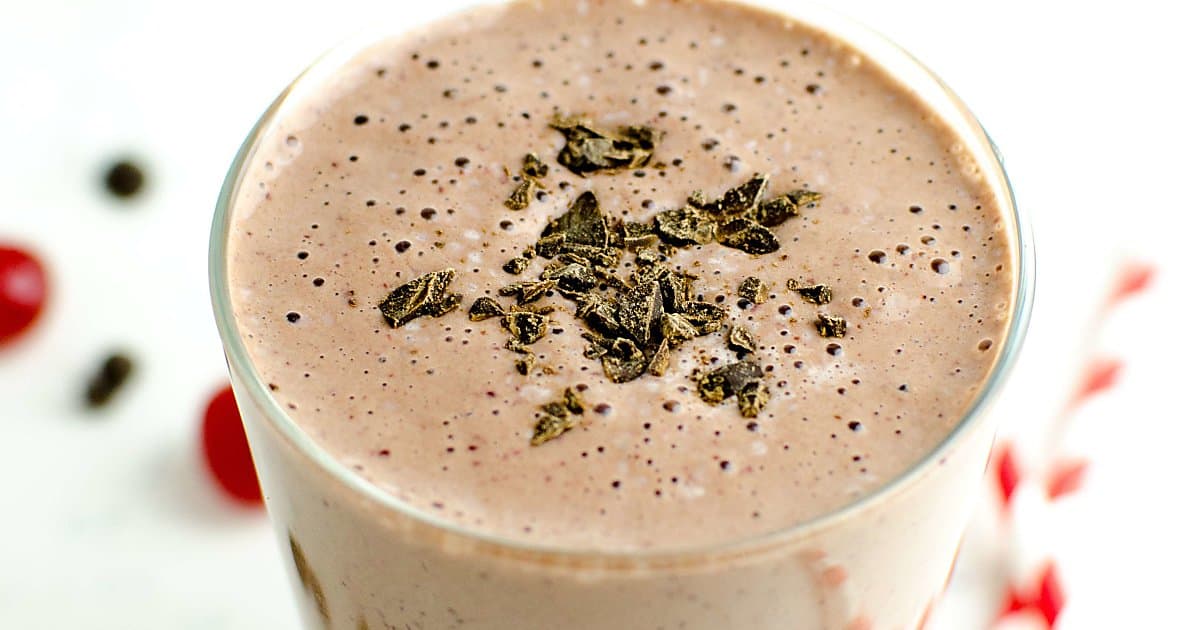 My Dad always brought home chocolate for us kids too. We were not left hung out to dry. Looking back, in my opinion, we had way too much candy growing up. Funny thing is, my dad was a dentist. You'd think we would've had more limits, but as long as we brushed our teeth, he was fine.
I limit my kids sugar intake because a)~ it's not healthy, and b)~ it makes them hyper! And I have four. Four hyper kids make this momma cray cray! But we LOVE to give treats to our kids don't we? Especially since we limit them, it makes it that much more special.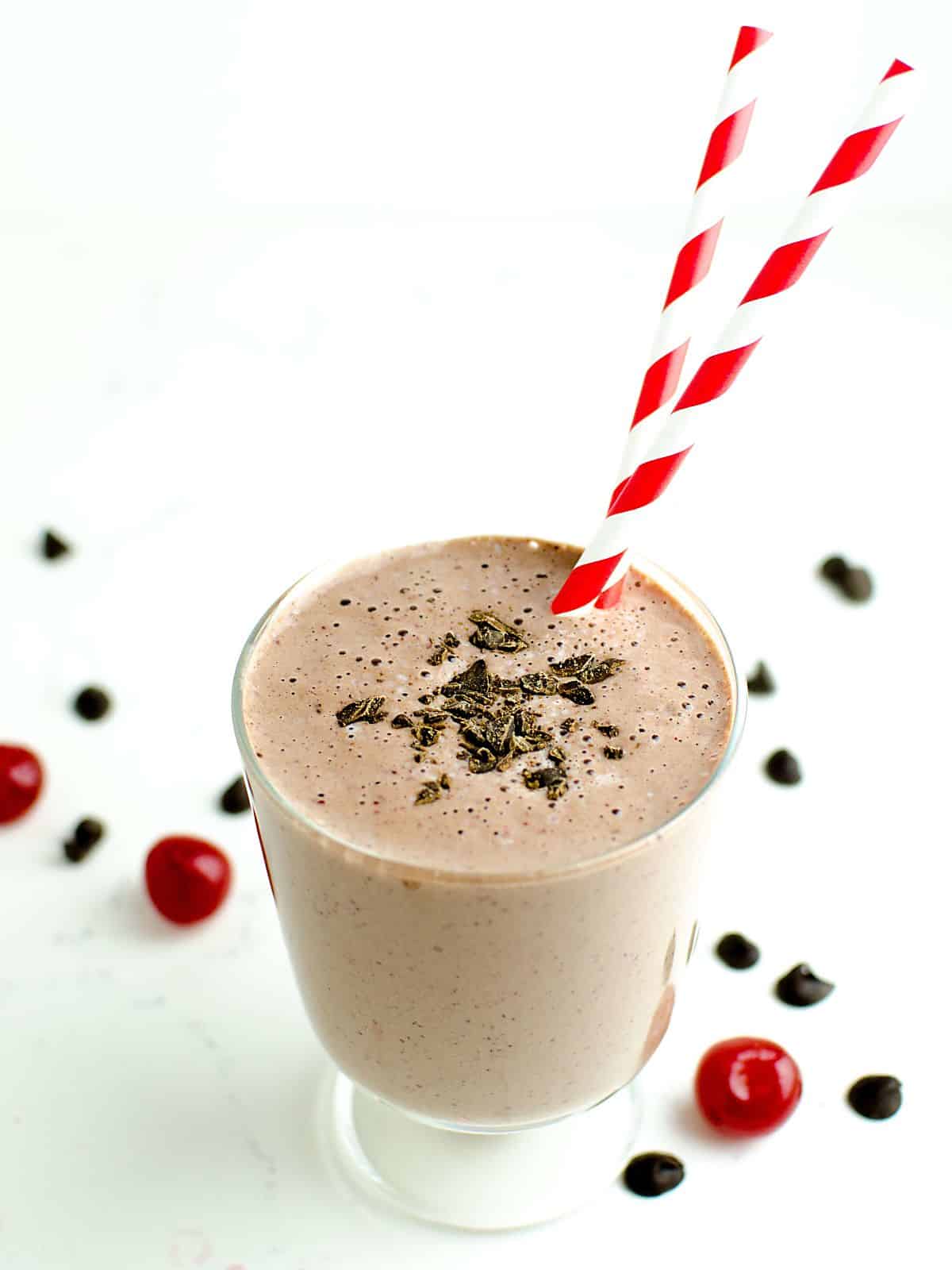 This Valentine's Day I'll be making this Chocolate Covered Cherry Smoothie for my kids. Maybe even for breakfast!
They're going to think I'm the best mom ever!!! Little do they know, there's protein in it, and no processed sugar. That's a win in my book!
More Valentines Day Recipes
If you love smoothies, check out my Healthy Smoothie Book.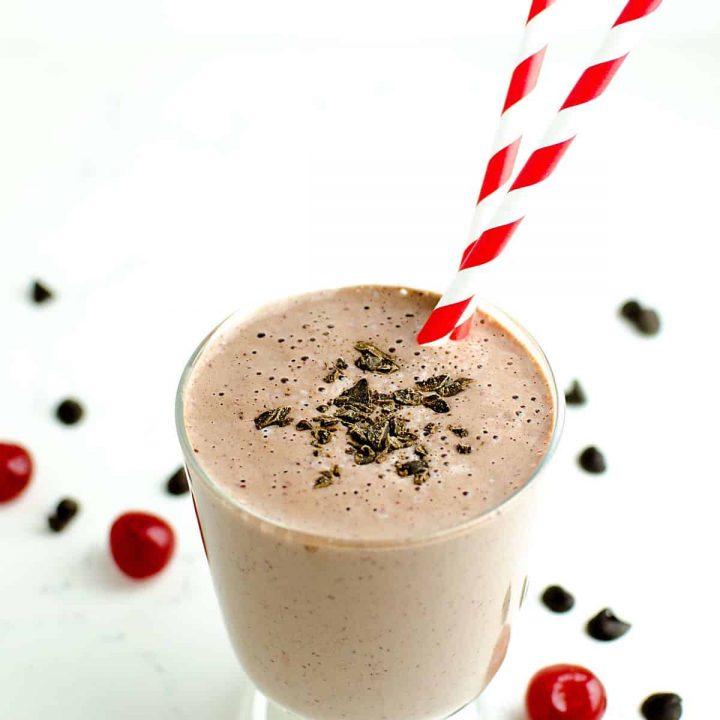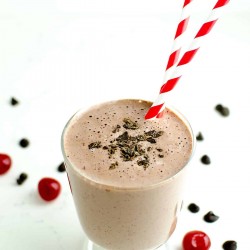 Chocolate Covered Cherry Smoothie
A healthy spin on the classic pairing of chocolate and cherries. This protein smoothie will trick your tastebuds into thinking you're enjoying a decadent dessert.
Print
Pin
Rate
Ingredients
¾

cup

Plain Greek Yogurt

1

scoop

100% pure whey protein isolate

¼

cup

dark chocolate almond milk

1

cup

frozen pitted black cherries

1

tablespoon

cocoa powder

1

tablespoon

Truvia or other natural sweetener

½

teaspoon

vanilla extract
Instructions
Place all ingredients into a blender and blend on high until smooth.
Notes
Honey or Stevia can be substituted for Truvia, but check a conversion chart for proper measurements.
For Trim Healthy Mama, use unsweetened Almond Milk in place of the dark chocolate almond milk as it has sugar in it. Or, leave it out completely.
Nutrition
Calories:
193
kcal
|
Carbohydrates:
28
g
|
Protein:
18
g
|
Fat:
3
g
|
Saturated Fat:
1
g
|
Cholesterol:
8
mg
|
Sodium:
141
mg
|
Potassium:
562
mg
|
Fiber:
4
g
|
Sugar:
18
g
|
Vitamin A:
1989
IU
|
Vitamin C:
16
mg
|
Calcium:
265
mg
|
Iron:
1
mg
I would love to connect with you! Leave me a comment and follow me on Facebook, Twitter, Instagram and Pinterest.