Carnitas Casserole Verde
Carnitas Casserole Verde is made with shredded pork, cream cheese and tomatillo sauce for an easy one dish meal sure to satisfy that Mexican craving.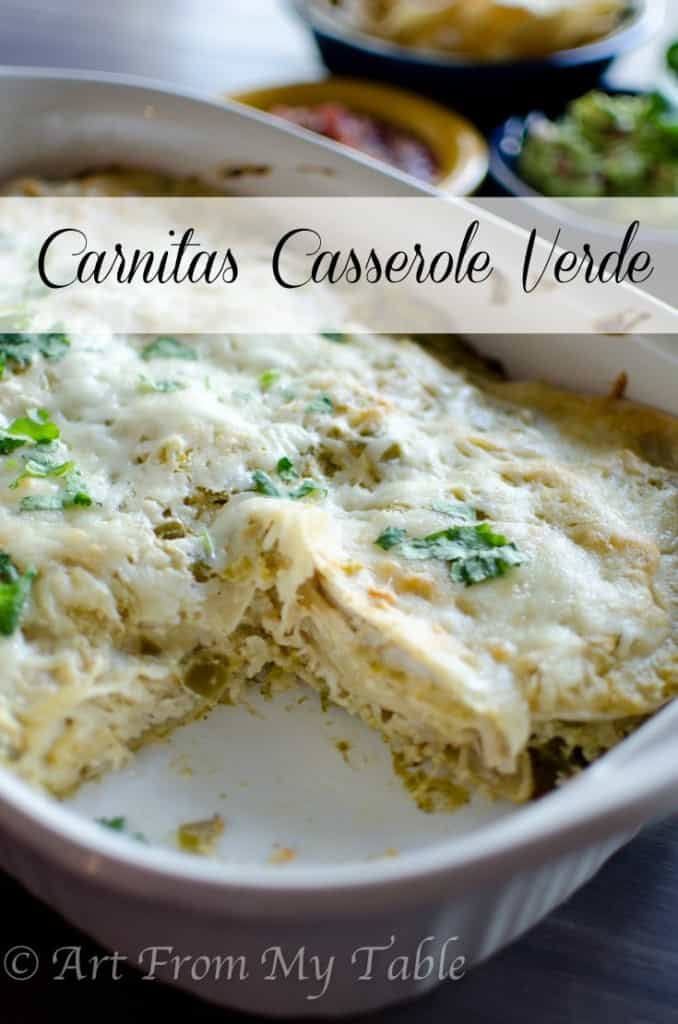 If you had to eat only one nationality of food for the rest of your life, what would it be?
You can probably guess, mine would be Mexican.  In a heartbeat.  If I only could eat one Mexican food?  Guacamole for sure!  Yum!
But today's post is not a guacamole recipe, which actually makes me think, why don't I have my guacamole recipe on this blog?  Hmmm, I'm not sure.  It's a staple in our house, we eat it often.  Want the recipe?  Let me know in the comments.  Let's see how much interest there is.
Today's recipe is Carnitas Casserole Verde.  This is one of those easy, one dish meals that comes together quickly.  Who doesn't need that?  Now, if you have any Mexican or Hispanic in you, I need to warn you, this is not traditional carnitas.  Not only because it's casserole style, but the pork was cooked differently than in a traditional Mexican kitchen.  Don't judge!  This recipe still has amazing flavor, fills you up, and is quite the comfort food.
For this recipe you'll need shredded pork, corn tortillas, cream cheese, salsa verde (mild, medium or hot, your choice), and some monterey jack cheese.   See?  Easy peasy lemon squeezey.  Top it off with some cilantro. You can season the pork if you want, but I feel like there is enough flavor in everything else that it's not really needed.  Plus I love to cook big batches of pork and freeze it so I have it on the ready for any recipe.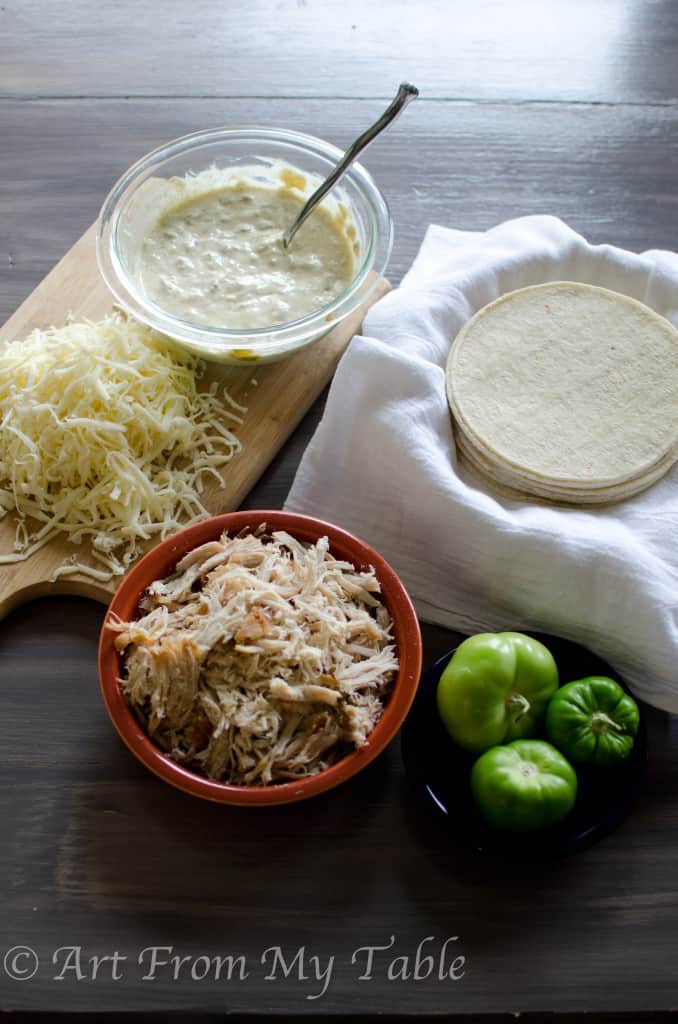 Make sure the cream cheese is softened and mix it with salsa verde.  Shred the cheese, and prepare the tortillas by wrapping them in damp paper towel and warming them in the microwave.  Now you're all set to start building the casserole.  Casserole, I don't like that word much.  It kind of comes with a stereotype ya know?  Sounds old, and not very appealing.  But hey, the truth is, this is a casserole.  But it's a good one I promise!
Put a cup or so of the salsa verde on the bottom of your pan.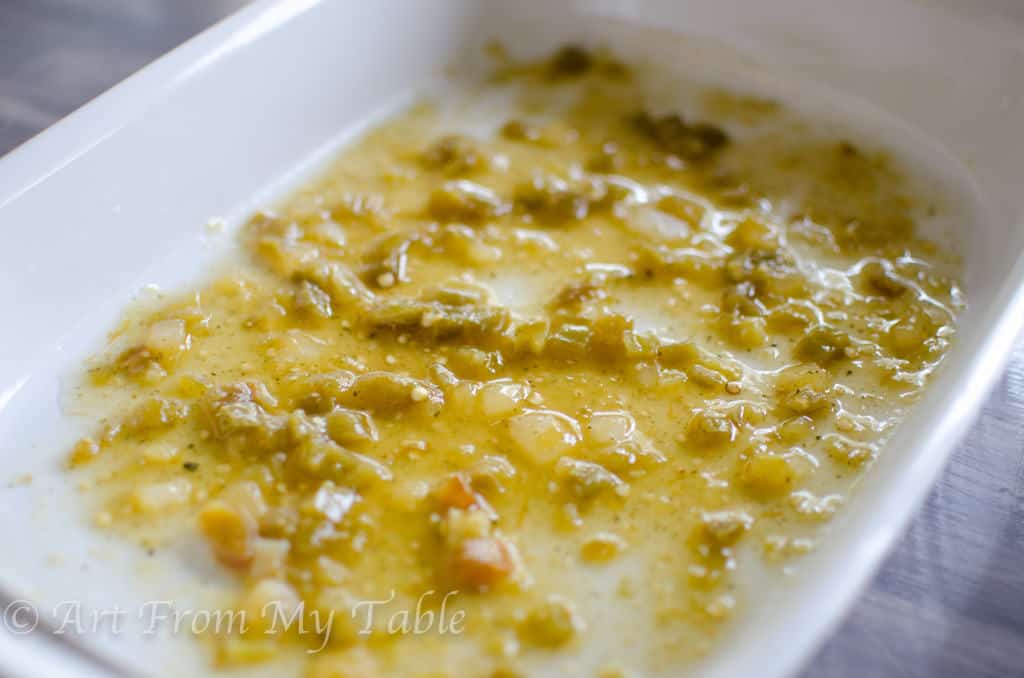 Place the tortillas next.  Usually 5 will do.  Four are whole, and I tear the last one to make it fit well.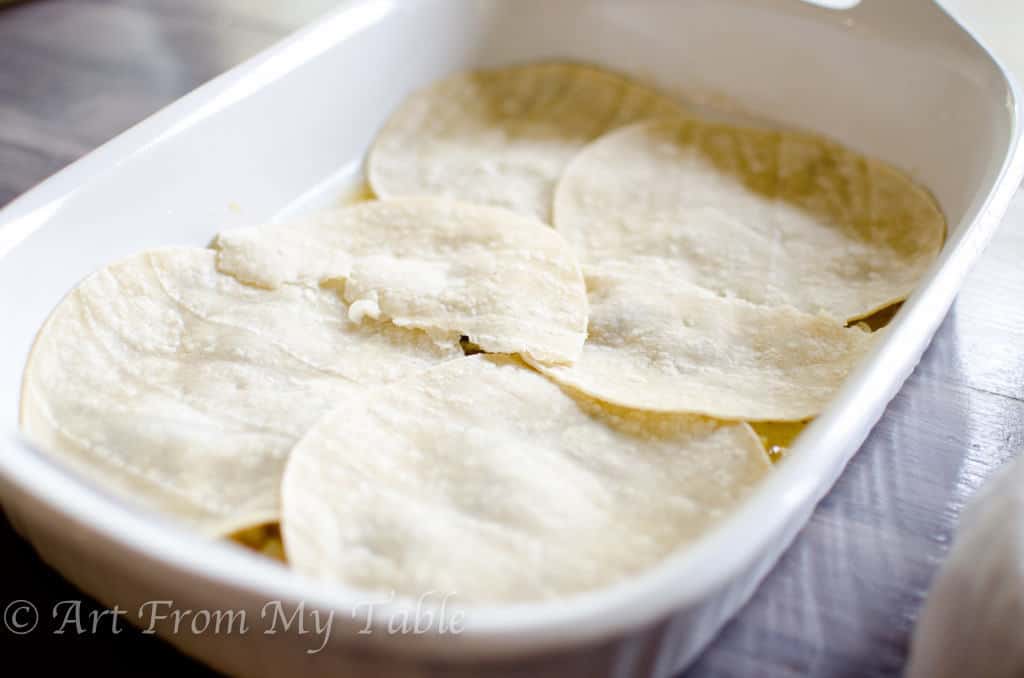 Spread the creamy sauce on,
Then the pork…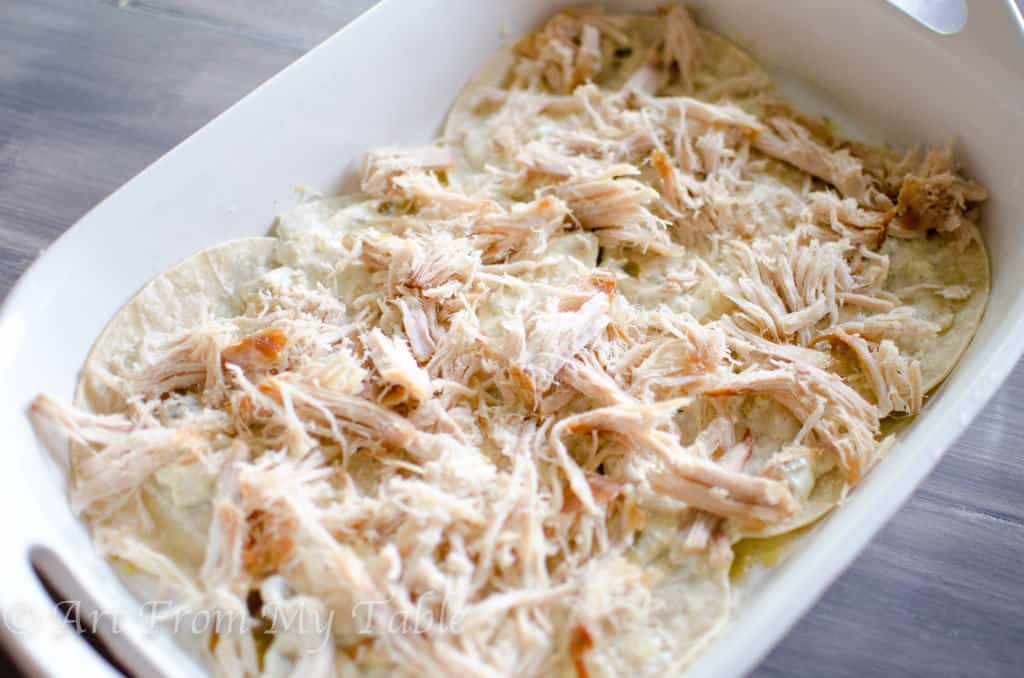 Last but not least, the cheese!  Oh yes! Glorious cheese!
Now, repeat!
Top it off with a layer of tortillas, sauce and cheese.  Pop it in the oven and this baby is good to go!
After you bake it for 30 minutes, garnish it with some fresh cilantro.  Cilantro happens to be one of those love it or hate it kind of things.  Where do you stand?  If you don't like cilantro, leave it off, no problemo.  You could also top it with some diced tomatoes if that floats your boat.
We serve our Mexican meals up with chips, salsa, and guacamole.  Oh yeah!
This carnitas casserole is so versatile too.  Great for a crowd or just a weeknight meal.  You could easily substitute chicken for the pork, or go vegetarian and add some black beans.
This dish is a great one to make ahead so all you have to do is heat it up.  It's also a great freezer meal!  I would recommend thawing it before you bake it if you go that route.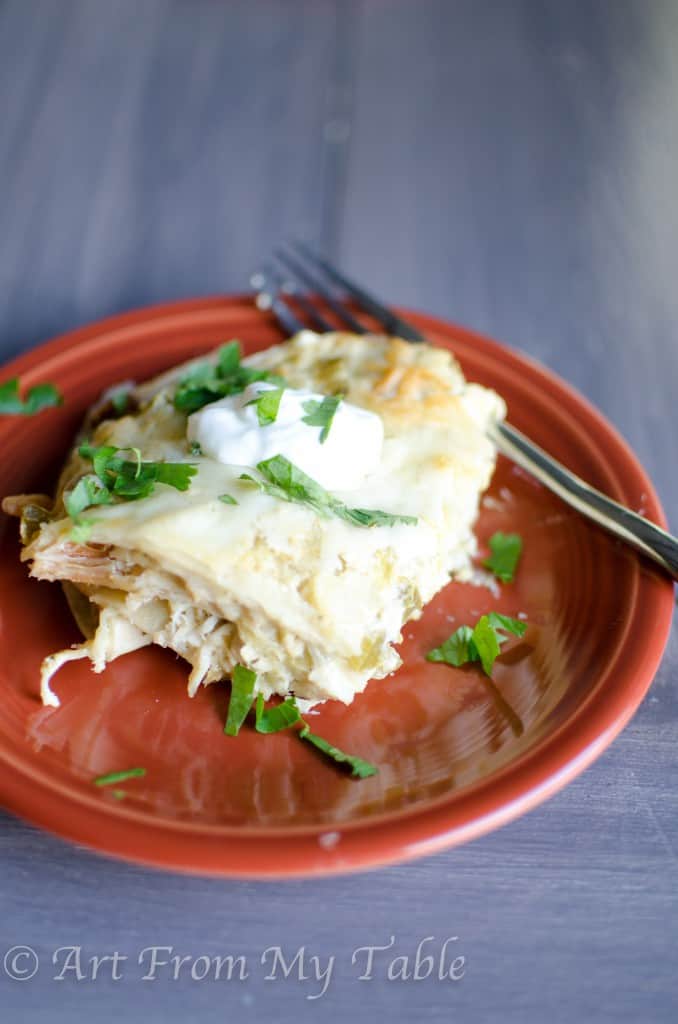 If you like this recipe, here's some others you may like as well: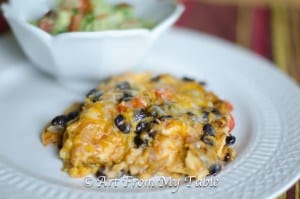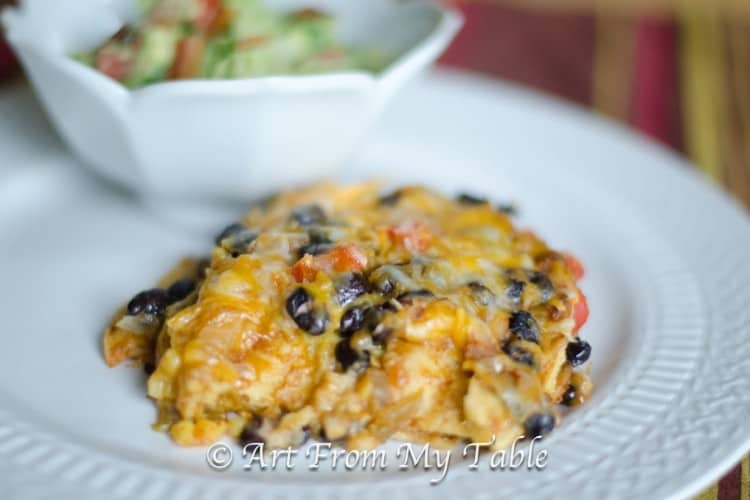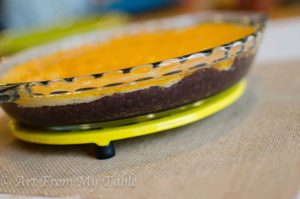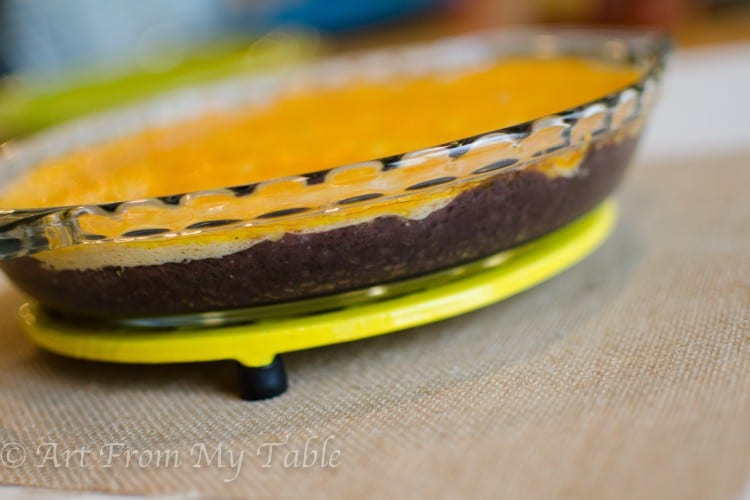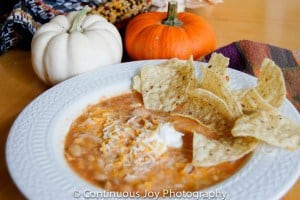 Carnitas Casserole Verde
Shredded pork, cream cheese, tomatillo sauce and Monterey jack cheese, make a delicious one dish meal that comes together quickly with amazing flavor!
Ingredients
2½ cups shredded pork
15 corn tortillas
1 16 oz jar of salsa verde (mild, medium or hot)
2 oz Cream Cheese, softened
1 (8oz) block of Monterey Jack cheese, shredded
Cilantro for serving
Instructions
Preheat oven to 350.
Reserve 1 cup of salsa.
Combine cream cheese and remaining salsa and mix well.
Wrap tortillas between damp paper towels and warm in the microwave for 1 minute.
Pour 1 cup salsa on the bottom of a 9x13 pan.
Spread 5 tortillas in the pan.
Spread ⅓ of the sauce on top of the tortillas
Place half of the shredded pork on top.
Follow pork with ⅓ of the cheese
Repeat steps 6-9.
Finish with a layer of tortillas, sauce and cheese.
Bake for 30 minutes, or until warmed through.
Serve topped with Cilantro
This post is sponsored by United Dairy Industries of Michigan.  I'm honored to partner with them to bring you recipes your family will come running to the table for.  For more great recipes, see them on all their social media platforms: