This baby kale broccoli salad with blueberries will have your tastebuds singing. Easy to put together and packed with nutrition, but most importantly, super tasty.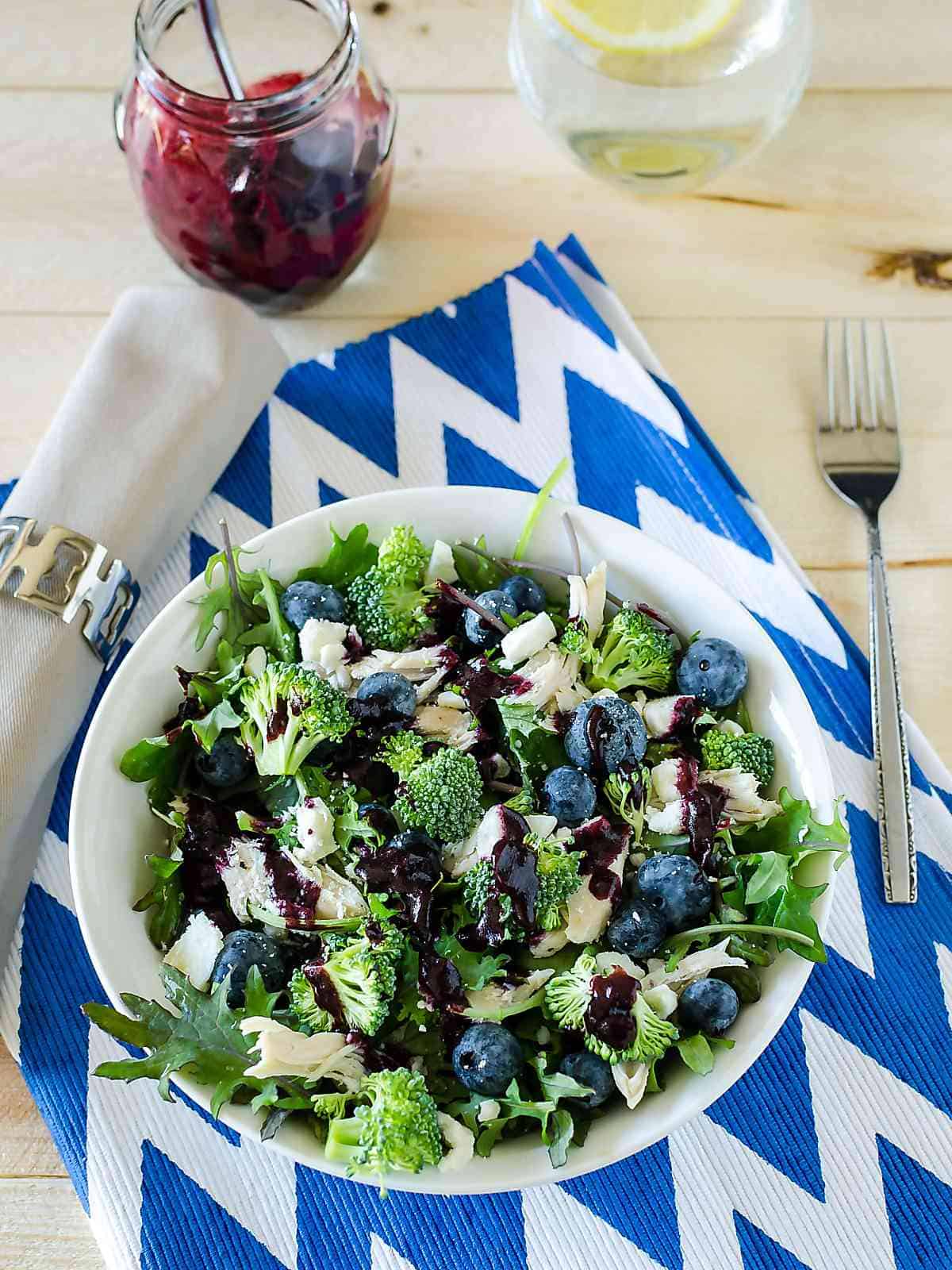 Do you ever wonder what you'd be doing if you weren't doing what you're doing? I admit, sometimes I do. I was at a friend's house this past weekend that I haven't spent time with in a long time and we were catching up.
She was talking about that pull or tension between work and family. She said sometimes she wonders what it would be like if she didn't work anymore. What would her days look like? And I was like…
ME TOO!
We both love what we do and are passionate about our work. It's enjoyable to have something outside my four walls to focus on. But there are days…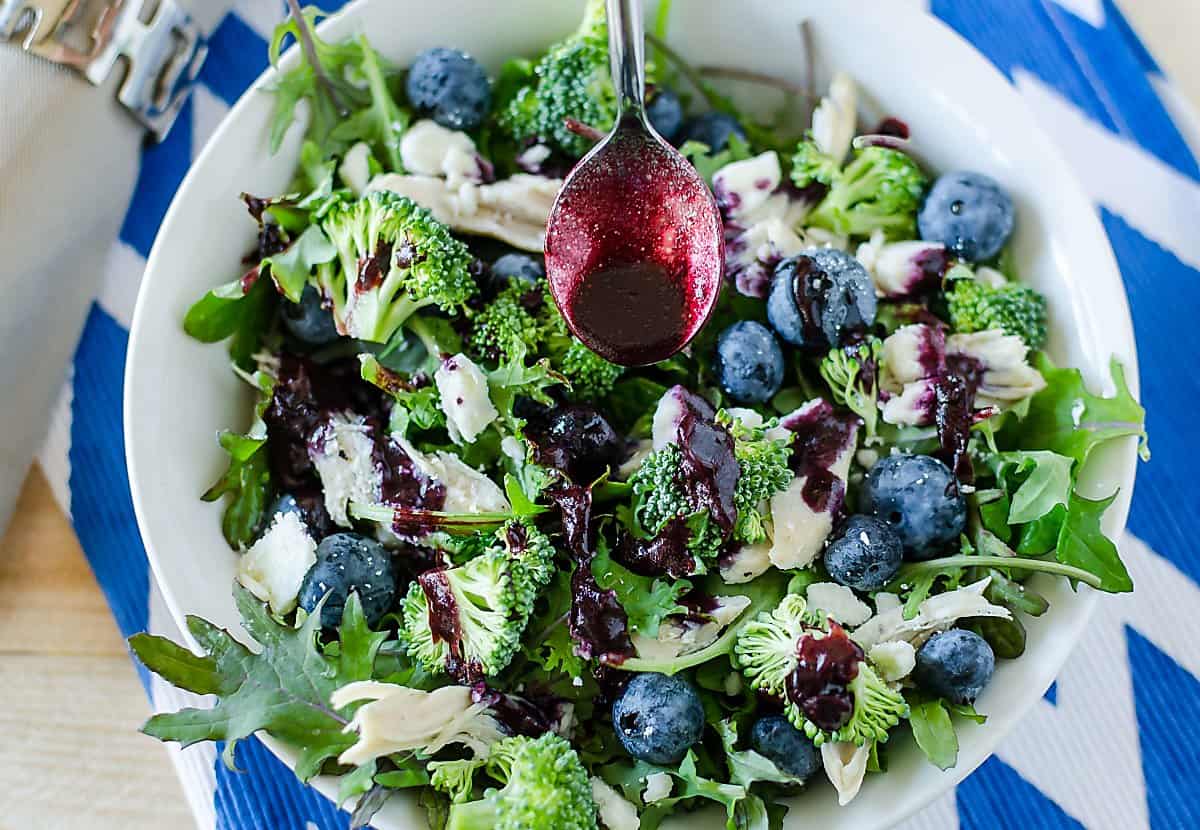 Days when I can't think what to cook or write, days when I spend too much time comparing what other blogs are doing and their success, days where I just don't want to think about anything else. Can you relate? Or maybe you're the opposite and you wonder what you'd be doing if you had some sort of work.
So this all has nothing to do with this gorgeous salad, but that's what's on my mind today. 🙂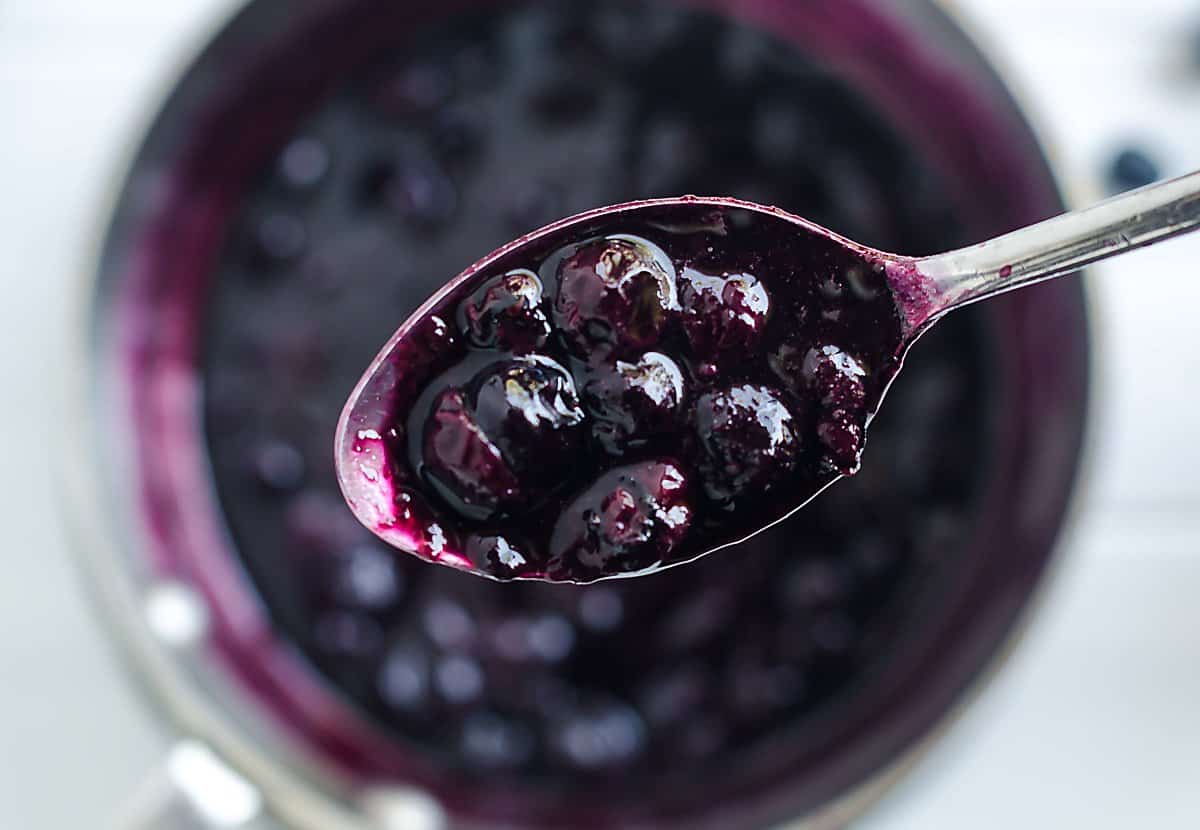 I love salads all the time, but summer, I crave them. This is such an easy dish to do, but it has tons of flavor, and talk about getting your greens in, or your superfoods!
I wasn't sure what to call it, baby kale broccoli salad, broccoli blueberry salad, baby kale broccoli superfood salad…
Baby Kale Broccoli Salad
Anyway, I'm loving this combo, and it's even better with homemade blueberry vinaigrette. It makes a perfect main dish salad with chicken on it, or a great side salad. Sometimes I'll grill chicken breast to put over it, and other times I'll just use left over rotisserie chicken.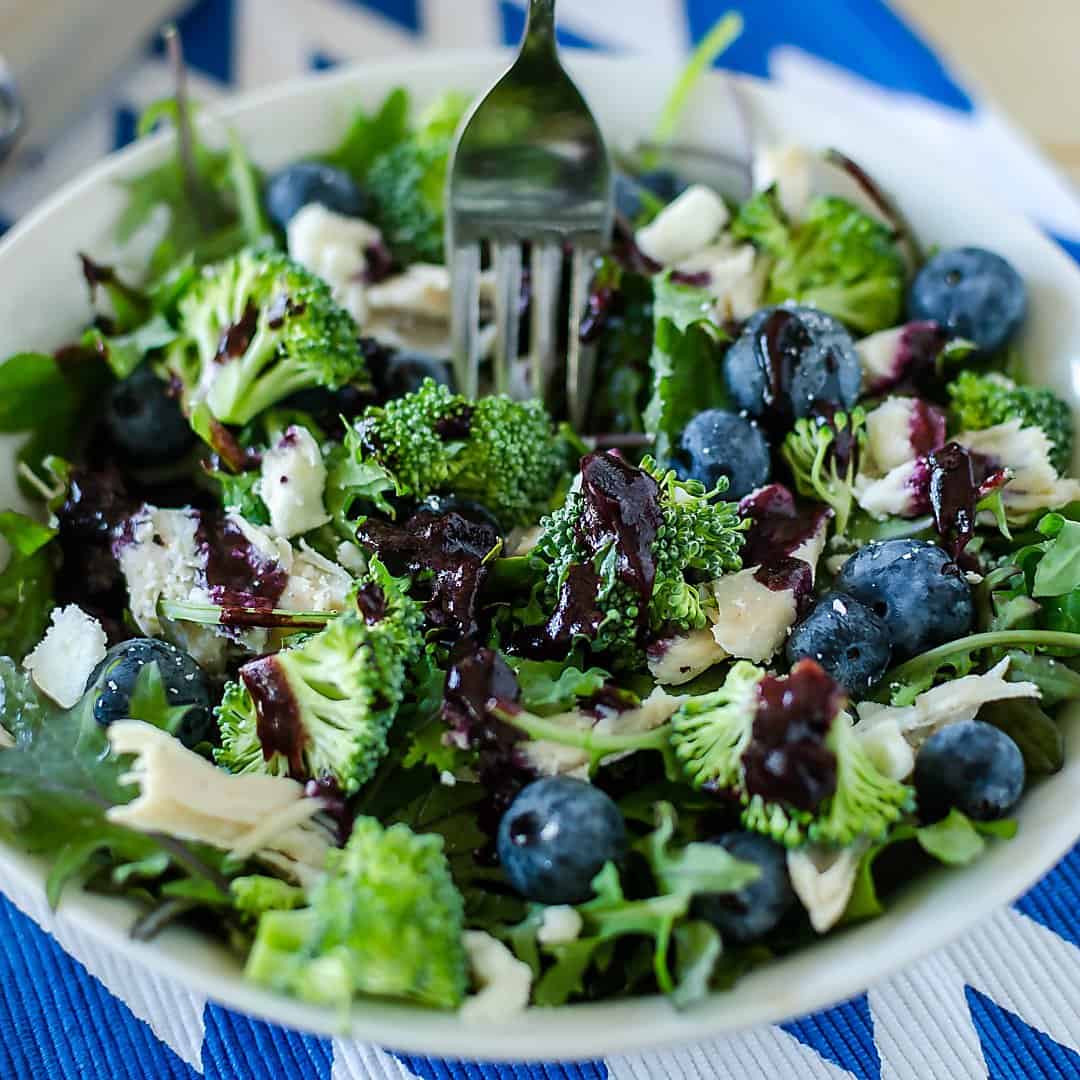 Baby Kale vs. Kale
I chose baby kale for this salad because it is typically more tender and easier to eat raw than mature kale. It's also a bit more mild in flavor so it doesn't overpower. Mature kale is still fine to eat raw, but you'll want to massage it, yes, massage your salad.  😀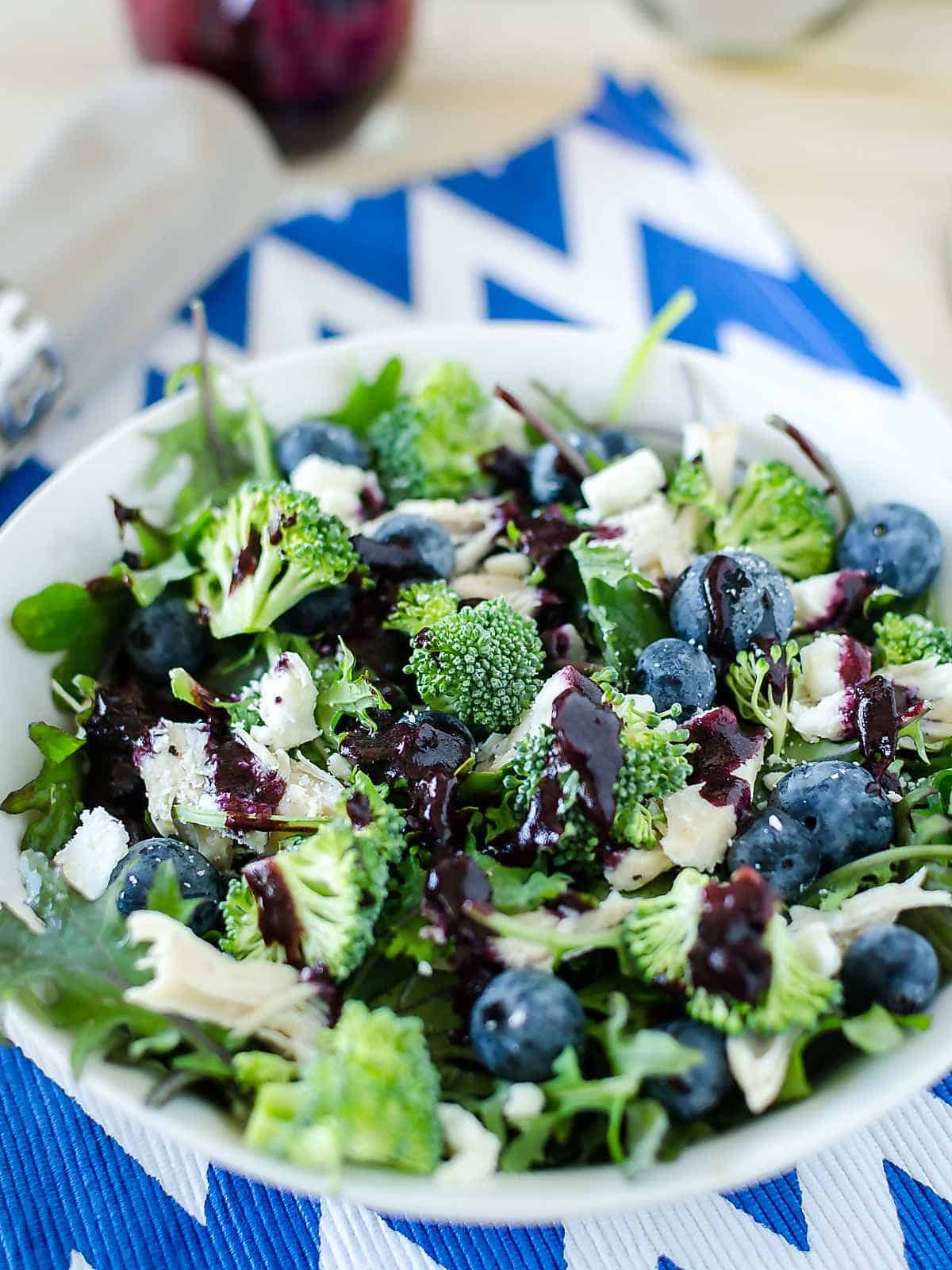 Let's make this!

For more recipe inspiration, follow me on Pinterest and Facebook.  Like behind the scenes action? Check out my stories on Instagram.
More salads you'll love~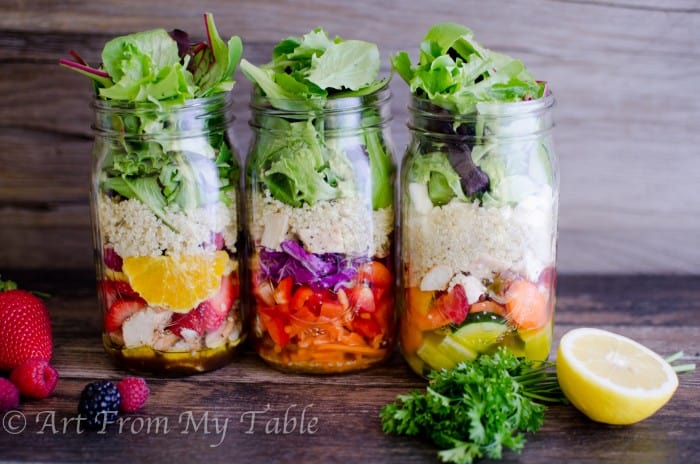 Mason Jar Quinoa Salads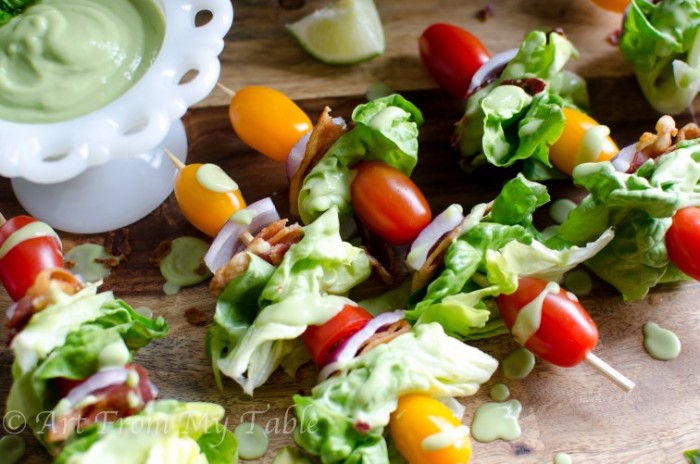 BLT Salad on a Stick