As an Amazon Associate I earn from qualifying purchases.


Juicy salted watermelon drizzled in mint infused simple syrup, served with basil chive cheese and overnight pickles. If you like watermelon appetizers, this one will knock your socks off! Read on for tips on picking the perfect watermelon!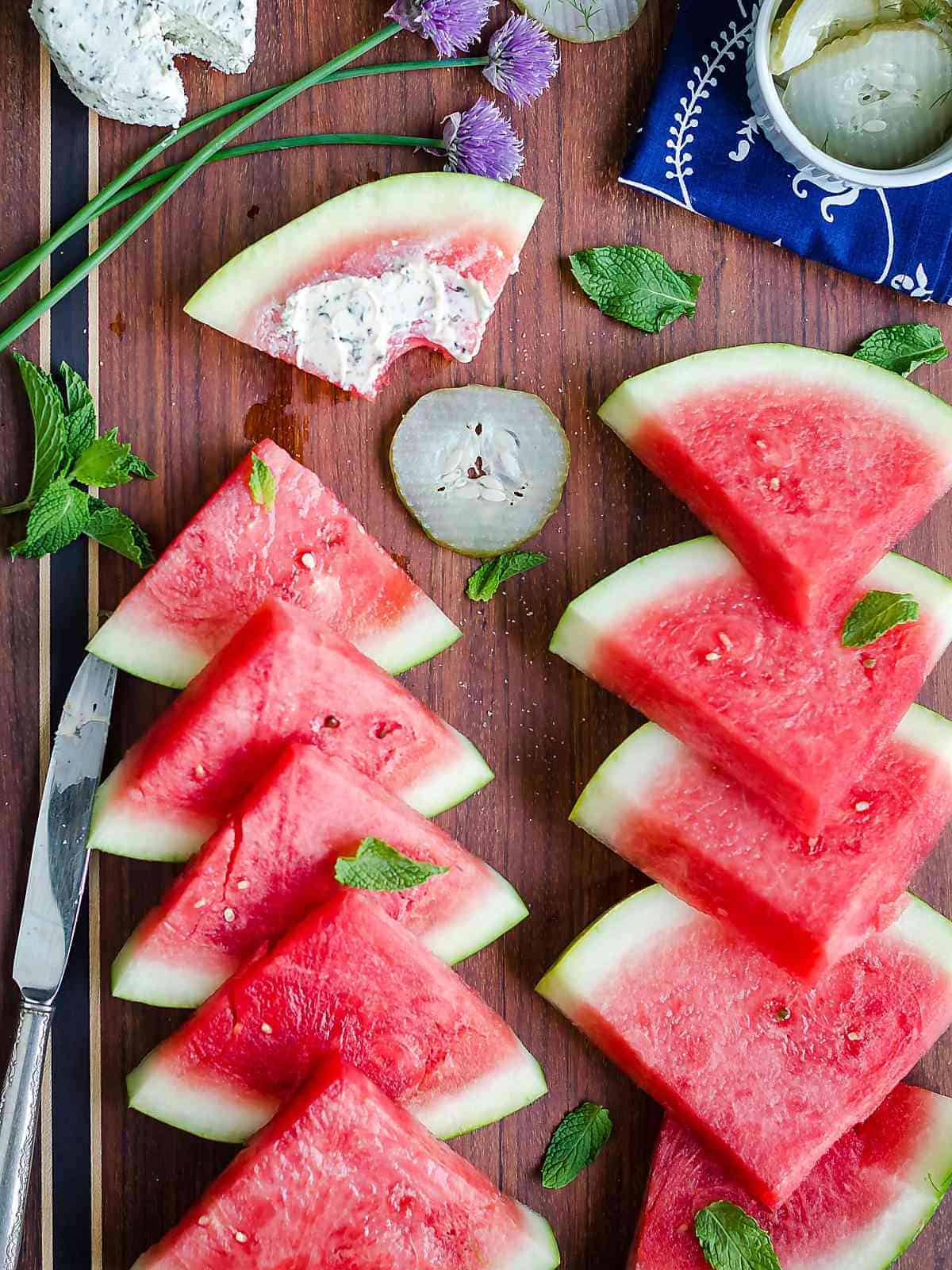 This post may contain affiliate links which won't change your price but will share some commission.
This recipe is inspired by one of our book club meetings last year. I can't believe it's been that long already! But, watermelon is in season, so this is the perfect time to try something new with your watermelon.
We read "A Man Called Ove" by Frederik Backman. Here's the synopsis from Amazon:
"Meet Ove. He's a curmudgeon—the kind of man who points at people he dislikes as if they were burglars caught outside his bedroom window. He has staunch principles, strict routines, and a short fuse. People call him "the bitter neighbor from hell." But must Ove be bitter just because he doesn't walk around with a smile plastered to his face all the time?
Behind the cranky exterior there is a story and a sadness. So when one November morning a chatty young couple with two chatty young daughters move in next door and accidentally flatten Ove's mailbox, it is the lead-in to a comical and heartwarming tale of unkempt cats, unexpected friendship, and the ancient art of backing up a U-Haul. All of which will change one cranky old man and a local residents' association to their very foundations."
We loved the book, and the night couldn't have been a better fit to our theme. Let me explain...
We ate a a local restaurant called "The Old Goat"
. If you live by me, you've got to try it! Our night started out with Pam ordering the "Watermelon Board". You see now where the recipe inspiration came from. I've adapted it slightly, but we'll talk about that later.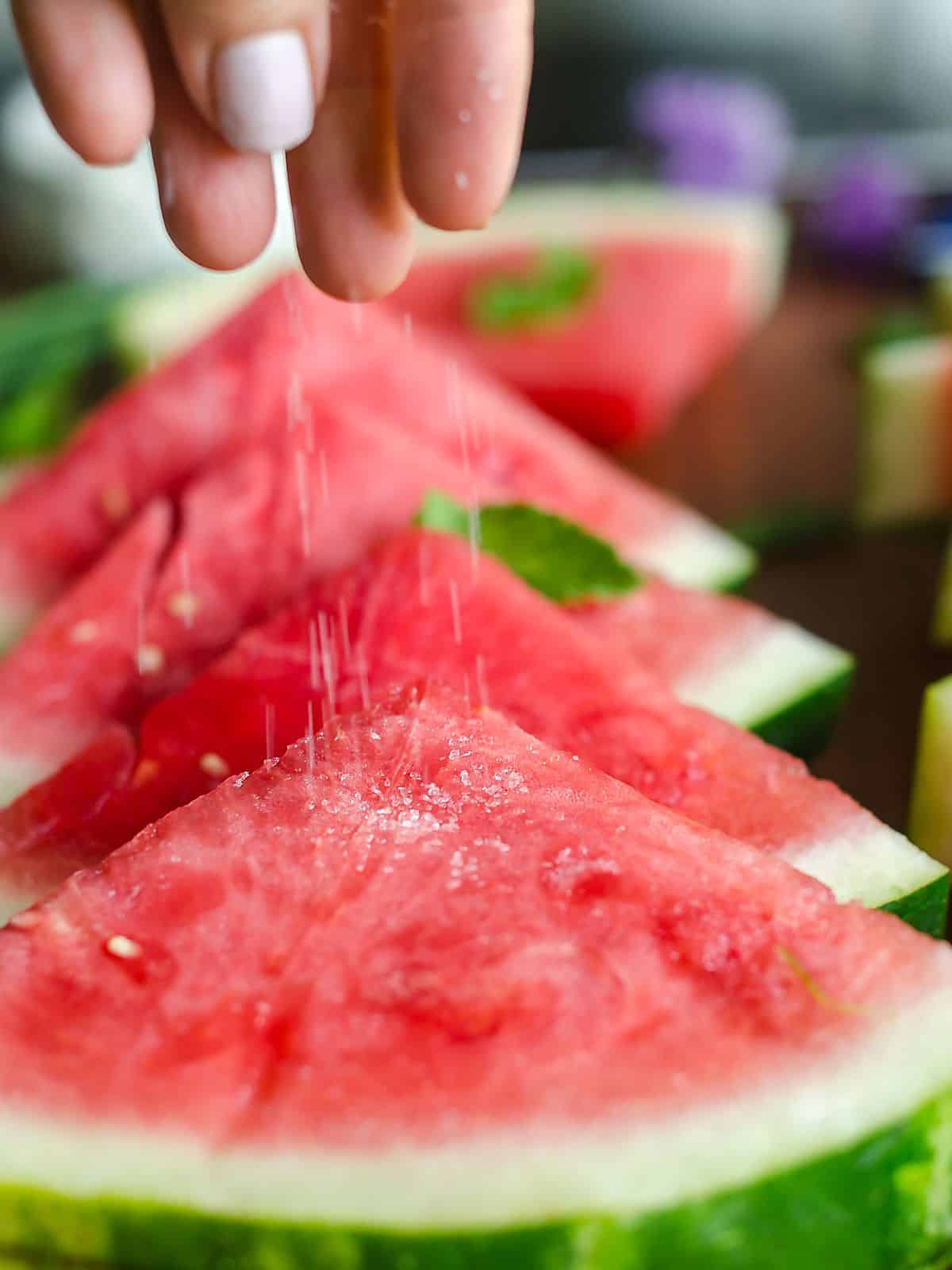 Our waitress was kind of... grumpy, sort of like Ove. I hate to say that, but it just seemed like we were inconveniencing her. However, as the night went on, she warmed up to us (you've heard me talk about these ladies in this lemon curd post, they are impossible not to love!), sort of like we warmed up to Ove as the book went on.
Because truly, in the beginning of the book, I was having a hard time with Ove, I didn't like him so much and I was questioning whether or not I was going to like the book. But, I'm happy to report, that it is a heartwarming story and worth the read. There are lots of laughs along the way.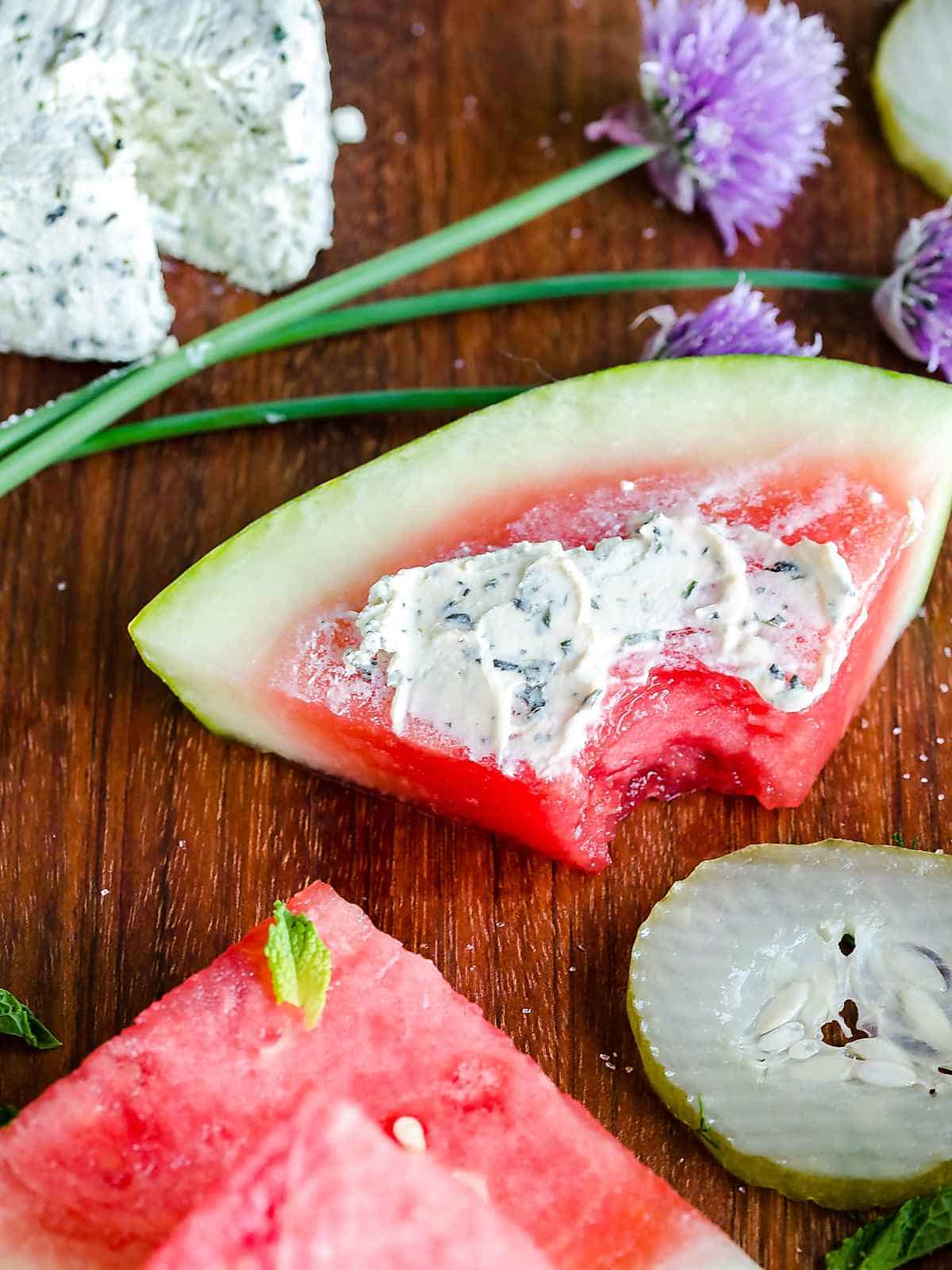 Total side note, but if you love books, you should check out Modern Mrs. Darcy. She has amazing book recommendations and reviews!
A Man Called Ove is a great summer read, you don't have to think too much and you'll be entertained. Let's talk about food though...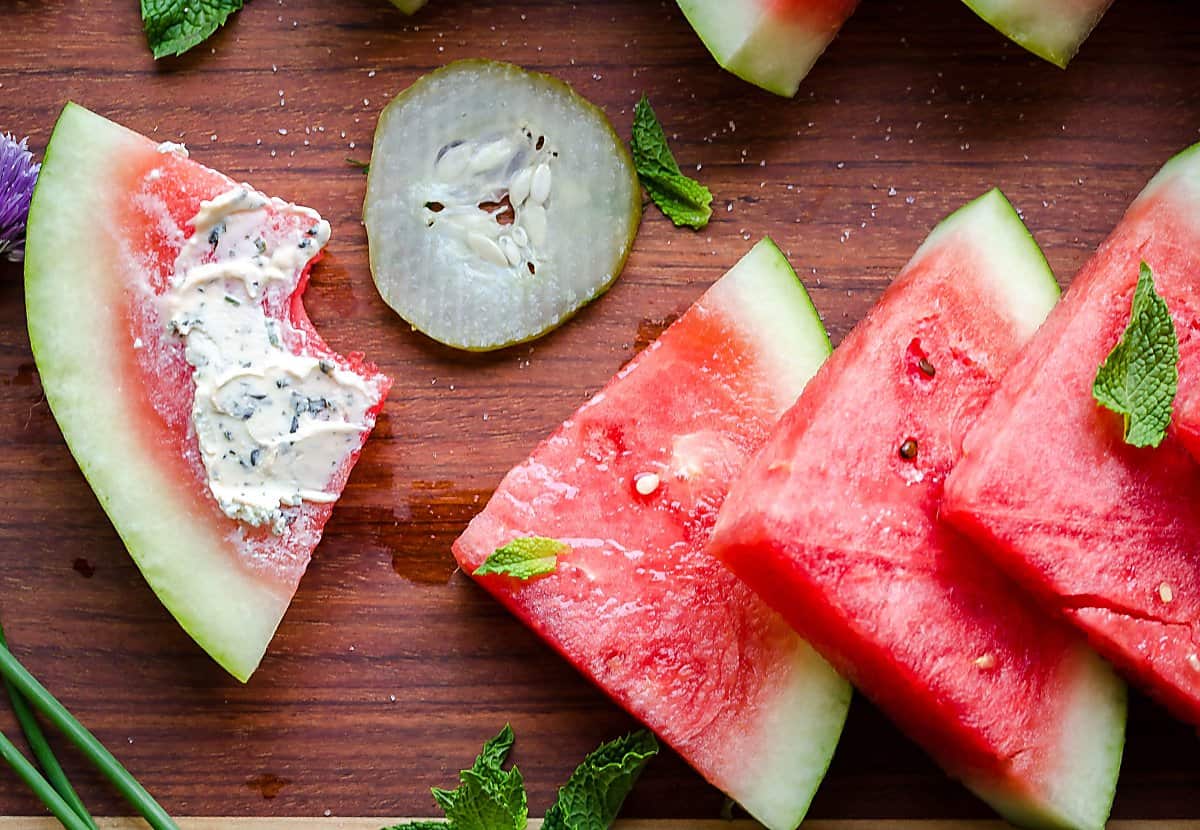 Watermelon Appetizer
So this Watermelon Board was served on a huge long plank. It was salted, and drizzled with mint simple syrup, alongside a hunk of farmers cheese and marinated cucumbers. YUM!
I used Boursin basil and chive cheese and garnished it with overnight pickles. I have a recipe for homemade boursin cheese in this post and it's divine, you could use that too!
To top off our night, Pam, our hostess of the month, gave us these adorable gifts that tied into the book perfectly.

Can you figure out how these fit in? Each of the villages have a cat on it somewhere.
Before you make this, you want to be sure you've got a spectacular watermelon.
Picking the perfect watermelon
Here's some tips on picking the perfect watermelon:
The watermelon should feel heavy for it's size
Look for the yellow spot. This is the side the watermelon laid on. The more worn, and creamy yellow, the more ripe it is.
Tap the belly of the watermelon, it should have a nice deep hollow sound.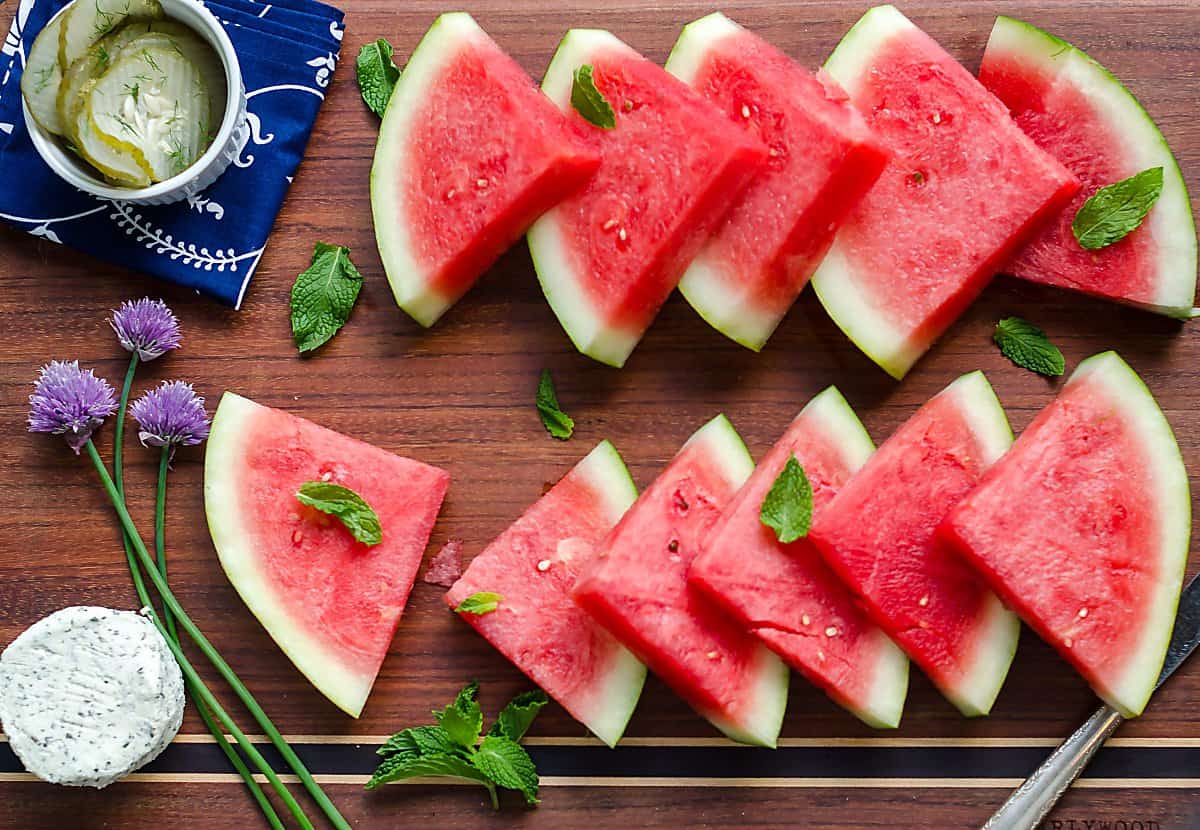 Ready to make this?
More recipes inspired by book club
📋 Recipe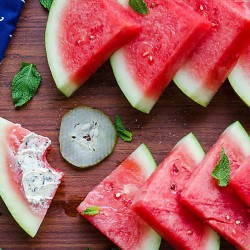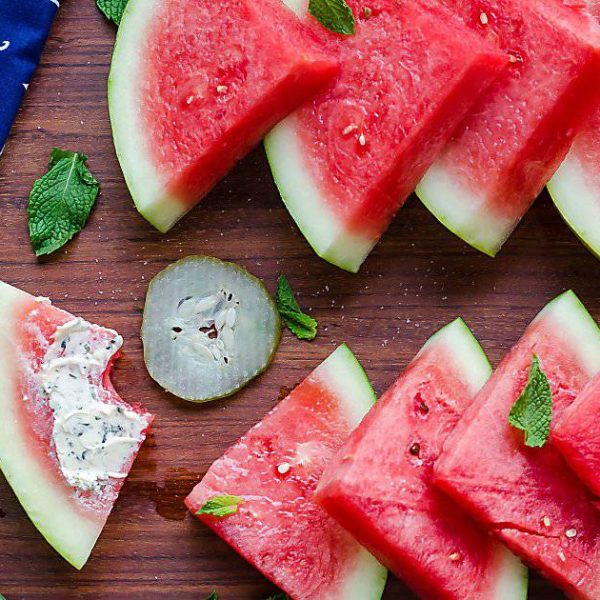 Watermelon Board Appetizer
Juicy salted watermelon drizzled in mint infused simple syrup, served with basil chive cheese and overnight pickles. If you like watermelon appetizers, this one will knock your socks off!
Print
Pin
Rate
Ingredients
½

cup

sugar

4-5

fresh mint sprigs

1

medium ripe watermelon

sea salt to taste

1

pkg

basil chive Boursin cheese

pickle slices
Instructions
Make the simple syrup by combining sugar and ½ cup water to a small sauce pan over medium low heat. Stir occasionally until sugar is melted.

Remove from heat and add 3 fresh mint sprigs, allow to cool, remove mint and chill.

Slice watermelon into wedges and place on a large cutting board or serving platter.

Salt the watermelon and drizzle with mint infused syrup. Serve alongside Boursin cheese and milk pickle slices. Garnish watermelon with fresh mint leaves.
Nutrition
Calories:
218
kcal
|
Carbohydrates:
55
g
|
Protein:
3
g
|
Fat:
1
g
|
Saturated Fat:
1
g
|
Cholesterol:
1
mg
|
Sodium:
7
mg
|
Potassium:
630
mg
|
Fiber:
2
g
|
Sugar:
47
g
|
Vitamin A:
3222
IU
|
Vitamin C:
46
mg
|
Calcium:
39
mg
|
Iron:
1
mg
For more recipe inspiration, follow me on Pinterest and Facebook!