As an Amazon Associate I earn from qualifying purchases.


Enjoy a healthy breakfast banana split ~frozen yogurt, fruit, granola, what could be a better way to start your day?
Update~ I've modified this recipe just a bit to make it even easier to prepare. I originally made this recipe with frozen strawberry yogurt, but we've found that using the strawberry yogurt without freezing it is much faster and just as delicious. I've left the original recipe up for you, but you decide what works for your family.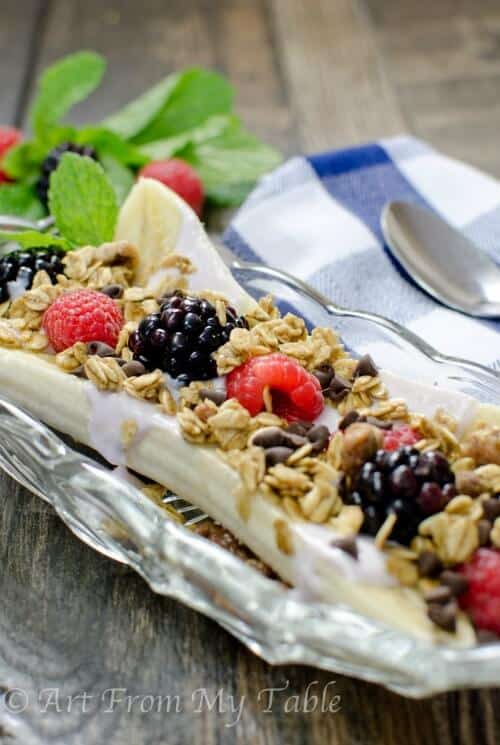 What? Who in their right mind would eat a breakfast banana split? A banana split for breakfast? Ice cream for breakfast?
Well, ice cream anytime is good, right? But, what if you're watching your waistline? What if you want to be healthy? Certainly, you wouldn't choose a banana split for breakfast.

Your kids would love you, you could be a hero, but seriously, that is ridiculous! Sugar them up and deal with their behavior? Pass. No matter how good it sounds I would not make a banana split for breakfast.
Until now.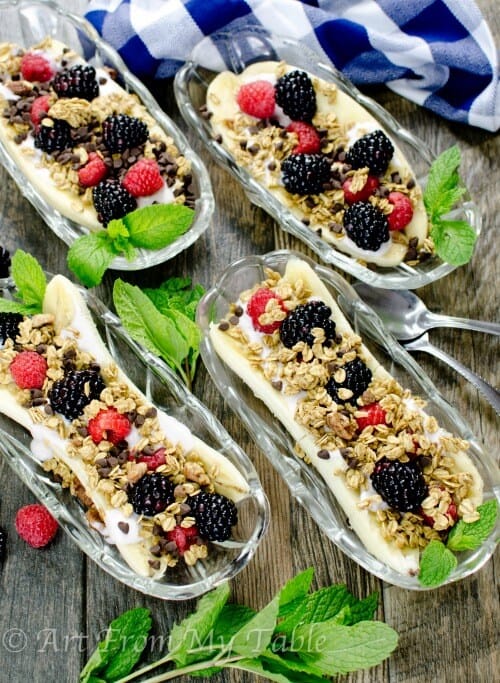 Why now? Did I go off my healthy eating habits? Am I on vacation? Am I crazy?
Well, yeah, I'm a little crazy, but not for eating a banana split for breakfast. I'm crazy because I have four kids, homeschool, teach a class, run a household write a blog... and the list goes on.
Can you relate? Do you ever feel crazy, or overwhelmed with life? Well, I wish this post was how to overcome that feeling, but it's not. It's about a breakfast banana split!
So would you eat a banana split for breakfast?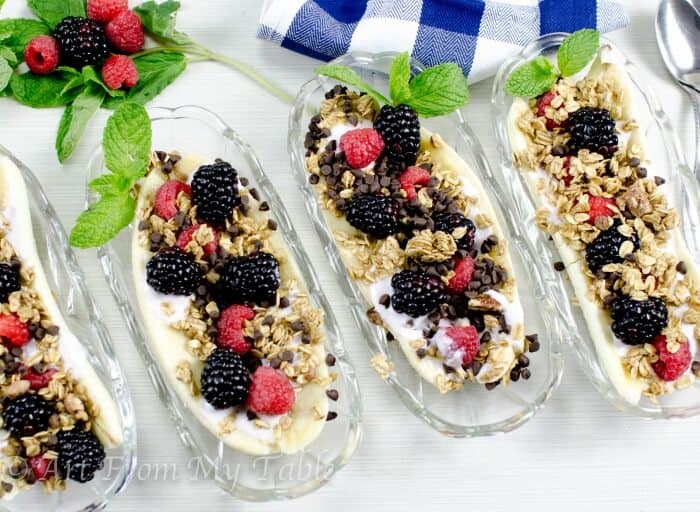 It does look pretty scrumptious!
Let me ask you this... Would you eat a yogurt parfait? At our house, we really like fruit and yogurt for breakfast. So this recipe is inspired by that combination.
But I thought it would be a little more fun to change things up a bit. And, be my kids hero! I always feel like I'm saying 'no'. All. Day. Long. Again--am I alone here? Sometimes I just want to be the fun mom.
I want to hear "you're the best mom!" or get a great big hug instead of an eye roll. Well, here it is, one small way to be fun. Serve them a banana split for breakfast--and enjoy one yourself!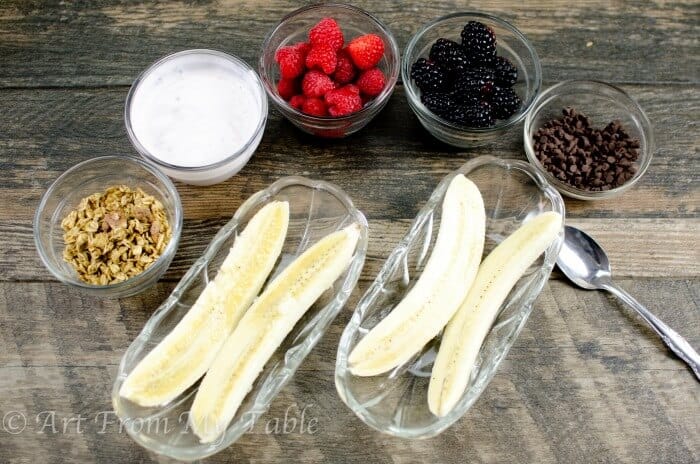 You'll need strawberry greek yogurt, bananas (of course), raspberries, black berries, or any berries of your choice, granola, and a few mini chocolate chips. You can find some banana split dishes here.
Start by prepping the yogurt. Put the yogurt in the freezer. Now, you don't want it rock hard, but you do want it to freeze. You're going for the consistency of ice cream when you first open it up. It's scoop-able, but holds it's form.
So check it after an hour or so and see where you're at. Once it gets to that consistency, scoop it out with and ice cream scoop and put it in a paper muffin liner.
Then, back in the freezer it goes, until its ready to use. Have you seen these anti-freeze ice cream scoops?
Make sure you have everything ready to go. Split the bananas in half. Then add 2 scoops of frozen yogurt on top. Add berries, granola and a few mini chocolate chips. You know chocolate is good for you right? 🙂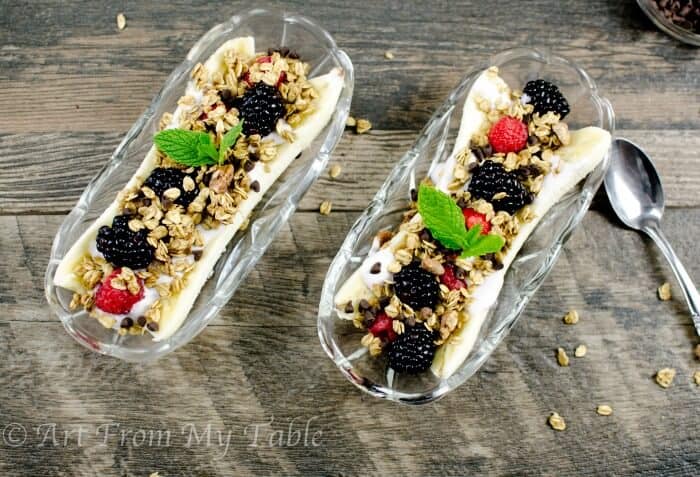 Break out the spoons and eat up! Aren't these spoons the cutest?
Let's EAT Breakfast Banana Splits!
Here's a quick video with the modifications I mentioned above.
Enjoy your breakfast banana split!
Or, why wait until breakfast? How about an after school snack? Or, why not serve it as a dessert? Your kids will think they're eating dessert, but it's good for you!!
Go be a hero!
More brilliant breakfasts
I would love to connect with you! Let's keep in touch, follow me on Facebook, Twitter, Instagram and Pinterest.
📋 Recipe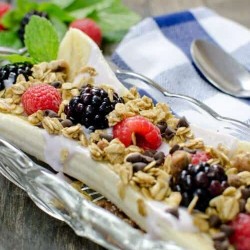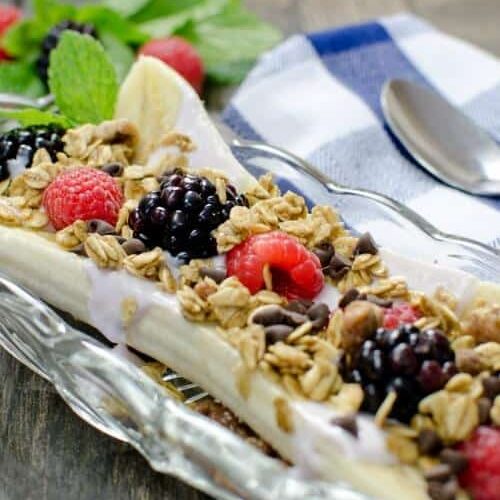 Breakfast Banana Split
A healthy breakfast that feels like a treat! Bananas, frozen yogurt, fresh fruit and homemade granola.
Print
Pin
Rate
Ingredients
1

banana

½

cup

strawberry greek yogurt

¼

cup

blackberries

¼

cup

raspberries

½

cup

granola

mini chocolate chips for garnish
Instructions
Prepare yogurt:
Place container of yogurt in the freezer until firm, not frozen solid, just scoop-able.

Scoop out two scoops of yogurt and place each scoop in a separate paper muffin liner.

Put back in the freezer until ready to use.

Split banana in half.

Add 2 scoops of frozen yogurt

Add berries, granola and chocolate chips.

Serve immediately.
Notes
Variation~ Skip out on the freezing the yogurt and just use strawberry yogurt. It's easier, faster, and just as delicious!
Nutrition
Calories:
626
kcal
|
Carbohydrates:
107
g
|
Protein:
15
g
|
Fat:
17
g
|
Saturated Fat:
6
g
|
Cholesterol:
11
mg
|
Sodium:
105
mg
|
Potassium:
1074
mg
|
Fiber:
11
g
|
Sugar:
56
g
|
Vitamin A:
150
IU
|
Vitamin C:
25.7
mg
|
Calcium:
241
mg
|
Iron:
3.6
mg
Looking for more fun breakfast ideas?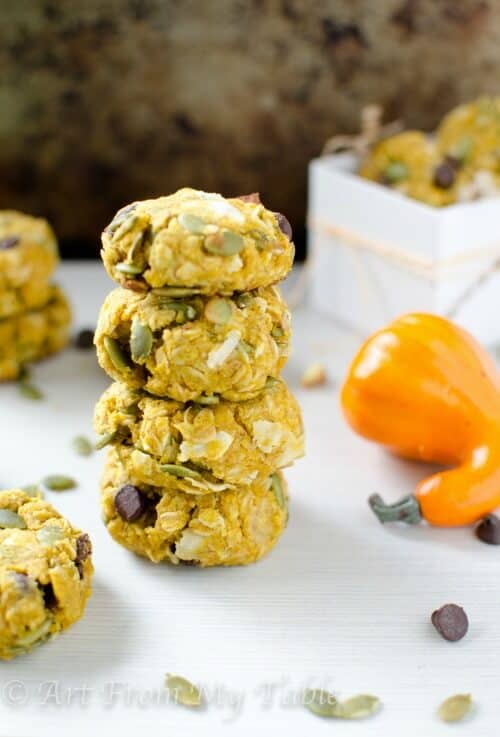 Baked Oatmeal Cups