Red juicy watermelon with sweet blueberries and tangy feta drizzled in lime dressing. Watermelon Feta Cheese Salad is perfectly refreshing on a hot summer day and compliments just about any meal.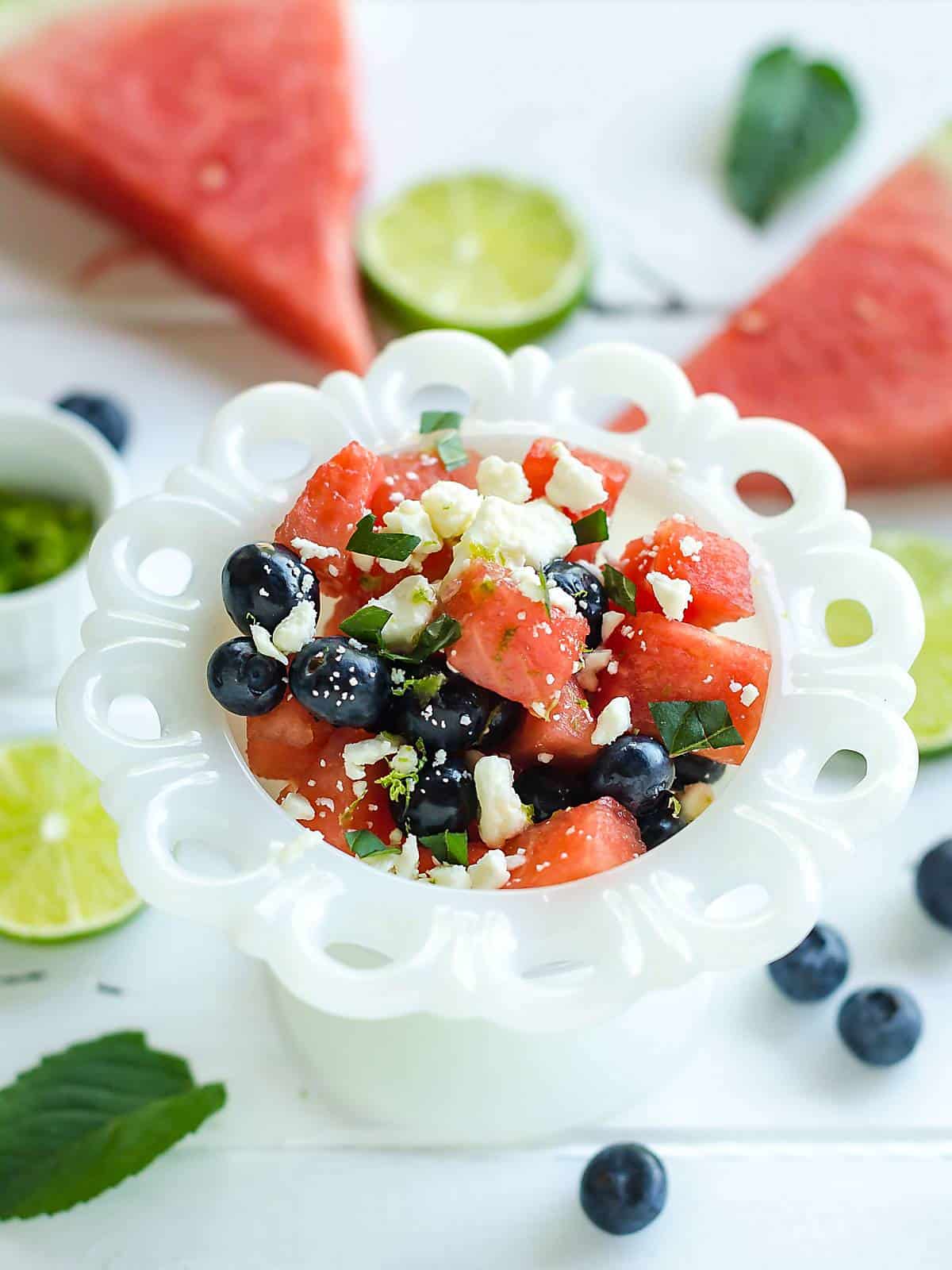 I think in songs. Does this happen to you? I'll hear a phrase or a word, and immediately I'm taken back to some time in my past and I just start singing that song. My kids don't appreciate this, and they've usually never heard of the song. 😀
This Watermelon Feta Cheese salad makes me think of summer. I was just thinking "Summer" which made me think… Summer, summer, summer, turns me upside down… Any guesses?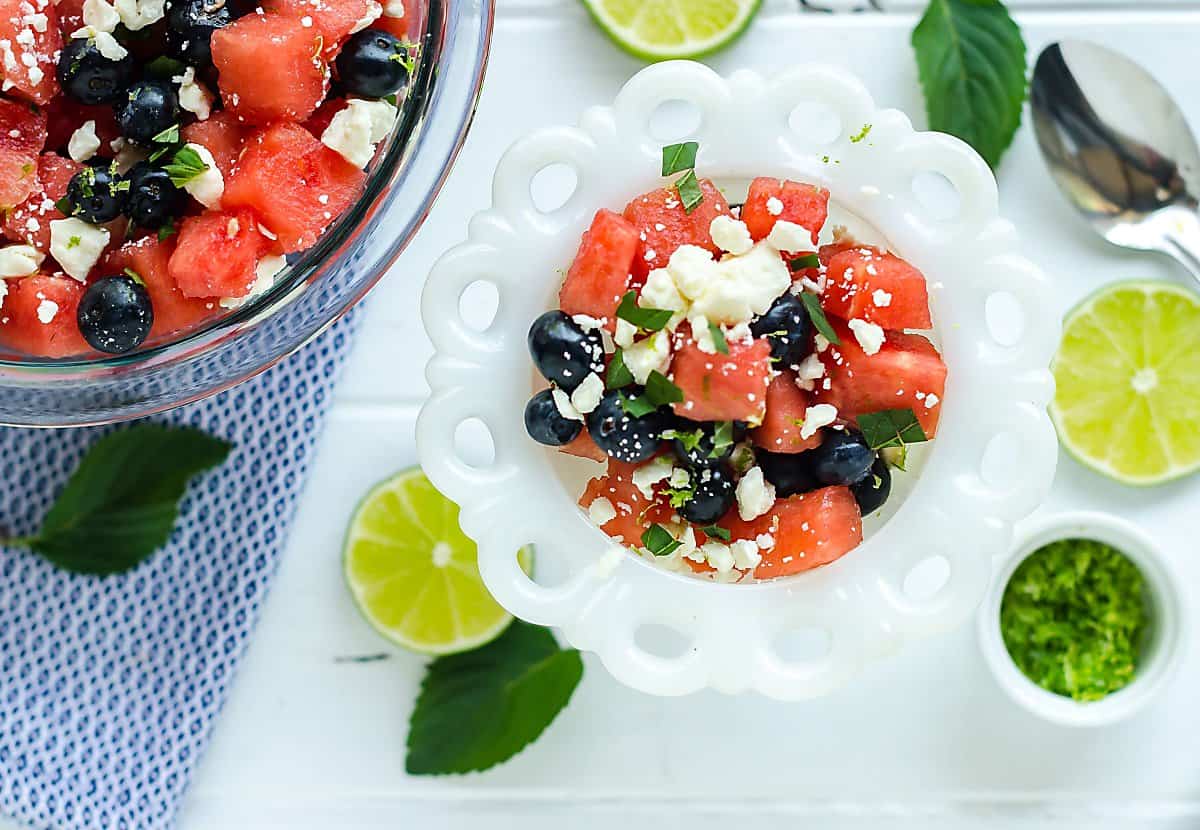 Watermelon is one of the most refreshing fruits, don't you think? Probably because it contains so much water in it. Water = hydration. One of my favorite ways to enjoy it– this watermelon recipe.
Summer Livin'
We spent the day at the beach with cousins earlier this week. You know that feeling after a day spent in the sun and sand? Relaxed, and warm, a little worn out? Even just sitting on the beach with a book can make you feel a little exhausted.
Or maybe the exhaustion is from watching the kids go go go nonstop! Anyway, coming home to watermelon was rejuvenating. I picked up some blueberries on the way home from a blueberry farm, tried not to eat too many of them on the way home, and threw this salad together.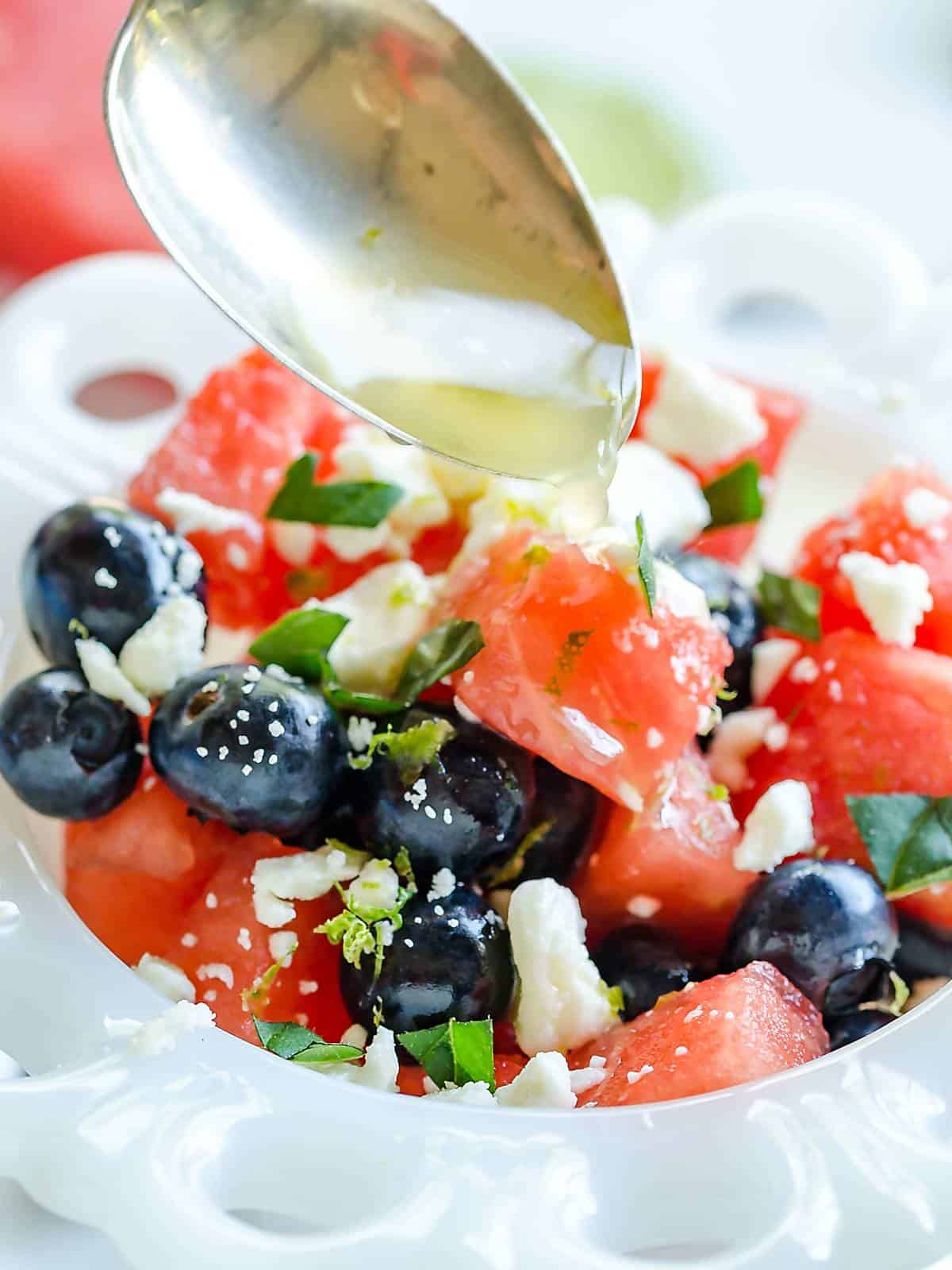 There's nothing I'd rather do than spend the day on the beach. It's my happy place. But I admit, it does leave me feeling unmotivated. I just want to come home and do nothing. But I can't. Gone are those days, at least for now.
Watermelon Feta Cheese Salad
Even with my lack of motivation, it was so easy to whip this together. This is so good, I'd be completely happy eating it AS my dinner. And there's cheese in it, so protein right?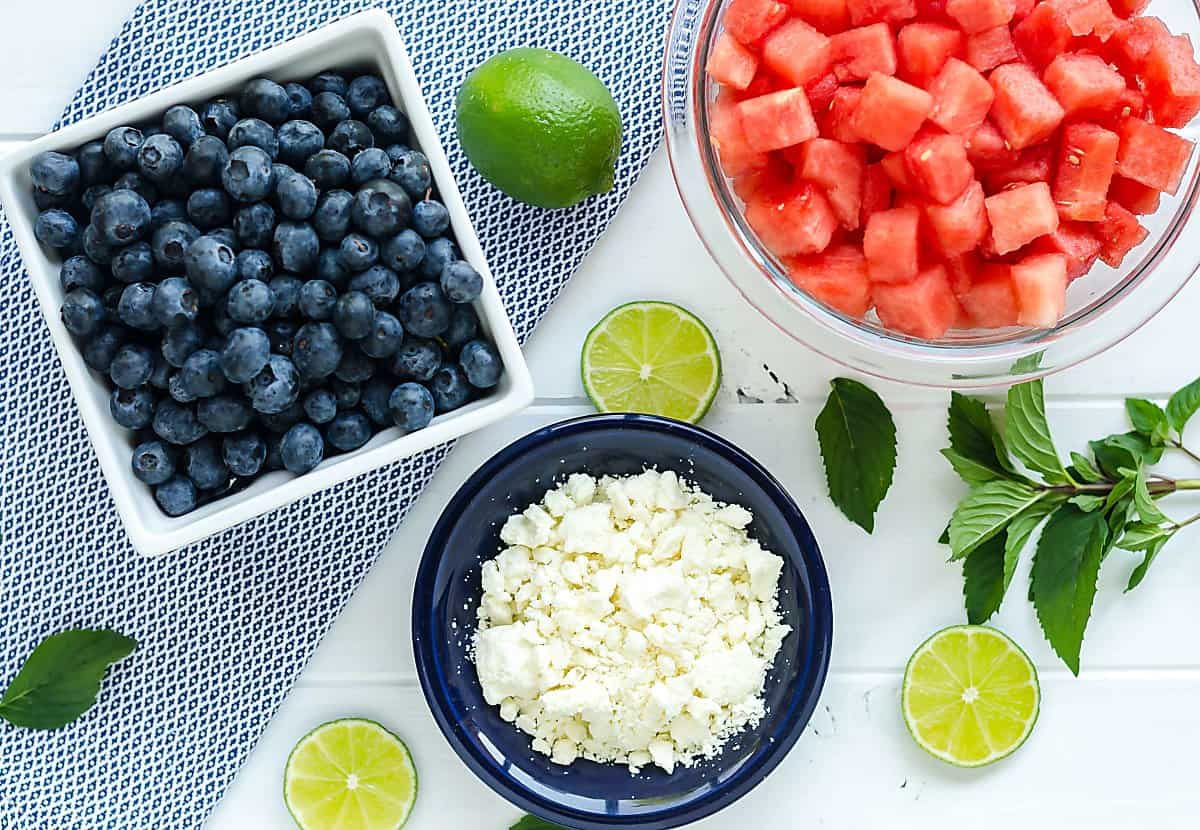 All you need is watermelon, blueberries, feta, mint, lime and honey. We have a small patch of mint growing in our garden. It comes back year after year. My husband hates it because it spreads so much, but I love just being able to go outside and snip a bit. 🙂
Pair it with this yogurt marinated chicken, or this citrus basil grilled chicken. Okay, pair with anything. 😀 Or bring it to your next BBQ. It's the perfect summer side!
Go grab the recipe below!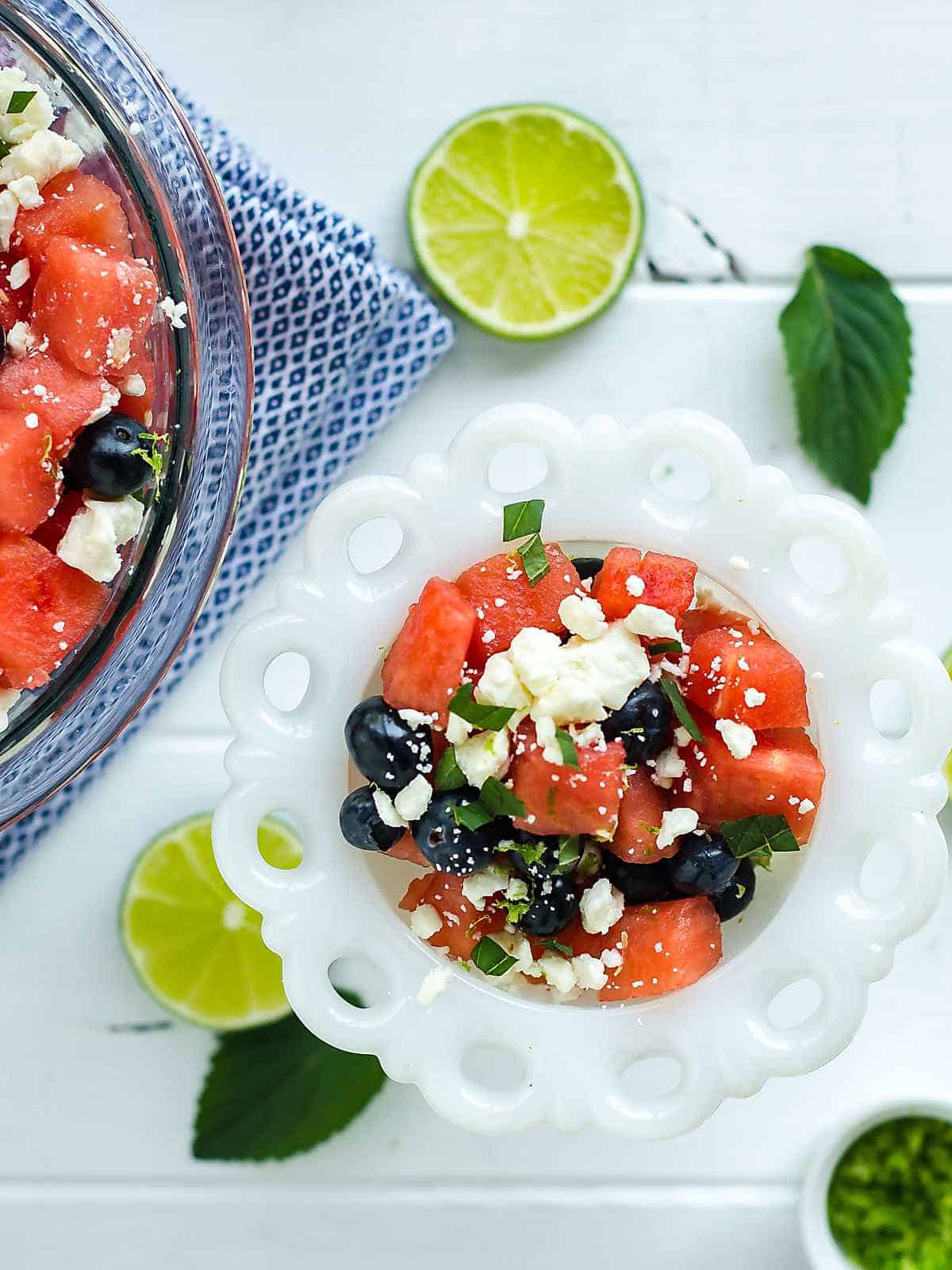 For more recipe inspiration, follow me on Pinterest and Facebook.  Like behind the scenes action? Check out my stories on Instagram.
Looking for more great sides?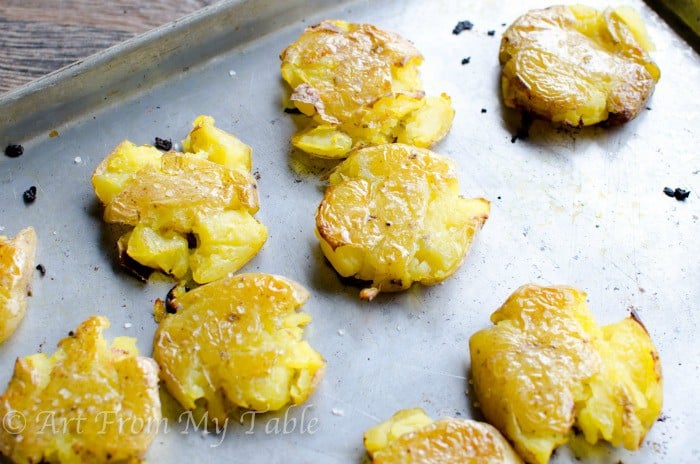 Salt and Vinegar smashed potatoes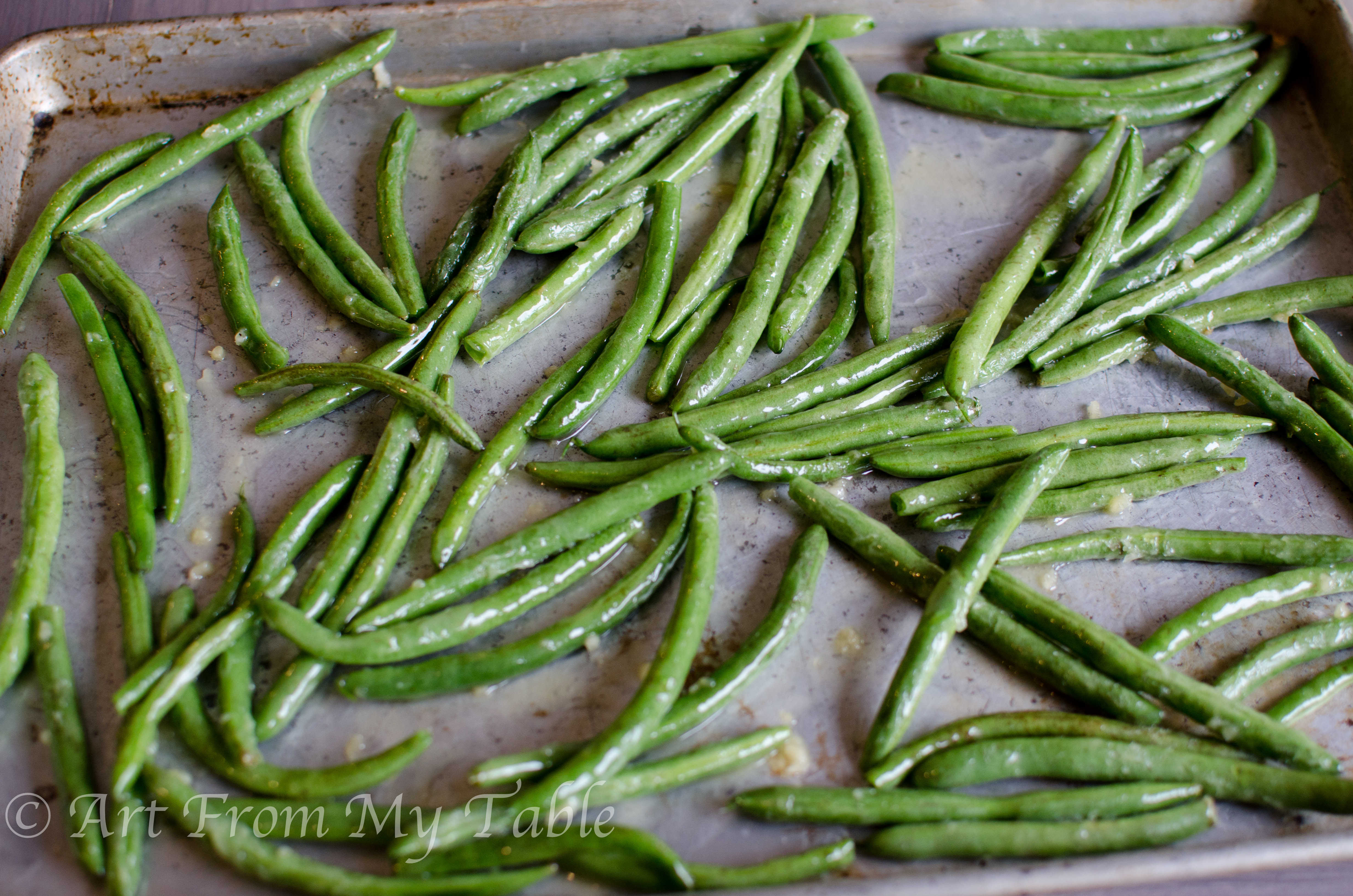 Garlic Roasted Green Beans