As an Amazon Associate I earn from qualifying purchases.


Rich, dreamy, creamy... This 4 ingredient chocolate peanut butter banana ice cream is heaven in a bowl. But that's not all! This is "nice cream", so you can eat it guilt free! It's actually good for you.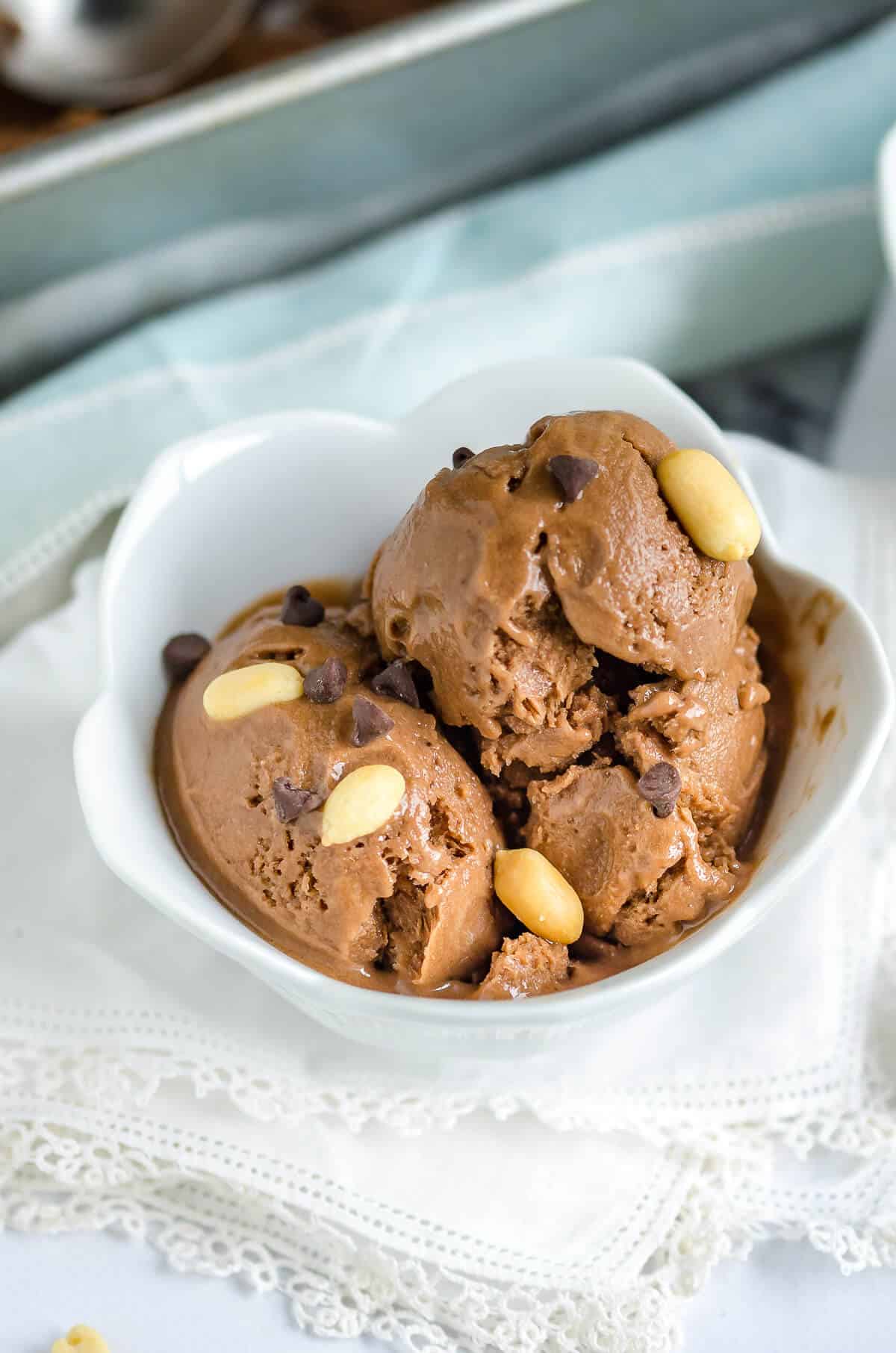 We love ice cream! Blueberry Ice Cream, Pomegranate, even plain old vanilla. I mean, who doesn't? I suppose there may be some. My kids are constantly asking me during the summer--and even in the winter, now that I think about it--to go out for ice cream.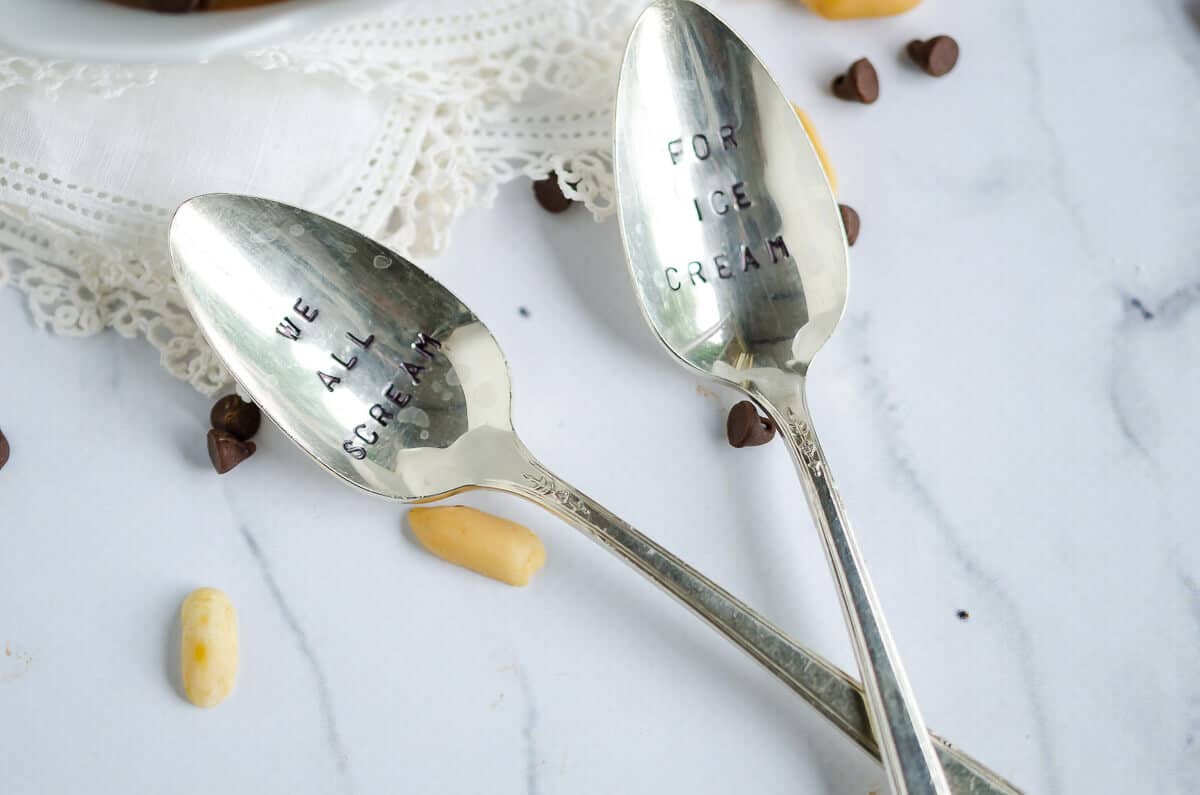 Do you know how much it costs to take 4 kids out for ice cream? I'm not saying we never do it, but this is much more economical. And, it tastes amazing! And the flavor options are endless! Oh yeah, and did I mention healthy? You can try Strawberry Banana Ice Cream too.

The base of this ice cream, or "nice cream", as some call it, is frozen bananas.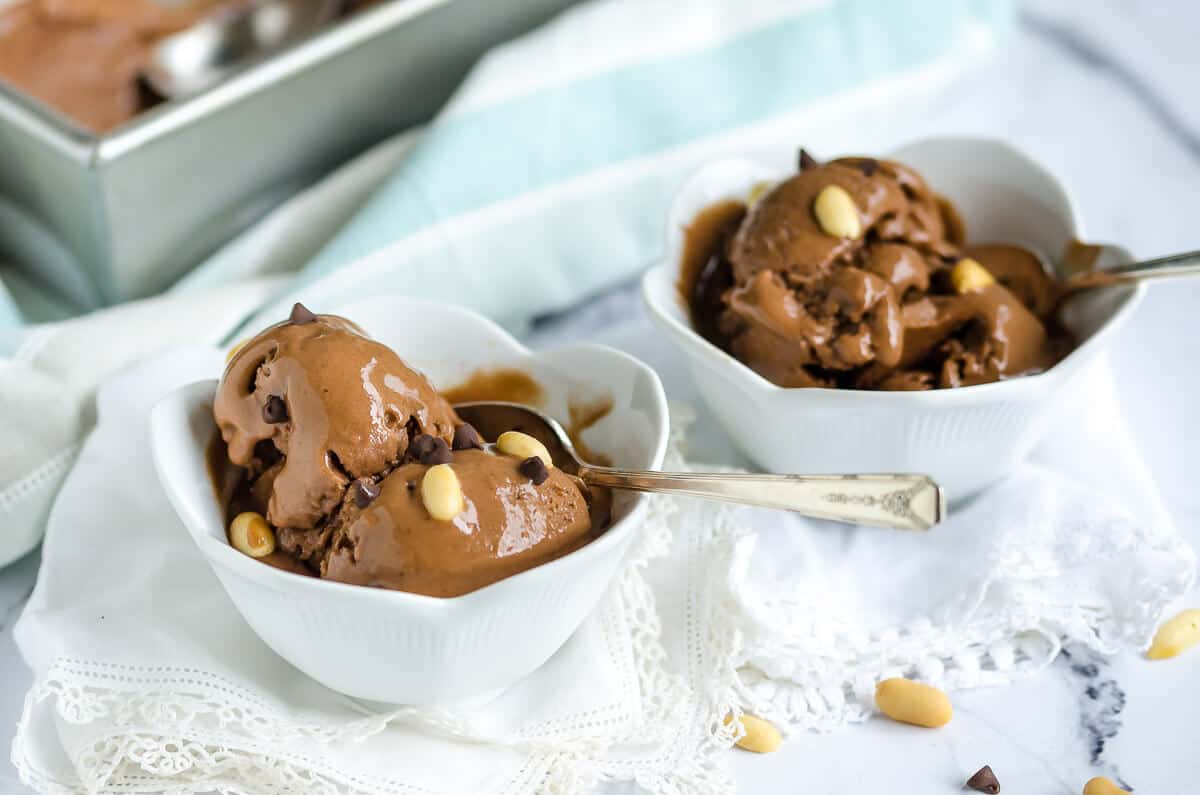 What is Nice Cream?
Nice cream is simply frozen bananas blended up, and it's just like soft serve.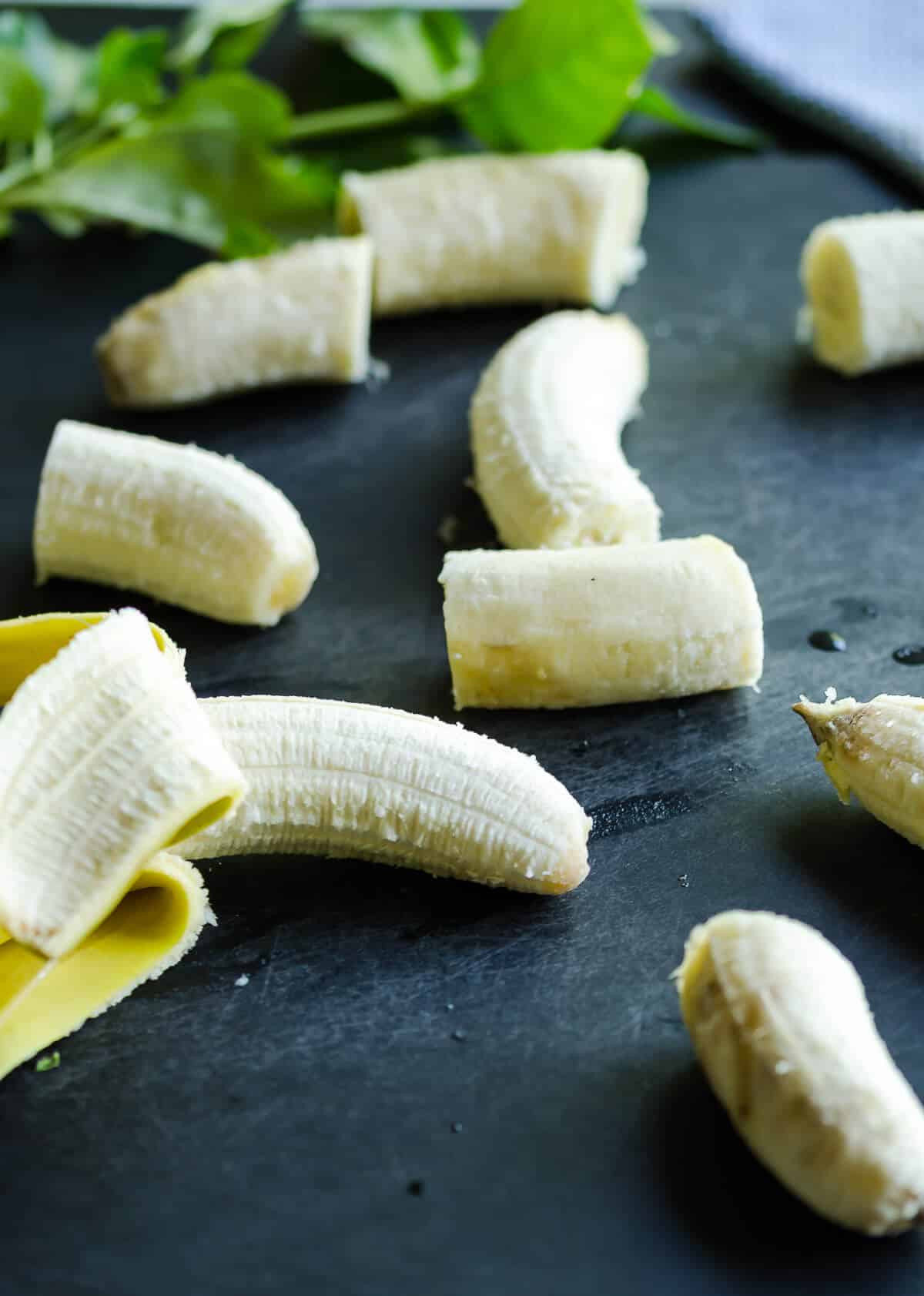 You can actually make this with ONLY frozen bananas if you want. I did that once for my kids. They were quite a bit younger, I told them we were having ice cream for breakfast.
Coolest. Mom. Ever. ????
They also think I'm cool because we eat Breakfast Banana Splits, and Banana Split Parfaits.
#winning ????????
But, you can also add all kinds of mix in's for endless flavors of healthy ice cream.
How To Freeze Bananas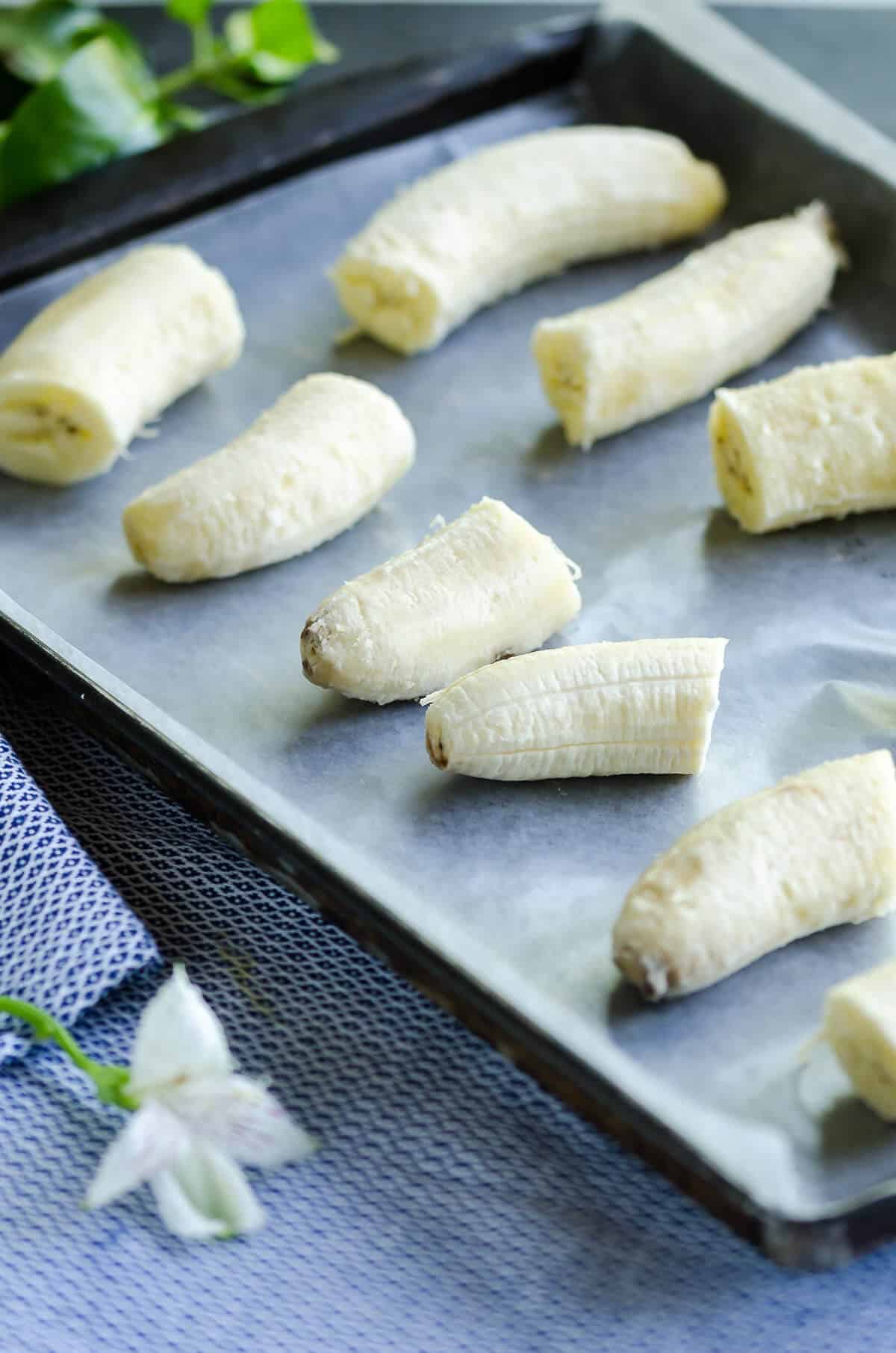 To make this, your bananas need to be frozen. It's really easy to do:
Peel the bananas
Cut into halves or thirds
Arrange them in a single layer on a baking sheet covered wax paper and put in the freezer.
Let set for a few hours or overnight.
Take the bananas off the tray and place in a zipper bag and store in the freezer.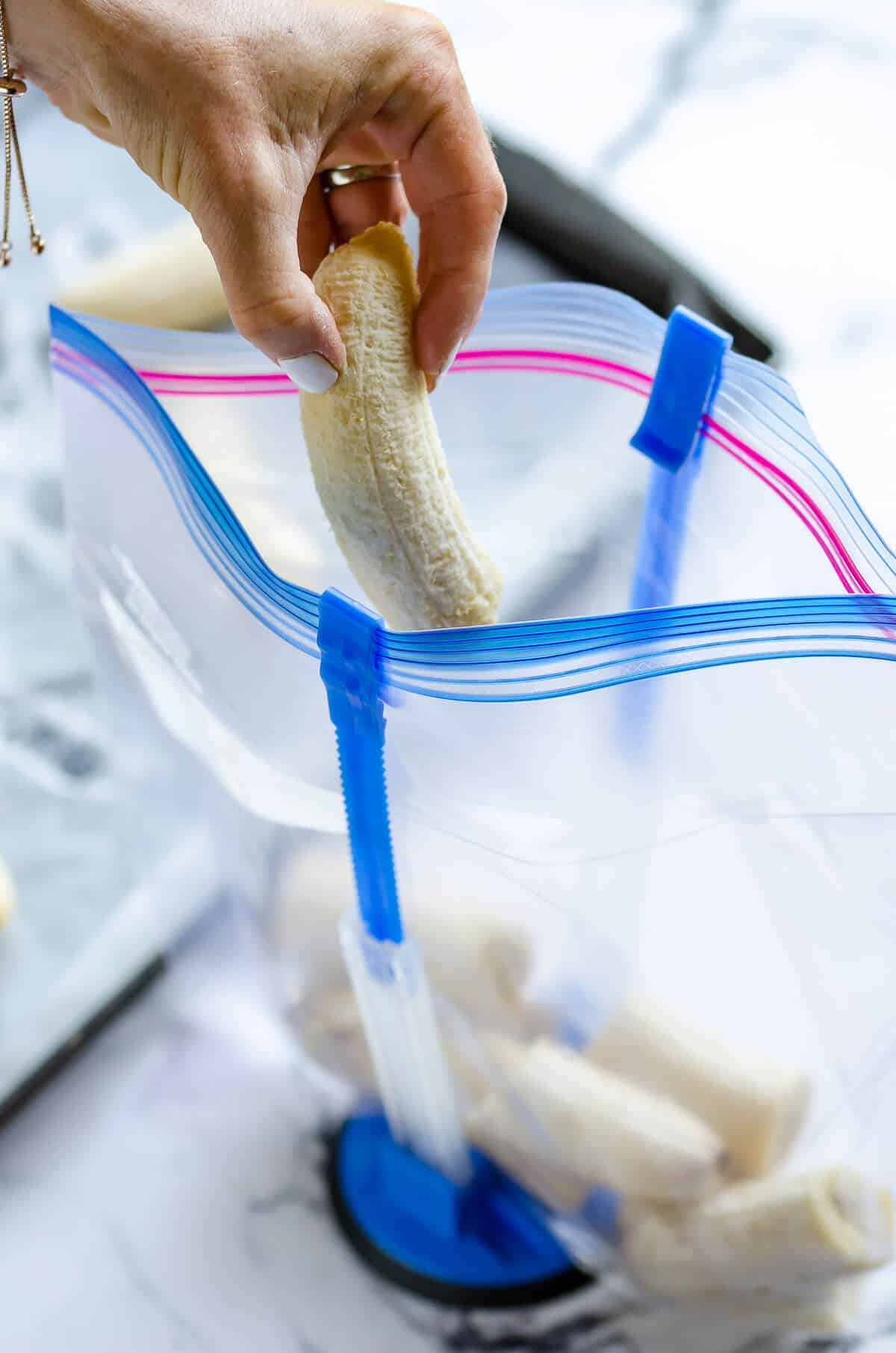 Can you freeze the bananas without taking the peel off?
Yes, you can. If you're in a rush and don't have time to peel them, you can just put them in the freezer whole and unpeeled.
In order to peel them after they're frozen, score the peel with a knife and it should peel right off. Sometimes you need to let the banana thaw a bit, and it won't look super appetizing, but it works.
Can you freeze mashed banana?
If you'd like to have mashed bananas at the ready for that banana bread inspiration, you can totally do this!
Just mash up your bananas and place in zipper bags in the desired portions. Label them so you don't forget the measurement. When you're ready to use them, let them thaw and use in your favorite recipe.
Can you freeze whole bananas?
You sure can! I prefer to cut mine into thirds, just so they'll fit better in the blender or food processor, or in a smaller bag for smoothie prep packs.
How to make 4 Ingredient Chocolate Peanut Butter Banana Ice Cream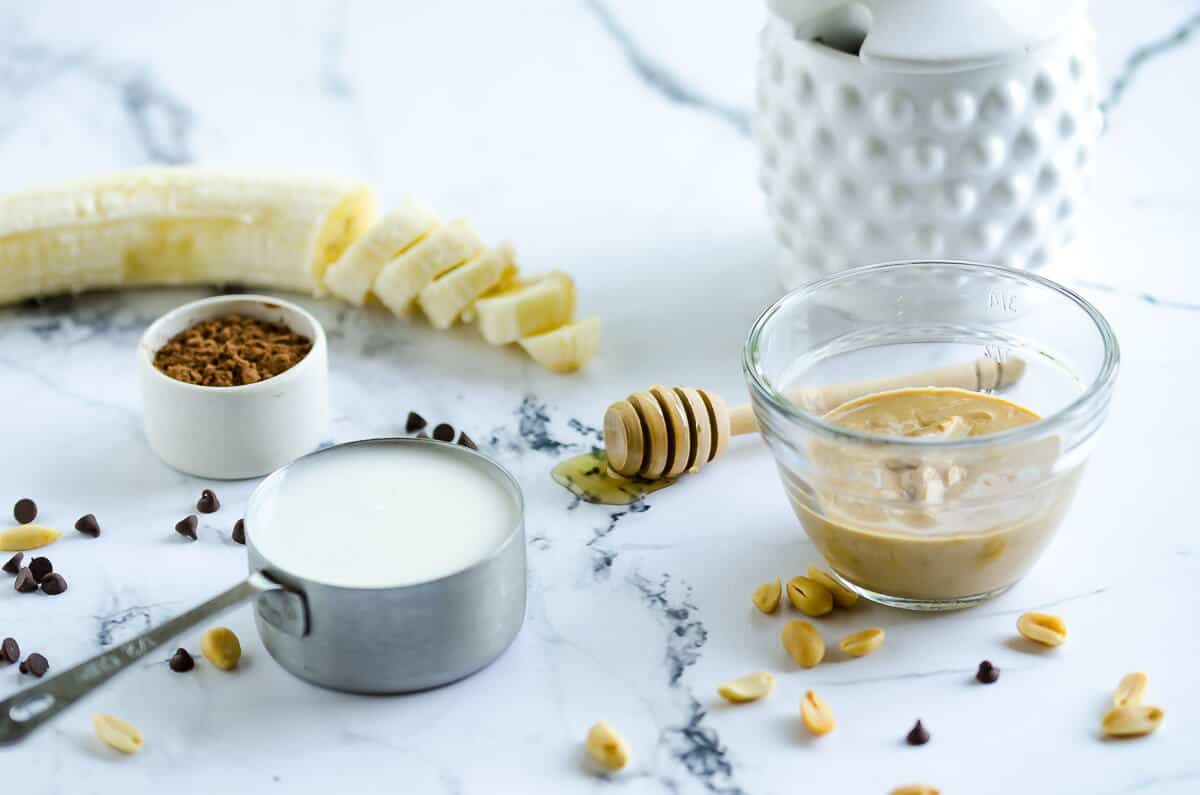 All you need for this magical ice cream is frozen bananas, almond milk (or milk of choice), natural peanut butter, and cocoa powder.
Step one: Put all the ingredients in a high powered blender, such as a Vitamix or Blendtec. You can also use a food processor if you don't think your blender is strong enough.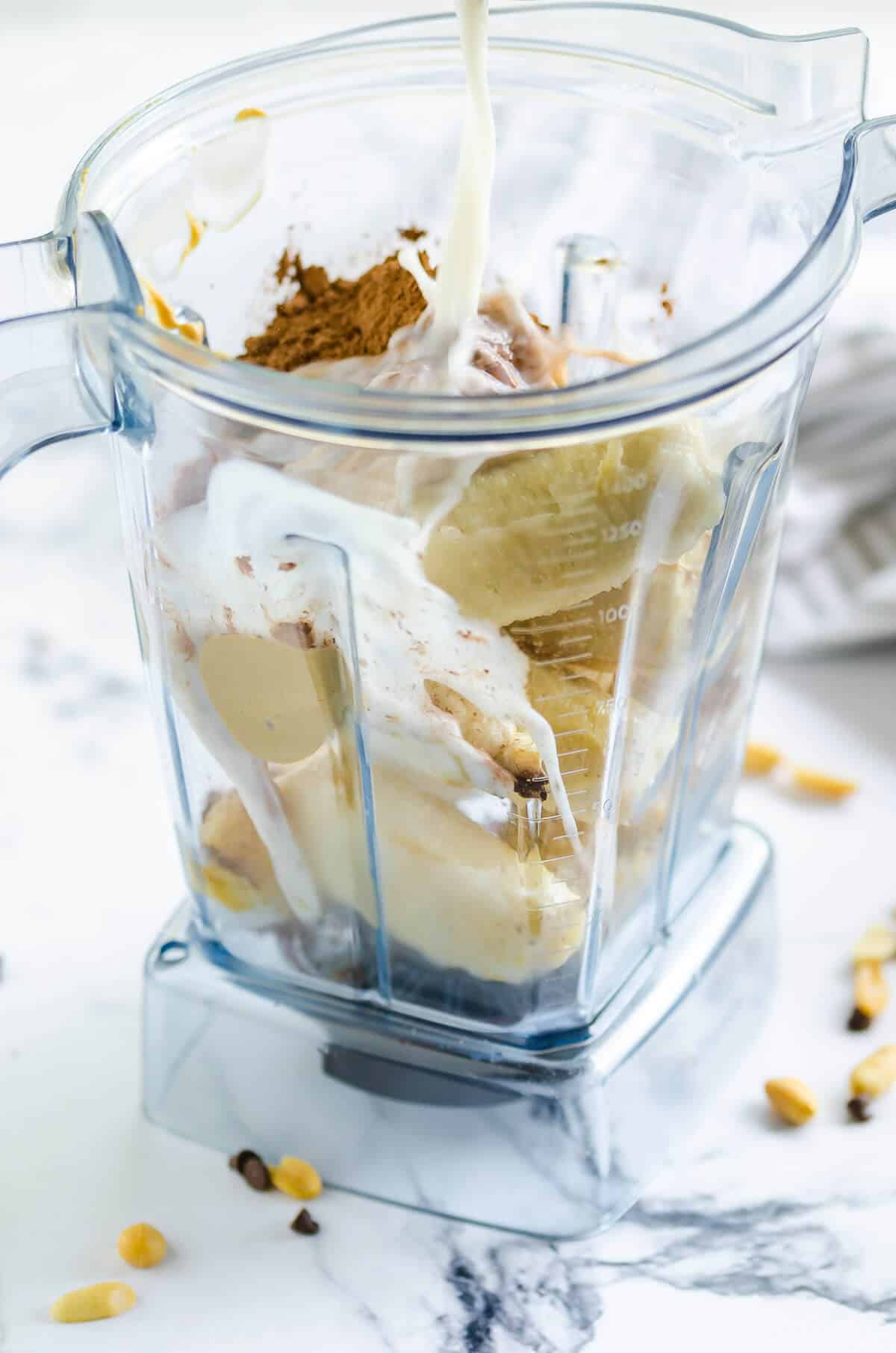 Step two: Blend blend blend! Until smooth.
Step three: Pour the mixture into a freezer safe container.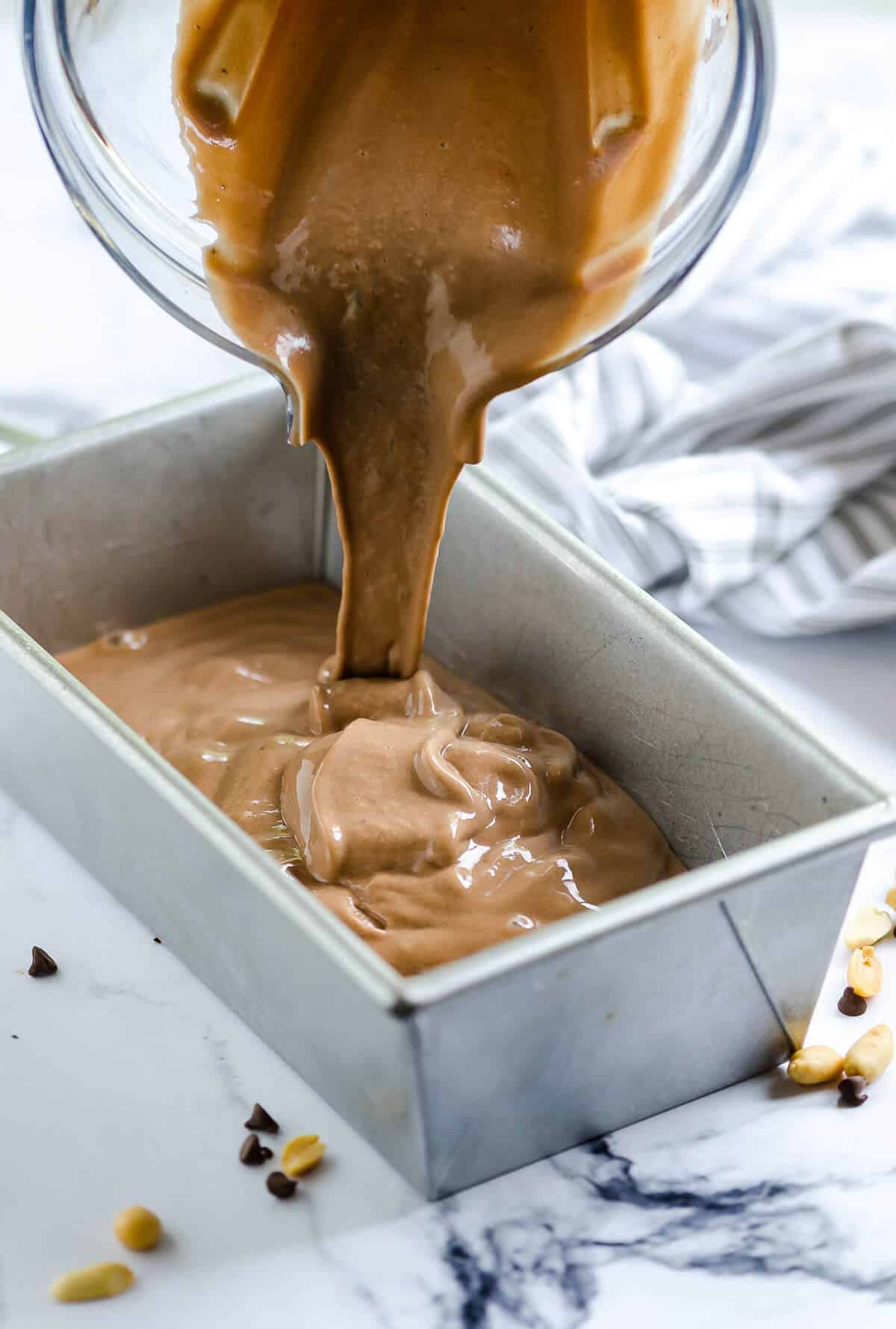 Step Four: Freeze for 2-6 hours or overnight. Serve.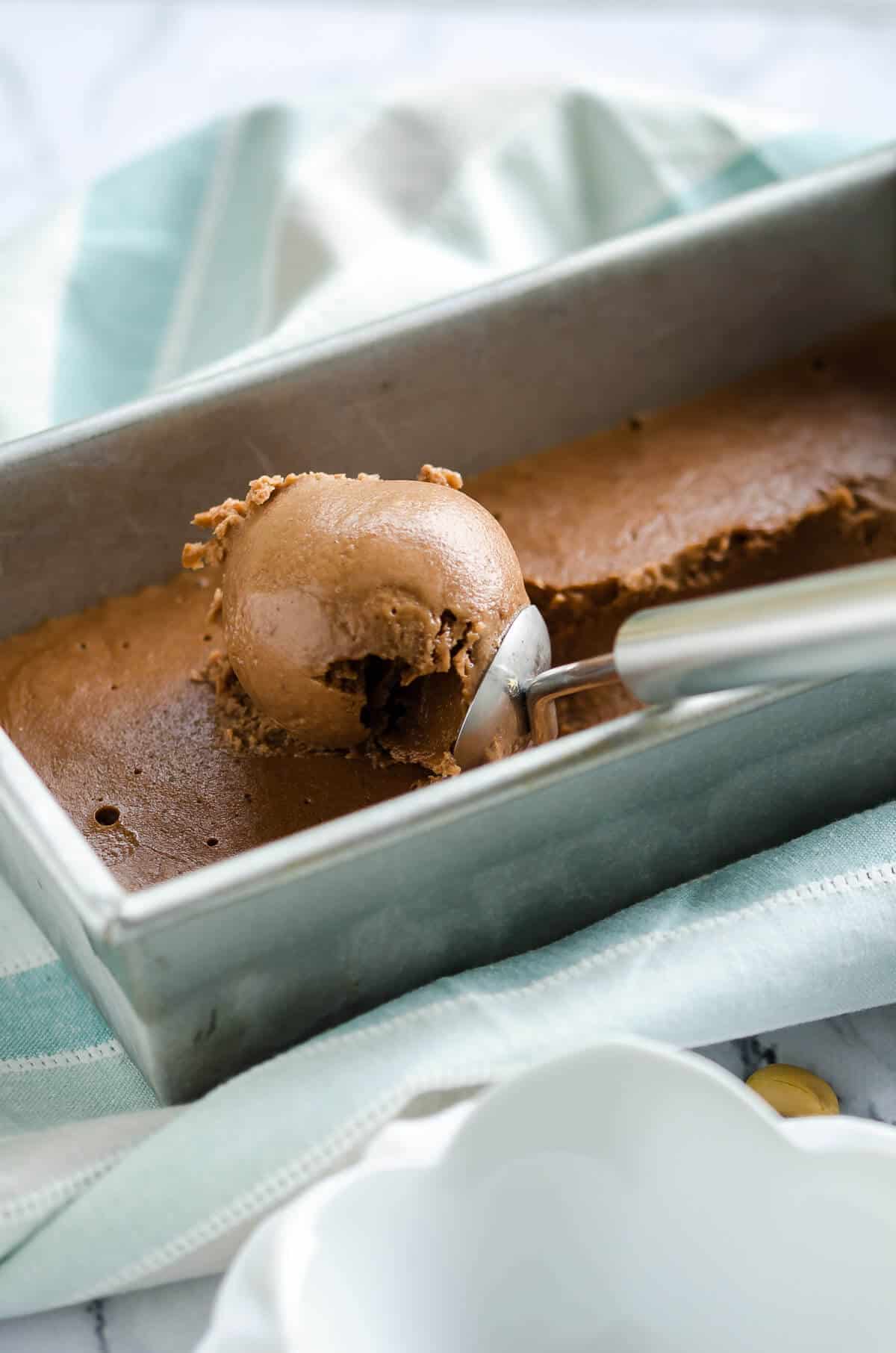 Tips for Making Banana Ice Cream
Here's just a few things that I think make this recipe go smooth.
Ripe bananas are recommended. They are so sweet, you don't need any added sugar. If you simply can't wait, you can use a less ripe banana (not green) and add 1 tablespoon of honey.
If you're using a blender, you may need the tamper to push the ingredients down. I only need to do a few pushes, and then it will be fine. Sometimes it just needs help getting down to that blade.
I like to pour the mixture into a loaf pan. That way it's the same thickness all the way through and will freeze nice and even.
You can eat the ice cream right away if you wish, it will be like a really soft serve. If you let it freeze two hours it will be more like a 'normal' soft serve. Let it go 6 hours or more for firmer texture.
If you go for the firmer texture, you may need to let it thaw ten minutes or so on the counter top for easier scooping.
For my Trim Healthy Mama Friends... see the notes in the recipe for THM friendly recipe
Flavor Combinations for banana Ice cream
Chocolate: 4 frozen bananas, ½ cup almond milk 3 tablespoon of cocoa powder, ½ teaspoon vanilla extract (optional)
Peanut butter: 4 frozen bananas, ½ cup almond milk, ¼ cup natural peanut butter
Berry Blast: 4 frozen bananas, ½ cup almond milk, 1 cup frozen mixed berry fruit
Toasted Coconut: 4 frozen bananas, ½ cup coconut milk, 1 teaspoon coconut extract, toasted coconut (see how to toast coconut here, in the instructions)
Mint Chocolate Chip: 4 frozen bananas, ½ cup almond milk, ¼ teaspoon mint extract, handful of spinach (optional for color), stir in dark mini chocolate chips or chopped dark chocolate after blending.
Cookies & Cream: So this one's not exactly healthy, but mostly. ???? 4 frozen bananas, ½ cup almond milk, ½ teaspoon vanilla extract, stir in crushed up chocolate cookies (such as Oreos) after blending.
Cafe Mocha: 4 frozen bananas, ¼ cup almond milk, ¼ cup cold coffee, 2-3 tablespoons cocoa powder, stir in mini chocolate chips if desired after blending.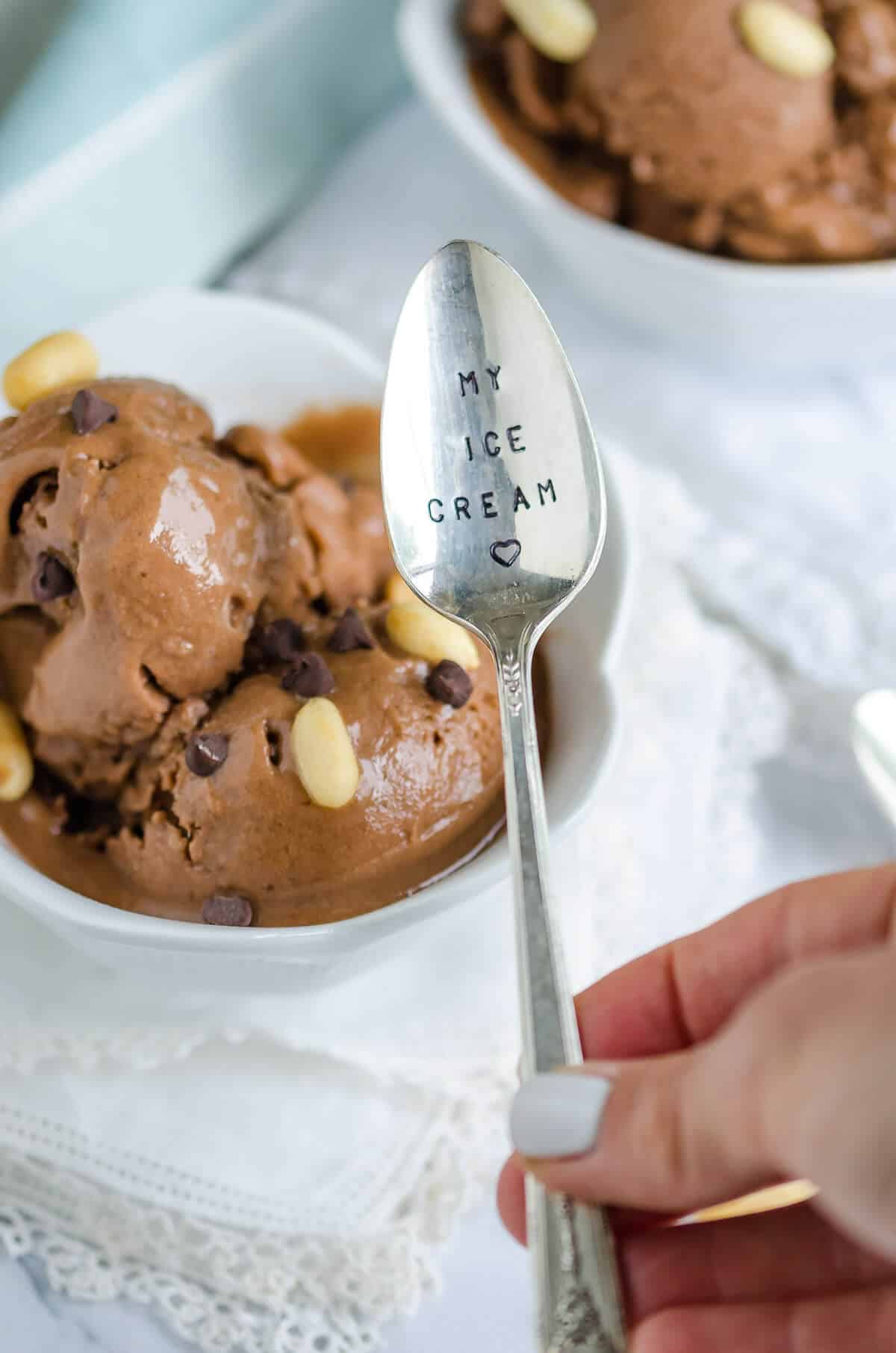 My spoon is waiting! And so is yours.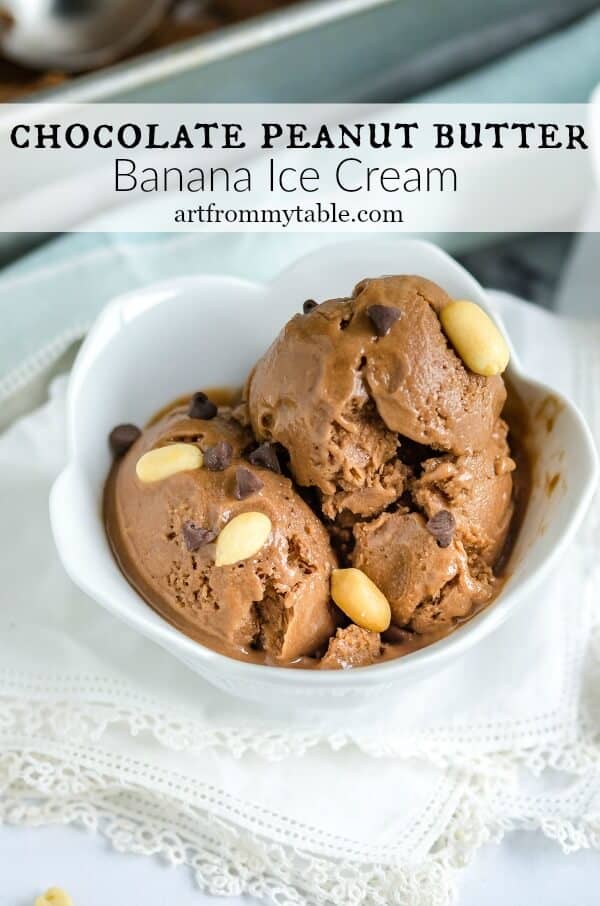 📋 Recipe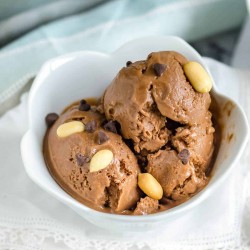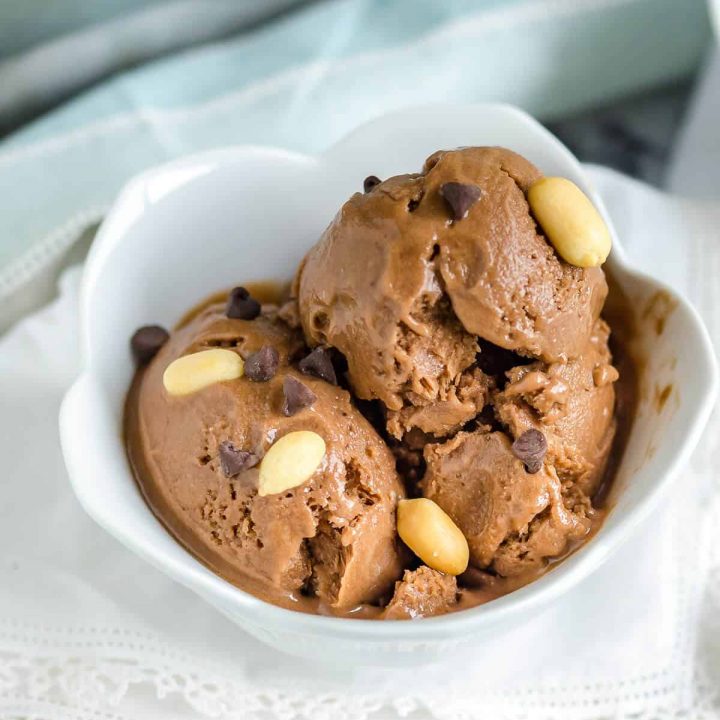 4 Ingredient Chocolate Peanut Butter Ice Cream
Rich, dreamy, creamy... How to make 4 ingredient chocolate peanut butter banana ice cream that's good for you. How to freeze your bananas, and flavor combinations. Vegan, dairy free.
Print
Pin
Rate
Ingredients
4

bananas

frozen

½

cup

almond milk

or milk of choice

4

tablespoon

peanut butter

natural

2

tablespoon

cocoa powder
Instructions
Place all ingredients into a high powered blender or food processor

Serve immediately as 'soft serve' or freeze for 2 hours or more for firmer ice cream.
Notes
To make this THM friendly:
Add collagen, whey isolate protein powder, or cottage cheese before blending.
Use Trim Healthy Mama Peanut Powder instead of peanut butter (mix powder with water and a pinch of salt until peanut butter consistency, you'll need ¼ after it's mixed)
If you don't add protein, this can be an E dessert, but make sure the E meal you eat prior is no more than 20 grams of Carbs.
If you do add the protein, this can be a snack.
Nutrition
Calories:
209
kcal
|
Carbohydrates:
31
g
|
Protein:
5
g
|
Fat:
9
g
|
Saturated Fat:
2
g
|
Sodium:
115
mg
|
Potassium:
567
mg
|
Fiber:
5
g
|
Sugar:
15
g
|
Vitamin A:
75
IU
|
Vitamin C:
10.2
mg
|
Calcium:
54
mg
|
Iron:
1
mg